Emo Dolls! These fun DIY dolls made from recycled cardboard roles have changeable facial expressions to help kids consider emotions and develop empathy skills while they play.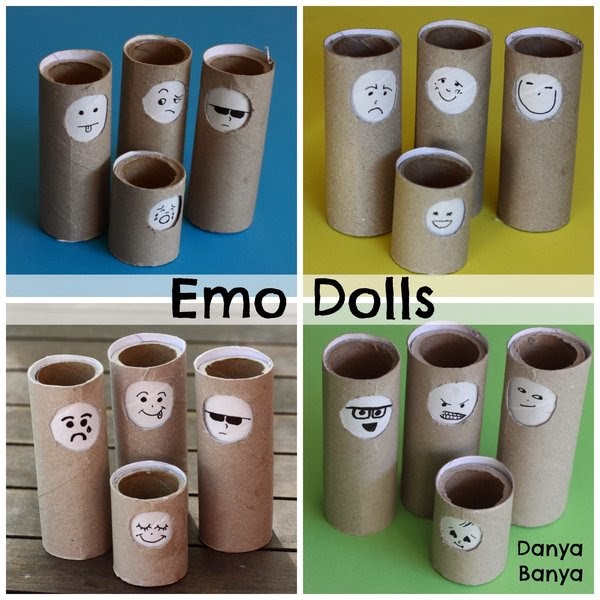 I've been wanting to make these dolls for a few years now. I've seen a few versions of them on Playschool over the past few years. When I was researching for this post, I also discovered some cute ones made by The Craft Train and A Little Learning for Two.
For my version, you need cardboard tubes in two different diameters, so that they fit inside each other. I used toilet paper rolls for the outer tubes and a cling wrap roll for the inner tubes. (Some school have an aversion to toilet paper rolls – you could also use paper towel rolls or other cardboard tubes and just cut to the right length).
Using small sharp scissors, I cut small circles out of each of the TP rolls, making sure that the circles were the same size and distance from the edge of the roll.
Then using a serrated knife, I cut the cling wrap roll into three large pieces, each just a few millimetres shorter than the length of the toilet roll tube. And I couldn't waste the offcut – that became the baby or fairy.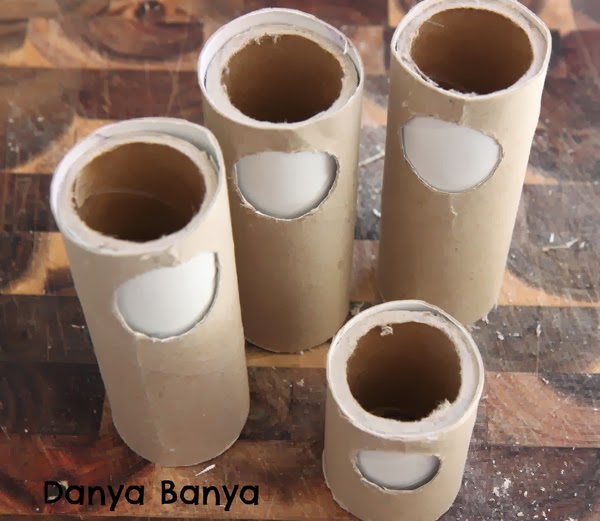 I practiced drawing facial expressions onto a piece of paper, before attempting to draw them on the cardboard tubes. When I was confident, I inserted the smaller diameter roll into the larger one and drew the expressions within the 'face' area, twisting the inner roll to provide a new blank face as I went. I tried to include a mix of emotions – happy, sad, surprised, angry, ecstatic, confused, suspicious. I found I could fit three to four different expressions on each end of the inner rolls.
Here are my attempts. Older kids might be able to draw these different expressions for themselves.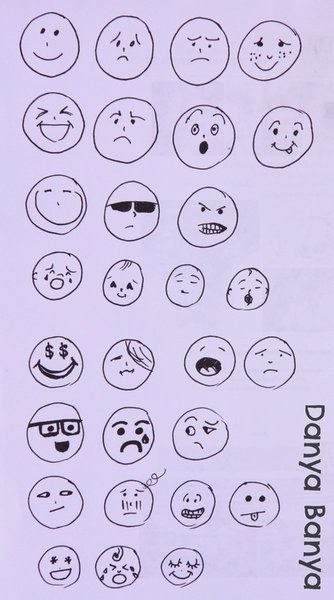 I've since made a few 'outfits' for these dolls, by decorating the outer toilet paper rolls. But before I did so, I thought it would be interesting to let my 3.5 year old daughter JJ play with them while they were still 'blank'.
Here she is 'meeting' them for the first time.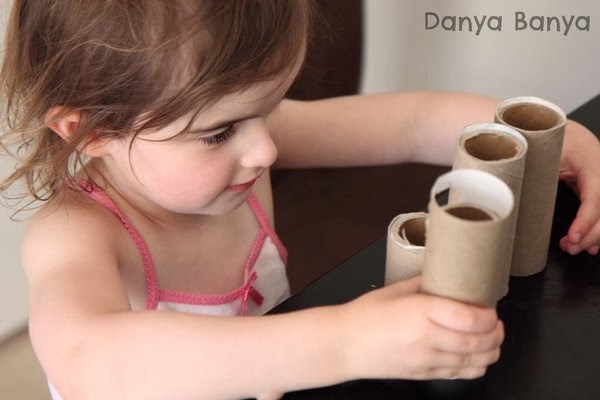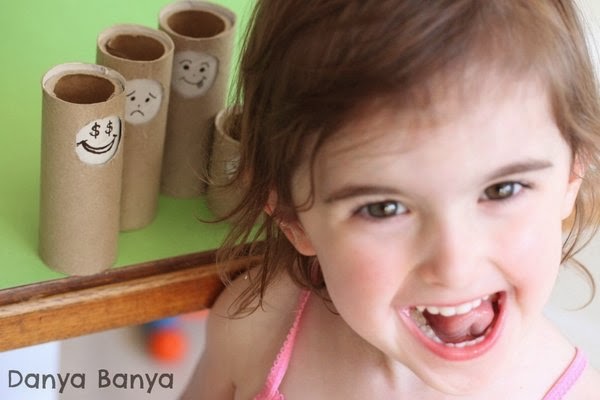 And success! She started role playing with them right away. She loved being able to take the inner tube out and see all the different expression options, before choosing the appropriate expression to suit the emotion that she wanted her character to feel.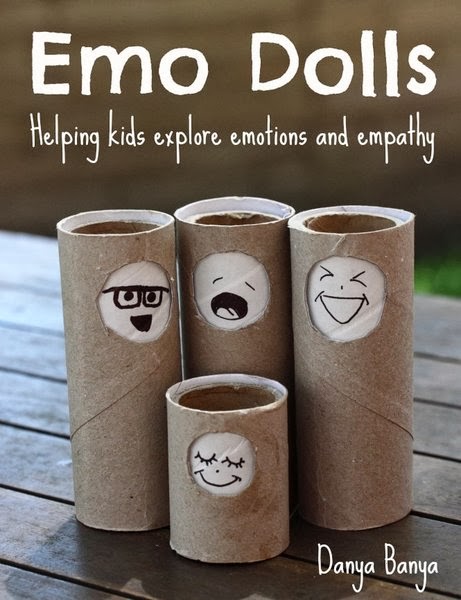 JJ's exploring the differences between girls and boys at the moment, so in her initial play she choose a happy face when she wanted an emo doll to be a girl, and an angry or sad face when she wanted an emo doll to be a boy. Despite having lots of friends that are boys (and indeed her best friend is a boy), I've noticed that her role play is much more gender biased than her real life play. This is something that I'll keep an eye on, but it was still interesting that these dolls provided her with the opportunity to explore these concepts in her own way.
Right now, I'm happy to let JJ direct the play. But these dolls could also be used to actively role play scenarios to address areas of concern.
And if you are interested in some 'outfits', so far we have made an Emo Santa, Frosty the Emo Doll, Holly the Emo Christmas Fairy (and friends), and a Little Bo Peep. Click over to see how we made them, and the play they inspired.
Or if you love toilet paper crafts like I do, here's a few more ideas for you!
Follow Danya Banya | Go Science Girls's board Danya Banya on Pinterest.
Follow Danya Banya | Go Science Girls's board Toilet Paper Rolls (and other Cardboard Tubes) on Pinterest.
xx Danya