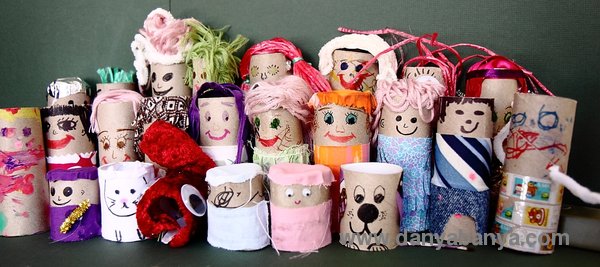 If you've ever watched Play School, then you've probably been inspired to make the odd Toilet Paper Roll Doll, or in my case, about the three dozen! Here are the first ones that I made in December 2011…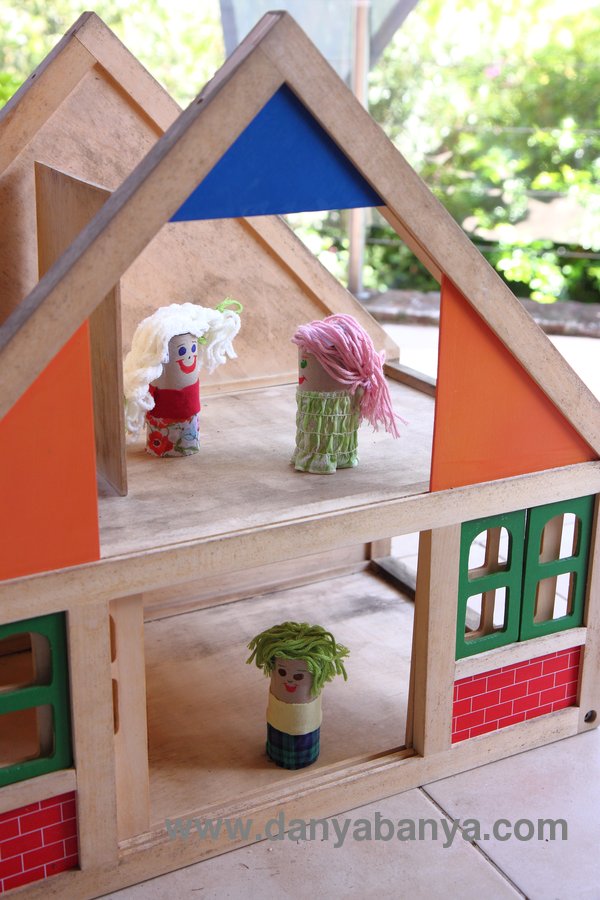 The dolls' house was being discarded by a neighbour in the local council pick-up. We rescued it from landfill, gave it a good diluted bleach wash to kill off any mould spores, and then set to work making a little family for JJ to play with. Toilet paper roll dolls were just the right size. We still have these three, although they are looking a bit worse for wear 9 months later…  But that's OK, cause since then, our "family" has grown!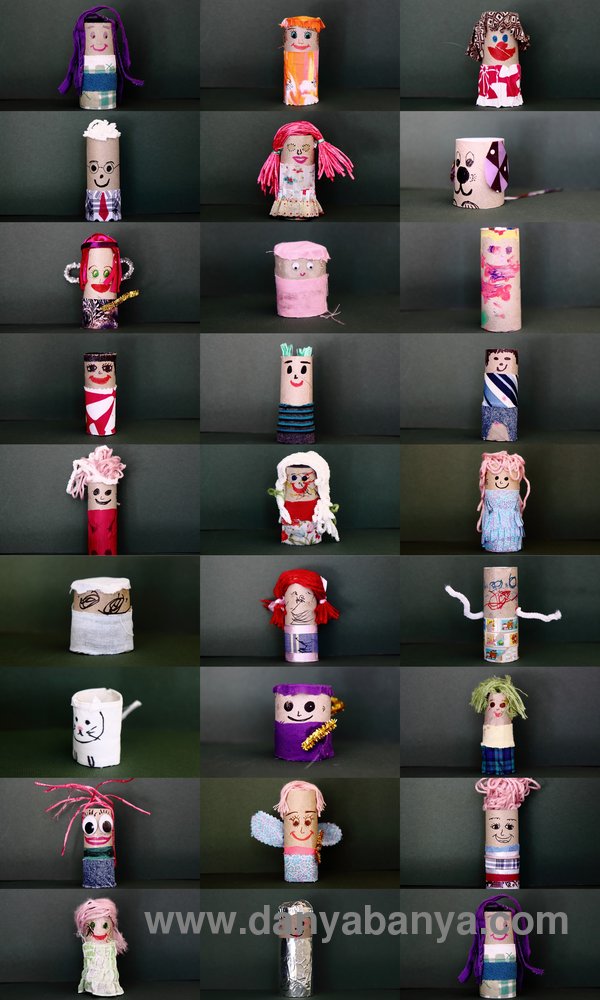 You don't really need a tutorial on how to make these dolls, just grab a few scraps of fabric, some craft glue, and some textas and away you go! But here are a few tips that might help:
The hair is the hardest bit. An easy way, is to scrunch up some wool, making sure to have a few random knots to keep the tangle together, then put some craft glue on the inside of the toilet paper roll, and stick the wool tangle about a quarter of the way inside.
A little hat that you can glue on is also an easy "hair" option.
If you want to do fancy hair (like woollen pigtails etc), then the easiest way is to stick on a little fabric hat the same colour of the hair first.  That way, you have something to stick the woollen pigtails to.
Try a theme, like this fairy family below.
And as they are only TP roll dolls, you can let your child have a go at making them too. With these three below, JJ helped. She was so proud of her results.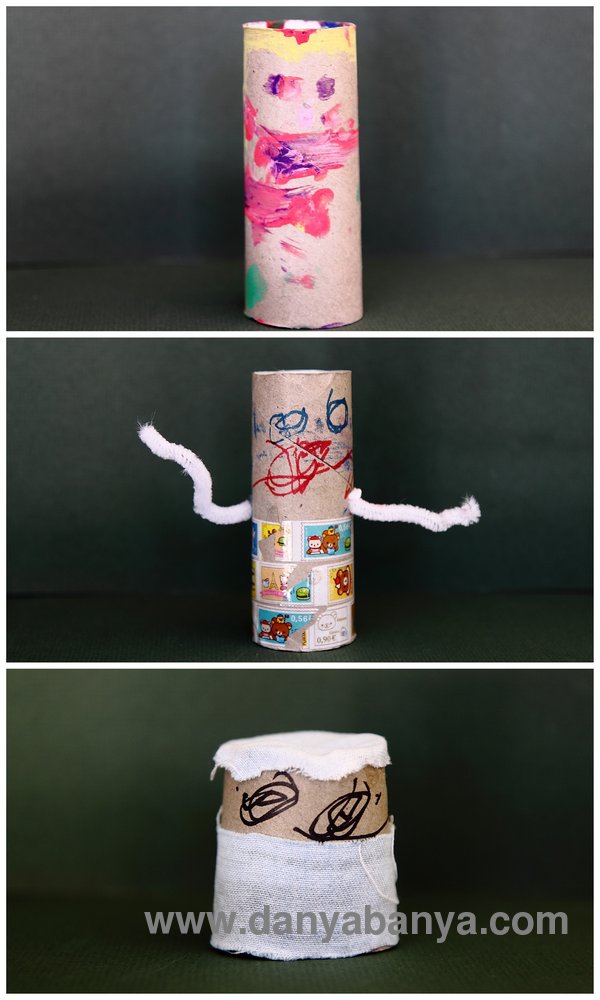 The possibilities are endless. As they are generally made one or two at a time, you can make ones to suit whatever phase your child is going through, or whatever genre has taken their fancy that week. And since you are using only scrap fabric and materials that you probably already have at home, they are totally free!  Go on, make one, or a dozen. 🙂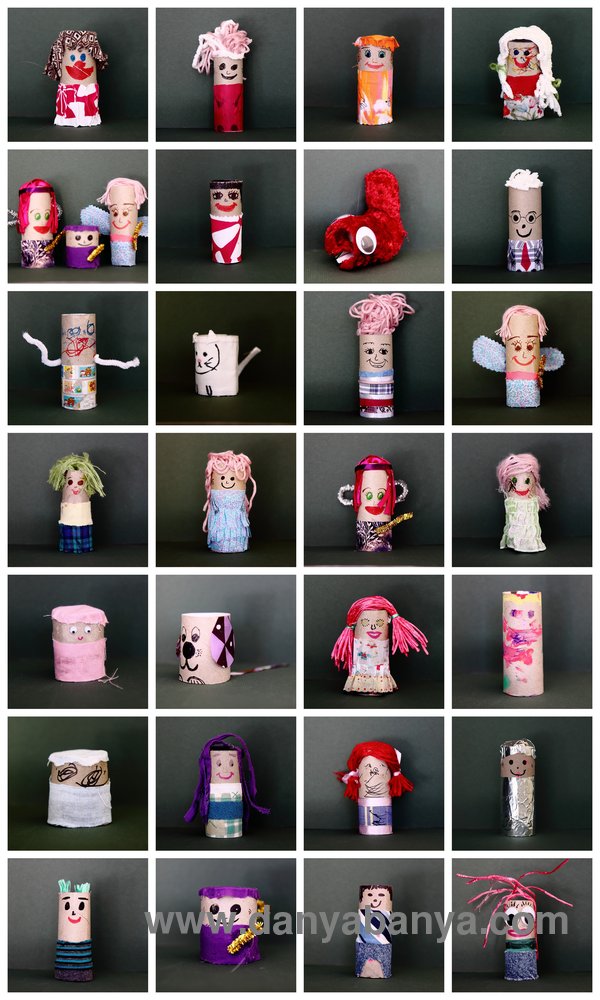 If you are interested in more toilet paper roll activities, then we probably have a shared obsession. Here's just a few of our favourite TP roll ideas that we've done on Danya Banya. (Click on the picture to go to the full post). Haha, there's quite a few (and this isn't even all of them)!
And I may have a whole Pinterest board dedicated to the humble loo roll too. 🙂
Follow Danya Banya's board Loo (and other Cardboard) Rolls! on Pinterest.
xx Danya