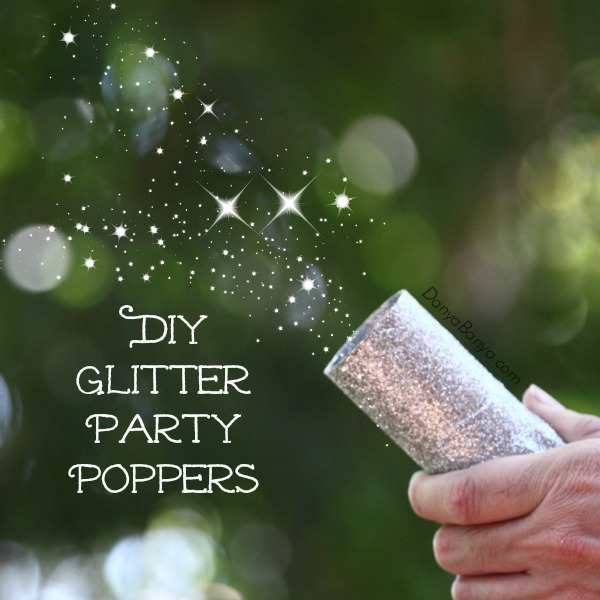 Easy DIY glitter party poppers – fun for kids parties or New Years Eve.
With the Christmas hustle and bustle behind us, we've been enjoying a few lazy days at home. I wasn't actually planning on making any New Years Eve arts & crafts this year, but lazy days at our place tends to involve making something or other, and with the excitment of our first proper New Years Eve celebrations approaching, we made some very sparkly homemade party poppers that are easy for the kids to pop and refill again. Hours (or at least minutes) of entertainment! 🙂

These party poppers are actually remarkably easy to make. You'll need:
empty toilet paper rolls (or other similar cardboard tubes)
a few good quality balloons
scissors
craft glue and super fine glitter (optional)
your choice of small and light weight fillers (see below for suggestions).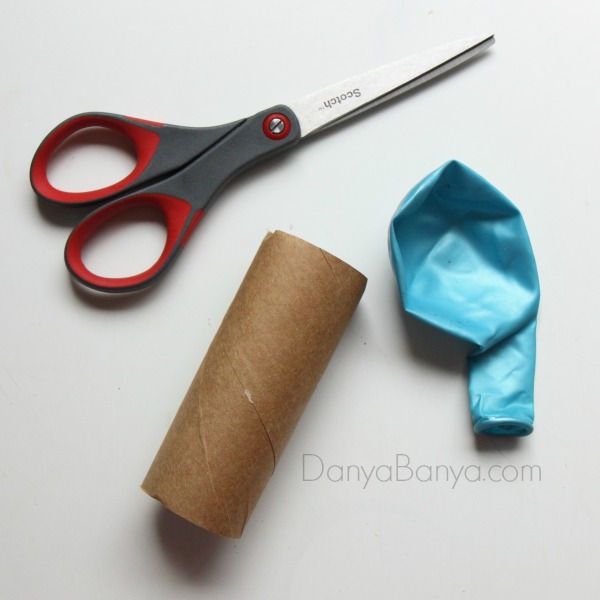 The first step is to gather your TP rolls, balloons and scissors. You can make your own party popper with just these three items. Helium quality balloons work best.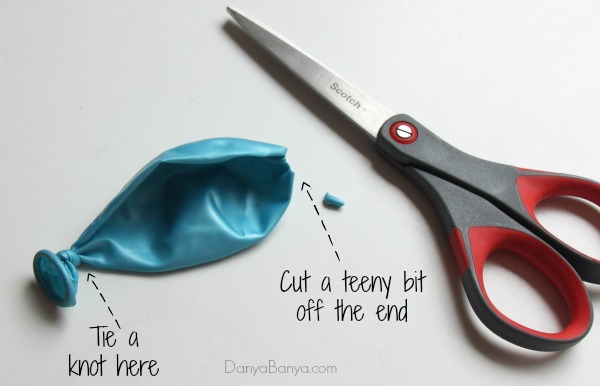 Tie the end of the balloon and cut a very small section off the other end.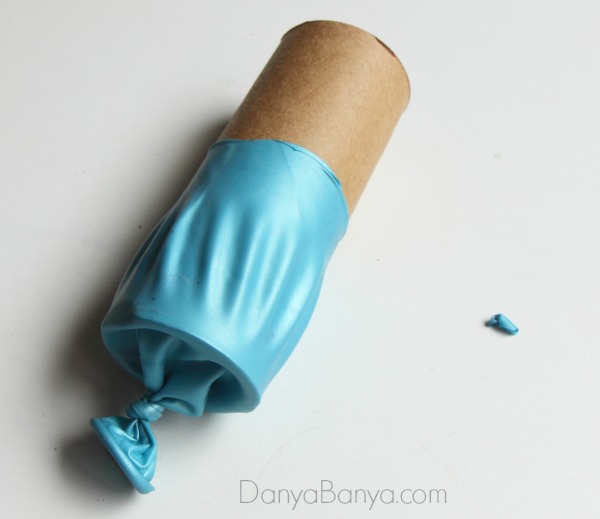 Then stretch the cut section over the end of your TP roll. Some balloons might split at this point, so it's good to have a few spare. I found that the lower quality / old balloons from my stash split really easily, whereas the higher quality helium style balloons were much better.
And technically that's all you need to do to make a DIY party popper! You could even make these after the party has already started, especially if you have balloons and confetti or similar on hand. It seriously takes less than a minute, and costs just a few cents.
Pour your filler into the open end, pull back on the knot 'handle', let go and watch your fillers shoot out! It even makes a loud popping sound. And you can refill to pop over and over and over again.
Or, of course, you can always add in an extra step and decorate your party poppers. You could paint them, or wrap them in washi tape. We chose to coat them in copious amounts of glitter. 🙂 JJ helped with this part – we painted the party poppers with craft glue inside and out, sprinkled on super fine glitter in silver and gold, and left them overnight to dry.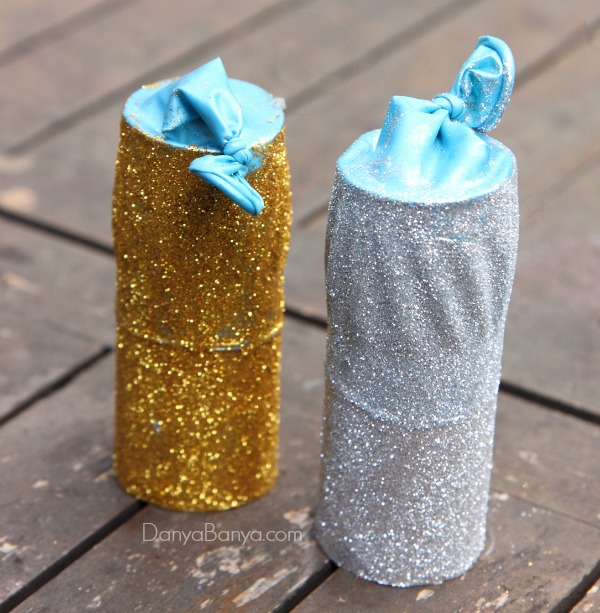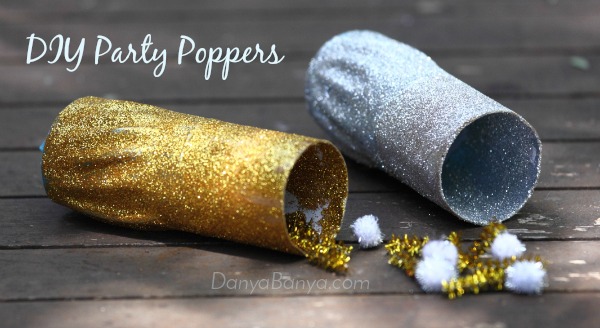 We tried out a few different filler options:
glitter works really well – it shoots out like a stream of sparkles. (The very top image on this post is edited, because glitter shooting out is VERY hard to photograph, but it is quite a good indication of what it looks like).
cut sections of sparkly pipe cleaner was my favourite of the fillers we tried. They are really light weight, so the party poppers could shoot them a long way, and they are big enough to make them easy to pick up to refill (or clean up afterwards).
little sequins work well (ours were star shaped), especially when combined with the glitter and cut pipe cleaners. My main concern was that they are so fiddly to clean up afterwards.
tiny sparkly pom poms sound good in theory. They did work, but they were slightly disappointing. They tended to get caught in the bottom of the balloon knot bit.
we didn't try confetti but I think this would work well too. I've seen metallic sparkly confetti for sale at craft shops that looks like it would be perfect for this sort of thing.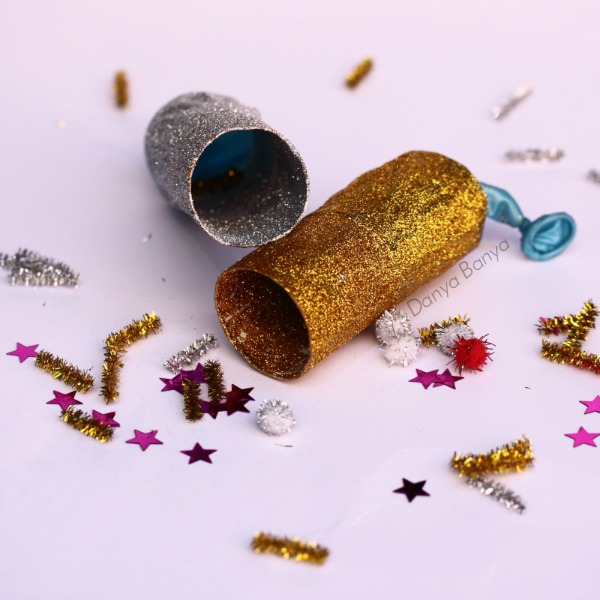 JJ has declared the gold one hers 'because she likes gold best' and the silver one Bee's 'because Bee likes blue and silver best'.
Now we just need to wait for the big night – which is coming up VERY VERY soon!
See you in 2015!
xx Danya
Here are some of the other TP roll art & craft ideas we've tried.
And I even have a Pinterest board dedicated to this versatile craft material!
Follow Danya Banya's board Loo (and other Cardboard) Rolls! on Pinterest.
Or you might also like our NYE fireworks art: