Three ideas for making your own wrapping paper for Christmas, including how to make DIY Christmas bauble stampers.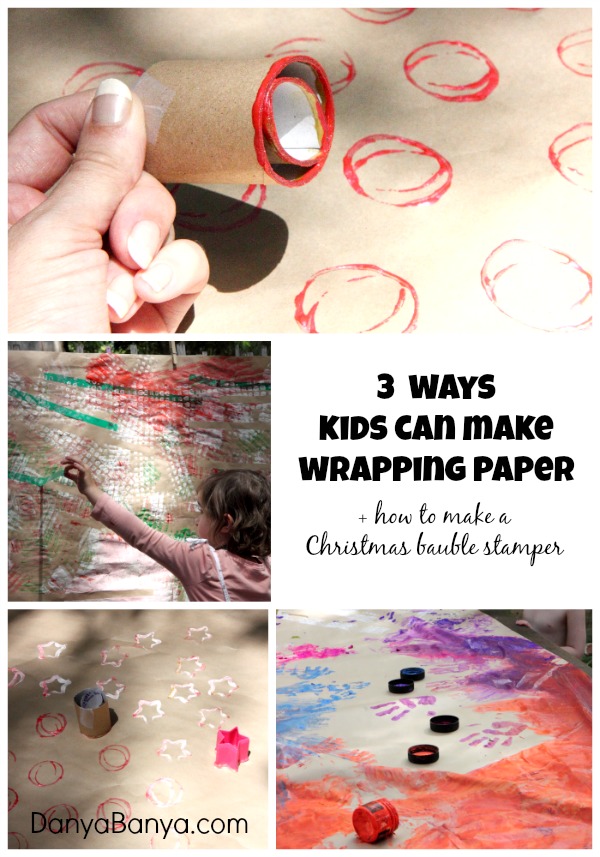 We've been painting BIG this week!
Usually we use the kids' art as wrapping paper (sticking several smaller pieces together if we need a larger size), but we've had lots of birthdays lately and our art stash is running thin. So we decided to try painting on a bigger scale to make some DIY wrapping paper, just in time for all the wrapping of the silly season.
We tried out a few different techniques (including making our own Christmas bauble stampers from toilet paper rolls), and I think the results are really pretty.
1. Tape Resist Pattern Roller Painting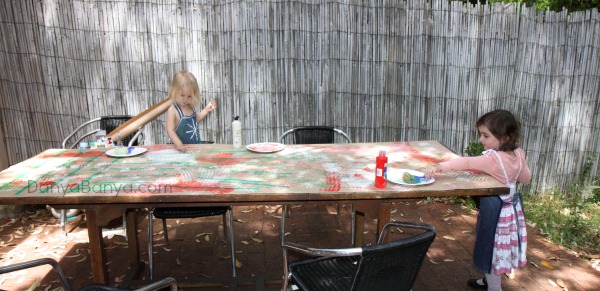 The first technique we tried involved using painters tape and pattern rollers. I put on the (green) painters tape, with a little help from my four year old daughter JJ, and then set out rollers and paint on paper plates. These particular rollers we received as a gift, but you can also make your own pattern rollers by sticking foam shapes onto a plain paint roller (or lint roller). I chose red, green and white for a Christmas feel, but you could use any colours.
We hadn't painted like this before, and the kids had a ball with the big canvas and the new tools.
This was a process style art project, and my only guidance was PAINT BIG! If either of the girls became too fixated on one particular spot, I gently guided them to blank part of the paper. With my two year old toddler Bee, this meant moving her to stand on another chair.
Afterwards, we pegged it onto our drying fence, and JJ removed the tape to reveal the blank lines underneath.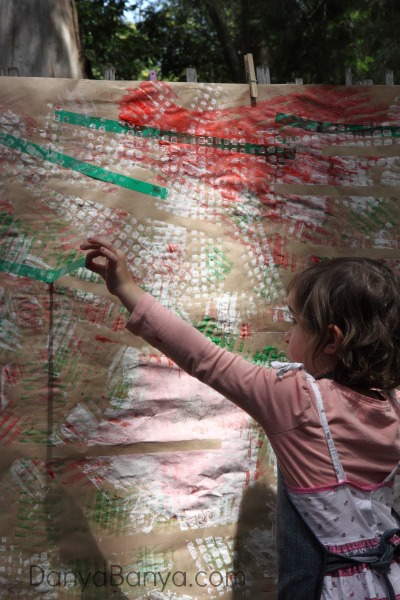 The tape resist effect would have been more effective if the paper had been more consistently covered with paint, but it was still fun and pretty nonetheless.
2. Finger painting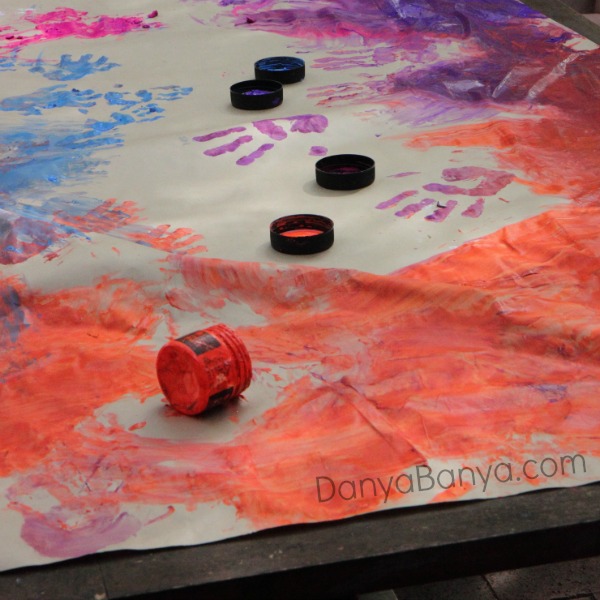 While our first piece of wrapping paper was drying, the girls begged to make some more! We have quite a few December birthdays, so this time we made a decidedly un-Christmassy piece of wrapping paper, using Micador's fluoro finger paints (that we received from Great-Grandma for Christmas last year). The kids found they could shove their whole (tiny) hands into the pots and then SMEAR. So much fun!
This wrapping paper looks even more fluoro when it had dried! Although just to let you know that it does flake a little where the kids smeared it on thickly, so be prepared to brush down your table top after gift wrapping.
3. Painting with Cookie cutter stampers (and how to make a DIY Christmas bauble stamper)
The following day, JJ asked if she could paint again. Sure! As you may have guessed, we love any excuse to get our art and craft on!
This time I suggested using our Christmas cookie cutters as stampers, which JJ thought was a fabulous idea. However she asked for a Christmas bauble shaped stamper, and we don't have this type in our cookie cutter collection… Then I remembered seeing Tidbits share how to make a pumpkin stamp over on Make It and Love It, and I thought – that would totally work as a Christmas bauble stamper too!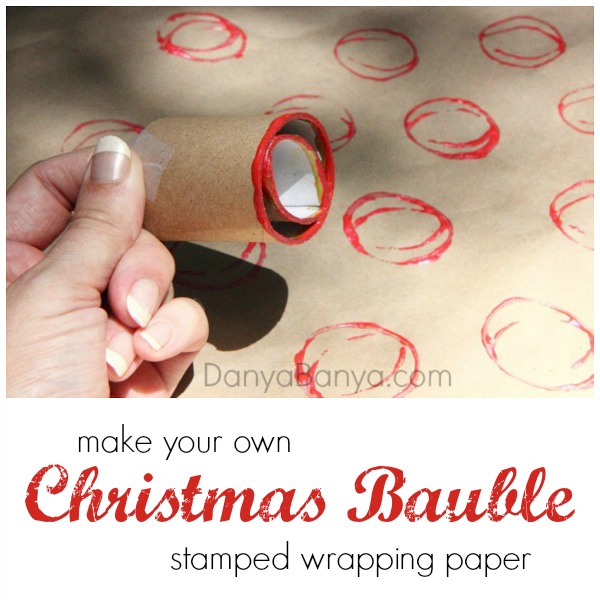 I followed Tidbit's tutorial to make the basic stamper shape out of two halves of a toilet paper roll, except that I was lazy and just used sticky tape to hold it all together instead of hot glue. Once or twice it did need readjusting, but overall it worked quite well. Don't you think??
JJ (aka the panda) thought it was cool. She tried out several of our other Christmas cookie cutters, but reverted back to this DIY bauble stamper and the small star cookie cutter as her favourites.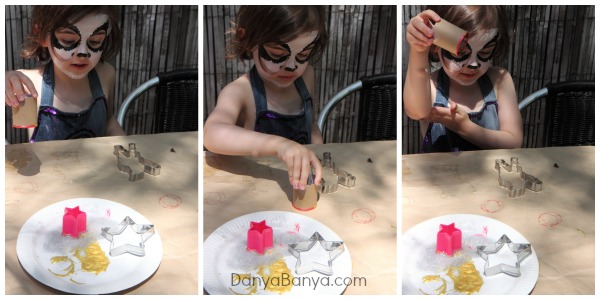 The bauble stamp started to show some wear and tear towards the end of the painting session, but still made very pretty (although thicker) bauble prints.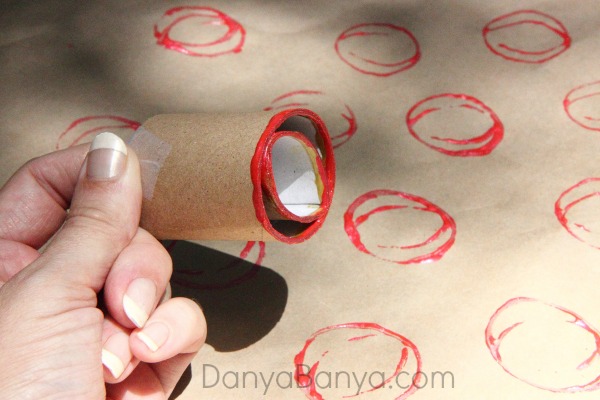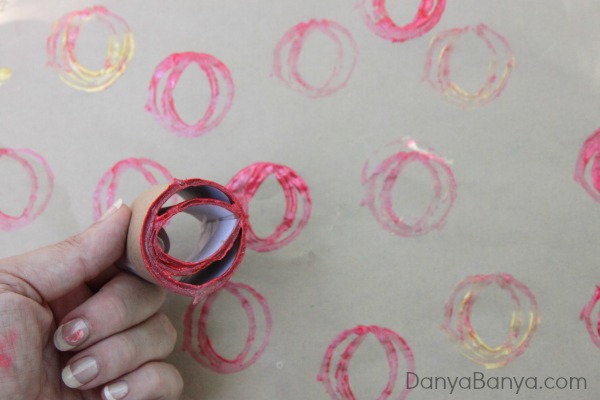 But, wait, there's more. Guess what happened next?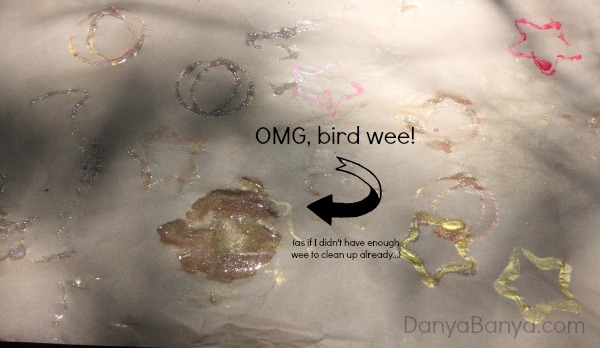 A bird did a wee on our art! Argh! I love the dappled shade in our backyard, but I hadn't really thought about the possibilities of bird wee! As if I didn't have enough wee already to contend with already, considering we have both a toilet training toddler and new puppy in the house at the moment…..
But wee aside, after these three wrapping paper art sessions, we made over nine metres of DIY wrapping paper (minus a few torn out sections for wee removal!)
So we've got plenty of wrapping paper for upcoming birthdays and Christmas – guess I'd better start buying presents now, huh?
You can find loads more arty and crafty Christmas ideas over on our Christmas Activities for Kids page, including:
And, of course, you can always subscribe to our newsletter to receive more fun activities sent straight to your Inbox. We'd love to have you join us!
xx Danya