Easy DIY Christmas cards for toddlers and preschoolers.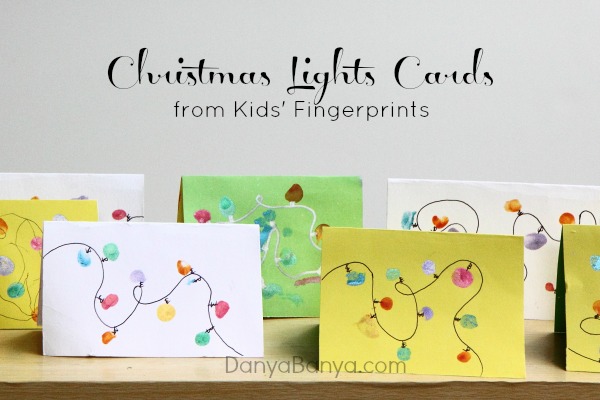 Christmas is fast approaching, so it's time to make and mail our cards!
I love homemade Christmas cards. Previously we've made cute Rudolph footprint cards and bubble wrap printed cards.
This year I was looking for an idea that was appropriate for a toddler and a preschooler to do together. I did a little research and came up with a bunch of ideas that looked fun:
And so when "Make Christmas Cards" came up as the activity-of-the-day in the girls' advent calendar, I suggested these four options. JJ (4.5 years old) made the executive decision to go with the fingerprint Christmas lights idea, and I think she made a great choice!
(As a side note, the fact that she made the final choice helped greatly with her enthusiasm for the project too, which is helpful when you need to make x30 of them!)
We did change the creative process slightly to make it a bit more toddler friendly, as JJ and her younger sister Bee (2 years) would be making these together. So instead of initially drawing the string, we stamped the fingerprints first, and then drew the string of lights around the fingerprint design afterwards. This way both kids could happily make finger prints anywhere on the cards they wanted to.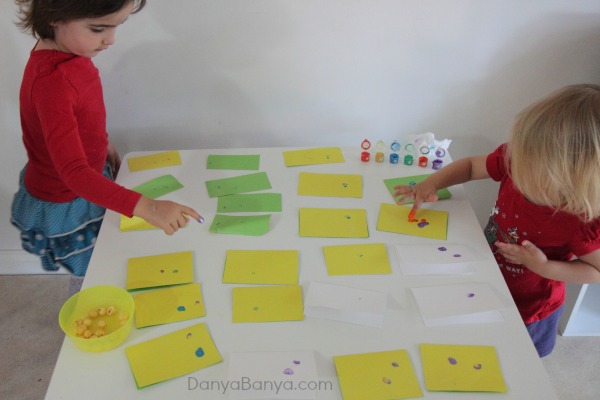 The white cards are made from offcuts of basic white cardstock. The yellow & green ones are made from a thickish paper that is yellow on one side and green on the other. (You could use any light coloured card or thick paper however).
Then I set out the paints. I love these tiny little paint pots – they're perfect for little fingers, whilst avoiding the temptation to paint with their whole hand. We saved ours from an old craft kit, but you can also buy them online (aff link*), and fill with whatever paints you like.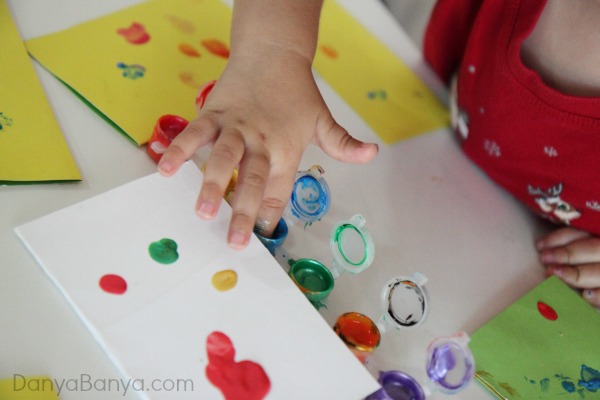 I asked the kids to paint fingerprint dots on each of the cards, in all sorts of colours. I like that they could do this part all by themselves, as there was no right or wrong placement of the dots. And I also like that they could easily paint a bunch of cards at once, as we have a fairly long Christmas card list!
As you can see, some of the fingerprints turned out more like finger-smudges, but that's OK.
At one point, I suggested using a wet wipe to clean fingers between colours, and this prompted JJ to go on a cleaning spree. Any dots on the table were wiped up so quickly! Bee got into the spirit as well and was soon putting her fingers in the paint for the sole purpose of having them wiped. We went through 30 wipes by the end of this project, but it did mean the kids had lots of fun!
When the girls had finished finger-painting, I confess that I did add a few of my pinky fingerprint dots to any cards that looked very sparse, but the majority were legitimately made by toddler and preschooler fingers.
Here they all are outside drying. 17 x cards and 7 x gift tags – not bad for one afternoon painting session!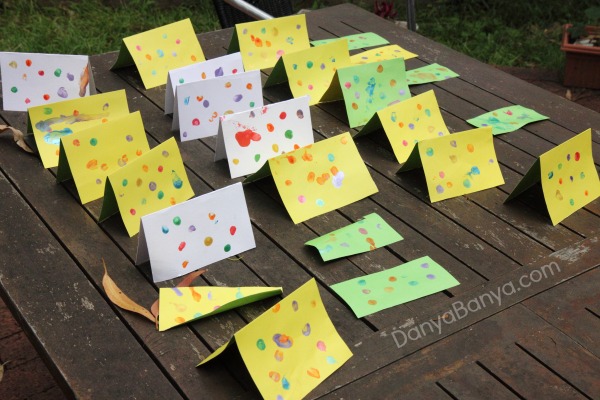 To finish them off, I drew a line that passed near (but preferably not touching) any dots, and then connected each of the dots with a line and a squiggle. I found that a normal black ballpoint pen looked the best.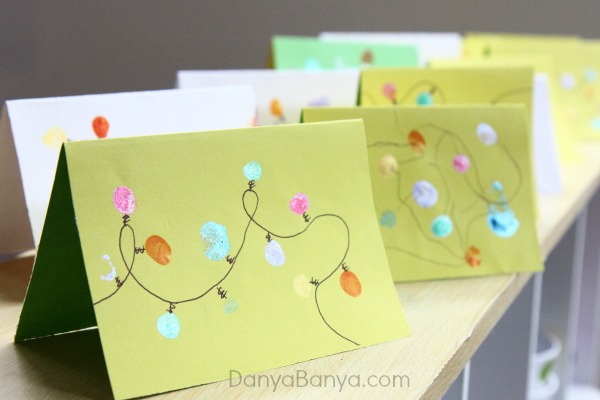 JJ decided to try drawing a string of lights on one of the cards too.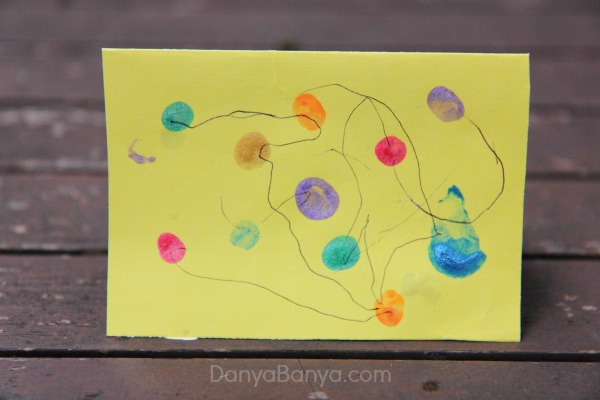 For the gift tags, I used mini scallop paper edgers, a hole punch and kitchen twine.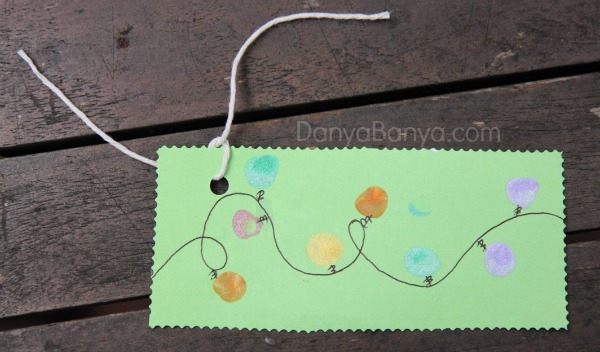 And if you're a friend or family member and are wondering where your card is? Sorry I haven't actually gotten around to posting them yet. Consider this a sneak peak… 🙂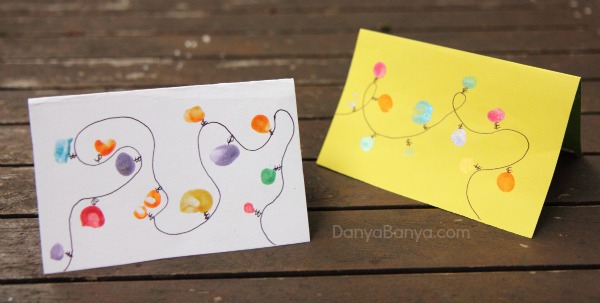 You can find all our kids' Christmas activities here, including:
DIY Mistletoes ornaments – which make for really cute keepsake
Here's four fun and easy ways to decorate Christmas baubles with preschoolers
and both girls had so much fun playing with this homemade gingerbread playdough

And if you like these ideas, subscribe to our newsletter, to keep up-to-date with all our latest fun activities for kids!


xx Danya

* This post contains affiliate link(s). An affiliate link means I may earn advertising / referral fees if you make a purchase through my link, without any extra cost to you. It helps to keep this little blog afloat. Thanks for your support.