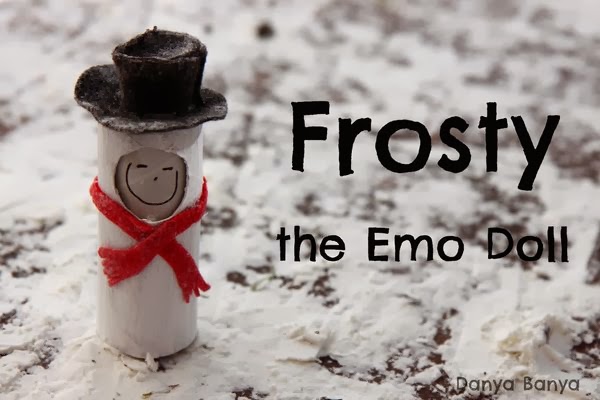 Remember the 'blank'
Emo Dolls
that I made last week? Well, now they have a brand new set of 'clothes'. (I don't know if a snowman suit technically counts as clothes, but you know what I mean…)
And so, I'm pleased to introduce you to…. Frosty the Emo Doll!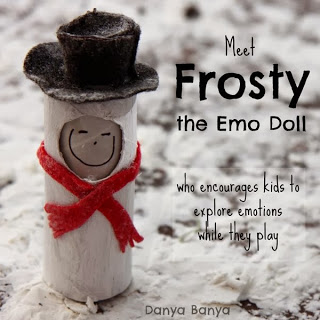 To make his outfit, I painted a toilet paper roll white (after cutting out a circle for the 'face'). I then made the little hat and scarf with scrap felt and a hot glue gun. The hat doesn't have to look perfect – snowmen hats are supposed to look a bit dishevelled – which is lucky as Bee had lots of fun trying to pull the hat off, adding to the dishevelled look!
We had some Play Snow left over from last week, so Frosty enjoyed a little snow play in our backyard. Bee (14 months) is starting to interact with dolls. She says 'Mah' and gives them a kiss. She can also 'walk' them along the ground.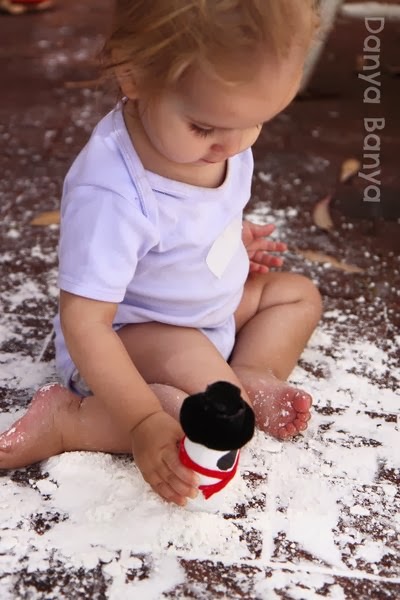 To give Frosty a face, I used one of the inner rolls with the facial expressions that I'd made earlier. The idea is that kids can change Frosty's facial expression, and in this way, they can learn about emotions and empathy while they are playing.
Here is JJ (3.5 years) choosing which facial expression Frosty would 'wear' that day.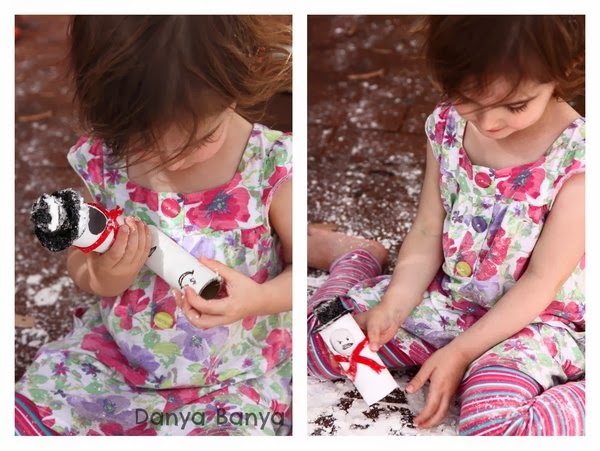 She chose an angry face, and started to role play a scene similar to one that had occurred at a supermarket play area the day before.
JJ said "He's a mean snowman Mummy. He's still learning how to be nice."
"Oh, is he not playing nicely? What are you going to say?" I asked.
"I don't like that. Let's play a fun game instead."
Inwardly I was grinning. Teaching JJ that most kids are not innately 'mean', that they sometimes need help to learn how to play nicely, that she can stand up for herself by saying "I don't like that" and that she can encourage a change in play is something we've been working on. The above conversation mimicked almost exactly a situation that JJ faced the day prior, where there was a young boy who was playing slightly rough. JJ stood up for herself, and managed to change the play dynamic, and the two of went on to play happily together for ages.
JJ changed Frosty's facial expression to this one. (I don't think she knows what the dollar signs means, she just saw this as a fun face.)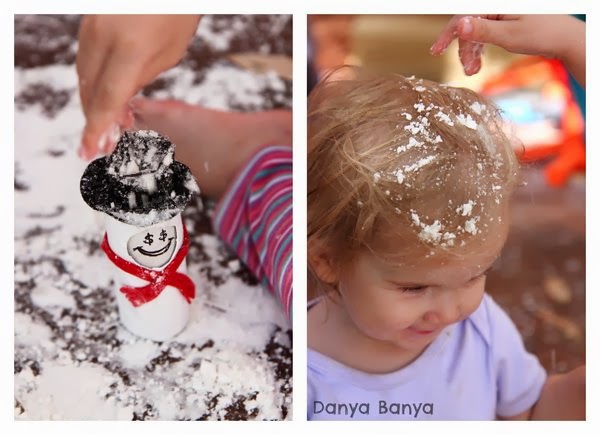 And then JJ made it snow! She made it snow on Bee too, who though it was a marvellous idea. Umm, Mummy's doesn't agree. Careful not to get it in anyone's eyes!
In all, lots of snowy role play fun for a sunny Australian Summer's day…
And to finish up, I couldn't resist slipping in this little Dad Mum joke. It's one of my favourites at the moment. 🙂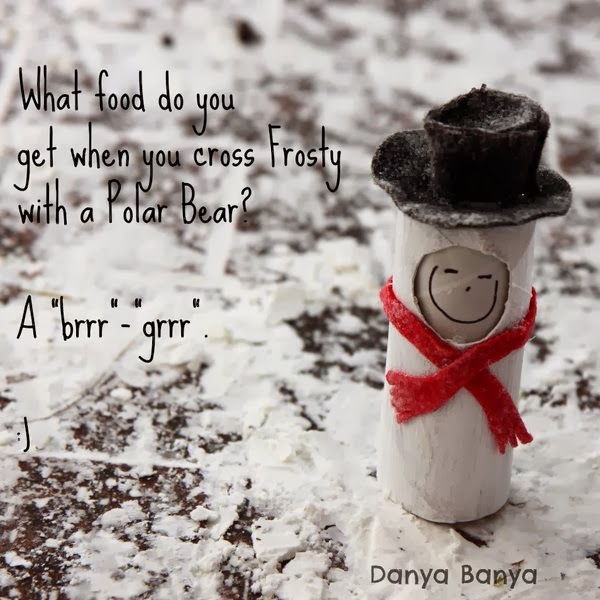 More outfits are planned, but I'm also happy to take suggestions. What outfit would you like to see next?
xx
Danya