How to make play snow from just three ingredients. Great for winter sensory play – for Christmas, or any time of year.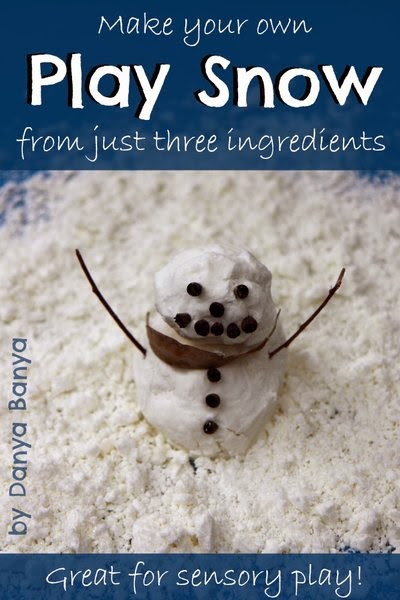 Have you made play snow yet? No? Oh you have you try this – you're going to love it, and it's so easy to make…
Mix 500g of cornflour (or you might call it corn starch*) with 250ml of baby oil and it transforms into the softest, fluffiest mixture you can imagine. I've heard this called Cloud Dough, and it's an apt name. It's not gooey at all, rather it crumbles between your fingers. But if you press it together, it will mould into shapes, which you can re-crumble and re-mould over and over and over again. The baby oil gives it a heavenly smell, and actually softens your hands while you play.
But to make this Cloud Dough mixture into Play Snow, you need to add a magic third ingredient. A few tablespoons of white glitter (or silver), which will make it glint and sparkle in the sunshine just like real snow. (Except of course, for the temperature!)

The play snow is so white that it is really hard to photograph. I've darkened the photos so the white isn't blown out, but it's really hard to capture the sparkles from the glitter. I think you can see some glitter glints in this shot below – but if you can't see it, then you'll just have to trust me that this was glinting like crazy. 🙂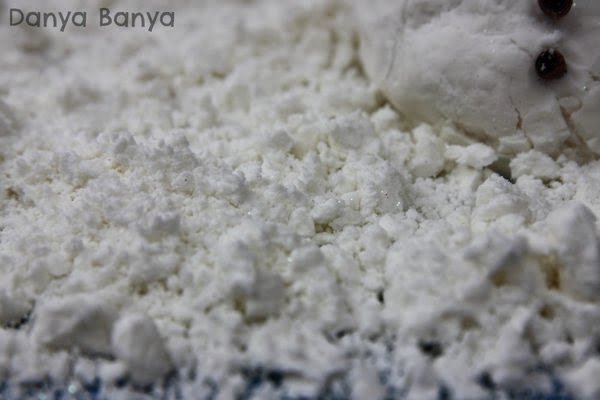 December is the beginning of summer in Australia. We don't get snow in Sydney, even in wintertime, but by early December, the temperatures start to really soar. But Christmas means that winter messages infiltrate even the hottest summer, because you see, Santa lives at the North Pole. Many Christmas books feature the trimmings of a white Christmas, and hence why it's fun even for Aussie kids to enjoy a little "snow play" around this time of year.
Before showing my daughter the play snow, I set up a little snowman to surprise her, and also to demonstrate the mouldable aspects. I had so much fun making him! Moulding things with your fingers is really therapeutic, and the texture and smell of the play snow is divine – I could have sat outside and played for ages…

Here he is with his hands up in the air! He's made out of play snow, tiny Aussie gumnuts, twigs and a gum leaf scarf. I think he's pretty cute. 🙂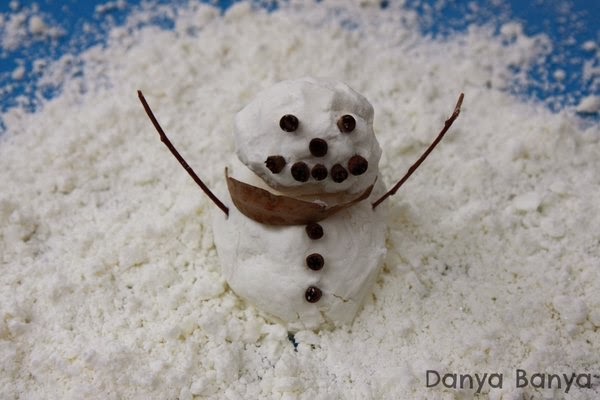 When I told JJ (3.5 years old) there was a snowman outside, and she raced out at super speed!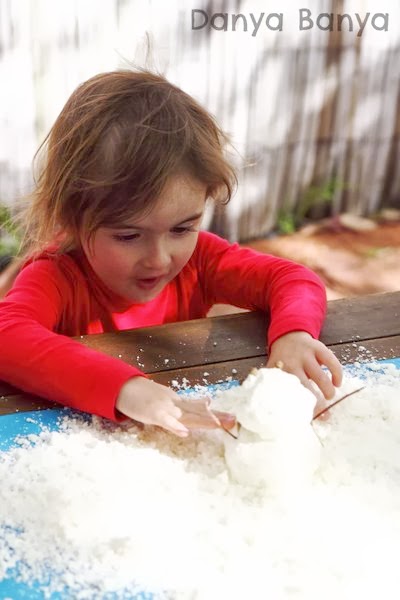 JJ was a little put off by the play snow being set up on a piece of cardboard. When we've done sensory play in the past (with rice or sand or whatever) we've set it up in a tub. I noticed her baulking, so I asked if she wanted it to be put in a tub, and she was much happier with that idea.
She spent ages just feeling the texture of the play snow. She squeezed it to mould it in her hands, and then crumbled it through her fingers. She would rake her finger through just for the sensation of feeling it and seeing the patterns she could make. She borrowed my snowman idea and made a mini snowman of her own. She started making cupcakes, and I asked if she wanted some little plates. She used a stick for a candle and sang Happy Birthday to herself.
But overall I thought it was interesting how little additional materials she used in her play. Previously when we've done sensory play, she's asked for cups and funnels and other materials. But on this occasion, besides a couple of sticks and a plate, she was mostly just content to enjoy the sensation of touching the play snow.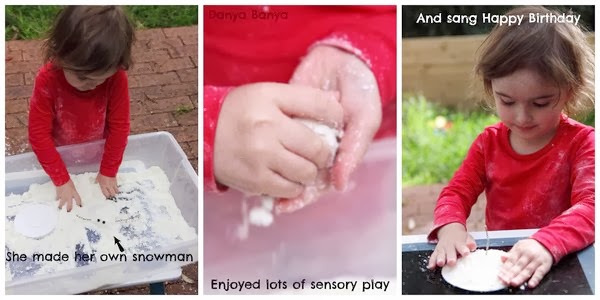 After a while, the tub got moved to the ground and JJ jumped inside. As we were playing outside, I didn't enforce a rule that the snow had to stay inside the tub, and JJ enjoyed sprinkling the snow between her fingers to 'make it snow' on the pavers and the grass, turning everything white.

What a glorious mess! It was easily cleaned up, I just stripped the girls down for their bath, and hosed the backyard off and it was like nothing had happened.
The next day we had a playdate, and so we decided to make up another batch (minus the glitter). This time I let the kids do the mixing.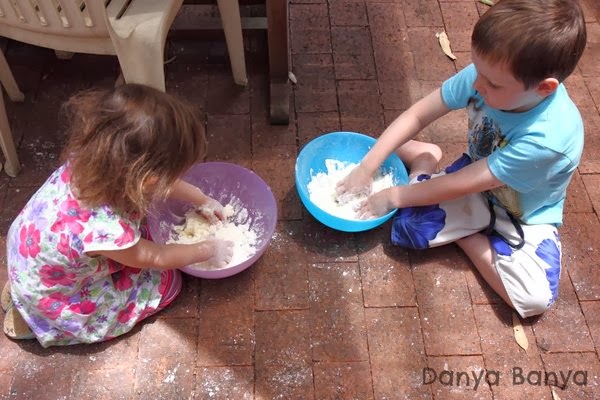 They opted away with the tub this time, and instead tipped the play snow directly onto the pavers and played with it there instead.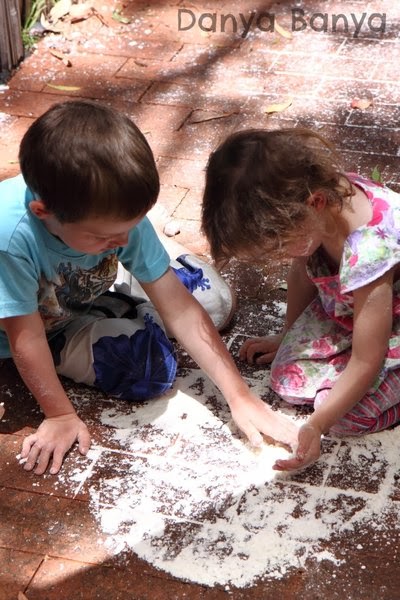 It was interesting to see how JJ played with the play snow differently this time. JJ rode her trike over the snow, and examined the tread marks. She also made foot prints, but she was too busy with gross motor play and role-playing to stop and concentrate on the texture.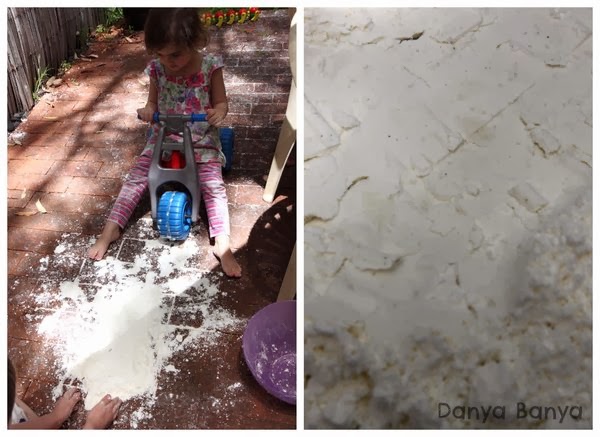 At the end of the play session, I was able to recollect some of the snow before hosing everything down again, so we have some to play with over the coming week.
More Sensory Play Ideas
We've made HEAPS of other fun doughs and slimes – you can find them all on my Play Ideas page, or I've listed a few below (just click on the picture to go to the full post):
More Christmas Ideas
We also have a page dedicated to our Christmas activities for kids – the lead up to Christmas is such a wonderful time to get crafty! Here are a few of our favourites: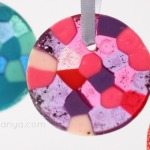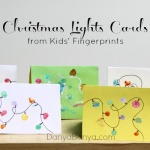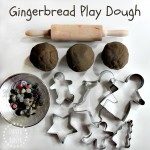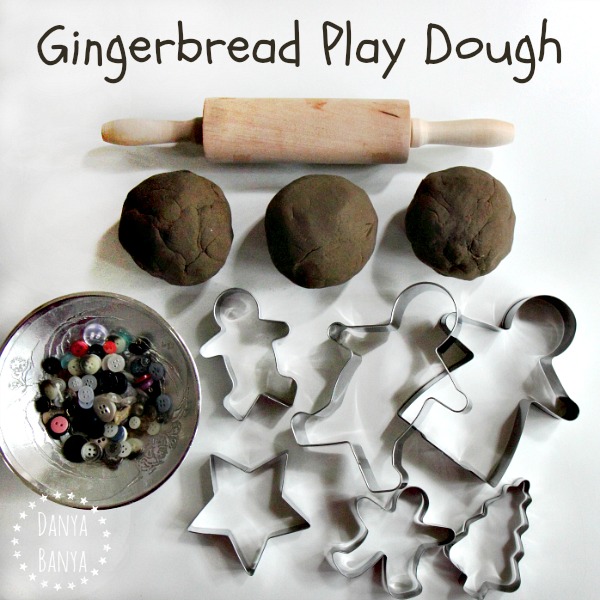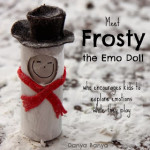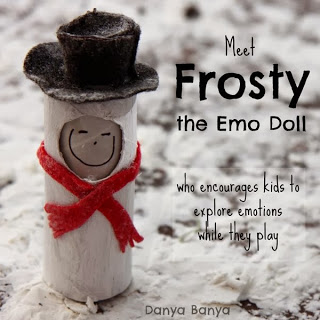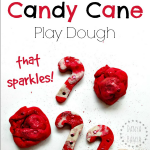 For even more, subscribe to our newsletter, to receive fun activities like this sent straight to your inbox. We'd love to have you join our growing subscriber community!
xx Danya
* What Australians call cornflour is the same thing as what Americans call corn starch (and vice versa). I know, confusing! I've added in a few (cheeky affiliate) Amazon links to a US corn starch (and baby oil and white glitter) brand to help clarify. An affiliate link means I may earn a referral fee if you make a purchase through my link, without any extra cost to you. It helps to keep this little blog afloat. Thanks for your support.