How to make slime that GLOWS – fun science and sensory play for kids.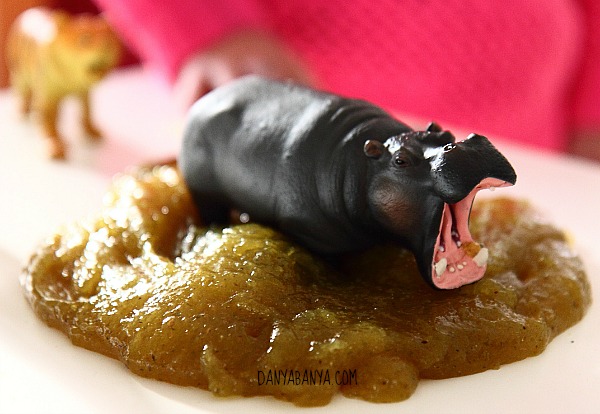 Check out this slime that I made for my toddler and preschool aged girls to play with. Awesome, huh? Just perfect for their hippo to wallow in.
Can you believe it's made from just two ingredients (plus water, but that doesn't count), is Borax-free and non-toxic?
(Note: whilst it's non-toxic and could technically be called edible, this slime isn't meant to be viewed as a 'food'. It wouldn't taste very good! But it won't do kids any harm if a small amount accidentally ends up being consumed.)

You can squish it, pick it up and tear it apart and it doesn't stick to your hands (or the table, or your toys).
FUN!
But I haven't even got to the best part yet. You see, it also glows.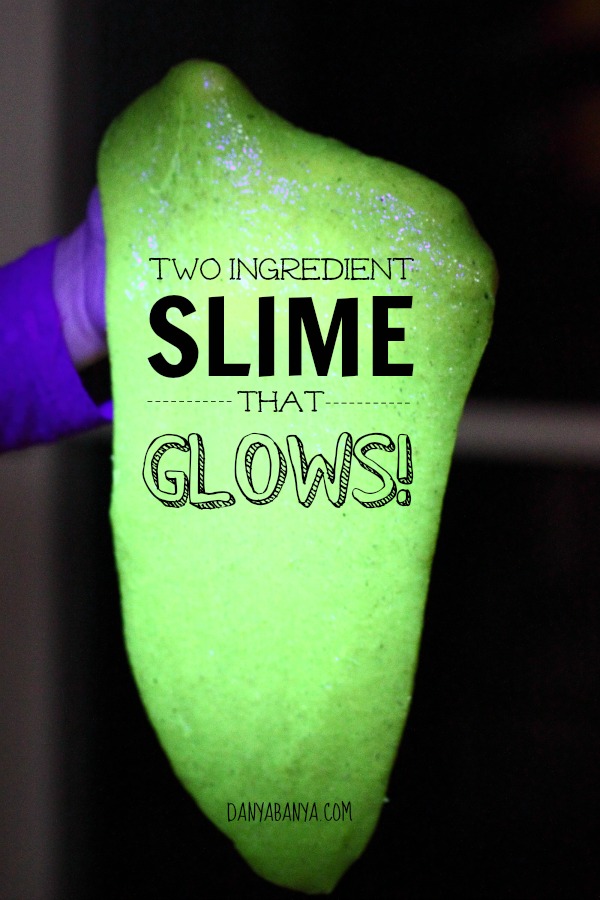 Cool!
You do need a black light (ultraviolet light) for the glowing effect. We have a black light torch, like this one
.
Want to know how to make some? The base ingredient is psyllium husks.
We use psyllium husks all the time in our cooking – it provides a jelly-like texture that comes in handy sometimes, plus we like the extra fibre. Mr Banya adds them to stewed apples to make apple sauce, and he also uses psyllium husks to make a soy sauce jelly to go along with his sous-vide salmon that is to-die-for. (I'll have to put his salmon recipe up on the blog one day because it is really truly heavenly. If only I could convince him to write a guest post for me!)
But you only use a tablespoon at a time, and we somehow bought a massive bag of psyllium husks (similar to this one) that will probably last us for decades, so I'd been toying around with the idea of a type of psyllium husk sensory jelly / slime / flubber for the kids to play with. Gross and awesome at the same time.
Then one day I stumbled across Fun at Home with Kids' post on glowing bath water. She had figured out that certain vitamin tablets contain a combination of ingredients that glow when under a black light. So awesome! So I thought, "I could totally make psyllium slime glow too!"
If you are interested in the fluorescent science behind this activity, pop over to read our full fluorescent slime post on our sister site, Go Science Girls.
To make our glowing psyllium slime, I used:
8 Teaspoons of Psyllium Husks
3 Vitamin Tablets
3 Cups of Water
(Pop over to Fun At Home With Kids to double check the name of the vitamins in your region – they are called different things in different countries….)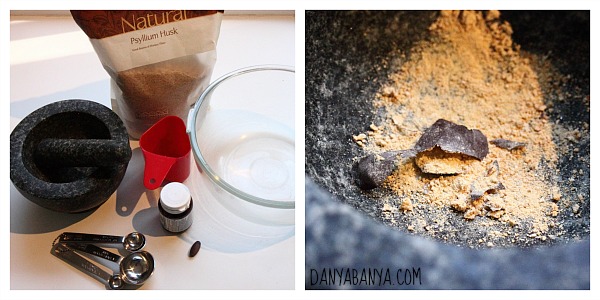 Crush the vitamin tablets and remove their outer coating. Then combine the crushed vitamin, psyllium husks and water in a large bowl and microwaved for a few minutes at a time, until it looked ready and flubbery. Once cool, I let the kids play! And then at night, we brought out the black light and I listened to the chorus of oohs and aahs. Science rocks. 🙂


If you make this slime at home, play around with the ratios and the cooking time. Our slime turned out to be quite dense, which was fun this time round. Next time I might try adding more water and see how it turns out. If you weren't interested in the glowing effect, you could use food colouring to make a slime rainbow. You could probably use juice instead of water to make it scented. So many ideas! We still have an enormous quantity of psyllium husks left over, so I'm sure we'll be trying this again…
For more squishy sensory play ideas, you might like:
Visit Danya Banya | Go Science Girls's profile on Pinterest.
Follow Danya Banya | Go Science Girls's board Messy & Sensory Play on Pinterest.
xx Danya
* This post contains Amazon affiliate links. An affiliate link means I may earn a commission if you make a purchase through my link, without any extra cost to you. It helps to keep this little blog afloat. Thanks for your support.