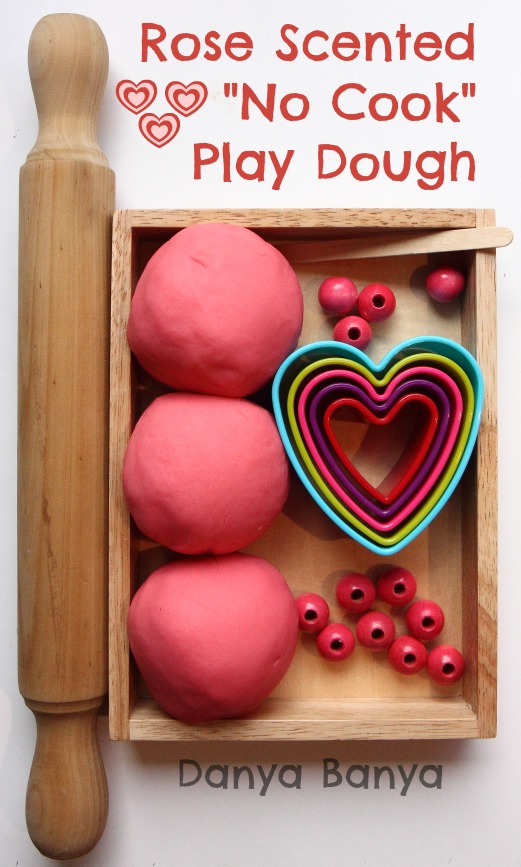 This is the best play dough (playdough? play-dough? play-doh?) that I've ever made. Actually, I'll raise that – this is the best play dough that we've ever played with.
JJ helped me make it. Measuring out 2 cups of this, 1/2 a cup of that, and a tablespoon of something else – all great meaningful maths practise. Plus she loved it!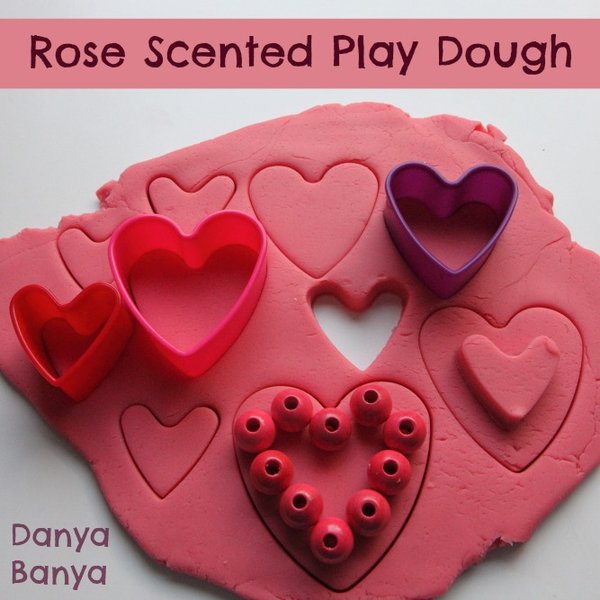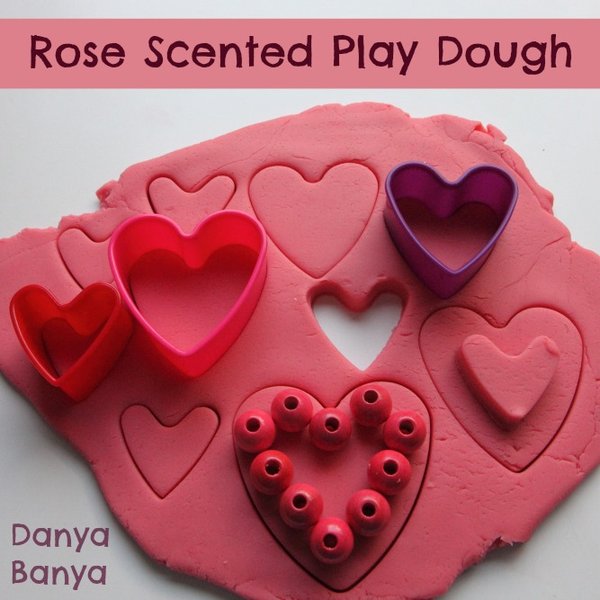 I used this no cook play dough recipe from The Imagination Tree as a base, except that I added red food colouring and a few tablespoons of Queen Natural Rosewater Flavouring Essence (which I think is similar to this one (aff link*) and decreased the water component slightly to compensate.
Check out the colour and the texture. It is smooth, soft and pliable. And the rose scent makes this an extra sensory experience.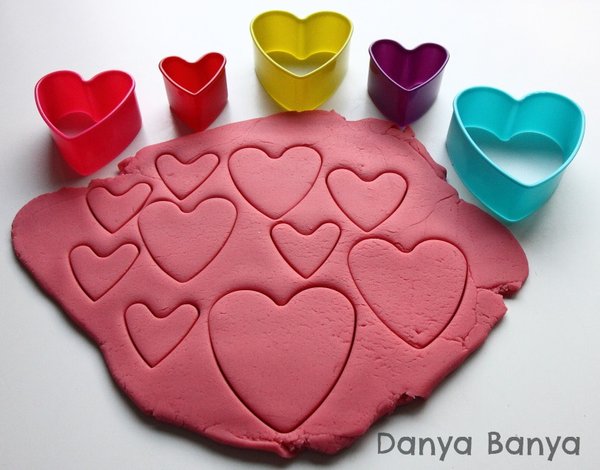 I thought it would be fun to set out heart shaped cookie cutters and pink beads as an invitation to play.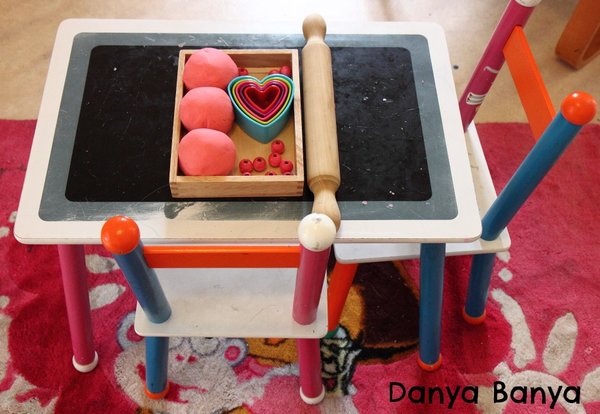 JJ was so excited to play with this play dough. She kept smelling and ahhing like a gourmet. Both the cookie cutters and the beads were a hit.

When JJ had finished making heart shapes, she started to roleplay that she was a baker and was making current buns. A few renditions of "Five Current Buns from a Baker's Shop" may have been sung. She hid beads inside balls of dough to represent the currents.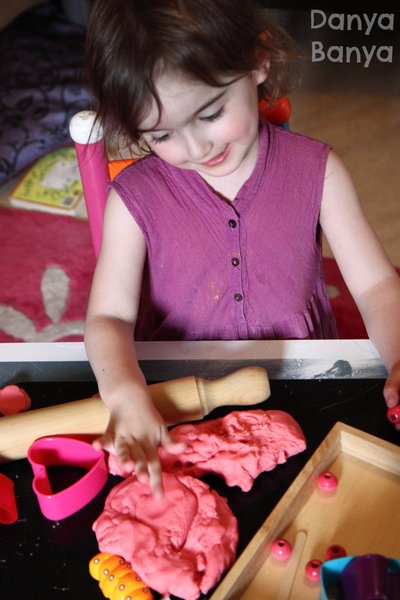 Then she decided that she was a tailor, and the beads were buttons. Here she is making me a new jacket.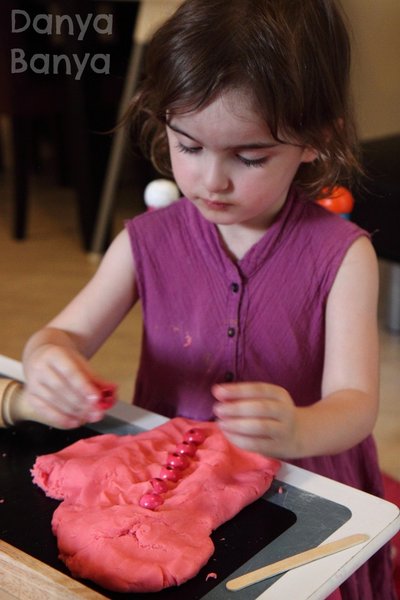 And yes, I then had to wear it.
She played with just the play dough, beads, heart shapes & her imagination for a good half an hour, before changing it up a little and introducing her animals to the play session. Here she is making elephant footprints (something she's remembered from previous play dough play sessions).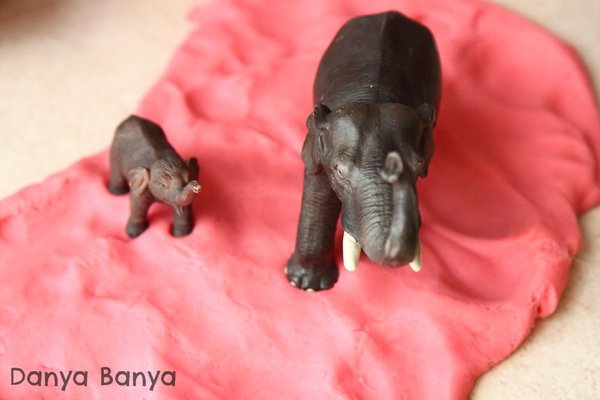 And of course my foot-obsessed lass also put the play dough on the floor so she could make her own footprints and feel the sensation of the cool play dough on her toes.
This particular batch of play dough was played with over and over and over again for weeks. I kept it in an airtight container, and it didn't dry out at all. It would have lasted much longer, except that it ended up full of grit and crumbs from a few outside and lunch play sessions.
One of the fears I'd had of making my own play dough was that it would stain the carpet. But I can confess that some small bits were walked into the carpet, and I was able to pick them off the following day (after they'd had time to dry out) and there was no stain.
And having a big batch of the one colour is actually easier for little kids than storing various colours in lots of little tubs.
Hmmm, I'm seriously doubting whether I'll bother with store bought play dough again!
Edit: We've made HEAPS of play dough since I wrote this post! You can find them all on my Play Ideas page, including:
And I pin lots more on my Messy & Sensory Play pinterest board.
You might also like to subscribe to our newsletter, to receive ideas like this straight in your Inbox.
xx Danya
* Some of the products we have in Australia are not available internationally, so I've added in a (cheeky affiliate) link
to help clarify. An affiliate link means I may earn a commission or referral fee if you make a purchase through my link, without any extra cost to you. It helps to keep this little blog afloat. Thanks for your support.