Edible low sugar play dough for toddler and preschooler sensory play.
This post comes with a warning to your waistline, because what I am about to show you is disturbingly delicious.
It's edible.
It's low sugar.
It's got only three ingredients.
And it's called either playdough, play dough or play-doh. (Lol – I can never work it out…)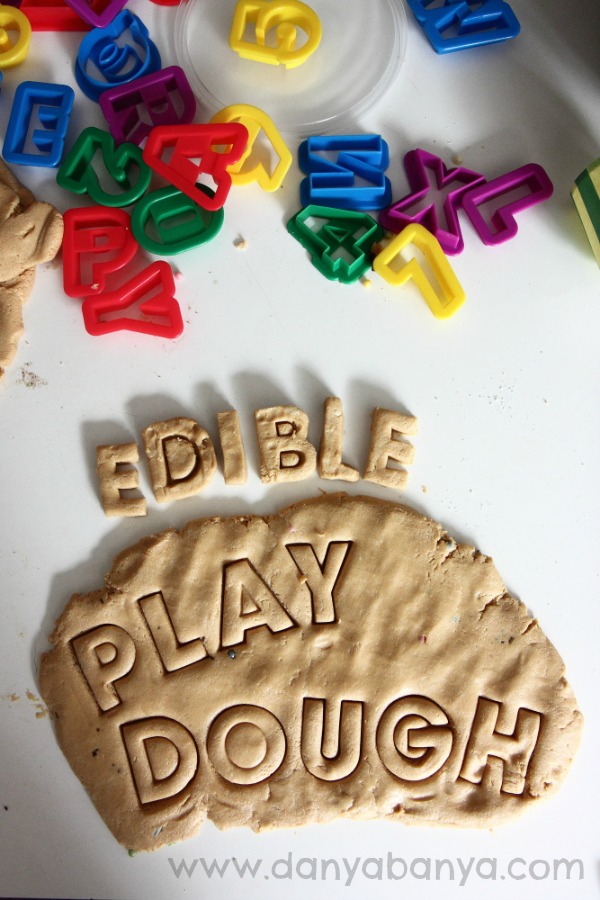 Most of the edible play dough recipes that I found on the internet called for copious amounts of powdered sugar; more than what I was comfortable with. So I came up with this modified recipe.
1 Cup instant milk powder
1 Cup smooth peanut butter
1 Tbsp honey
Or actually double that as I made two batches, one for each child. These quantities are approxiate – adjust until the dough looks and feels about right. I also included small amounts of sprinkles, pearls, choc chips, stars for decorations. (I figured the sugar in these was worth the "bang for buck").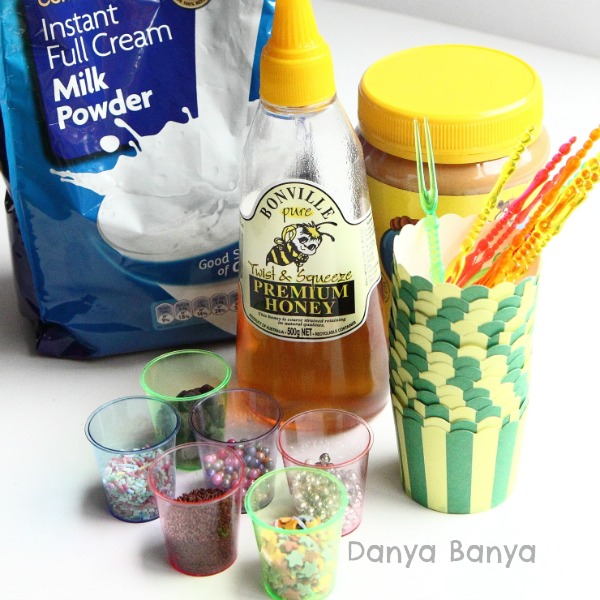 Despite how it looks at first glance, I'm still going to call this recipe healthy-ish. There are no artificial colours or flavours (including in the sprinkles – as I chose brands that don't contain these additives). The dough is high in protein, fat and calcium (all of which are great for my skinny and still growing kids), and only contains marginal sugar from the peanut butter.  You could easily reduce the sugar content further by choosing a no added sugar peanut butter (and of course, by omitting the sprinkly 'decorations').
And how did it taste? To be honest, I was expecting it to taste only so-so. But I was wrong. It tastes a bit like peanut butter fudge. Totally more-ish. Nom nom nom.
But at the end of the day, this is a playdough recipe, not a dessert. It's designed to be mixed, moulded and squished. It's designed to be tasted, but not eaten by the bowlful. (Note to self to remember that last point next time).
And the best bit is that the kids can make it from scratch themselves. Measuring out quantities is excellent early maths practise and mixing it all together is all part of the sensory experience.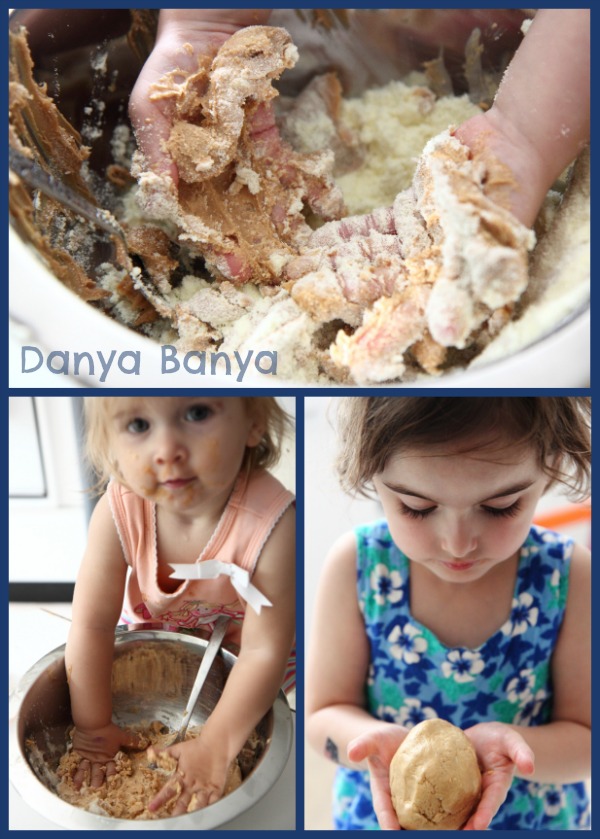 This is the first time that my toddler Bee (then 16 months old) has been involved in making play dough in the kitchen. She loved it! She stood in her shabby chic wooden high chair with her very own bowl. She spent a long time just touching, mixing, poking, squishing and tasting. After a while she gravitated to the novelty toothpicks and stuck them in to make a little echidna.
Meanwhile, JJ (my then 3 year and 8 month old preschooler) and I had fun making an ice cream, a Daddy, a Mummy, playing with some of our cookie cutters and sneaking a taste every now and again.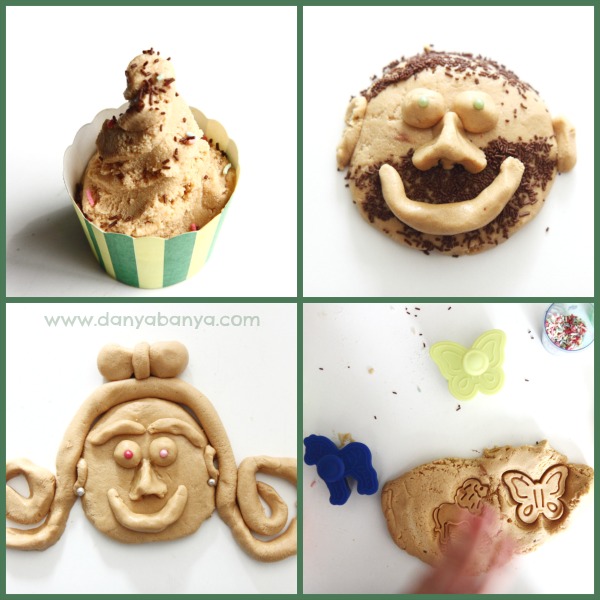 I bought all of the accessory items e from either our local grocery store or discount shop. The cute lion, zebra and butterfly cookie cutters that we used as stampers above are from this set of animal cookie cutters
and this Easter cookie cutter set
(both affiliate links*).
Lots of fun for everyone!




For more squishy sensory play, here are some of our other ideas. (Click on the image to go through to the full post).
These, and other fun ideas are all over on our Play Ideas page.
And are you following us on Pinterest? We pin lots of great ideas over there as well.
Visit Danya Banya | Go Science Girls's profile on Pinterest.
Follow Danya Banya | Go Science Girls's board Messy & Sensory Play on Pinterest.
xx Danya
*An affiliate link means I may earn a referral fee or commission if you make a purchase through my link, without any extra cost to you. Fees like this helps to keep this little blog afloat. Thanks for your support.