It's the middle of the month, which means it's time for another sensory play dough post! Yay! This month is all about Moon Sand. In fact, we decided to throw a Moon Sand party in the backyard…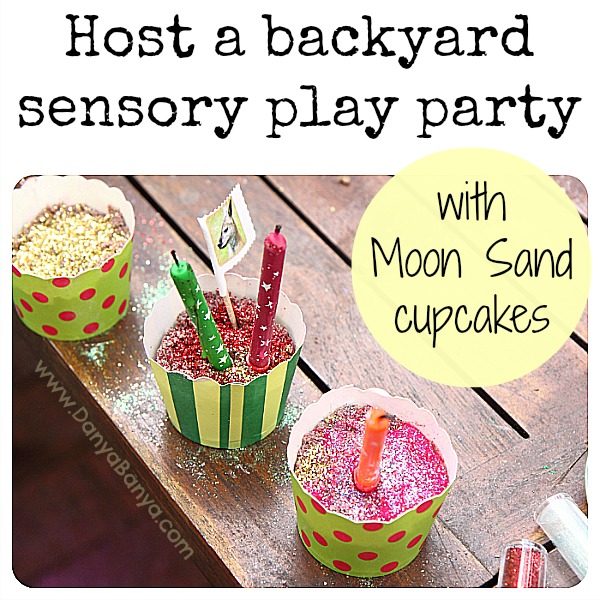 I can hear a few of you asking – what the sweet heck is moon sand??
Well, it can be one of two things, depending on who you ask. It can either be hydrophobic sand (sand that repels water) or it can be can be a recipe for a type of colourful, glittery, mouldable sand.  We gave both versions a go, but I'll save our (misguided) attempts at hydrophobic sand for another post. Today I want to show you how we made and played with this second colourful, glittery, mouldable version….
First we gathered up a few essential ingredients for this outdoor party play session:
clean sand
cornflour (or corn starch if you live in the US)
powdered tempera paint in various colours
(lots and lots of) glitter in various colours
some large cups and some water
cupcake accessories – cupcake patty pans or liners, paper baking cups, DIY cupcake toppers, a tiered cupcake stand, candles
party supplies – party hats, balloons, streamers
small sweet smelling flowers (to add an additional open-ended and natural sensory element)
a large sensory tub (we use a large plastic under bed storage box)
a bunch of super keen kids ready to play!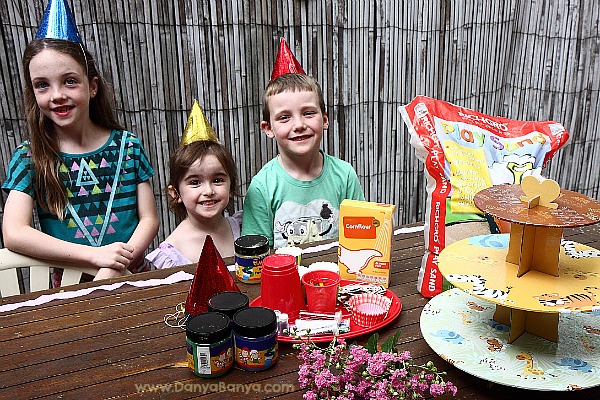 We didn't measure out ingredients, so I can't give you an exact "recipe", but it's easy enough to wing it as you go. Just add cornflour to damp sand, then mix in some powdered tempera paint until it looks "right", then add lots and lots and lots of glitter. And then add some more glitter, just to be on the safe side.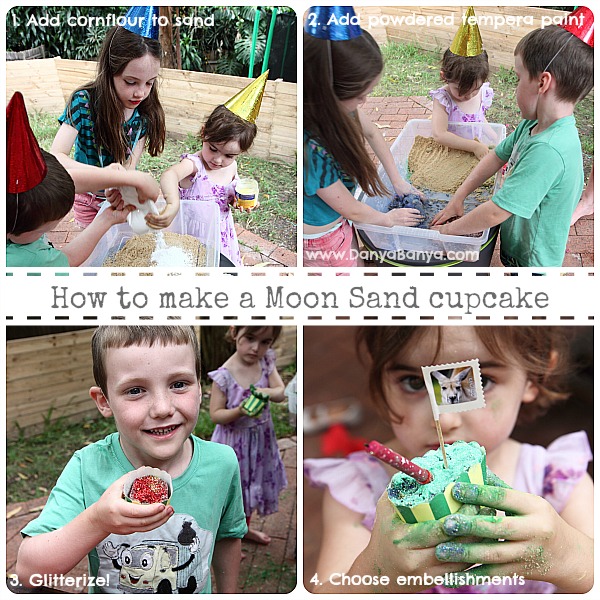 I found the paper baking cups worked better than the cupcake patty pans (or cupcake liners), but it's not a bad idea to provide both and let your kids decide which ones they'd prefer. They can then add whatever embellishments they like (candles, cupcake toppers, glitter, flowers, etc).
And of course, there's the singing. You could sing the traditional version of "Happy Birthday", or there's the Simpsons / Michael Jackson version of "Lisa It's Your Birthday" which you can adapt to your child's name. Or how about "It's My Birthday Today, I'm Older Than Yesterday"…
Whichever version you choose, there's bonus points for singing off key at the top of your lungs.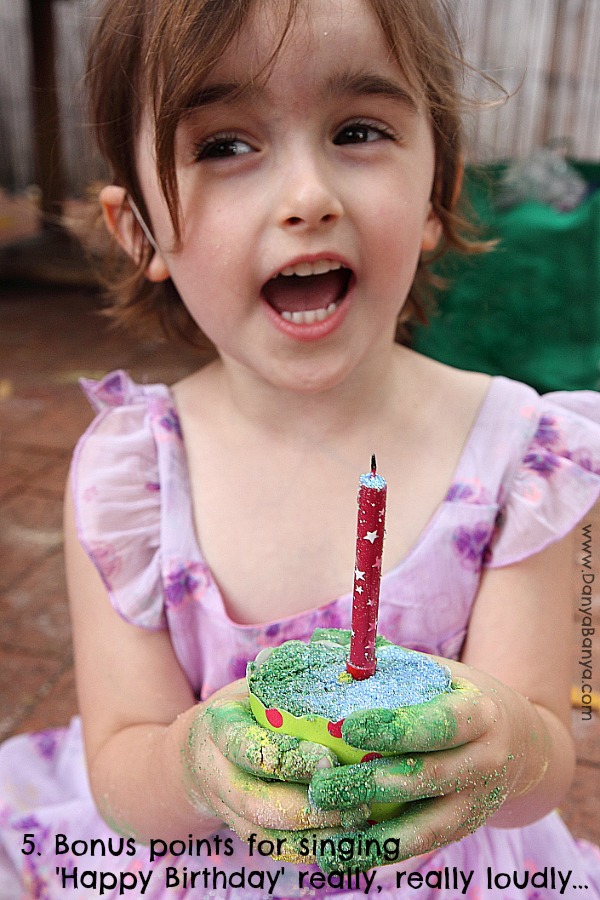 Another idea is to use the paper baking cups as moulds to make little moon sandcastles. (Actually moon sand sticks together much better than normal sand, so it's perfect for this sort of thing).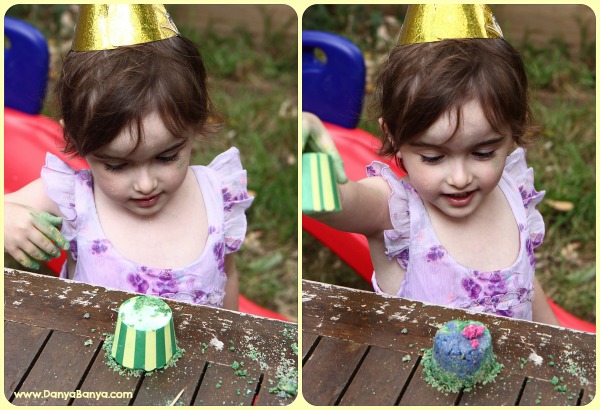 Here's the assortment of cupcakes that we had at the end of our play session. Pretty!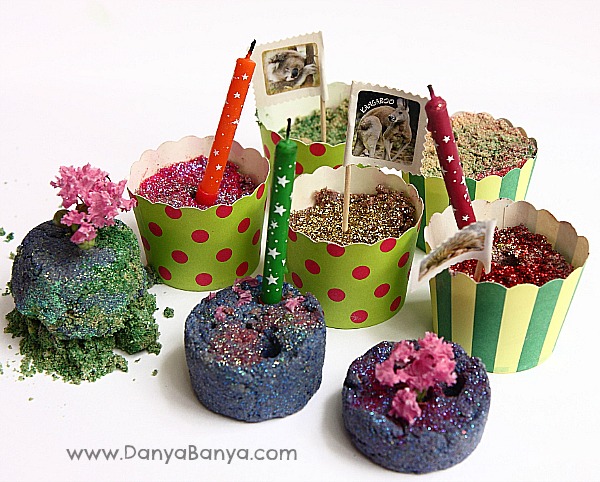 And one of the best things about this sort of hands-on, no rules, sensory play is that it is fun for kids of various ages. We did this activity with an 8 year old, a 4.5 year old and JJ who was about then about 3.5 years old, and they all had bucket loads of fun together.
Unfortunately Bee (who was about 18 months old here) was sleeping for most of this play session. But she was super keen once she'd woken up. She had lots of fun admiring and then destroying the cupcake creations, and afterwards she climbed right inside the sensory tub – of course! (I think she's gotten into this tub every time we've played with it so far…)
This is the sort of activity that is perfect for the summer holidays. Open-ended, outdoor, messy play with good friends always seems to do the trick – for my kids anyway.
This post is part of the 12 Months of Sensory Dough challenge. Pop over to see loads of sensory play ideas from some of my blogging buddies!
Follow Dayna :: Lemon Lime Adventures's board Best of the Best Sensory Dough on Pinterest.


xx Danya
PS: Did you see the T-Shirt our little friend is wearing? Yes it's one of the garbage themed t-shirts I made last year. I'm so pleased to see how well it's held up, considering how much it's been worn. 🙂