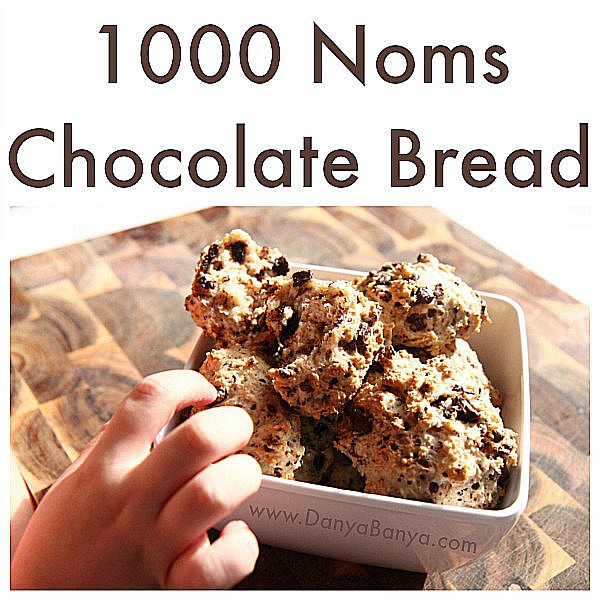 We've made (and devoured) this healthy chocolate bread so many times lately that I just had to share it with you.
It's similar to the two ingredient bread dough that we used for edible sensory play a few months ago, except that it has one vital extra ingredient.
Dark chocolate.
The better quality dark chocolate that you use, the healthier this recipe will be. Dark chocolate is generally lower in sugar and higher in antioxidant properties than it's milkier cousin, and the quantities in this recipe are low enough that the taste is not overpowering, even for young toddlers.
Chocolate Bread
50g good quality dark chocolate
1 Cup wholemeal (whole wheat) flour
2/3 Cup natural Greek yogurt
1. Preheat the oven to 180 degrees Celcius (356 Fahrenheit). Line a baking tray with baking paper or a silicone baking mat.
2. Cut or smash the chocolate up into tiny pieces. (Non-pro hint: cover the chocolate with a piece of paper towel while you are doing this, or you will get little bits of chocolate all over your kitchen).
3. Combine the chocolate, flour and yogurt in a bowl until you have a sticky dough. Let it sit for 5 minutes.
4. Roll the dough into small balls and place on the baking tray.
5. Bake until any edges have become golden. (The time will vary according to the size of your dough balls – it took mine about 15 minutes or so).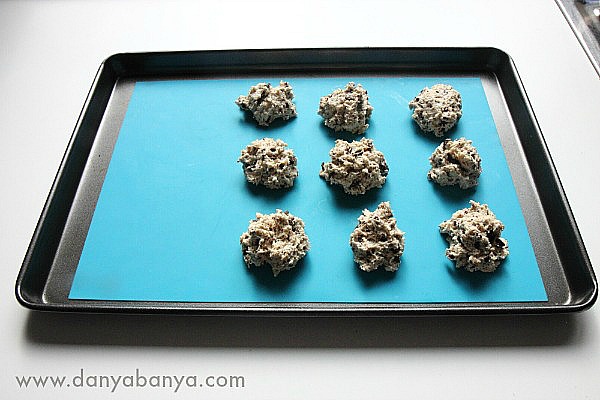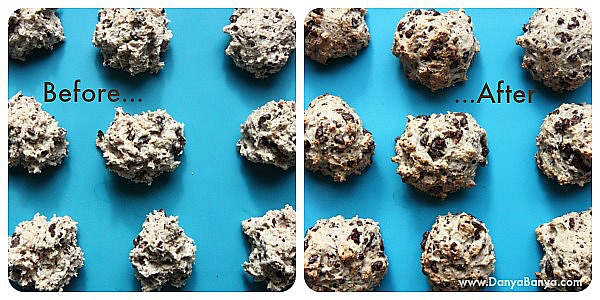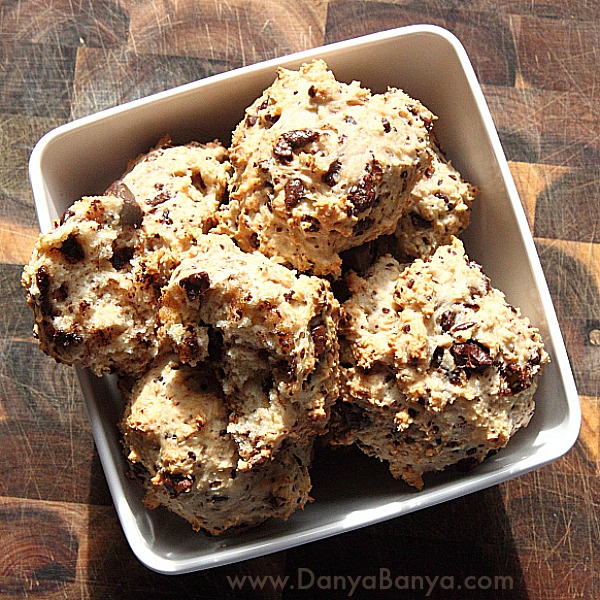 As you can see, the dough rises just a tiny bit.
They are best eaten still warm, fresh from the oven. If you have any left over, they will keep for a day or so in an airtight container or you could pop them in the freezer. That wasn't necessary for us though, my kids devoured ALL of these in record time.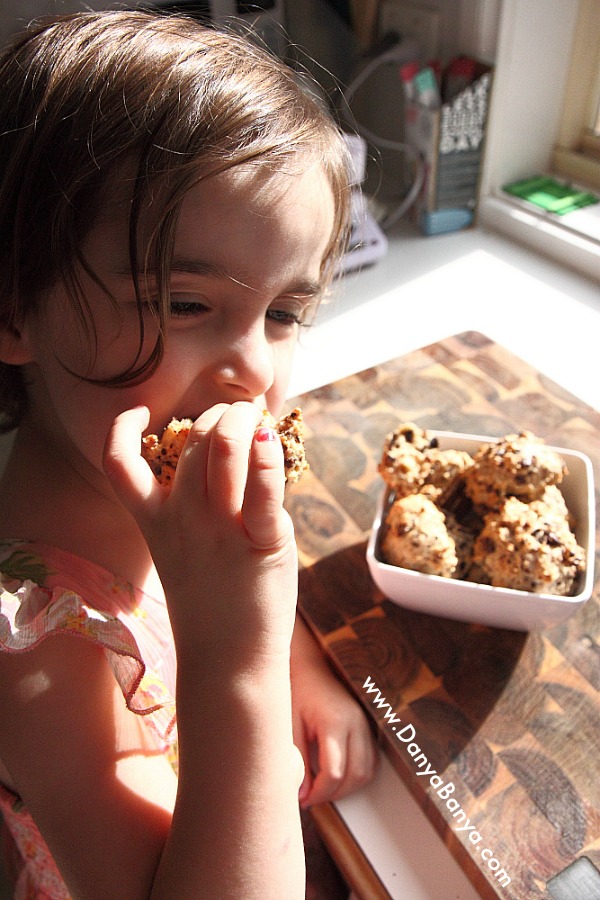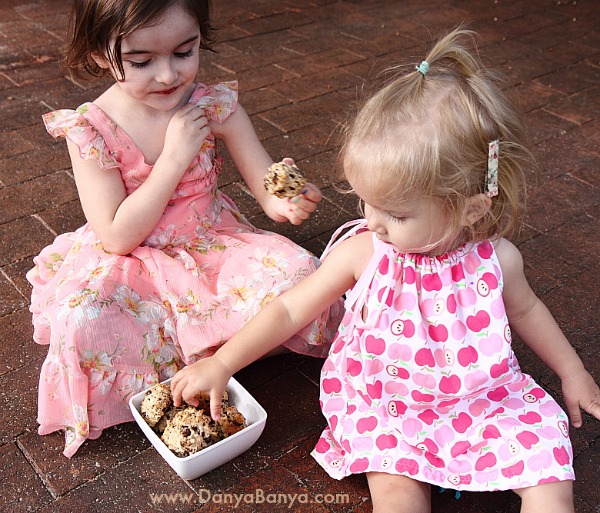 I asked my daughter JJ (3 years & 11 months) what rating she would give this batch of chocolate bread, and replied that it scores 1000 noms! I'm not sure she completely understands how big a thousand is, but she certainly does know that it's a big number. A big thumbs up!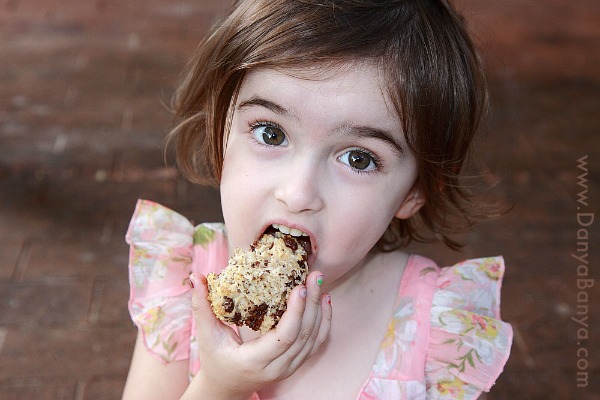 And Bee (19 months) thought they were delicious too, even if she doesn't quite have the vocabulary to say "1000 noms" just yet…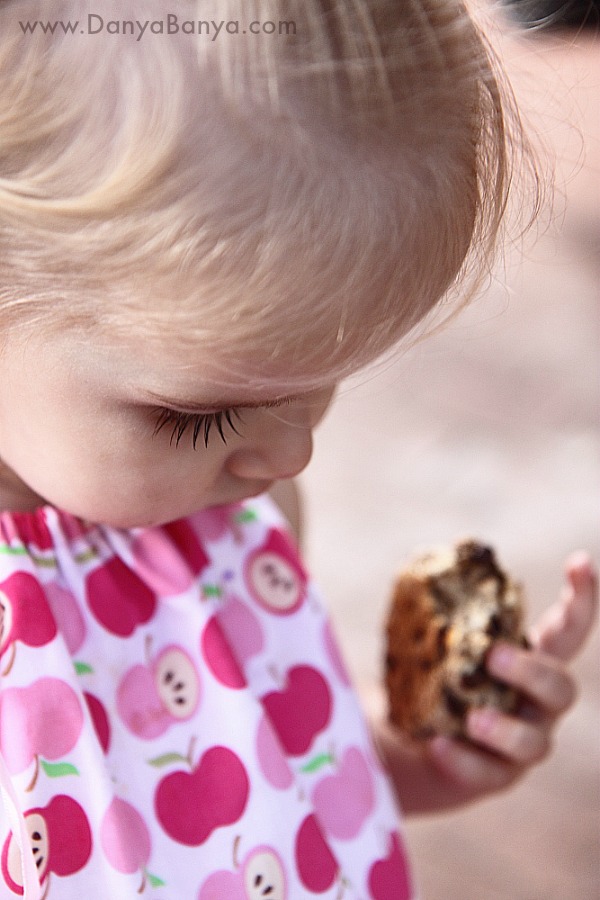 This was what was left at the end. Scarcely crumbs for the mice…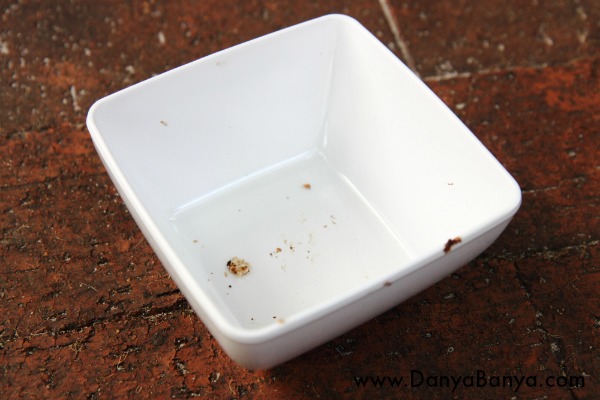 I'll be adding this post to my new Healthy-ish Recipes menu, which is a handy way to see all my food posts in one place.
xx Danya
PS: Did you notice that adorable apple dress that Bee is wearing? It's from one of my friends who has just started to sell her unique handmade creations (and custom orders) over at Crazy Meerkat. Gorgeous stuff!