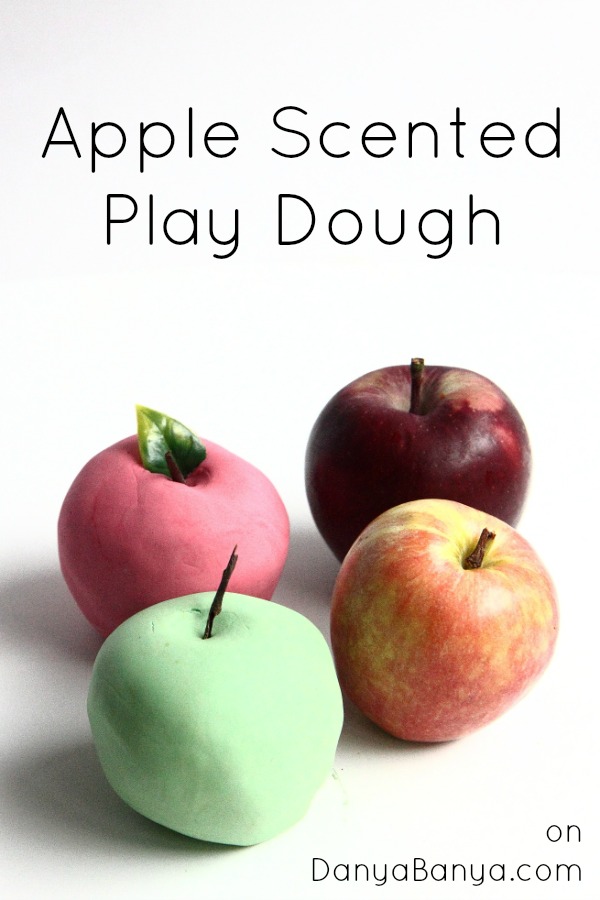 One day, in the middle of the summer holidays, my daughter JJ said "I'm bored".
"Bah!" I said. "Let's do something fun then!"
"Can we make another type of play dough, Mummy?" JJ asked.
You see, JJ (at 3 years & 7 months old) has caught on that there's a whole host of different play dough recipe variations that you can make at home, and each one is cooler than the next. She's keen to try them all! So far we've already made foam dough, cloud dough 'sand', two versions of edible play dough (this one and this one), and rose-scented play dough (my favourite).
But I was kinda put on short notice here. Normally I try to pre-plan so I can gather ingredients, but this time the kids wanted a new play dough pronto, so I had to think about what ingredients we had on hand. I remembered seeing play dough made from hair conditioner back when JJ was first born. I can't remember the particular blogger to credit this idea to (as I didn't have Pinterest to keep track of great ideas back then!) but suffice to say I've been meaning to give this one a try for a long time…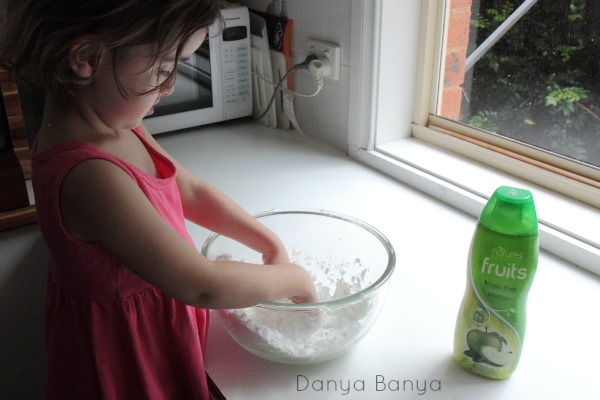 And low and behold, we had some apple scented conditioner up in the bathroom, and a box of corn flour in the cupboard, so that's how we came to experiment with making Apple Scented Play Dough using these ingredients as the base. (Depending on where you live, what I call corn flour, you might call corn starch instead).

Making Apple Scented Play Dough
JJ helped make our new play dough. We didn't measure out quantities – we just kept adding conditioner to corn flour, until the mixture felt dough-like. There were lots of exaggerated sniffs and comments about how soft it feels and how delicious it smells. Then I added red food colouring to one half of the dough, and green and yellow food colouring to the other half, and quickly shaped them into apples, adding some twigs, a leaf and real apples for dramatic effect, lol.
JJ, being a blogger's daughter, knows all about waiting to play until after a couple of photos are (quickly) taken, bless her patient little cotton socks!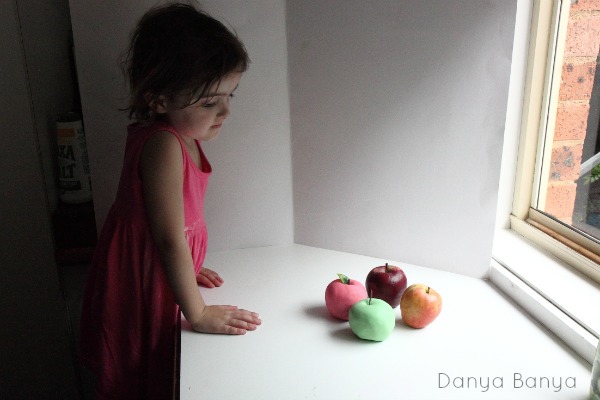 Once she got the all clear, she pulled out her play dough box, spread out all her cutters and rollers across the couch and started to play. (Usually she would use the table for this sort of thing, but I think she was so keen to play that she used the first surface she came across!)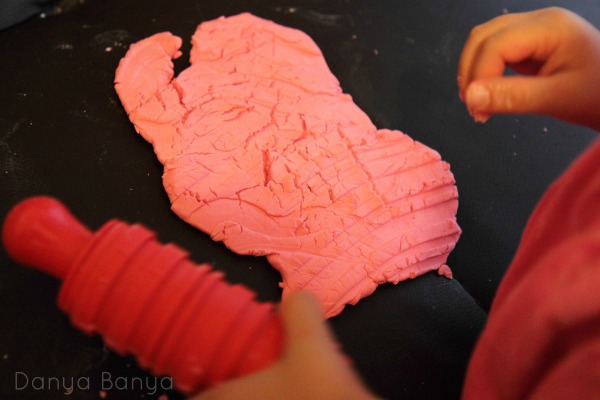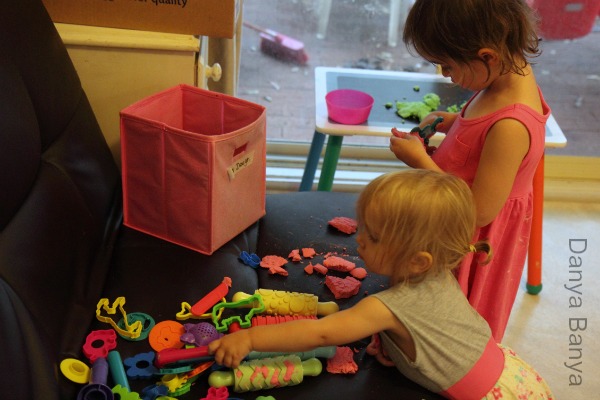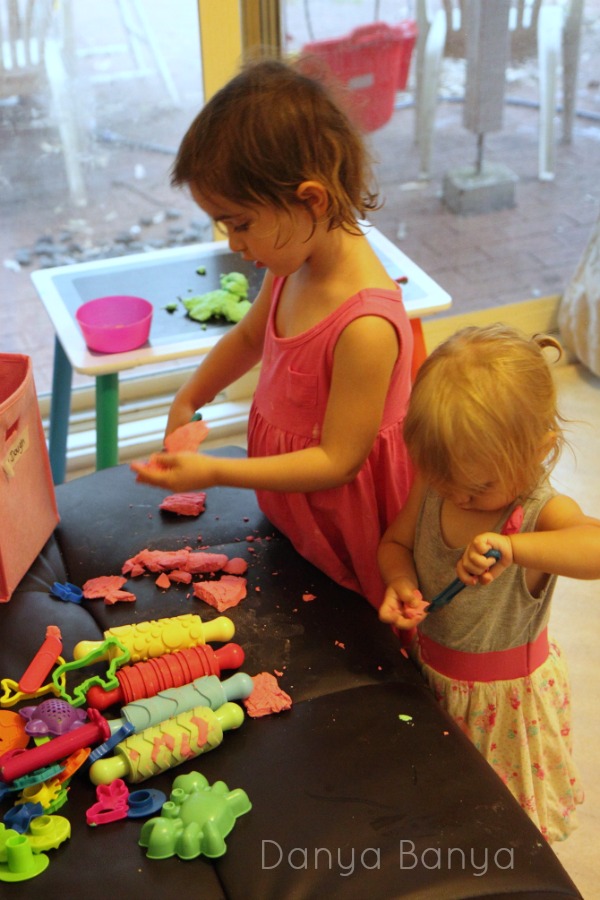 Bee (1 year & 4 months old) joined in the sensory play. Together they squished, moulded, rolled, cut, shaped, and kneaded to their hearts content, and I didn't hear another "I'm bored" for the rest of the day.
So, if you've read this far, you're probably wanting to know if I recommend making this play dough at home?
Advantages:
the ingredients are cheap and easy to get. (You might already have them in your cupboard).
the dough was easy enough for a preschooler to make, and making it adds to the sensory experience.
the smell is lovely! And you can vary the scent to another fruit just by buying a different scented conditioner.
it feels really soft, both while making it and while playing with it.
it holds it's shape much better than foam dough, making it feel more like 'real' play dough, and you still retain the ability to make it crumble if you want to.
Disadvantages:
this play dough is a lot messier than our usual 'proper' play dough recipe, as it can crumble all over the floor, and leaves a film of fine corn flour on everything it touches. For people who are scared of mess, you might want to play with this dough outside.
it's not edible, so you'd have to be careful around young toddlers who might be still in the mouthing phase.
we didn't keep ours for more than a couple of days, so I'm not sure how long it would last.
whilst the kids enjoyed smelling and describing the scent when prompted, they didn't seem to interact with the scent during their free play.

In summary: this playdough smelt lovely and was fun to play with. Whilst it was a bit messy, it was totally worth it to try it this once, just for that novel factor of trying out something new. But we'll probably try other variations before we make this again.
If you're looking for more apple ideas, we also have a cute apple craft, with a wriggly worm!
Or if it's more sensory play ideas you're after, you can find all our ideas on our Messy & Sensory Play.
You can also follow my Messy & Sensory Play Pinterest board to see all the sensory play ideas I like from across the web. Don't forget to follow our Danya Banya blog Pinterest board too, while you're there!

Will you be making a new play dough with your kids these holidays? Go on, they'll love it!
xx Danya