Super easy bread dough that kids can make, from just two ingredients! Fun sensory dough to play and eat.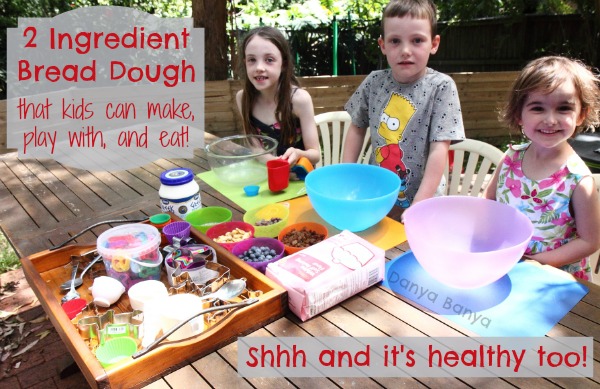 Who said you can't have your sensory dough and eat it too?
This is an easy and healthy recipe for bread dough that kids enjoy making, playing with, baking and eating. And it's made from two basic ingredients that you probably already have in your pantry.
Yes, just two! Told you it was easy…
To make an easy bread dough all you need is:
1 cup of self-raising flour
2/3 cup of Greek yogurt
(If you don't have self raising flour, then you can make your own version by adding 1 teaspoon of baking powder to 1 cup of plain flour. You could also substitute natural yogurt instead of Greek yogurt if you prefer.)
Getting the kids to help measure out the quantities is fantastic meaningful maths practice, incorporating counting, measuring, number recognition and volume concepts.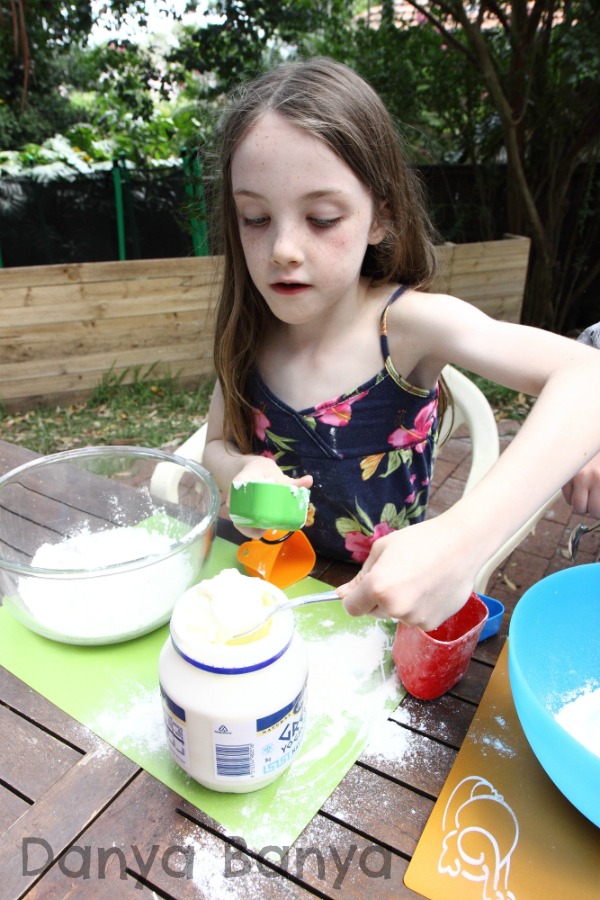 Then it's time to get their hands busy! Mixing, squashing, squishing, kneading, moulding, squeezing, pulling, pushing, rolling, pinching, patting, flattening. A great work out for the tiny fine motor muscles in their fingers and hands. And it's such delightfully messy, sticky, gooey play.
(Having dough covered hands is sensory overload for some kids. You might get asked to wash hands mid-play like we did. Once their hands are clean, they'll probably be ready to get them messy all over again.)

This bread dough can be baked just like this, but we thought it would be fun to add a few decorations and extend the play. We used fruit nuggets, sultanas, chia seeds, banana chips and blueberries, along with our cookie cutter stash and some silicon cupcake moulds.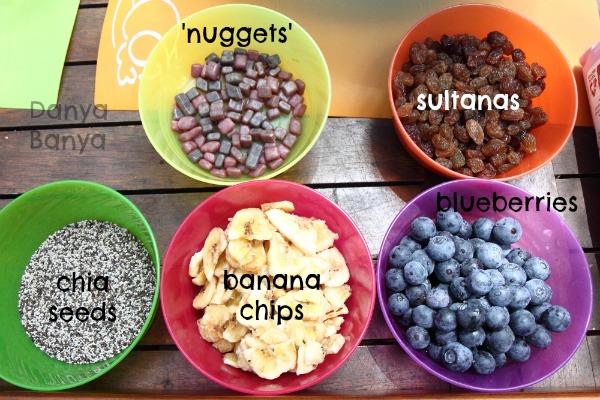 There was lots of discussions about what to make, and how to decorate it. The gingerbread cookie cutters were popular, with sultanas being used for eyes, blueberries for buttons and chia seeds for hair. The cupcake moulds were also hit, with abstract designs on top. A few of the decorations bypassed the dough and were popped straight into hungry mouths.
This is an open-ended activity where kids can choose how elaborately they would like to decorate their bread, which makes it suitable for a range of ages. We had 3, 4 and 8 year olds all playing happily together. Edible doughs are a good idea for babies and toddlers too who may be still in the mouthing phase.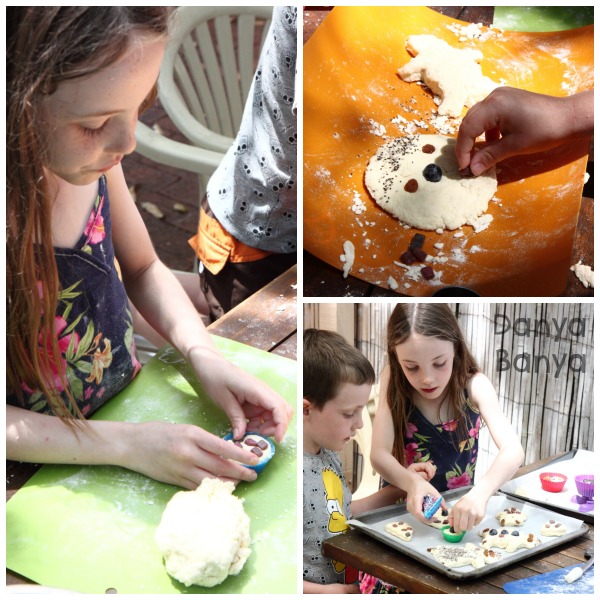 When their creations are ready, just pop into a moderate 180 degrees Celsius (356 degrees Fahrenheit) until they are brown. Here's a before and after photo, where you can see that not only does the colour change, but the bread rises slightly in the oven too.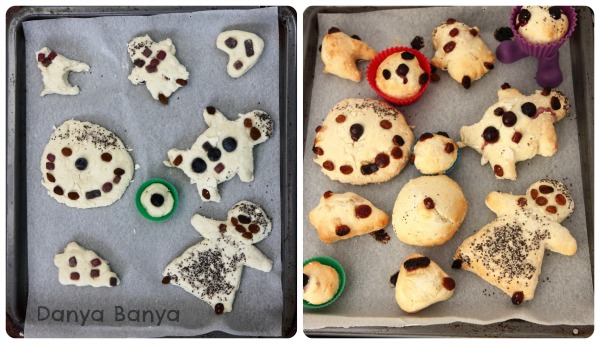 Afterwards, there's that special kind of silence which means everyone is enjoying their snack. #nomnom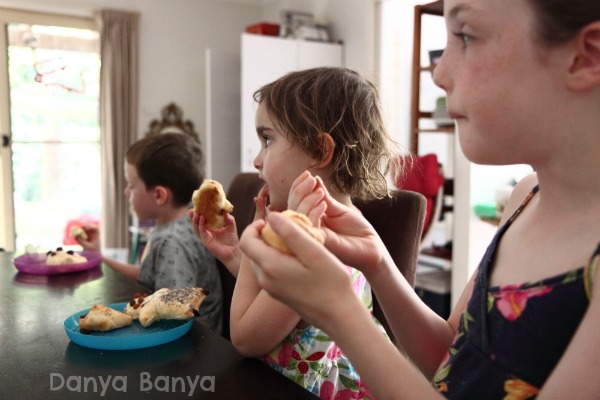 We've made this bread dough lots of times (especially when I have yogurt in the fridge that is nearing expiry). It's a great for breakfast, morning tea, lunch, afternoon tea – any time really. There's no artificial colours, flavours, preservatives (and if you leave out the nuggets, there's also no added sugar). It's also egg-free and nut-free, which is great for our friends and family members who have egg and nut allergies.
The recipe is based on Dairy Australia's Easy Yogurt Dough. Usually we make it with wholemeal (whole wheat) flour, adding that extra bit of fibre and flavour. Either way, they are best eaten warm straight from the oven, perhaps with a little bit of butter.
Here's some we made in a caterpillar shape. Seems we're on a caterpillar roll lately…  Boom tish!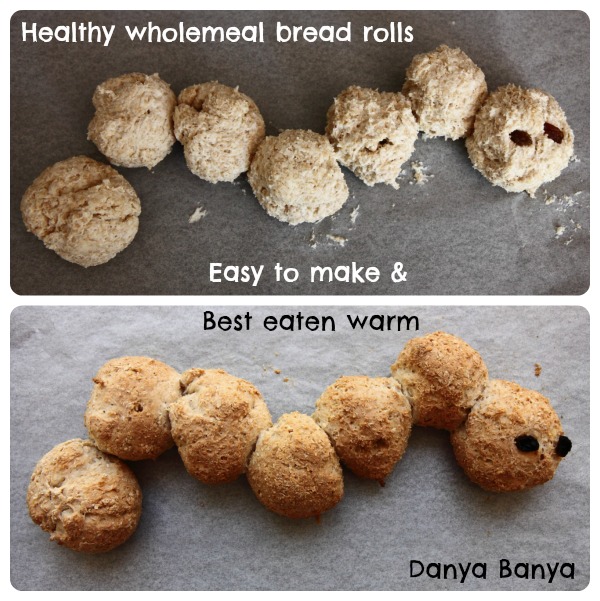 I'll be linking this up as part of Lemon Lime Adventure's 12 Months of Sensory Dough challenge. Pop over for lots more edible dough inspiration! I'll also be bringing you an edible peanut butter dough recipe shortly, so stay tuned…
Check out some of our other sensory dough posts:
(click on the picture to see the full post).
These, and other fun ideas are all over on our Play Ideas page.
Are you on Pinterest? See what we're pinning here:
Visit Danya Banya's profile on Pinterest.
And while I have you, I'd also like to take the opportunity to announce the winner of our Peppa Pig – The Big Splash competition for Life's Little Treasures Foundation, where I asked 'What gigantic cartoon person would you (or your kids) most like to meet and why?'
Congratulations Theresa, you won with your comment "Zoe would love to meet a life size Care Bear. She's into all the vintage characters which are making a come back recently such as Care Bears, Strawberry Shortcake and My Little Pony. Luckily I held on to some of my original toys. Your girls must have loved meeting Peppa! They are growing so fast!"
Congrats again Theresa, please check your inbox (or spam folder) for a message from me.
xx Danya