I think it's fairly clear now that I'm DIY play dough convert. No more little tubs of multi-coloured, dried out crusty dough for us. It's just too easy to make all sorts of cool varieties at home that feel and smell awesome. This time I tried making lemon-scented play dough using real lemons. JJ approved. 🙂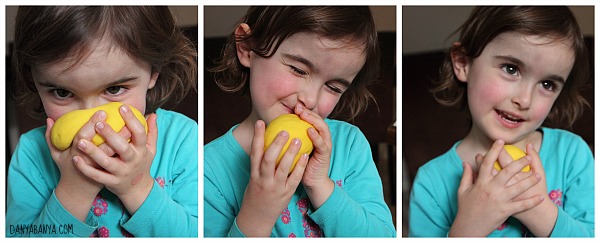 2 cups plain flour
2 tablespoons vegetable oil
1/2 cup salt (extra fine)
2 tablespoons cream of tartar
freshly squeezed juice of 1 lemon
yellow food colouring (optional)
boiling water
My first step was to grind the salt extra fine using the coffee grinder. You see, I accidentally bought the chunkiest salt imaginable, but luckily it's easy to ground it down to the finest ever. We then mixed the salt with the other dry ingredients and the oil in a large mixing bowl. We squeezed (smelled and tasted) the lemon juice, and poured this into a mug along with the food colouring and about 1/2 cup of boiling water, and then added to the dry ingredients and mixed it all together. I kept adding boiling water gradually until the right consistency was reached.
Easy peasy! No need to cook on the stove top! (Tried that method once – this way is much easier). And because you add the food colouring to the play dough together with the other liquids, it doesn't stain your hands. JJ helps with dry ingredients, but she knows by now that she has to step back for the boiling water part.
Anyway, making the play dough is only half the fun. Then the kids get to poke, roll, shape, squeeze and prod it with as many different things as possible. (You never know what might end up in the play dough at our place.)

The lemon scent wasn't overpowering, but it was definitely there, adding another sensory element to our usual play dough experience.
I also wanted to use this opportunity to work on the strength of JJ's hand muscles. She'd been complaining that she couldn't squeeze the hand brakes on her bike, and I'd heard that play dough is fantastic for this sort of exercise. So I made a point of asking her to really squish and squeeze.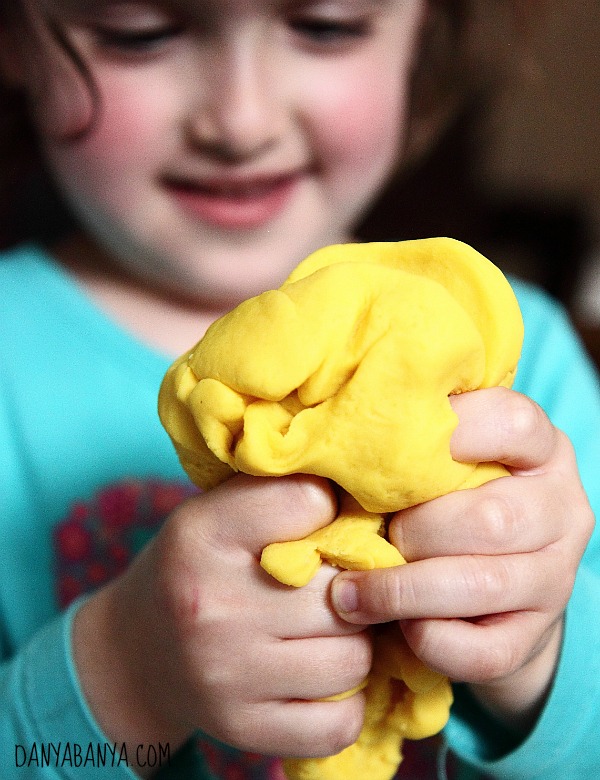 I also wanted to try out making squeeze balloon balls. At first I tried using a normal party balloon, but it tore within minutes of play. I found that the helium balloons were much stronger. I filled one with play dough and one with rice, and let JJ see which she preferred.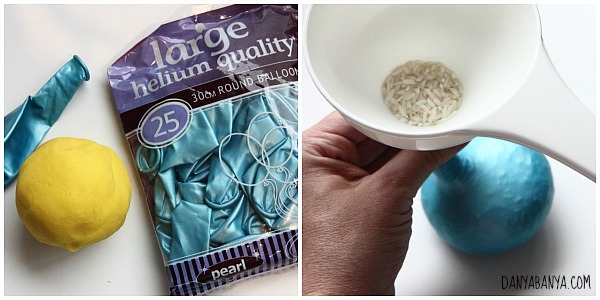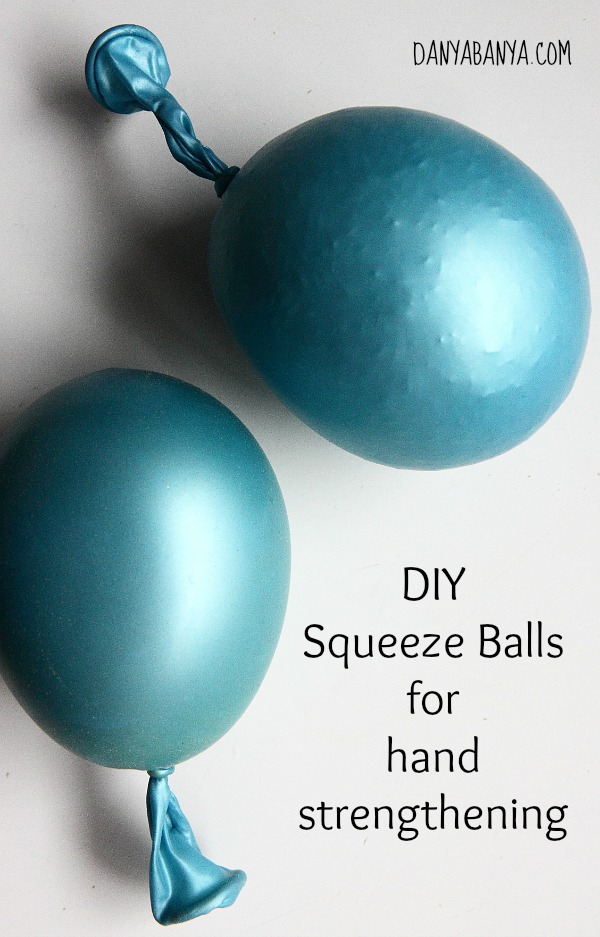 JJ found that the rice filled squeeze ball was too hard. She could shape it by pushing or rolling, but she couldn't 'squeeze' it. Perhaps it would work better for older kids, but for a four year old it was too frustrating. (And I also couldn't help thinking that the rice would make a hell of a mess if the balloon got a hole in it.)
JJ did enjoy squeezing the play dough filled squeeze ball. It was much more responsive, and the balloon casing gave it a different dimension to just squeezing the play dough alone. Despite much squeezing and poking, it lasted several days before it developed a tear.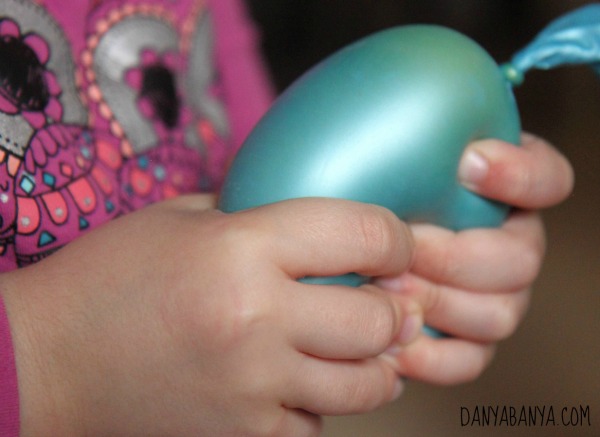 I'll be adding this play dough to my Messy & Sensory Play page (where, spoiler alert, you'll find loads more messy and sensory play ideas.)
xx Danya