Fruit mummies! A fun and healthy snack for Halloween (or a Spooky Sixth birthday party).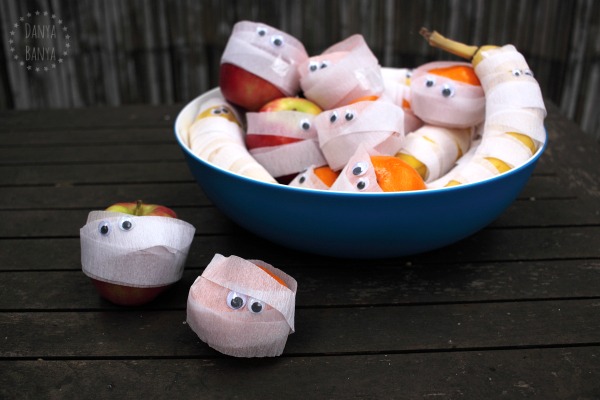 Oops, I'm a bit behind in bringing you details of my daughter JJ's 6th birthday party. She chose a "Spooky, Scary, Sixth Birthday" party theme, which is a little unusual for a May party, but who says you can't have Halloween twice a year? Fun!
One of the items we served was this bowl of cute Fruit Mummies.
They were quite easy to make (see below). I especially loved that they could be made a few days ahead of the party, so it doesn't add to the last minute prep panic. In fact, these photos were taken calmly a few days before the party, (so I didn't have to worry about trying to grab a last minute shot while the party guests were arriving!)
I also love that our fruit mummies provide a healthy snack option that everyone could eat, including party guests with various food allergies. (We had friends coming who were allergic to eggs, dairy, nuts, gluten, food colouring, deadly nightshades and more…)
And afterwards, anything that wasn't eaten wasn't wasted. We just put the left over mummified fruit into our regular fruit bowl to eat the next day.
How to make fruit mummies
Fruit
White streamers
Googly eyes
Non-toxic, clear-drying glue
Sticky tape
Scissors
Cut the steamers into strips about 40cm (15in) long. Our streamers were quite wide, so I also our strips in half lengthwise, which doubled the number of strips.
Wrap a strip around a piece of fruit, securing with stickytape. Glue a pair of googly eyes on to the opposite side as the tape.
Tip: If you are using fruit where the skin will be removed (like a banana or mandarin), then you can also glue the googly eyes to the skin of the fruit, so that it looks like the eyes are peeping out through the bandages.
Tip 2: You don't have to use the same sized googly eyes. Mismatched googly eyes can add to the spooky look.
JJ helped me make a couple. I made the rest, simply because we had a party worth to do! But they are easy enough that preschoolers and up could make them (especially if you use fruit like bananas, mandarins or oranges where it doesn't matter if a tiny bit of glue gets onto the skin.)
I'll be bringing you more ideas from JJ's birthday party shortly, but in the meantime, you might also like the Spooky Oranges that we made a few years ago. Or you can check out our Halloween page for more ghoulish ideas.
I've also added our Halloween pinterest board below for more inspiration…

xx Danya