I've been a bit distracted to work on my blog this week.
It's not my fault, I mean, you would be too…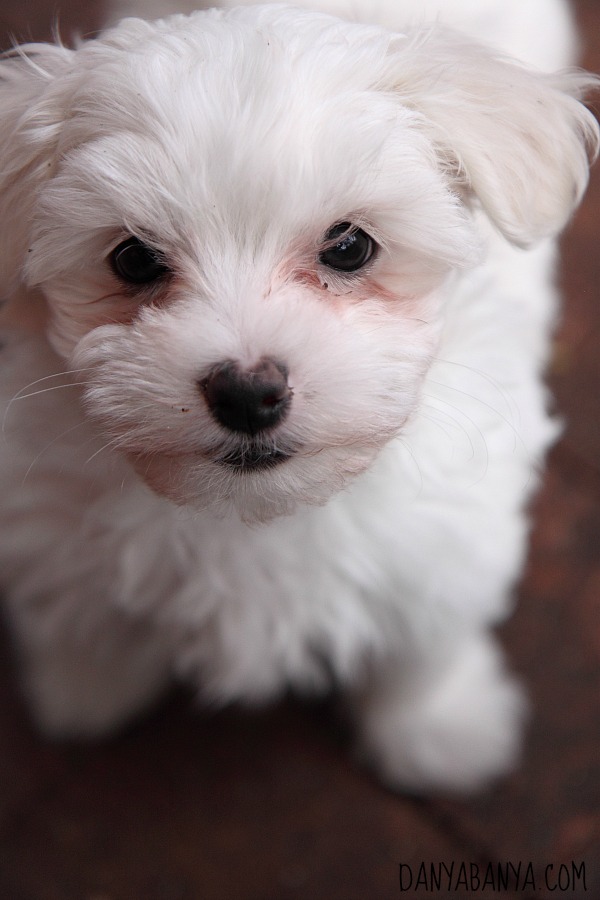 (This is a sponsored post for Ellie Dog).
Let me introduce you to Snowflake, the newest member of the Banya household. She's 9 weeks and 2 days old, weighs next to nothing, and keeps asking me to play with her.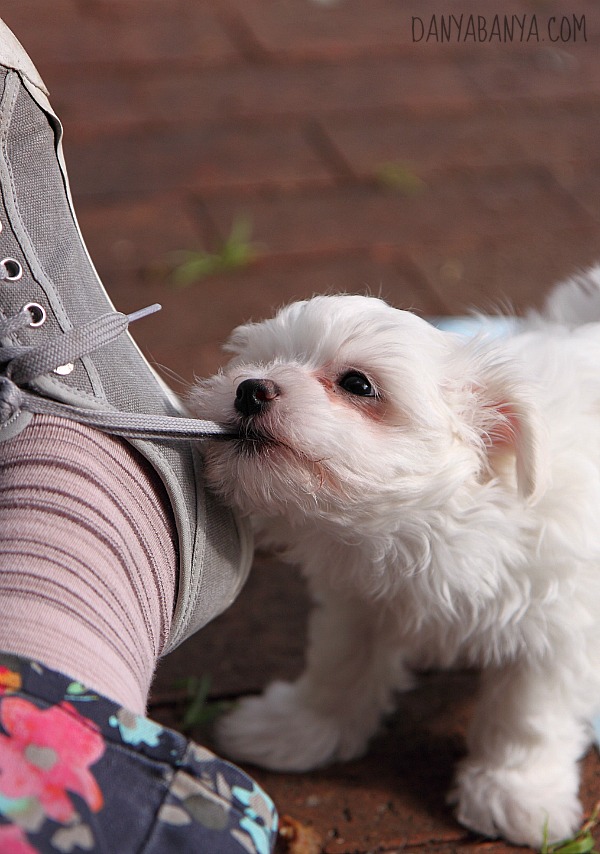 Snowflake is a Maltese Poodle, and she's the smallest and most timid of her litter. She tends to run under the furniture when people arrive, rather than bounding up to say hello (especially if such people are of the toddler and preschooler variety). And so one of my challenges this week has been to encourage her self-confidence, whilst keeping extremely excited children at bay.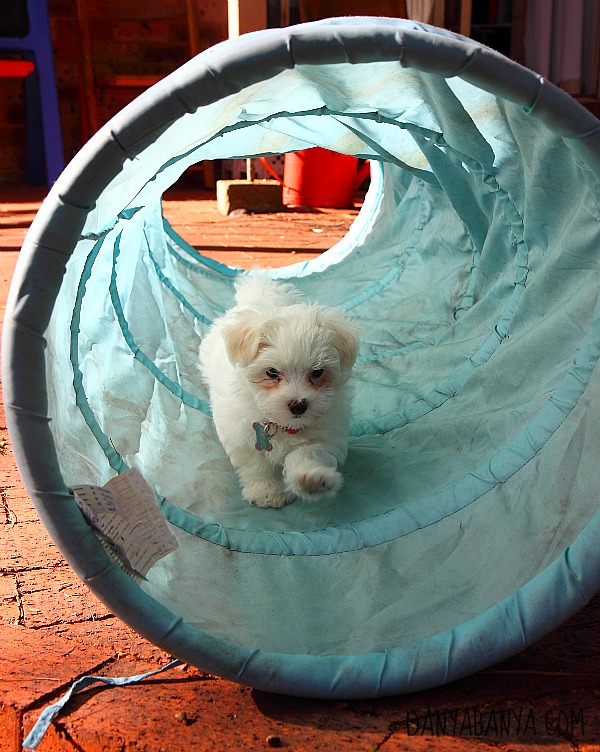 Luckily we'd been able to visit her regularly since she was born, so she was already familiar with our smells and sounds. I set up a crate for her under our main kitchen bench, so she has somewhere she can retreat to when it all feels too overwhelming. The kids know that they are not supposed to bother her when she is in her crate (and they mostly follow the rules).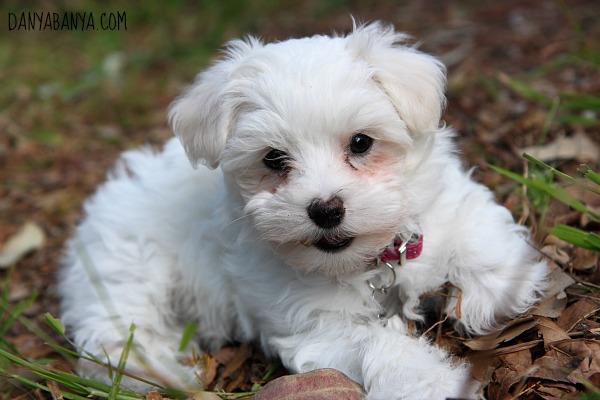 JJ, Snowflake and I have also started attending Ellie Dog puppy school. I'm so glad JJ is allowed to attend – I think that she will really enjoy the classes and it will help her learn how to play with Snowflake in a positive way. Last weekend was all about introducing a new puppy into your home – exactly what we need to learn right now!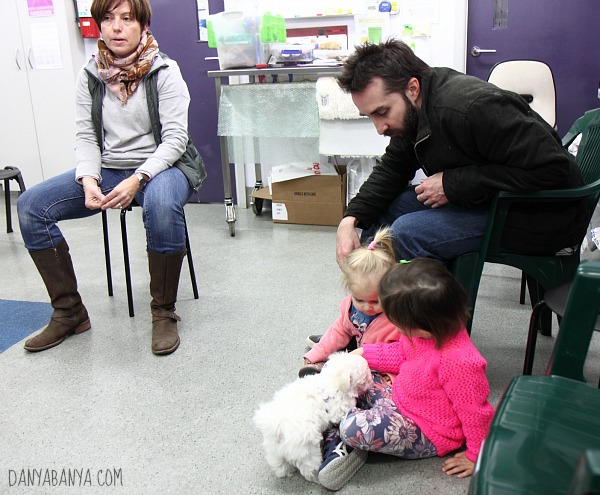 (Mr Banya and Bee popped in to say hello, but they didn't stay. Bee is too young for classes, but she can learn by copying JJ and I at home).
I have about a billion other photos that I could share with you – I'm in that besotted newborn phase where I think that all photos of Snowflake are adorable and can't choose between them.
Here's one of her chewing my camera snap…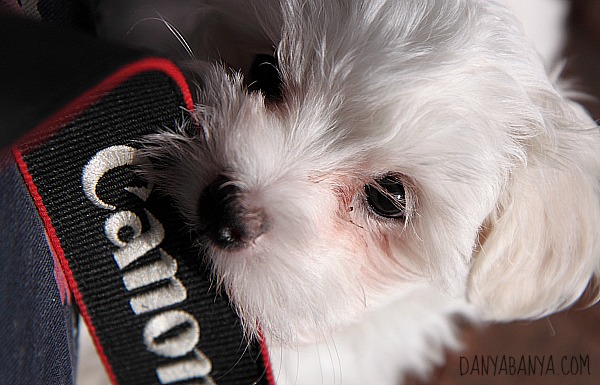 Here she is poking her head over our makeshift barrier between the kitchen and the loungeroom…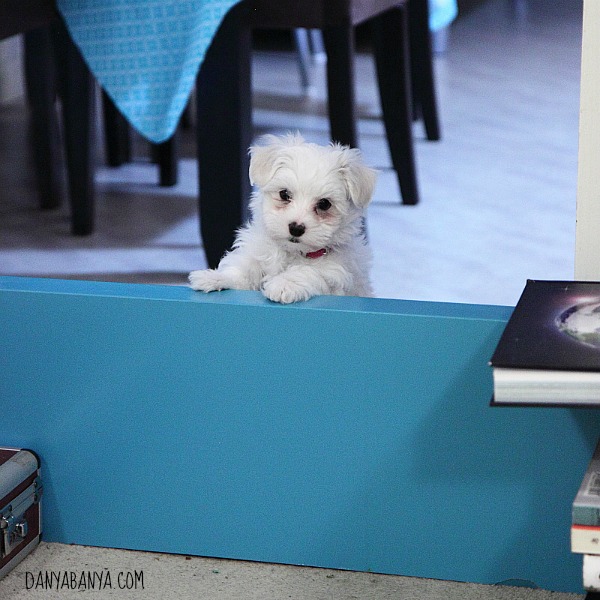 And here are some from when she was only 5 weeks old….

Oh the cuteness!!
xx Danya
(Disclosure: Ellie Dog have provided services gratis. All opinions are my own.)