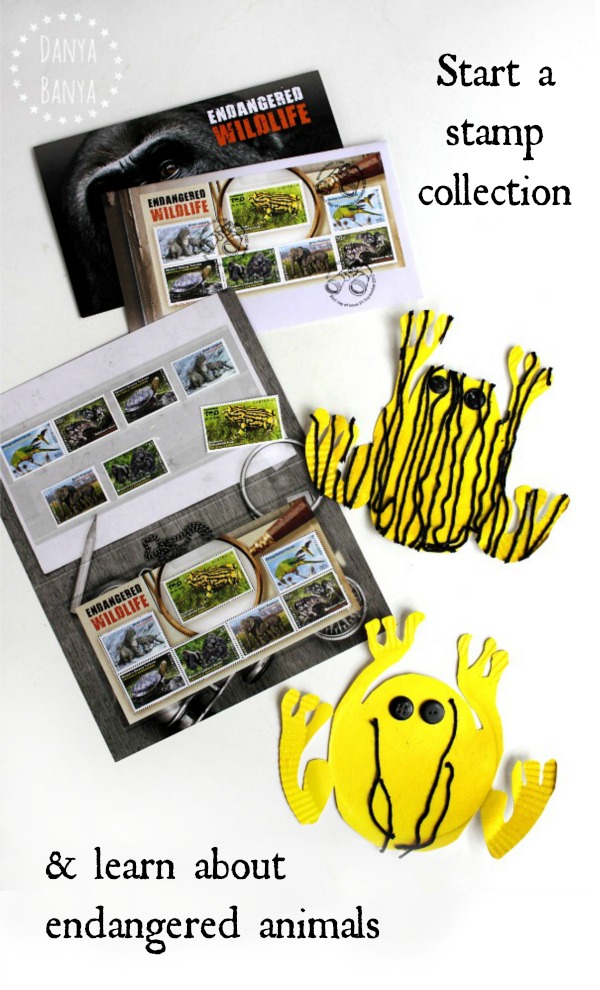 Do you collect stamps?
Receiving a letter or card in a real envelope with a real stamp on it is such a treat! Admiring and collecting the stamps makes it all the more magical.
With October "Stamp Collecting Month", Australia Post releases a new series of stamps. I've quietly applauded the topic choices of previous years, but I hadn't realised until now that these topics intentionally focus on Australian primary school curriculum areas, such as history, geography, science, technology and the environment.
This year's Stamp Collecting Month theme is endangered wildlife, and was chosen to encourage children to learn more about animal conservation, to recognise efforts being made to conserve endangered species, and to understand the need for biodiversity.
The 'Endangered Wildlife' stamps include:
$1 Southern Corroboree Frog
$1 Snow Leopard
$1 Asian Elephant
$1 Western Lowland Gorilla
$1 Western Swamp Tortoise
50c Orange-bellied Parrot
50c Northern Quoll
We were lucky enough to receive some collector sets, as below. You can also purchase these stamps (individually, in sheets or as collector sets) at your nearest Australia Post retail outlet or online at www.auspost.com.au/stamps, while stocks last. Or keep an eye out in your letterbox – you may even receive one on an envelope, the old-fashioned way!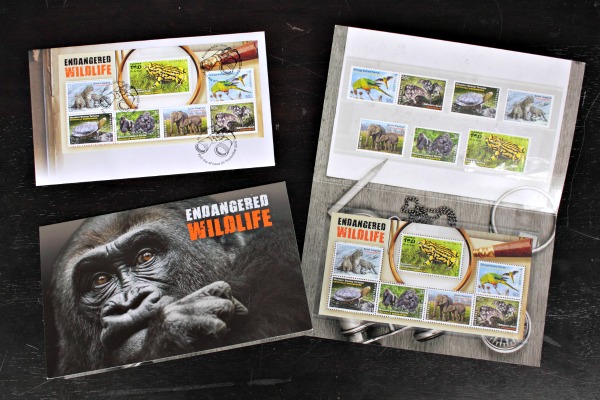 I think this endangered wildlife stamp series will be a great way to encourage kids (and adults!) to learn more about these unique and fascinating endangered animals, and perhaps nurture a few budding philatelists (stamp enthusiasts) along the way.
For more information on Stamp Collecting Month, including educational activities around this year's theme and advice on stamp collecting in general, visit www.auspost.com.au/scm.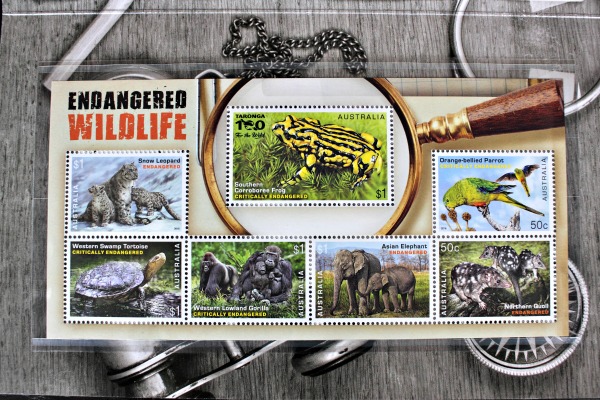 The focus animal in this year's collection is the southern corroboree frog. It's actually an animal my girls have been particularly interested in. They've heard the infamous Wiggles song, and how this frog makes a sound that's "not a croak, it's more of a squelch." They've also seen the southern corroboree frog-breeding program at Taronga Zoo, and heard about how wild populations have been in peril and how zoos like Taronga are breeding captive frogs to release back into the wild.
So, of course, I decided this was excuse enough to create a paper plate corroboree frog craft!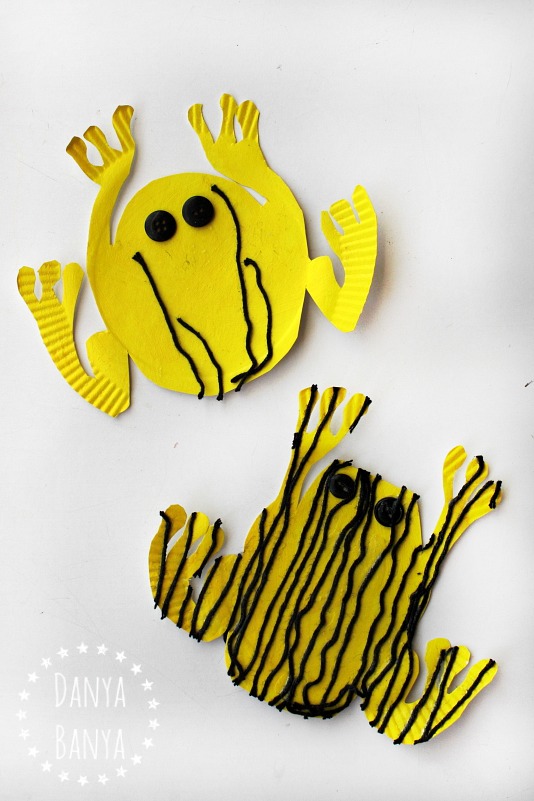 Make a southern corroboree frog craft
We used:
paper plate
yellow acrylic paint
black wool (yarn)
clear-drying glue
scissors
buttons
Paint the paper plate yellow and let dry.
Cut out a frog shape.
Cover in glue.
Stick on buttons for eyes.
Stick on strands of wool to create a black and yellow striped effect.
Cover in more glue and let dry. (This both ensures the wool is stuck down, and creates a glossy effect).
Trim any overhanging wool.
For the visually-minded, here's the same process, but in photos.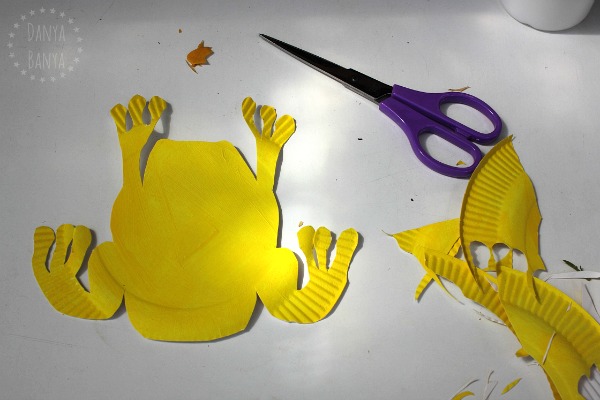 Paint a paper plate yellow and let dry (or use a yellow plate to begin with). Cut out a frog shape.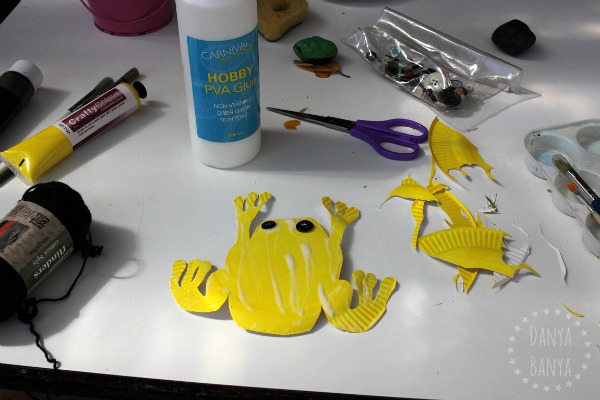 Cover in glue. Stick on buttons for eyes.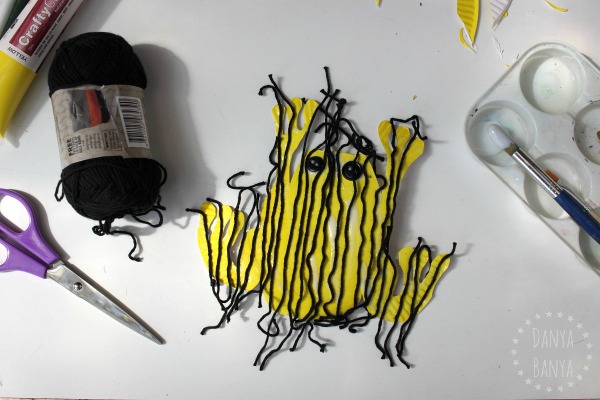 Stick on strands of wool to create a black and yellow striped effect.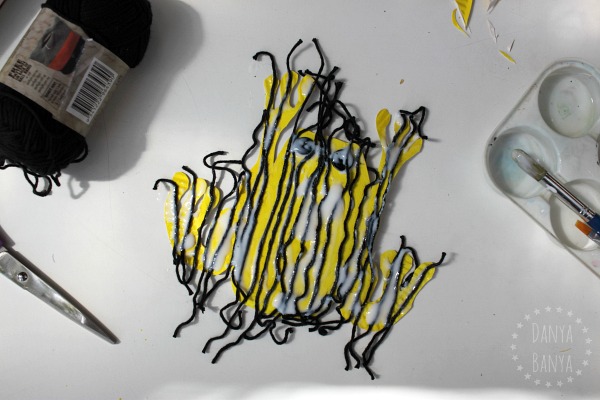 Cover in more glue and let dry. (This both ensures the wool is stuck down, and creates a glossy effect).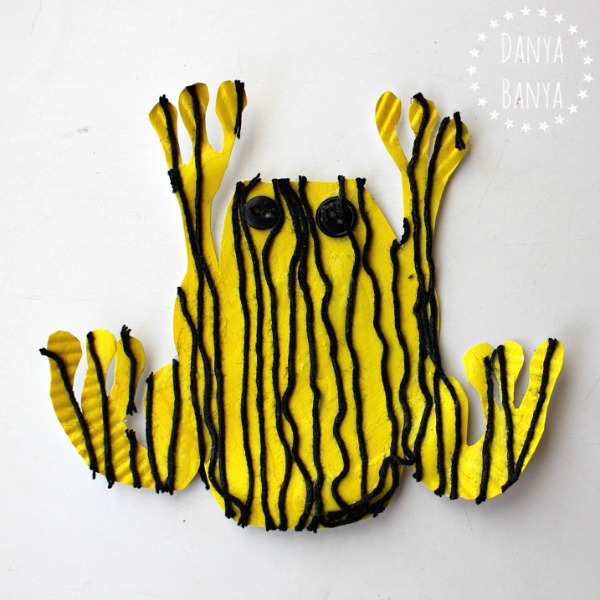 And lastly, give him (or her) a trim!
My four year old daughter Bee decided to make one too. (I did the first two steps for her though).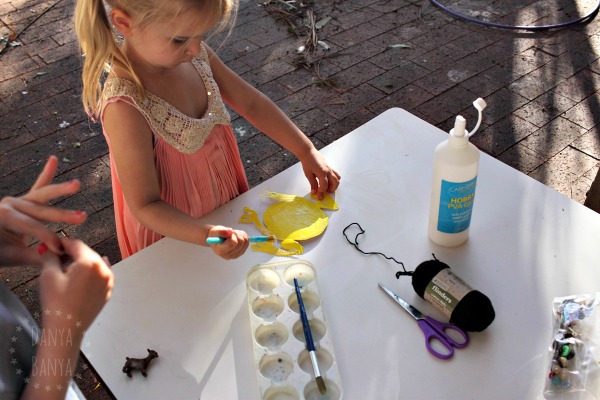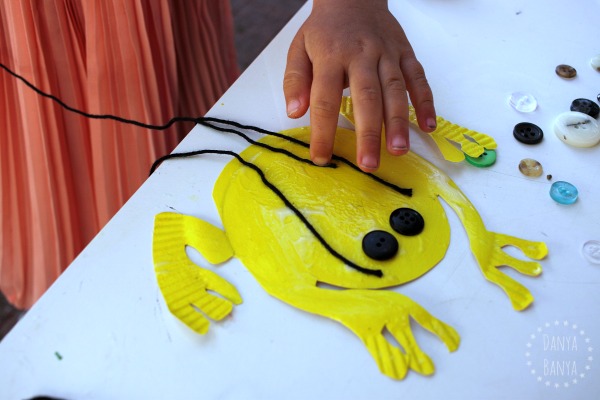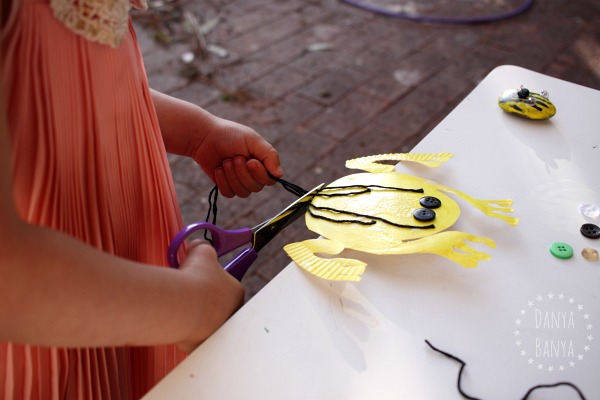 And here are our two finished frogs!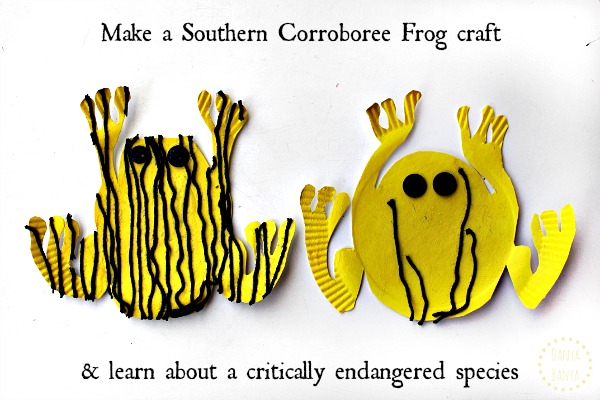 Did you know that:
the southern corroboree frog lives only in a small area in sub-alpine Mt Kosciuszko National Park in southern New South Wales.
numbers of this frog have declined more than 99 per cent since the 1980s because of its susceptibility to the chytrid fungus, which is associated with widespread amphibian decline around the world, hindering the ability of the frogs to breathe through their skins.
captive breeding colonies are being successfully maintained at the Amphibian Research Centre, Taronga Zoo, Melbourne Zoo and Healesville Sanctuary. Since 2010, hundreds of captive-bred eggs and frogs have been released back into the wild in Kosciuszko National Park. This program aims to maintain frog populations long enough for scientists to develop a cure for the deadly fungus.
the (southern and northern) corroboree frogs are unique among frogs, in that they are the only frogs to produce their own poison, rather than obtaining it through their diet. This poison is secreted from the skin as a defence. Its bright colours warn predators.
the southern corroboree frog is listed as critically endangered. There are estimated to be fewer than 200 left in the wild.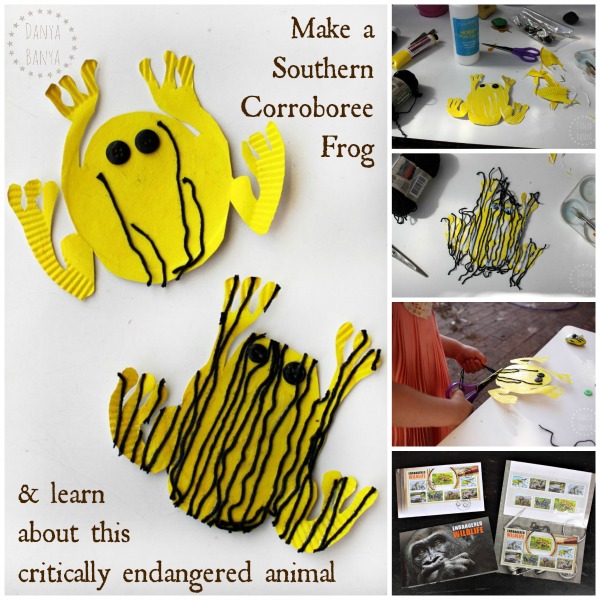 You might also like this corroboree frog leaf craft on our sister site Go Science Girls.
Or for more Aussie art and craft ideas, we have a Australia for Kids page, including:
* Disclosing that this is a sponsored post for Australia Post, via Nuffnang. Whilst I was compensated to write this post, all opinions are my (or my kids') own.