Cute koala craft for kids, complete with a baby joey that fits in the mother's pouch! Fun way to teach kids about this unique Aussie animal.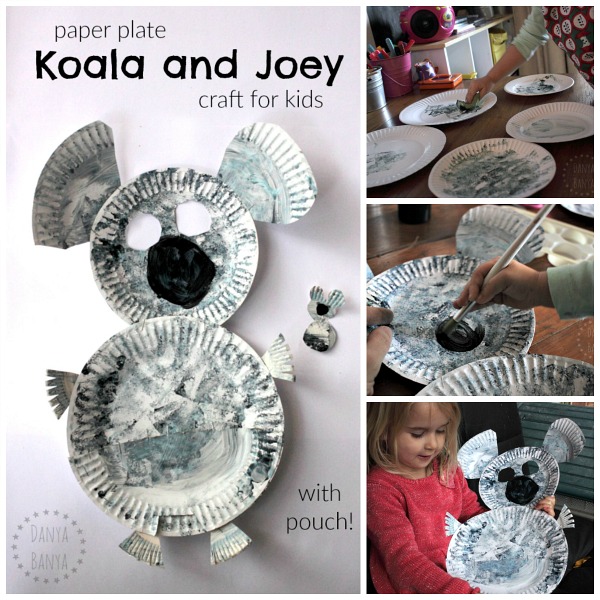 I've got a fun "K is for Koala" craft to share with you today, as part of the A-Z of Animals series. You know how much we love our Aussie art and crafts, that I can't believe that this is our first native Australian animal craft! Actually, technically this is two Aussie animals – this koala mother has a pouch on her tummy where she keeps her little baby koala joey. Cute!
At the insistence of my 3.5 year old daughter Bee, we cut out the eyes on the mother koala so that it doubles as a koala mask craft. (We've made a lion mask and sheep masks recently, so it seems she has a bit of a 'paper plate mask' thing going on!)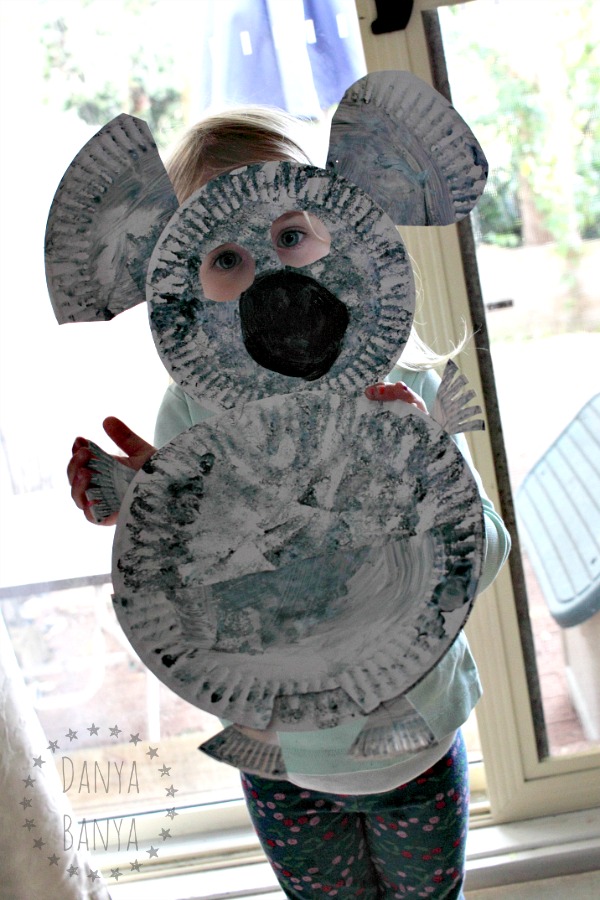 We love koalas! We often visit the koala exhibit at Sydney's Taronga Zoo. We also drop into the Koala Hospital whenever we're in Port Macquarie, and recently we visited the Koala Conservation Centre on Phillip Island. They're such cute and fascinating animals!
I'll get to how to make our koala craft in a second, but before I do, here are a few fun and fascinating koala facts that we've been learning along the way.
Fun facts about koalas
Koalas are not bears. Koalas are marsupials (whilst bears are not). Marsupials are a special type of mammal that give birth to live babies, but carry (and nurse) these babies inside a pouch until they are fully developed. Other Australian marsupials include kangaroos, wallabies, wombats and possums.
A female koala's pouch is located on her tummy, with the opening towards the lower part of the pouch. Koalas give birth to underdeveloped young, who crawl into their mother's pouch and live there for about 6 months. As a koala joey grows larger and starts to poke its head out of the pouch, it looks as though the pouch faces backwards.
Completely gross (but kids love stuff like this): as a koala joey is weaned from milk, they are fed "pap", which is essentially a mushy type of koala poo, which gives them the special gut bacteria they need to be able to digest eucalyptus leaves, which is the main part of their diet. Eww!
Adult koalas spend most of their time sitting in eucalyptus (gum) trees, eating leaves or sleeping. They don't usually need to drink water, so they can stay up there until they want to change trees. Because eucalyptus leaves have low nutritional content and are extremely hard to digest, koalas must limit their energy use, and so sleep for up to 20 hours a day. They are predominantly active at night, and spend most of their waking hours feeding.
Female and juvenile koalas smell like eucalyptus cough drop lollies. The adult males often smell gross – they have scent glands that they use to mark their territories.
Koala paws each have five digits. The front paws have two opposable digits (kinda like having two thumbs), which is very handing for climbing and gripping.
Koalas are mostly solidary animals, which may be why there is no collective name for a group of koalas.
Koalas are vulnerable, but not endangered. The biggest threat to koala populations is loss of habitat, either through urbanisation or agriculture. Koalas can live near urbanised areas if there is enough tree coverage, however urban areas do bring the risk of cars and dogs.  Koalas can also develop a condition known as "wet bottom" or "soggy bottom" (chlamydia symptoms) if they are stressed from, say,  encroaching urbanisation, but the good news is that they usually become well again if they are moved to a new area that isn't as stressful.
See? Koalas are not like bears at all. 🙂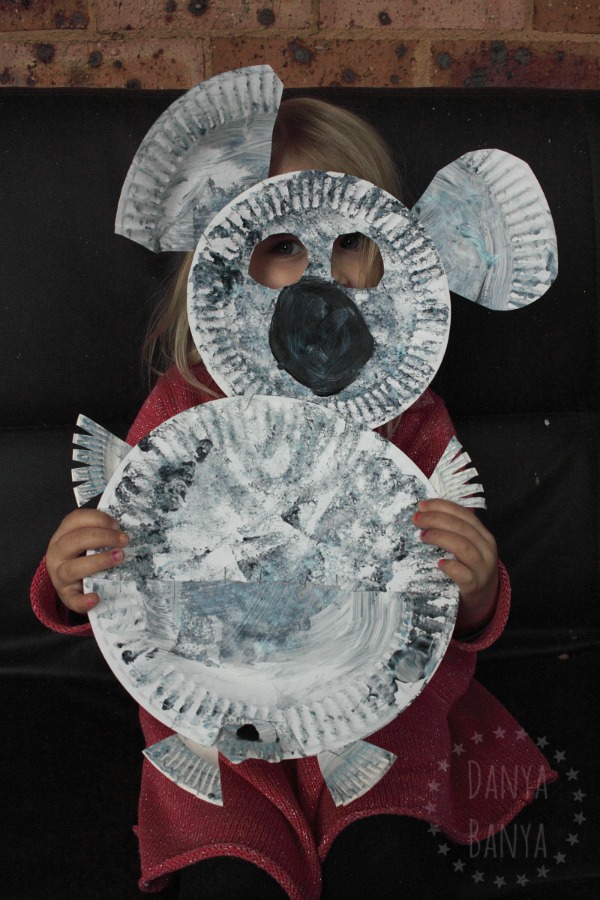 Koala and joey craft for kids
To make our koala and baby joey, we used:
2 large paper plates
2 smaller-sized paper plates
black and white paint
kitchen sponge & paint brush
scissors
stapler
black marker (optional)
1. We put black and white paint onto a kitchen sponge, and dabbed onto the paper plates to achieve a black/white/grey dappled look, and set aside to dry.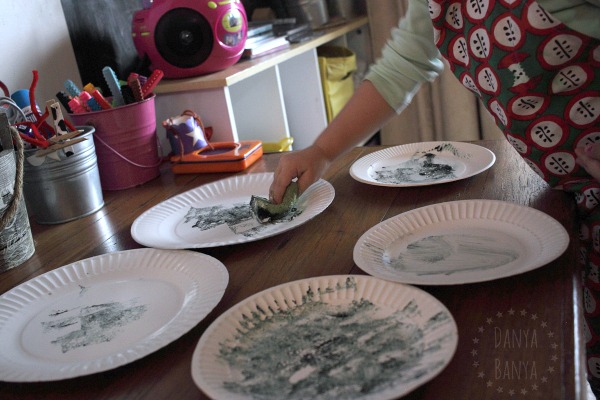 2. One of the large paper plates acts as the main part of the body. Bee cut the second large paper plate in half, setting aside one of the halves, and used the other half as the pouch. She cut an additional section from the middle of the rim, to be the pouch opening area. We then placed the pouch on top of the body, and stapled along the edges and across the middle, leaving the pouch opening area open. (See above that one of the interesting facts we've learned about koalas is that their pouches are different to kangaroo pouches. Koala pouches have the opening towards the lower section of the pouch, so that it looks like the pouch faces backwards).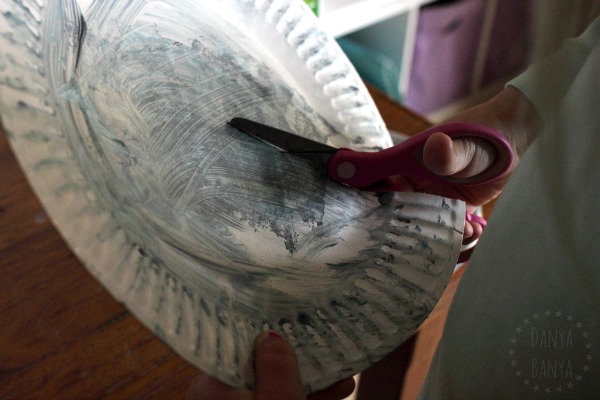 3. Next we added the head, by stapling the rim of one of the smaller paper plates to the top of the body.
4. We used the other half of the large paper plate for the ears, which were each about a quarter paper plate sized each. The ripples in the rim give the ears a fluffy look. Bee helped to round the corners, and we stapled the ears to each side of the head.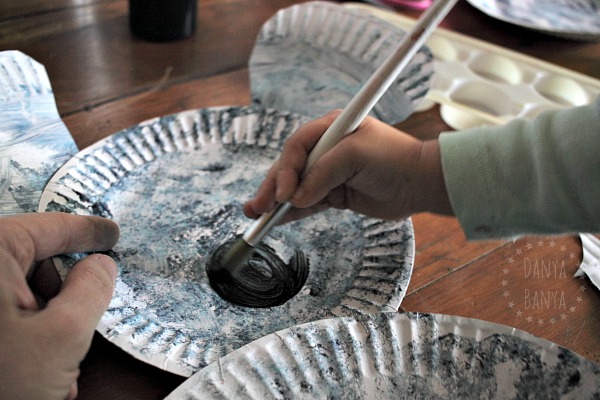 5. Next we painted on a large black nose, and at Bee's request, I cut out the eyes. In hindsight, it would be easier to cut the eyes first, but we were kinda making this up on the fly…
6. We used the fourth paper plate to add the finishing touches. I cut out the tiny koala (using the ripples in the rim as added detail for the ears), and Bee painted on the nose and dotted on the eyes with black marker. (You could use the reverse end of the paint brush to paint on small black dots for eyes instead if you prefer.)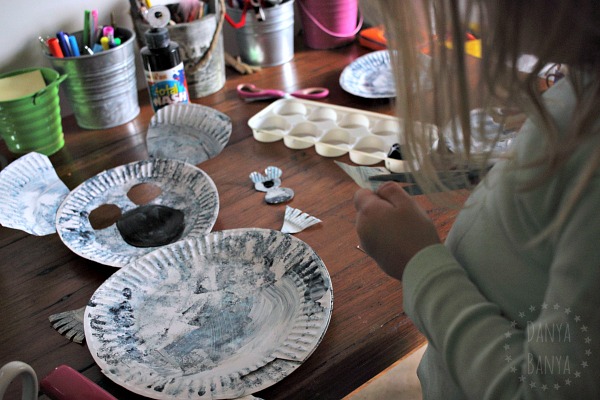 7. We also cut four small wedges for hands and feet, and then cut along the rim to represent the five digits and claws. I cut the hand claws (cutting out tiny wedges). You can't see it very well, but Bee used a fringing technique to cut the feet claws (as tiny wedges are a bit beyond her cutting skills right now). If I was making this again, I'd also make a wider cut between the second and third digits on the hands, to show how koalas have two 'thumbs', cause I reckon that's neat. 🙂
Once everything was dry, we had a new koala and joey toy for imaginative play! Bee loved pretending to be the mother koala, holding it up to her eyes to look through, and putting her baby in and out of her pouch. We talked about how koala joeys are born pink and teeny tiny, and then live in their mothers pouch where they grow fur, drink milk and grow. At about 6 months old, joeys eat some special mushy koala poo called pap, which gets their tummy's ready to be able to eat eucalyptus leaves. Then they leave their mother's pouch and cling onto her back for a while, eating gum leaves and growing some more, until they are old enough to leave their mother and live all by themselves.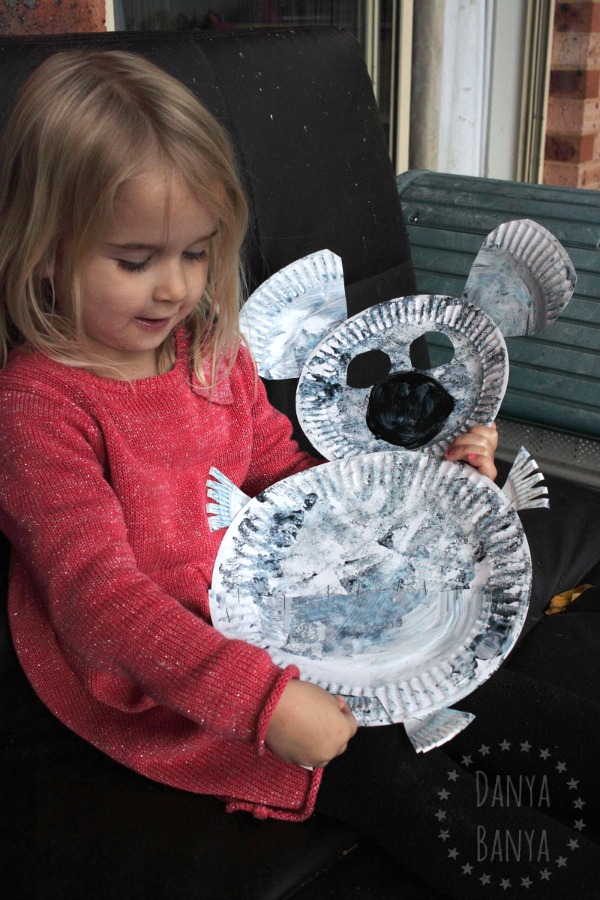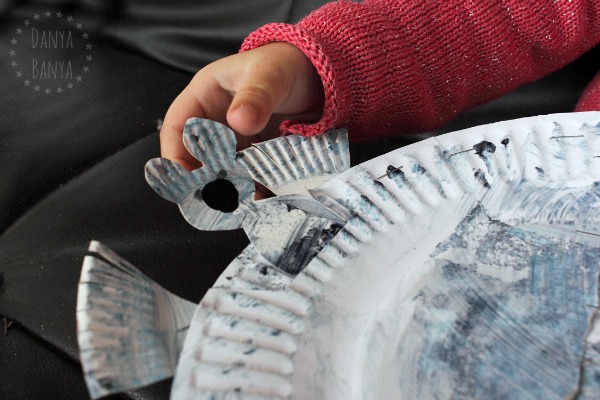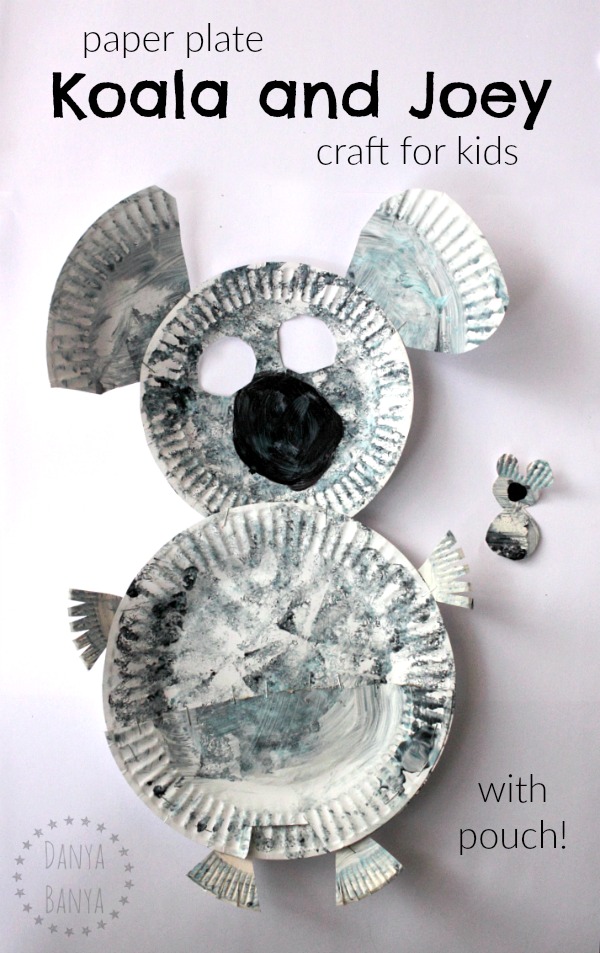 This post is our K is for Koala submission, as part of the A-Z of Animals Series.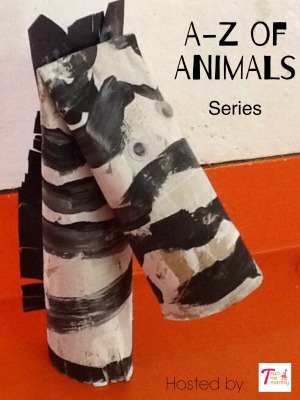 Did you see yesterday's 3D J is for Jellyfish craft by Uno Zwei Tutu? It's cute, I love it! Here are some of the other animal crafts we've done on Danya Banya too:
Happy crafting!
xx Danya