These cute paper plate panda decorations make a great introduction to hand sewing for preschoolers.
One of the book series that I've been loving lately is the National Geographic Kids early reader books. These are designed for kids to read themselves, and JJ isn't quite up to that yet (she is starting to recognise some letters and can occasionally guess a word, but I wouldn't say she is 'reading'), but I think these books are great for young kids even before they can actually read. JJ loves facts, and has always been fascinated with nature. These National Geographic books have amazing photos (of course) and cover all areas of the natural world. They make a great non-fiction addition to balance out our reading time.
A few months back we borrowed Pandas by Ann Schreiber, and JJ was (and is still) enthralled with this fascinating species. (Incidentally "red panda" was one of her first words, several years ago after watching them play at Taronga Zoo one day). Often after reading about a particular animal, I will try to incorporate it into our play, but in this case I realised that we didn't have a panda in our animal figurine collection. However I did remember that we had a Tim & Tess panda felt sewing kit (now discontinued stock sorry) in my craft/emergency present stash…
JJ just LOVED making this mini panda. To be honest I was a bit taken aback by how enthusiastic she was about making such a 'product orientated' craft. When she finished, I asked if she wanted to make another one.
"Yes please Mummy!"
I didn't have another panda kit in my stash. So I improvised.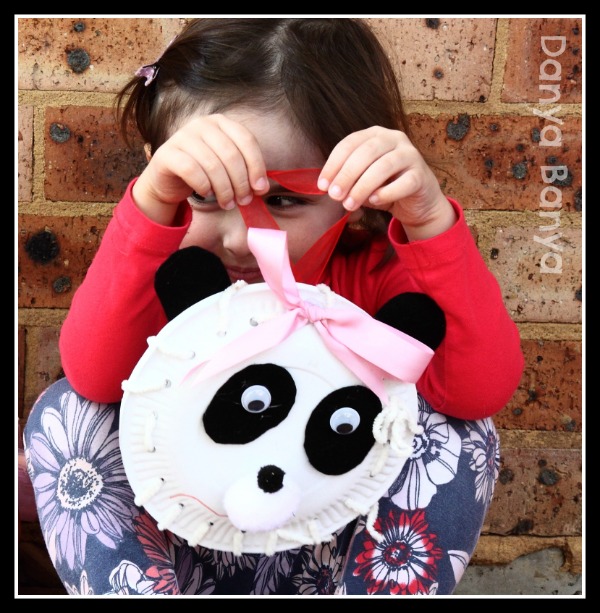 And I made one as well, so that we could have a little panda family. Here they all are, amongst the faux "bamboo forest".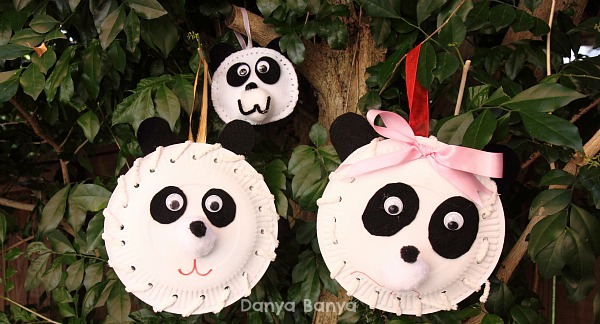 To make them, we used:
paper plates x 2
googly eyes x 2
black felt, cut into 2 x oval shapes for the eyes and 2 x long semi-circle (semi-oval?) shapes for the ears
large white pom pom and small black pom pom for the nose
long piece of white yarn
large blunt hand-sewing needle with a large eye
a piece of ribbon for hanging
red marker
low temperature hot glue gun (or craft glue)
single holepunch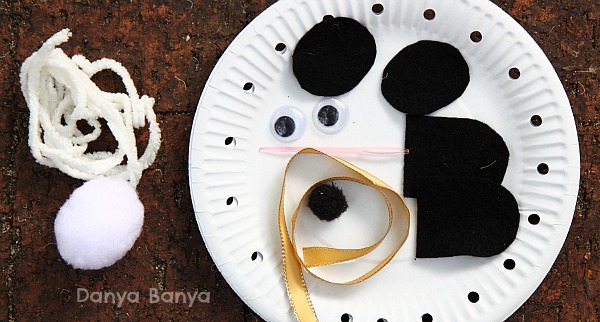 With both plates together, hole punch evenly around the edge of the plates.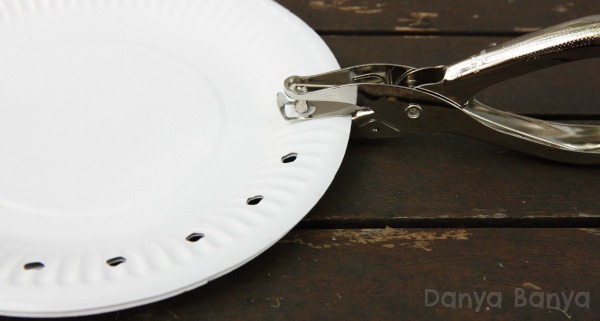 Flip one of the plates over so that the bottom of both plates are on the outside. Thread the yarn onto the needle, thread through the first hole and tie off. And then ask your preschooler to thread or hand sew the two plates together around the circle.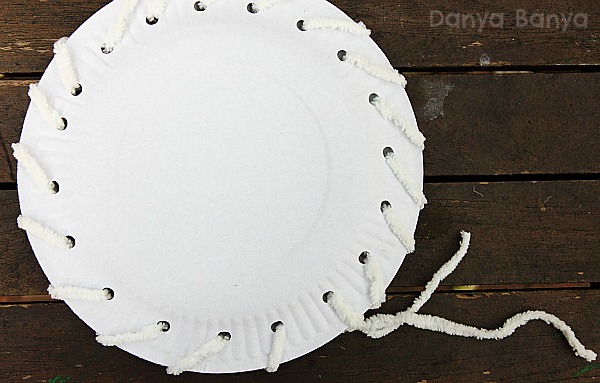 Technically this stitch is called a whip stitch, and is a basic first stitch that is easy enough for preschoolers. It's actually easier than sewing a straight stitch as the needle only needs to enter from one side. But don't worry if your preschooler prefers to sew a straight stitch, or does a combination of the two as JJ has done. A little bit of creative sewing adds character.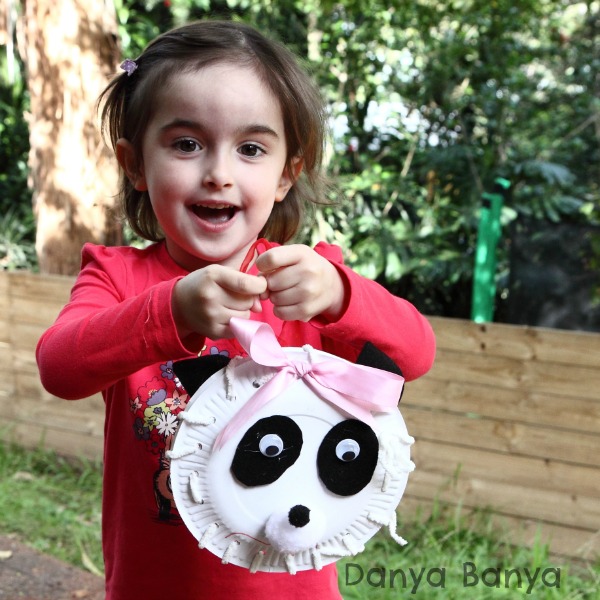 All this 'work' is great for their fine motor skills. Even a large blunt needle is still fiddly to pick up and thread through the plates. It requires concentration, hand-eye coordination, and persistence (as a large paper plate has quite a big circumference for little hands).
We stuck the rest of the elements on with our low temperature mini glue gun (which I'm just a little bit in love with by the way). Even though the glue from these guns is hot if you accidentally touch it, it doesn't get hot enough to seriously burn. It is small enough for little hands, and I've let JJ help me use it a few times now (under very close supervision), and she loves the sense of empowerment that she can use such an adult tool. If you don't have a low temperature glue gun like this, you could use a traditional hot glue gun (without the kids help), or you could use craft glue (but I'm way too impatient for that…)
Last but not least, we drew a mouth on each panda using red markers. And that's all there is to it!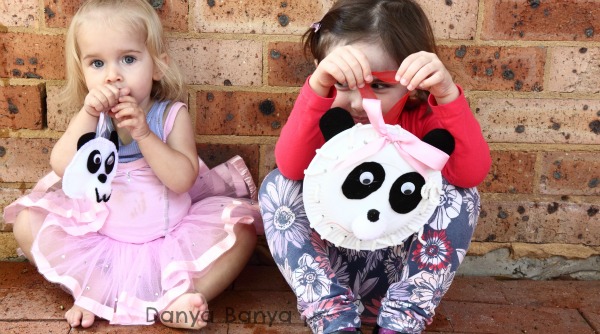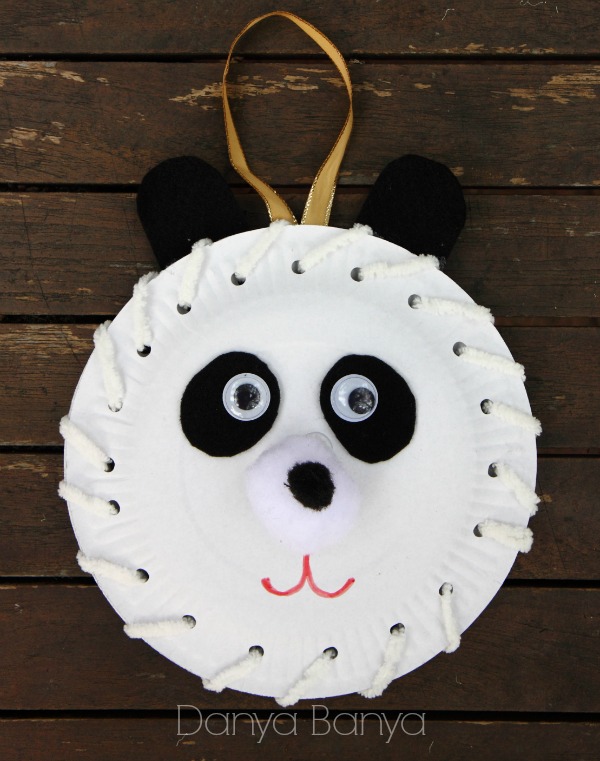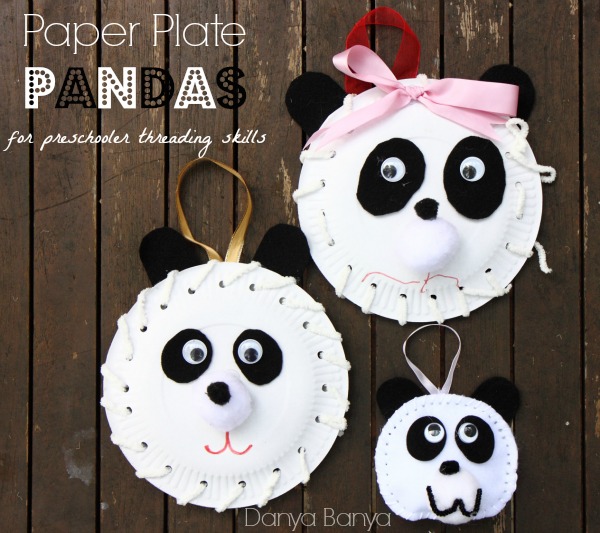 Aren't they cute! Now I'm daydreaming what other animals we could do next… Any suggestions?
xx Danya