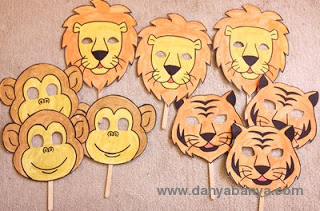 Sticking with the Easy zoo animal cupcake toppers, I also made these 9 x animal masks for JJ's birthday party. They took me 2 nights in front of the telly to make – about 2 hours all up I reckon…
I printed off 3 copies each of the lion, tiger and monkey templates from this website. I painted each one and left them to dry. Then the next night I retraced over the black lines with a thick permanent marker, UHT glued each mask to some card stock, and then cut out the face and the eyes. To finish, I masking-taped a paddle pop stick (aka craft stick) to the back. And voila, masks are done!
(The paddle pop sticks make it a lot easier for a young toddler to play with. But if you had an older toddler / preschooler, you might want to add elastic to the masks instead.)
On the day of JJ's birthday party, it was such a lovely sunny day, that the kids were having playing mostly outside and the masks didn't get used a whole lot. But we've played with them plenty of times at home since. It accidentally worked really well that we have 3 copies of each mask, because then there is one for Mummy, Daddy & JJ to role play with. She likes to hold them up and roar for the lion and tiger ones, and ooh ooh for the monkey ones. It's been 2 months since, and as you can see, they've held up quite well…
And if you're holding a zoo animal themed party, you might want to check out my Chocolate & Beetroot Brownie Monkey Cake and Easy zoo animal cupcake toppers.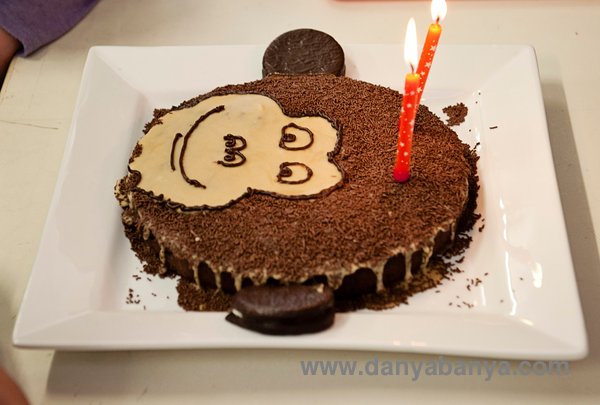 Easy zoo animal cupcake toppers
Or, if it's masks you're after, I've also made some Space themed ones – here is how to make Sun and Saturn face masks.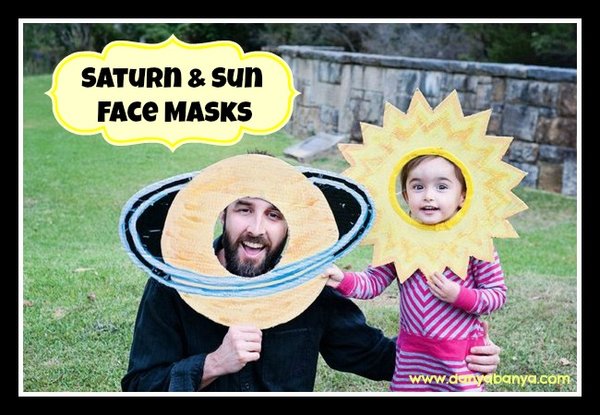 xx
Danya
Are you new here? If you've just found my blog, be sure to subscribe via Email or RSS Feed, or to "like" the Danya Banya Blog Facebook page, so that you'll get all my tips and rants on parenting babies and toddlers, sewing, crafting, wholesome cooking, photography and lots more!