Make your own peg farm animals. Perfect for Old MacDonald had a Farm, or farm themed play.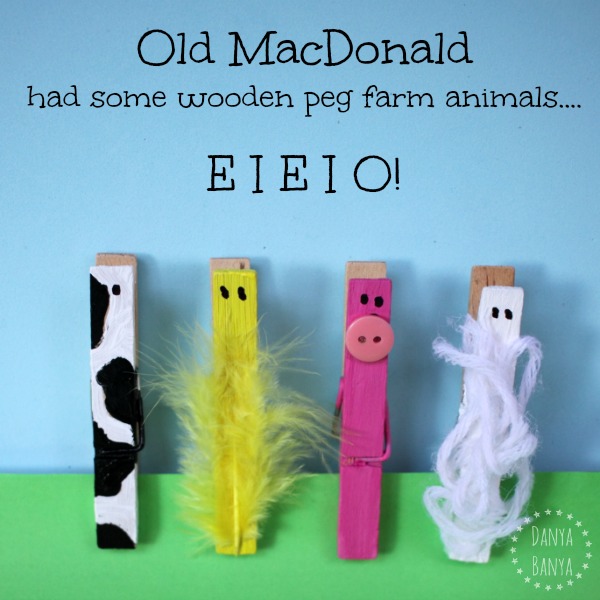 It's Rhyme Time again!
Can you tell how much fun we've been having with this nursery rhyme series? So far we've had Hickory Dickory Dock, I'm a Little Teapot, Little Bo Peep, and Mary Mary Quite Contrary. And this week, it's time for Old MacDonald had a Farm….

Old MacDonald had a farm
E I E I O
And on that farm he had a sheep
E I E I O
With a baa baa here, and a baa baa there,
here a baa, there a baa, everywhere a baa baa
Old MacDonald had a farm
E I E I O
And if you sing our version, you launch straight into the second verse (with a slight grunt in your voice for 'And on that')
And on that farm he had a cow
E I E I O
With a moo moo here…
 And so on…
Sometimes we sing it the "silly way" where I mix up the animal sounds. The kids have SO much fun shouting out "No!! Pigs don't say quack, quack. They say oink, oink!" This is, apparently, hilarious and not predictable whatsoever… at least to my 2 and 4 year olds. 🙂
And so you can understand why I was so excited when I heard that Old MacDonald was our nursery rhyme for Rhyme Time this week! Yay!
Look what we made. 🙂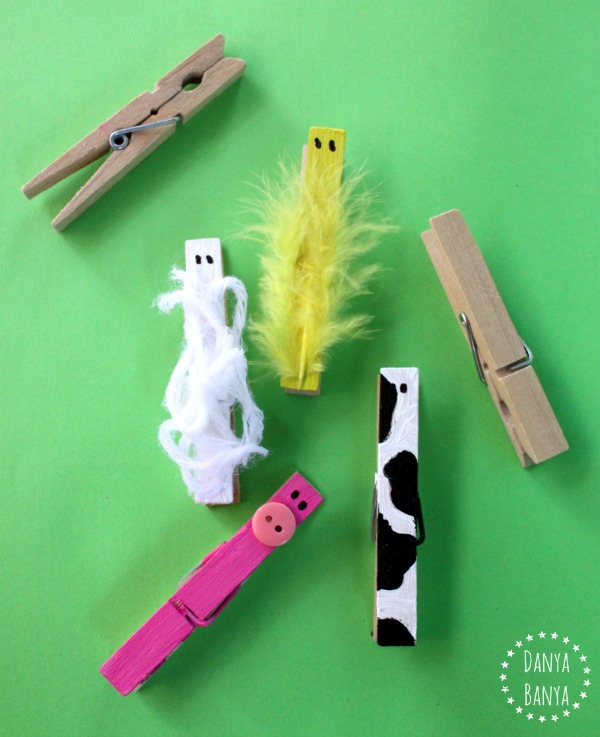 These were super easy (except for the cow, but I'll get onto that in one second…
How to make wooden peg farm animal toys
What you need is:
wooden clothes pegs (or depending on what country you are in, you might call them clothes pins). I buy our pegs from the grocery store. (Craft stores sometimes stock them too, but they are usually more expensive there for the same thing.)
acrylic paint and paint brushes
clear drying craft glue
a black permanent marker
a small pink button
a small yellow feather
white wool (or yarn)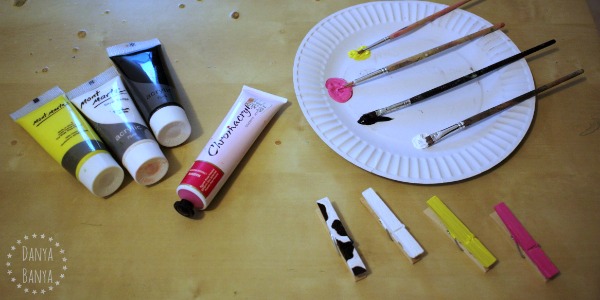 Paint the pegs on one side only. I cheated and did this part while the kids were in bed one night, but it would be easy enough for kids to do themselves. The bottom blank half of the peg makes a convenient handle.
(Tip: the cow would be tricky for kids to paint without mixing the black and white. If you paint a second pure white peg, they could draw the black splodges on with a permanent marker after the paint had dried.)
The next morning, I dotted on the eyes with permanent marker, and Bee (2 years and 8 months old) helped me to glue on the feather, button nose and woolly coat. (She had lots of fun squishing the glue through the wool.)
Super cute, huh?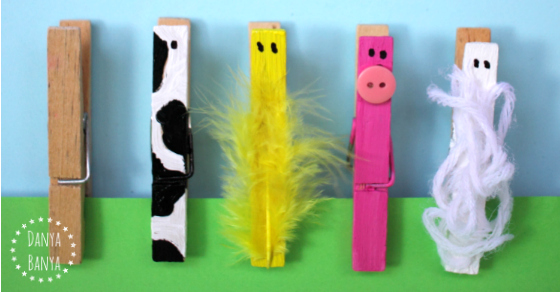 We made a cow, a pig and a sheep. I'm not 100% sure whether the yellow one is a duck or a chicken. What do you reckon?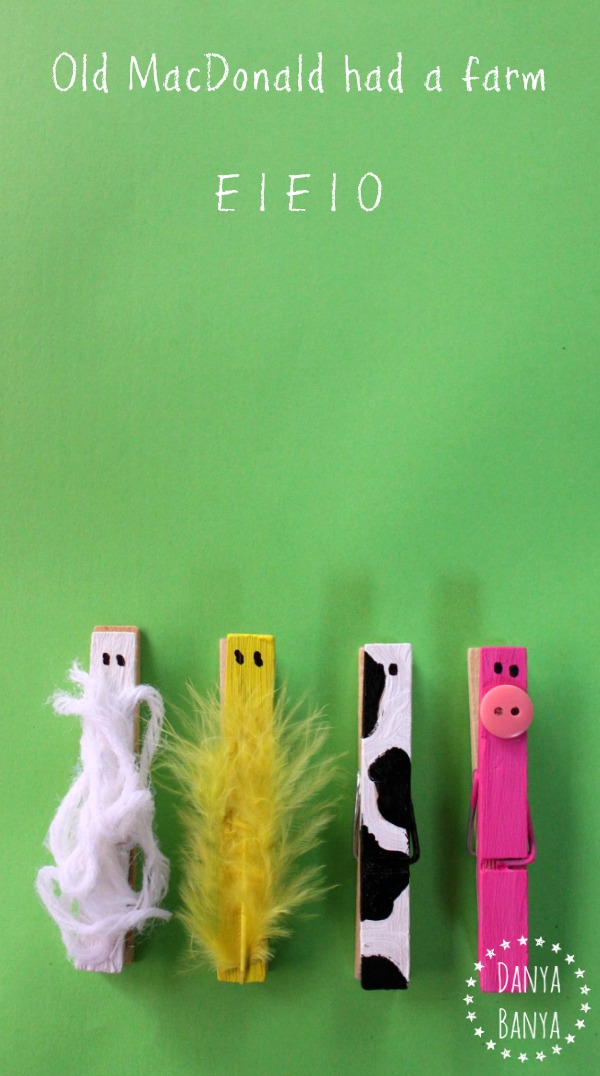 The kids had lots of fun singing Old MacDonald (of course), over and over again.
And because these still function as pegs, they've found a bunch of different spots around the house to be their farm: the rim of their metal buckets; the edge of their Duplo box; the side of a paper plate; and anything else that is flat and thin enough that they can peg the animals onto. All this peg squeezing involves quite a lot of finger and hand strength (particularly for my two and a half year old), so this doubles as a fun fine motor strengthening exercise at the same time.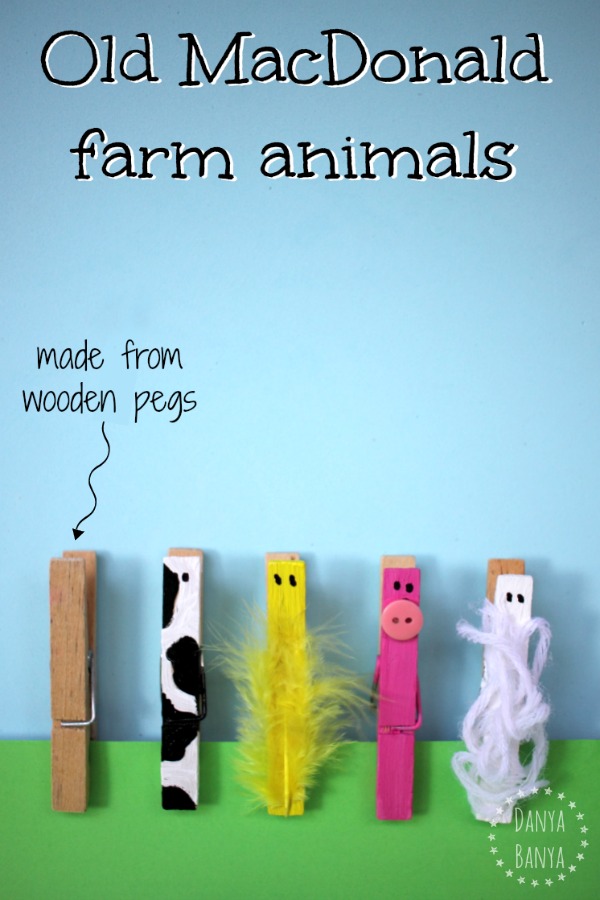 This activity has sparked both my kids imaginations. There are now a few different child-led peg craft projects underway. Bee has painted pegs in shades of pink, purple, blue and multi-coloured; these are just waiting to dry. (I think she wants to turn them into butterflies – but I'm not exactly sure what they'll turn out to be). JJ (4 years and 11 months) has a bunch of ideas that are still in the planning phase. She wants to make one with long brown hair in an Elsa-type plait that will be her doppleganger, and I think she wants to make about a hundred different fairies. Haha, I'll keep you updated on the progress.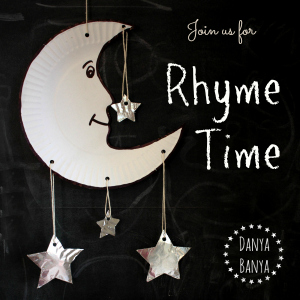 For more fun Old MacDonald (or Old McDonald) Had a Farm ideas, check out what my rhyme time blogging buddies have been up to!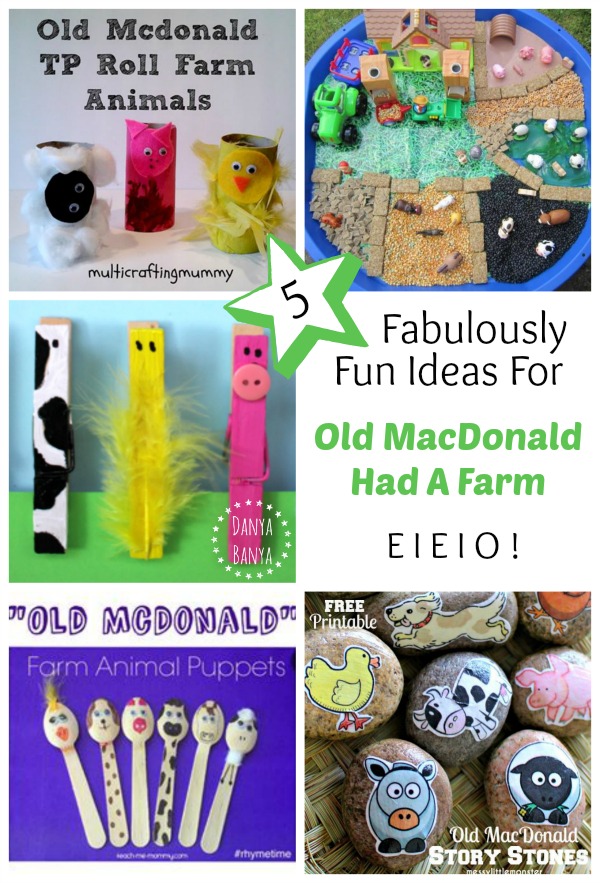 All these and more are pinned to our Rhyme Time Pinterest board. Pop over if you're after even more inspiration.
Follow Danya Banya | Go Science Girls's board Nursery Rhyme Time!! on Pinterest.
If you've got a favourite nursery rhyme, or favourite nursery rhyme kids activity, I'd love to hear about it in the comments below. You can also upload a photo to Facebook (tagging @danyabanyablog) or Instagram (tagging @danyabanya).
And keep an eye out for our next Rhyme Time instalment in a few weeks: "One, Two, Three, Four, Five. Once I Caught a Fish Alive"!
xx Danya
* Some of the products we have in Australia are not available internationally or are called different things, so I've added in these (cheeky affiliate) Amazon link(s) as an example to help clarify. An affiliate link does mean that I may earn referral fees if you make a purchase through my link, without ANY extra cost to you. These fees help to keep this little blog afloat. Thanks for your support.