Spring science & craft idea: make pretty crystal flowers to go with the nursery rhyme 'Mary, Mary, Quite Contrary', how does your garden GROW?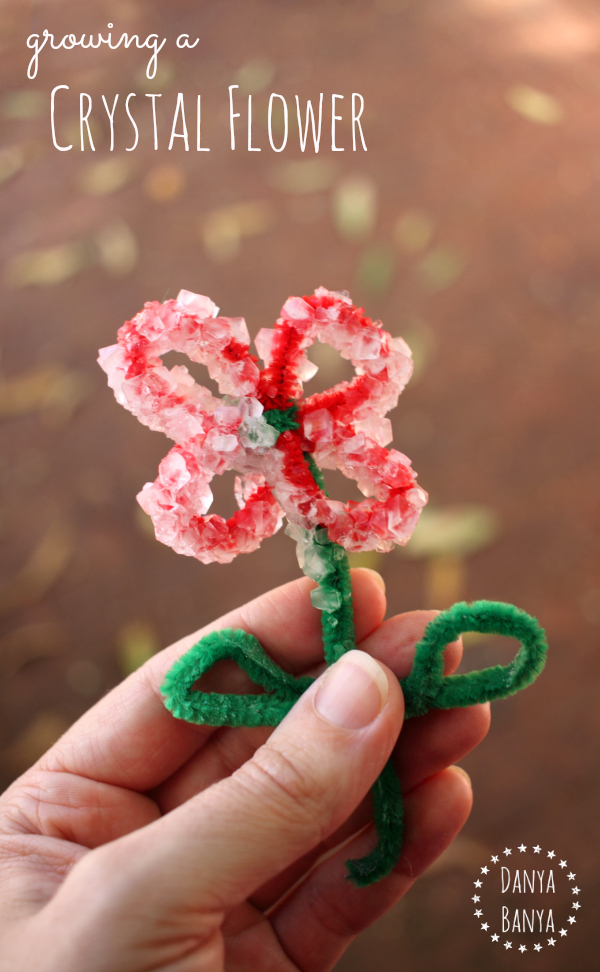 Another fortnight has rolled around, bringing us to our next instalment of Rhyme Time!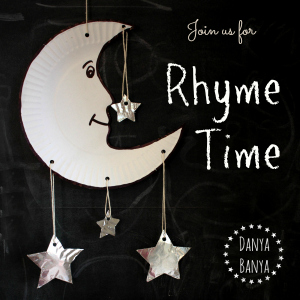 This week we've got some fun activities to go along with the nursery rhyme "Mary, Mary, Quite Contrary". You know the song, right?
Mary, Mary, quite contrary,
How does your garden grow?
With silver bells, and cockle shells,
And pretty maids all in a row."
I thought it would be fun to focus on the 'how does your garden grow' part, and see if we could 'grow' a garden of beautiful, sparkly crystal flowers. We've never made our own crystals before, so this was quite exciting! For our first attempt though, I thought we would try a classic primary school science project – making crystals with Borax laundry powder.
The first step is to make several pipe cleaner flowers. Flowers come in all shapes and sizes, so this is where kids can use their imagination. JJ (4 years and 10 months old) created three flowers, each one wonderfully unique. She made one with a red stem, explaining that it belonged to the rhubarb family.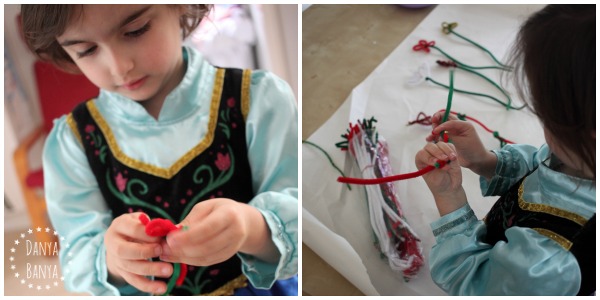 The next step is to make Borax suspensions, by mixing Borax powder with boiling water in old glass jars. You can buy Borax in the laundry section of your grocery store or on on Amazon
. I just eye-balled the quantities, roughly 3 x heaped tablespoons per jar, until the solution had reached saturation point. For safety reasons, I poured the water into the jars, spooned the Borax powder, and moved the jars around. JJ helped with stirring.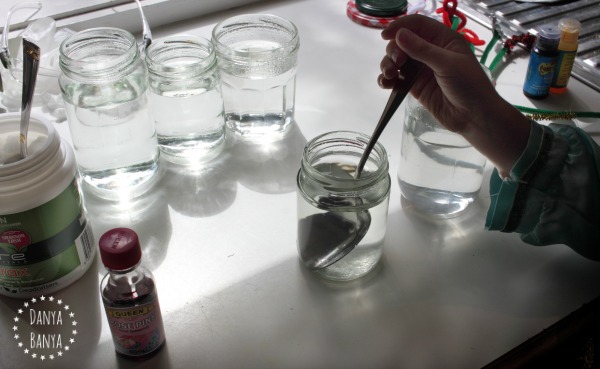 (Full supervision is required at this point. Be very careful with boiling water around young kids. Glass jars will become too hot to pick up. Borax is a commonly used natural ingredient in grade school science experiments, and is safe for older kids to handle when used responsibly. However it is not edible, will irritate if put into eyes and is a mild skin irritant for people with sensitive skin. Parents and carers will need to judge whether this particular activity is appropriate their child's age and skill level.)
Once you have your Borax suspensions, it's time to add the flowers. We wound the long stems around chopsticks, so what when the chopsticks rested on the top of the jars, the flower was able to dangle down into the Borax suspension without touching the bottom or sides of the jar.
If you'd like to learn more about the science behind Borax suspensions, there's further information in this Borax Crystal Flowers post on www.gosciencegirls.com.
I hadn't told JJ at this point what was going to happen, so I asked her to guess. Could she make a hypothesis? She hypothesized that we were adding scent to our flowers. Interesting thought! This prompted me to try adding rose essence to one of the jars. And just for fun, we added food colouring to another and liquid watercolours to a third.
Here's a behind the scenes photo I shared on Instagram at the time…
We left them overnight. The next morning we were amazed to see that crystal flowers had 'grown'.
I rinsed off each flower and hung them up. Once dry, I twisted their stems into a stem and leaf shapes. Interestingly almost all the colour and scent rinsed off, so it's hard to tell from colour alone which ones were in the different solutions. But you can tell by the size of the crystals! The best crystals formed on the pipe cleaner flowers that didn't have any of these additives. I was slightly surprised by this, given the number of articles recommending adding blue food colouring to Borax snowflakes as a matter of course.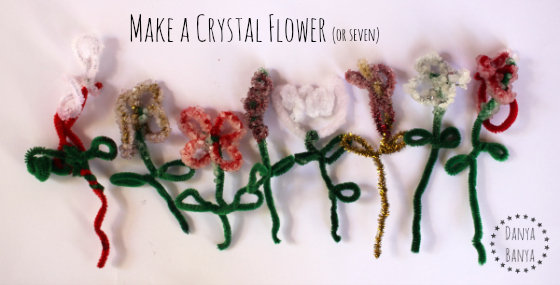 You can see traces of violet water colour on the second one above, but the colour from the fourth, sixth, seventh and eighth ones washed off almost completely. Interesting to note that the soft 'furry' pipe cleaners seem to be better at attracting consistently larger sized Borax crystals than the metallic 'spiky' pipe cleaners. I'm keen to try this again (with better control subjects next time), to see if these findings can be replicated.
Either way, I just love how they all turned out!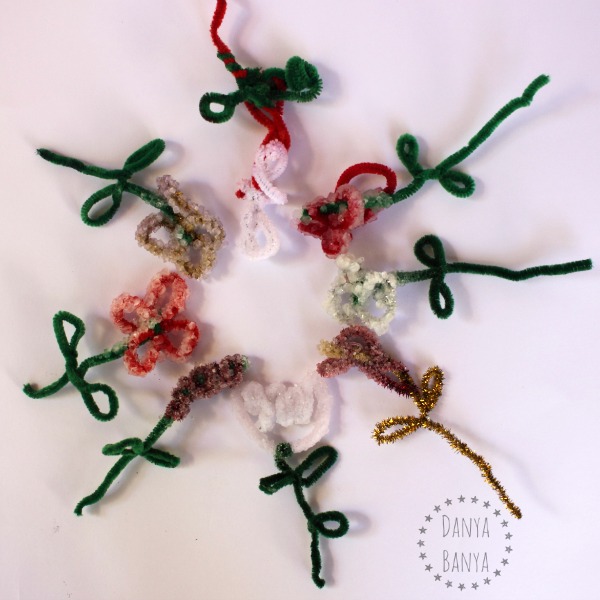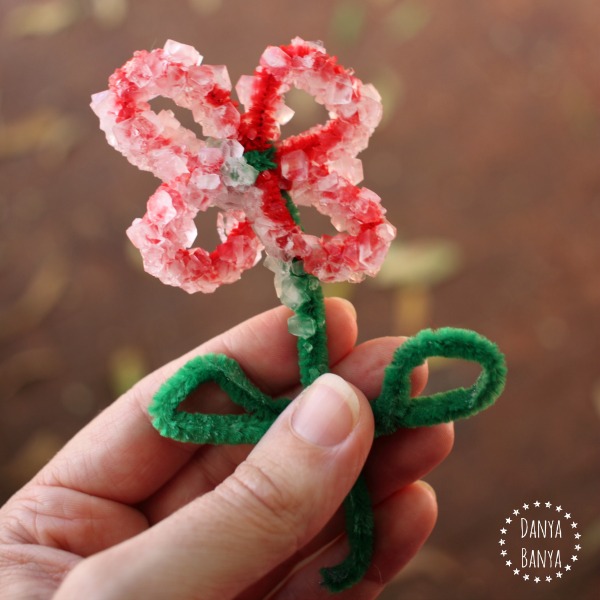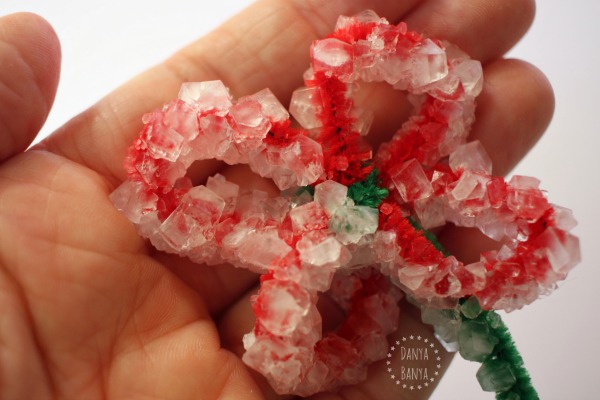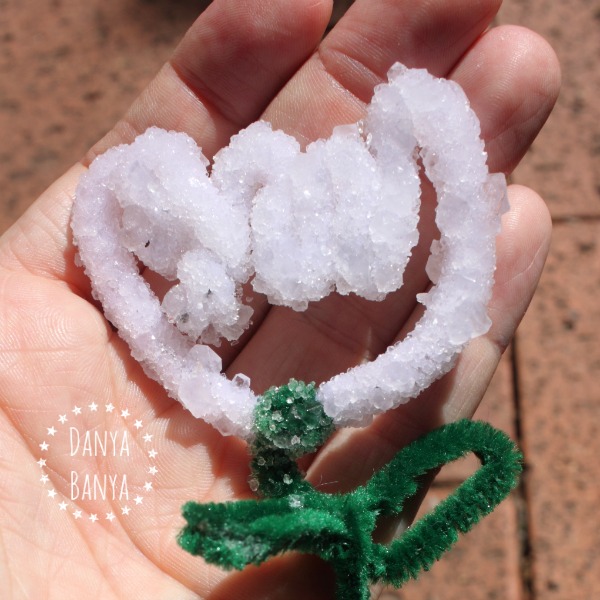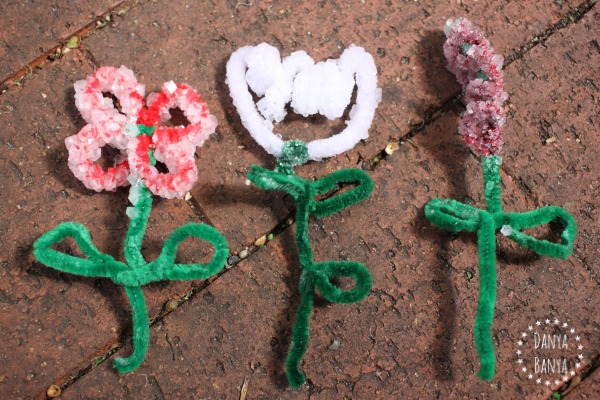 Would you like some more 'Mary, Mary, Quite Contrary' ideas from my fellow Rhyme Time co-hosts? Here's a sneak peak of what they've been up to. Be sure to pop over to read more!!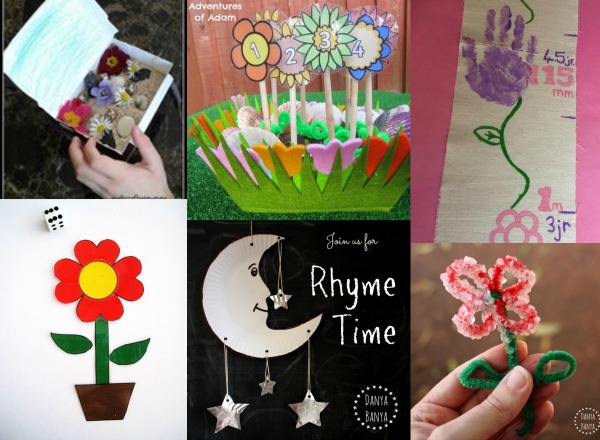 Check out these and more nursery rhyme activities on my Rhyme Time Pinterest board:
Follow Danya Banya's board Rhyme Time!! on Pinterest.
Do you have a favourite nursery rhyme that you'd like featured? Let me know in the comments below! And pop back in 2 weeks time for some more Rhyme Time fun!
xx Danya