Tipping teapot kids craft idea, to go with the nursery rhyme "I'm a Little Teapot", for toddlers, preschool, kindergarten, library story times or at home.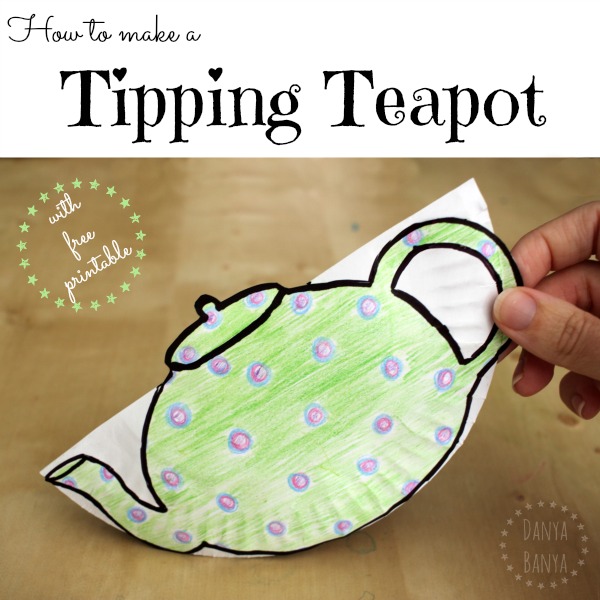 It's rhyme time! That time of the fortnight where we bring you a fun nursery rhyme inspired activity for kids. We've already had Little Bo Peep, Mary Mary Quite Contrary and Hickory Dickory Dock. Today it's time for I'm a Little Teapot!
I'm a little teapot, short and stout.
Here is my handle, and here is my spout.
When I get all steamed up, here me shout,
"Tip me over, and pour me out!"
I got all excited about today's rhyme and made my very first printable image. I'm so chuffed with how it turned out! (It might not look like it, but this little teapot image took me hours to create, lol.)
You can download your free teapot printable here, which is free for personal and small classroom use. Once you've clicked on the link, it should download directly into your downloads folder, and you can print it out from there.
You can see how you (or your kids) can make a tipping teapot, in this little video.
(Video is another first for me! While you're over there, make sure to subscribe to my YouTube channel. I'm feeling a little lonely with no subscribers over there yet!)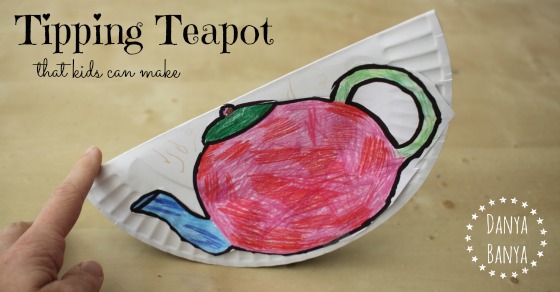 To make a tipping teapot of your very own, all you need to do is:
colour it in
cut it out
glue it to a folded paper plate
trace over the outline with a black marker
and then sing! "I'm a little teapot…. tip me over and pour me out!"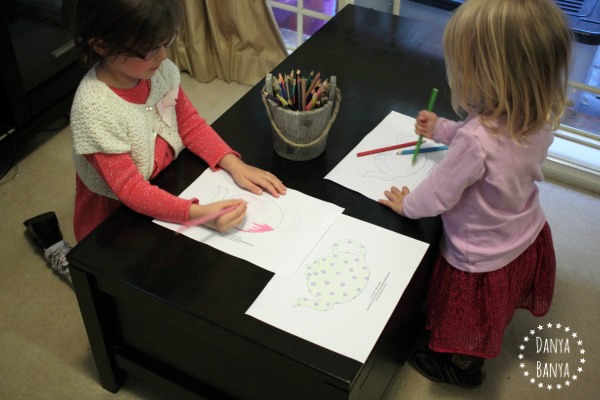 We used pencils to colour ours in, but you could use crayons, markers or even watercolour paints (with added drying time).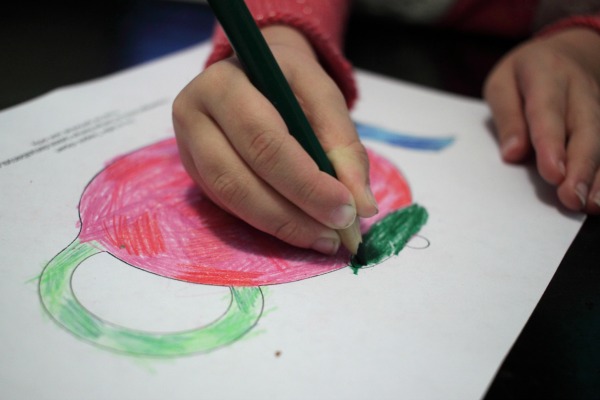 Because teapots come in every colour, pattern and design, there's no right or wrong way to colour it in. I opted for spots on mine. JJ (4 years, 11 months old) and went for solid colour blocks, with two shades per colour for extra depth. (I think JJ's looks awesome. I did help her colour in a bit where she asked, but the solid block colour concept was all hers). Bee (2 years, 7 months old) tried to colour in, and was frustrated that all she could manage was a scribble. I think her toddler scribble is awesome! But she asked me to add flowers, and so I obliged.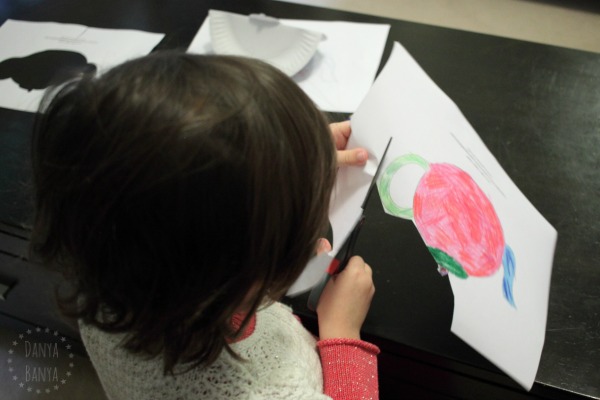 Once the design is complete, it's time to cut out your teapot. JJ cut hers out all by herself (opting to not cut out the inner part of the handle). Bee cut most of hers out by herself, asking for help in a few places. It doesn't matter if it's not perfect, but it's better to cut less off than more.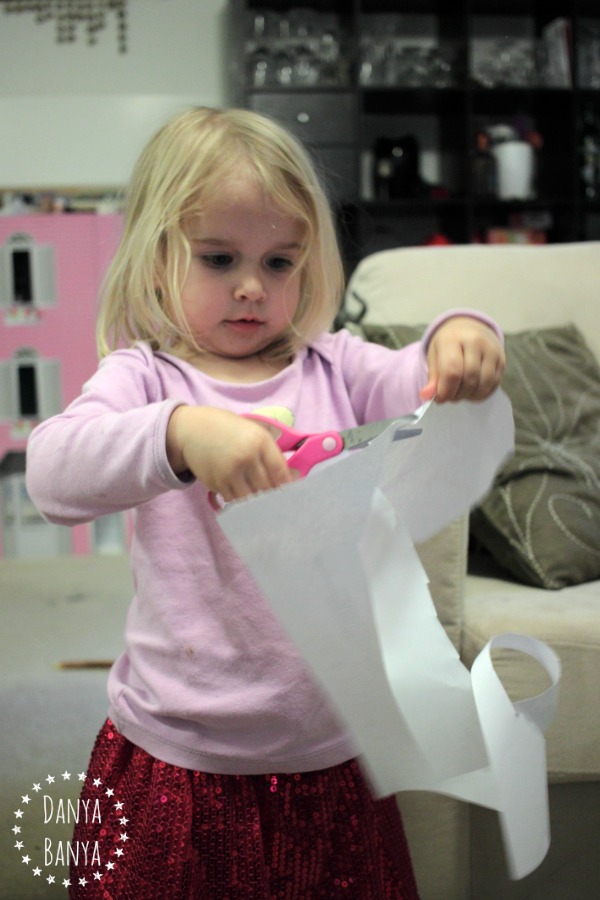 The next step is to take a paper plate, fold it in half, and glue the teapot to one of the halves. We just used regular school glue sticks.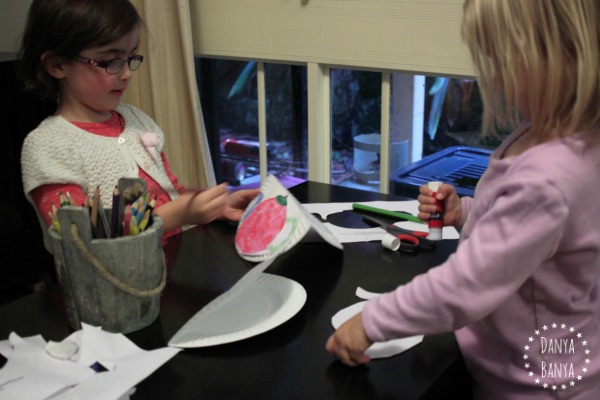 And finally, trace around the edges of the teapot using a black permanent marker. This adds a lot of definition to the teapot shape, and will hide minor cutting accidents. (Because we have a slightly uncontrollable toddler in the house, I opted to do this step for everyone myself.)
And then you have your very own tipping teapots, made by a toddler, a kindergartener and a mum.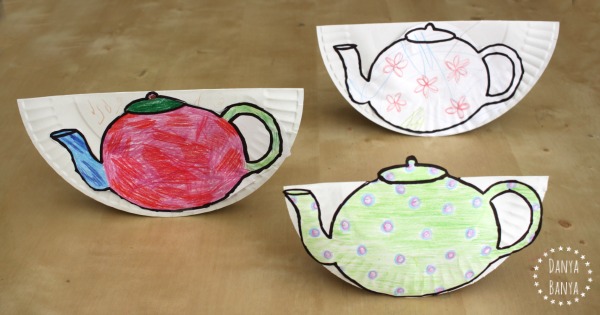 Optional: I noticed that the kids kept pushing the top of the teapot, which was flattening the paper plate. A little bit of sticky tape helped to hold the two sides of the paper plate about an inch apart. (I show this in the tipping teapot video above).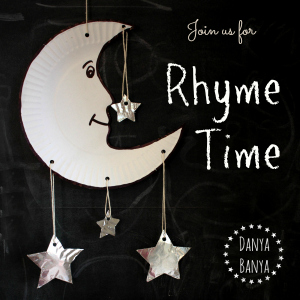 And here are some more I'm a Little Teapot ideas, from the rest of the Rhyme Time team!
xx Danya
PS: If you want see our other kids nursery rhyme activities, so far we've covered Hickory Dickory Dock, Little Bo Peep, Mary Mary Quite Contrary, Five Little Ducks and Five Little Speckled Frogs. Or follow us on our Rhyme Time Pinterest board for lots of playful nursery rhyme ideas from around the web.