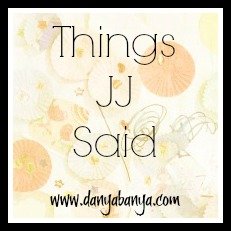 7.00am this morning, JJ woke up.
JJ: "Daddy, look that Dad. Daddy, look that Dad. Daddy, look that Dad."
Mr Banya (opening one eye): "What is it?"
JJ: "It's booger Dad. It's booger. Booger's on my finger Dad. Booger's sticky. Dad, you see my booger? I watch Playschool. Watch Playschool Dad?"
Me: "Do you want to watch Playschool with Mummy this morning?"
JJ: "Yes. I watch Playschool with my Mummy. Daddy still sleeping."
Me: "OK, give Daddy a kiss and a cuddle. Let's go."
And so, JJ & I jump up, pop on some warm clothes and head downstairs to watch Playschool together (although I do confess to perhaps paying slightly more attention to the laptop), whilst Mr Banya sleeps in an extra hour.
This is our usual wake up routine, although not necessarily the booger bit! On weekdays, Mr Banya gets up with Jessie to watch Playschool whilst I sleep in an hour, and on weekends it's my turn to get up.
How do you get up in the morning?

(This post is not sponsored.  All opinions are my own.)
Are you new here? If you've just found my blog, be sure to subscribe via Email or RSS Feed, or to "like" the Danya Banya Blog Facebook page, so that you'll get all my tips and rants on parenting babies and toddlers, sewing, crafting, wholesome cooking, photography and lots more!