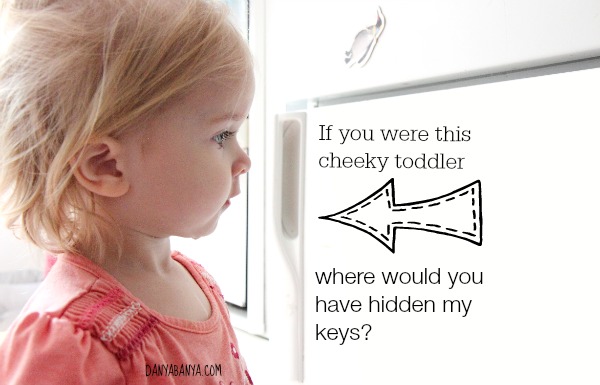 So I lost my keys the other day.
Actually, correct that. I had my keys lost for me. By whom? My best guess is this cheeky monkey. So I turned to the fountain of knowledge that is Facebook, and asked:
"Help me out here folks. If you were a cheeky toddler, where would you have hidden my keys? :-S"
And the suggestions flooded in! So many great ideas – you guys certainly know how to think like a toddler. And so I madly dashed around the house checking if they were:
in the garbage bin
in the recycling bins
in a random boot (which, incidentally, is where I found our TV remote control)
next to the biscuits
at the back of the pantry
in the fridge
in the freezer
in a dress up purse
in a dress up handbag
with the stuffed animals
in the toy box
in the toy car
in the washing machine
in the dryer
in the toilet
in her nappy (eww!)
in between the couch cushions
inside one of cushions
in the small spaces behind and under the furniture
under a blanket
under a pillow
in the garden
in the dogs bed
in a heat vent
on the bookshelf
and still haven't found them…. Sigh.
If she wasn't so cute, I may just have to strangle her.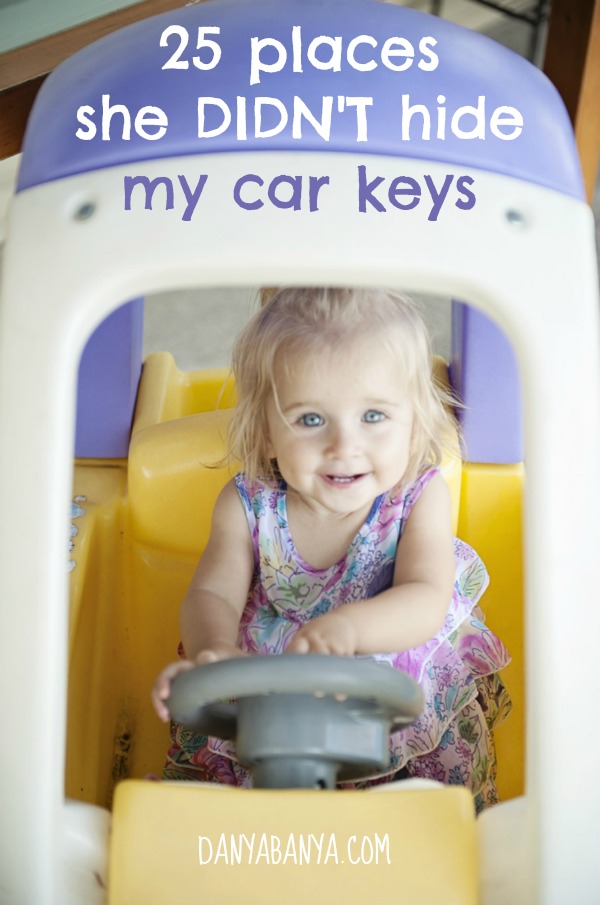 (Photo credit to Megan Webb Photography)
I'll let you know if I do ever find my keys, and in the meantime I guess I'll be ordering another one of those $500 fandangled car key thingies. Unless you have any other ideas for me?
xx Danya