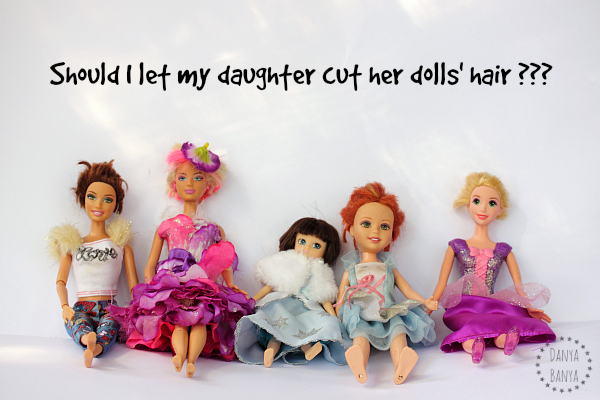 My daughter JJ asked if she could cut her doll's hair. In the next split second, these were the thoughts that ran though my head.
On one hand I wanted to keep her doll looking 'nice'.
I was concerned that the person who had recently given her the doll would be offended.
I worried that JJ would feel a sense of remorse when she wasn't able to undo what she had done.
I wanted to instil in her a sense of care for her belongings.
I fretted that she may not like the results, and the doll would be deemed 'ugly' and no longer played with.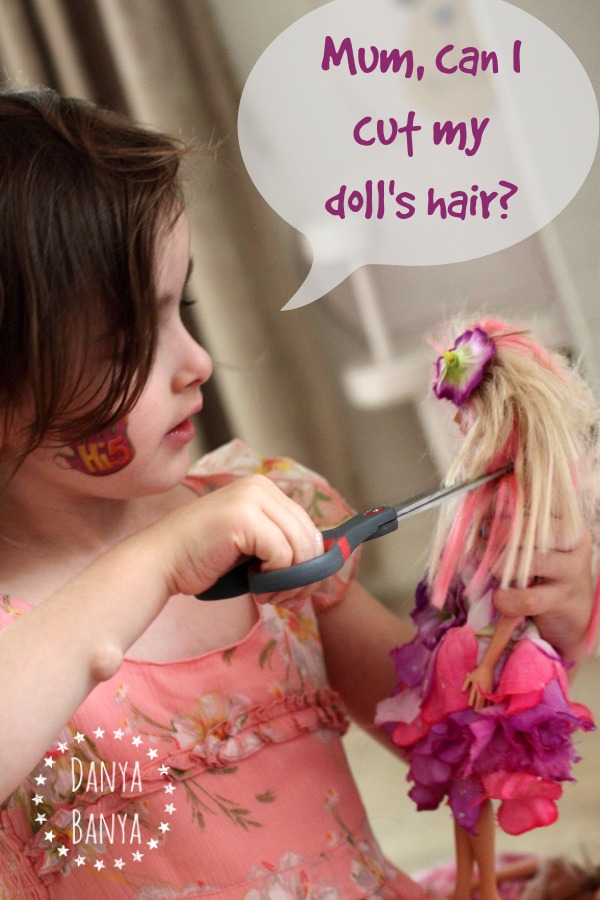 On the other hand, I wanted JJ to feel empowered to care for and make decisions for her own toys.
I wanted to impress on my daughter that I felt that female looks aren't everything: that appearance is just one aspect of a person; that being clever, funny and kind are characteristics that are just as (or more) important.
I wanted JJ to feel that her own hairstyle preference is just as valid as anyone else's. I wanted to encourage the confidence for her dolls (and her) to be their own person, and make choices that may not follow along with the stereotype.
I wanted to provide her with an avenue to roleplay out scenarios that may concern her or that she may be facing.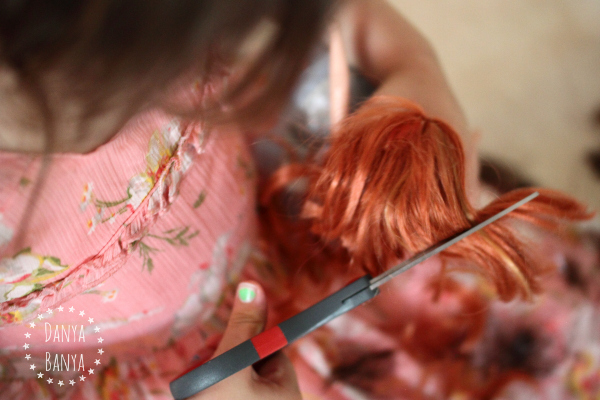 JJ herself as quite short hair. It is very slow to grow, but whenever it does reach her shoulders, she always asks for it to be cut again. We've always commented how funky her short hair looks, and joked that her natural hair looks just like Rapunzel's (in Tangled) after she's had her hair cut.
So, do I want my daughter to believe that I think a doll with longer hair is more beautiful, or somehow 'better'? Couldn't a short hair cut on a doll look funky too? Were I to say no, would I be placing too much emphasis on looking after a toy that she has multiples of, and can be easily replaced if need be? Shouldn't she be able to decide on the hair style of her own doll? Shouldn't she be able to cut her dolls' hair so that they look just like hers?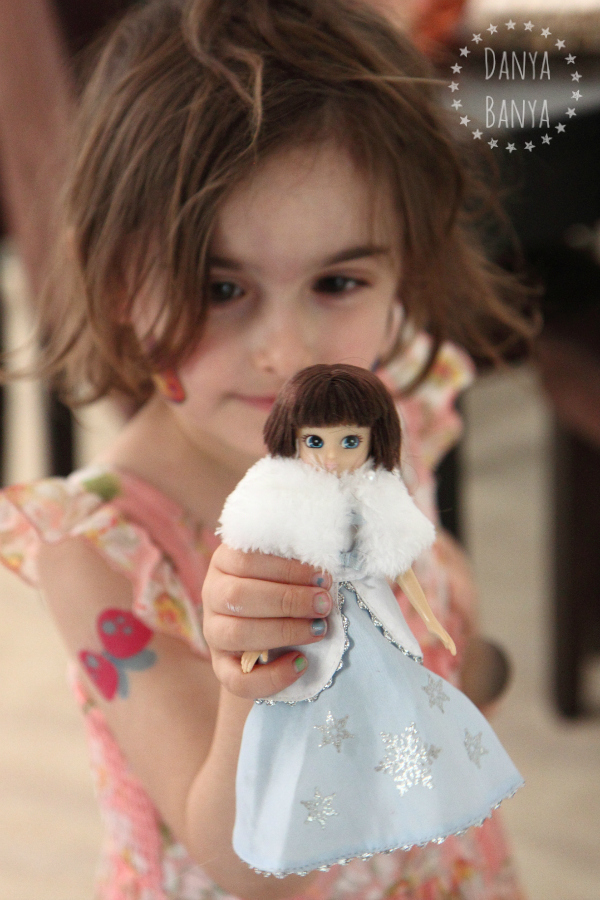 When you look at it like that, I couldn't really see any justification in saying no. And so, I said yes. And then when she brought out the second doll, I said yes again. And yes to the third. And when she brought out Rapunzel, I said yes again.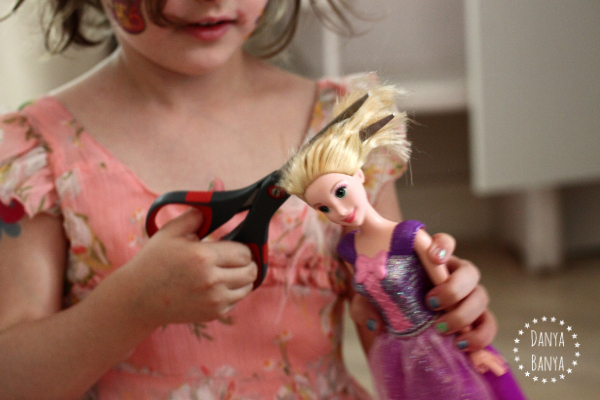 I did draw two lines in the sand. Firstly, she wasn't allowed to cut her sister's doll's hair, and secondly she wasn't allowed to cut her own hair. (I explained she could have her hair cut anyway she wanted, but she couldn't cut it herself.)
Besides this, she was free to cut any of her own dolls' hair as much as she wished.
She spent the next half hour cutting, trimming, styling, and then cutting some more. We chatted away about this and that. JJ proudly showed off her dolls' new hairstyles, and explained that they didn't need to worry about their hair falling over their face while they played anymore.
And thus her belief in funky short hair was reaffirmed.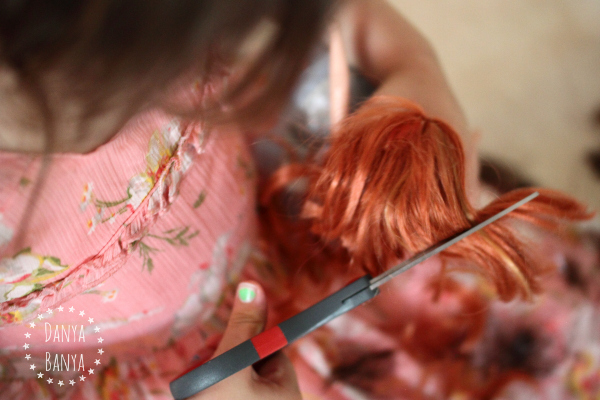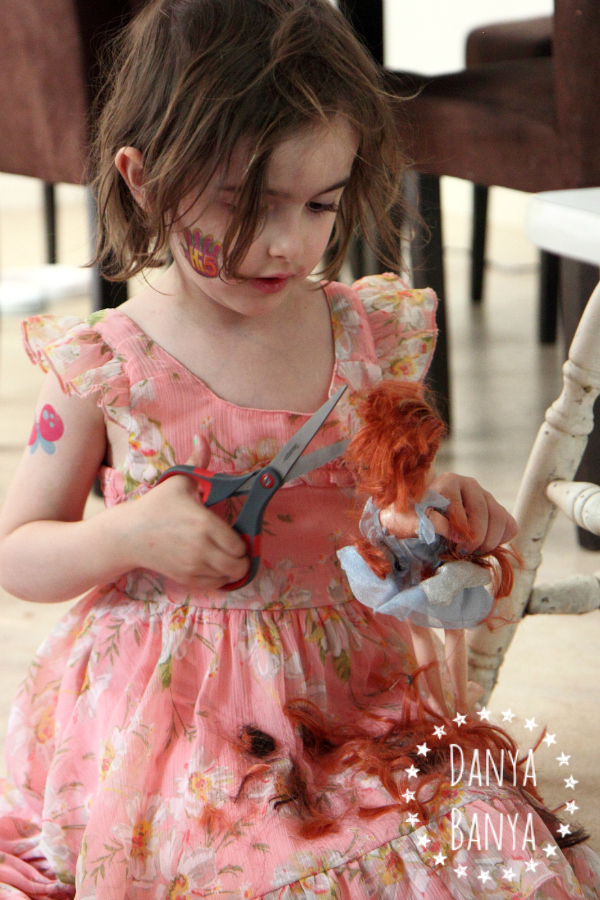 I would have been happy if our days play had ended there. But something a lit bit special happened next.
**To give you some background, Camp Quality (a children's family cancer charity organisation in Australia) had visited JJ's preschool a few months ago, and had talked about how some kids and adults are sick with an illness called cancer; these people have to take special medicine to make them well again; and that medicine causes their hair to fall out. JJ had lots of questions about it at the time, but hadn't really brought the subject up again since.**
As JJ started to collect up the discarded locks of dolls' hair, she ran to fetch a little baby doll that didn't have any hair. She asked if we could use the cut hair to make a wig, because this little doll has cancer and has to take medicine that makes her hair fall out.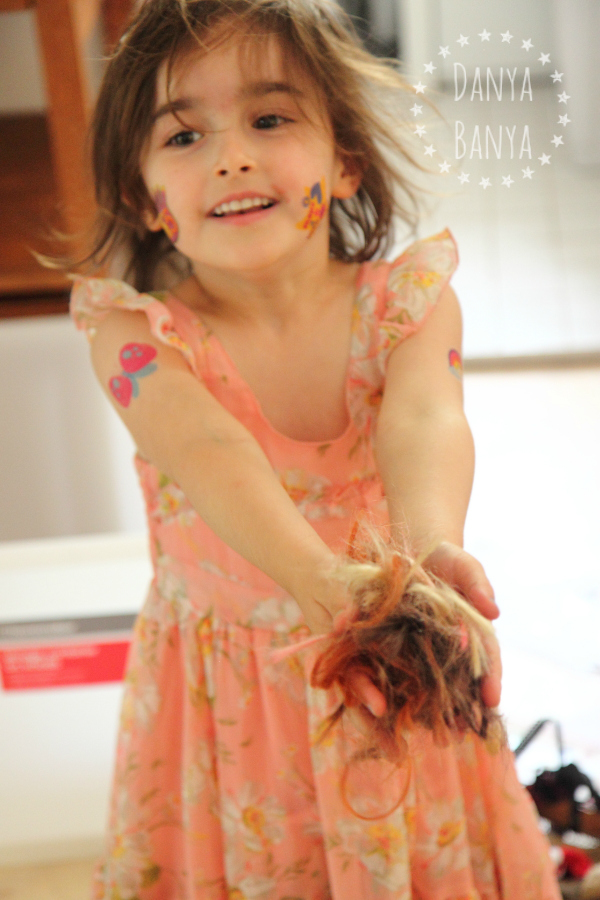 Oh sweet child, yes of course! Mummy now has to work out how to make a teeny tiny wig, but of course!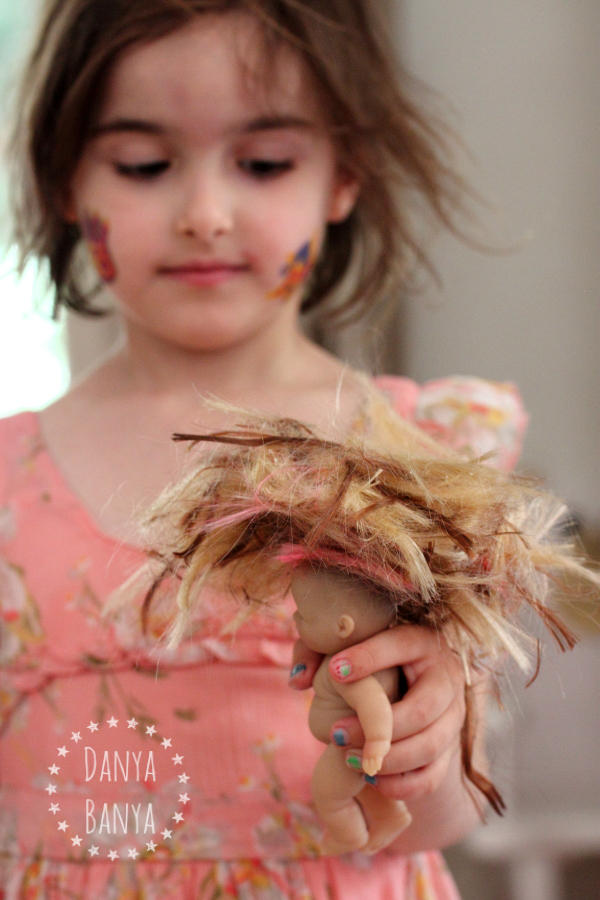 And so this opened the door to chatting about cancer. JJ wondered if the cancer medication tastes bad. "I think it would taste like snails. Ewww!" she said. We decided if we met anyone who had tasted it, we would ask them. We talked about how many wigs the real Rapunzel's long hair could make. We talked about how wearing a wig might make someone feel a bit better if their hair feel out and they hadn't wanted it to, particularly if they are a woman or a child. We chatted about how not every person who is bald is sick – some men are bald or shave their hair (like a few friends of ours). And we saved the cut hair for a future wig making project.
This all happened a few weeks ago now, and I thought it is interesting to note that JJ still plays with her (now funkier) dolls. Not necessarily every day, but then she didn't play with them everyday before either. She doesn't see them as 'ugly', or 'damaged'. She thinks they are awesome. She's just asked if she can have a haircut as well, because she wants her hair to be nice and short too. And so it doesn't fall into her eyes when she plays.
xx Danya