Because apparently one fourth birthday party isn't enough, we also threw JJ a birthday party for family and close friends on the weekend. JJ asked for a Rapunzel doll cake, and of course every budding Rapunzel needs long golden hair (unless you decide to cut it all off, but that's another story…)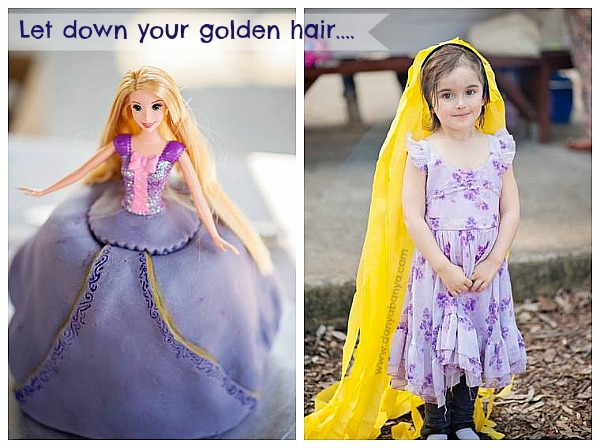 JJ fell in love with the Rapunzel story through reading (and re-reading and re-reading) our vintage My Little Golden Book version (which I've just seen is available on Amazon for a cruel $0.01
).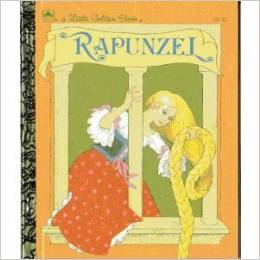 In this interpretation of the story, Rapunzel's pregnant mother is bewitched to crave Rapunzel, a plant that grew only in the sorceress's garden. The woman agrees to give up her newborn child in exchange for Rapunzel leaves. The daughter Rapunzel grows up imprisoned in a tower, where she is one day overheard singing by a handsome prince. When the prince is caught visiting Rapunzel, he is blinded by the sorceress as punishment, and Rapunzel is banished to the most deserted place on Earth. Only years later are the pair reunited when the price blindly stumbles upon Rapunzel's exile.
As you can imagine, I was quite surprised when JJ wistfully said one day she wished she was Rapunzel. I asked why? Surely it would have been unpleasant to grow up away from your parents, imprisoned in a tower by an evil sorceress, and to have the only other person you've ever met and fallen in love with blinded before being banished to exile? JJ, the eternal romantic optimist said "But she does get to marry the prince in the end."
It's only recently that JJ's been introduced to the Disney's version Tangled, with it's significant plot shifts from the Golden Book version we knew. JJ was hooked all over again. I'm sure it must be the allure of long hair, especially as JJ's own hair refuses to grow. But I do secretly think that Tangled's Rapunzel has a bit of spunk. She's a child who can entertain herself, be it through reading, writing, painting, baking, sewing, candle stick making. She's smart, kind, charismatic and playful. She has the confidence to chase her dreams, even when she's told she can't.
We bought JJ a Rapunzel doll that would be both a birthday present, and the centre of her Rapunzel cake. To make the skirt, I I planned to bake a Bundt butter cake. If you follow me on Instagram, you may have witnessed the highs and lows of my Bundt baking attempts. However it wasn't until I began constructing the skirt that I realised one Bundt cake wouldn't be enough. Rapunzel has long legs, and so she needs a big skirt! I ended up stacking one and a half Bundt cakes to bring the height up to match Rapunzel's waistline.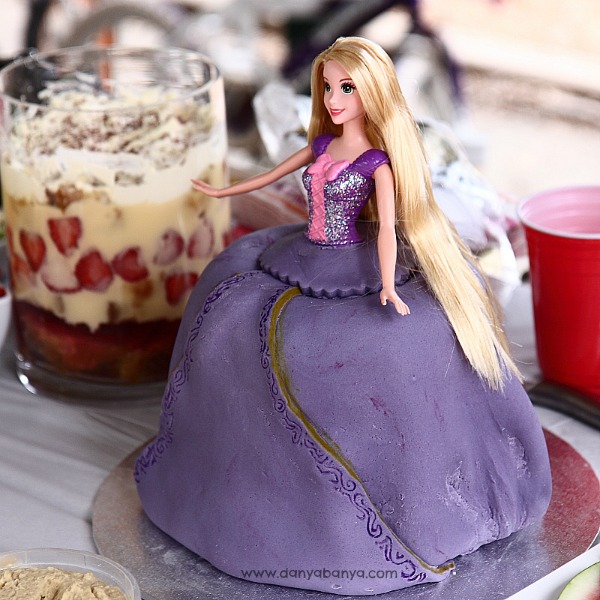 I covered the skirt with butter cream icing and coloured ready to roll icing, and added a few details using edible markers. It's not perfect, but JJ still thought it was magical.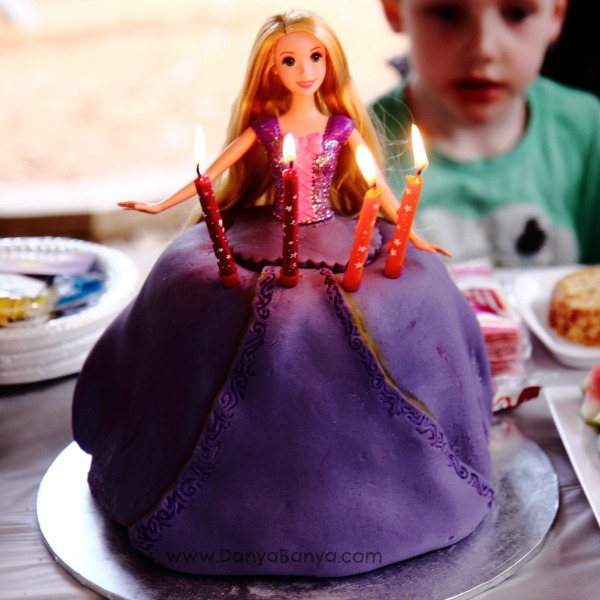 And of course every Rapunzel loving girl needs her own Rapunzel wig of long golden hair, or in this case, a headband of Rapunzel hair extensions.
Here's what I used and how I did it:
yellow packing tape (I already had this, but they were cheap as chips at $2.00 for a colourful set of 6).
yellow streamers ($1.50)
repurposed cardboard (free from an old cereal box)
PVC glue
a wide fabric headband ($2.00)
lots of pegs!
bulldog clips (optional)
I bought yellow streamers and a headband from the discount shop for $3.50, and the rest of the materials I already had on hand. I began by cutting the streamers into long strips (roughly about 2 metres long), sticking them along a section of packing tape (roughly about 40cm wide).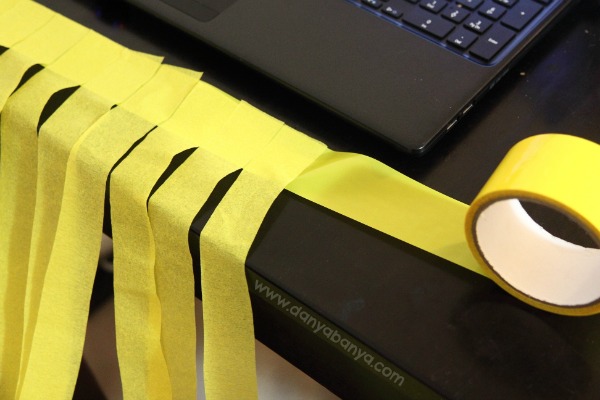 I continued this for three rows, overlapping the tape by about 1 cm each row, and offsetting the streamers each time. I then taped on to a piece of upcycled cereal box cardboard, and glued the whole lot to a headband using PVC glue.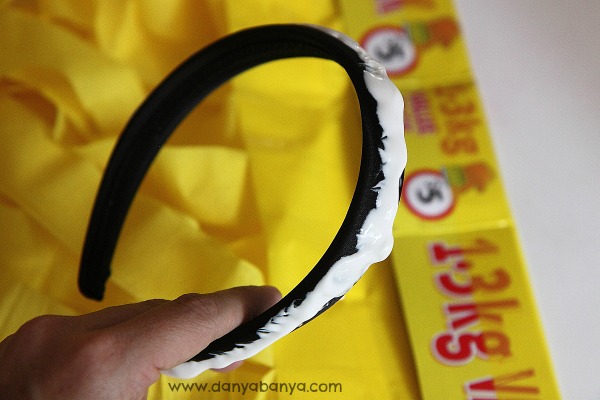 Pegs held it all together while the glued dried. (Be sure not to glue the pegs to the headband in the process though!)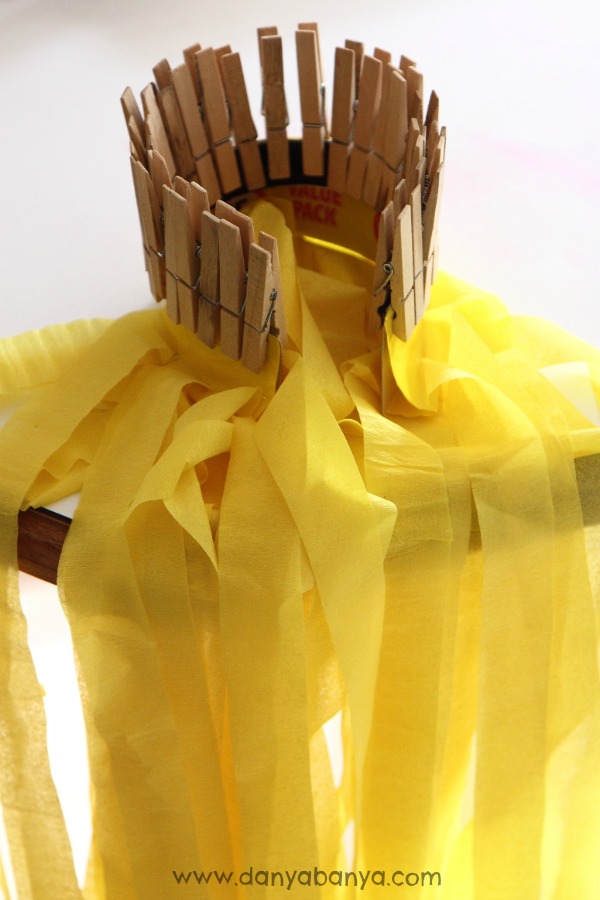 (One can never have enough pegs).
I gave JJ her new Rapunzel headband just before the first guests arrived. She put it on, and her eyelids fluttered in that way that all little girls do when they feel like they are the most beautiful being in the world. Success!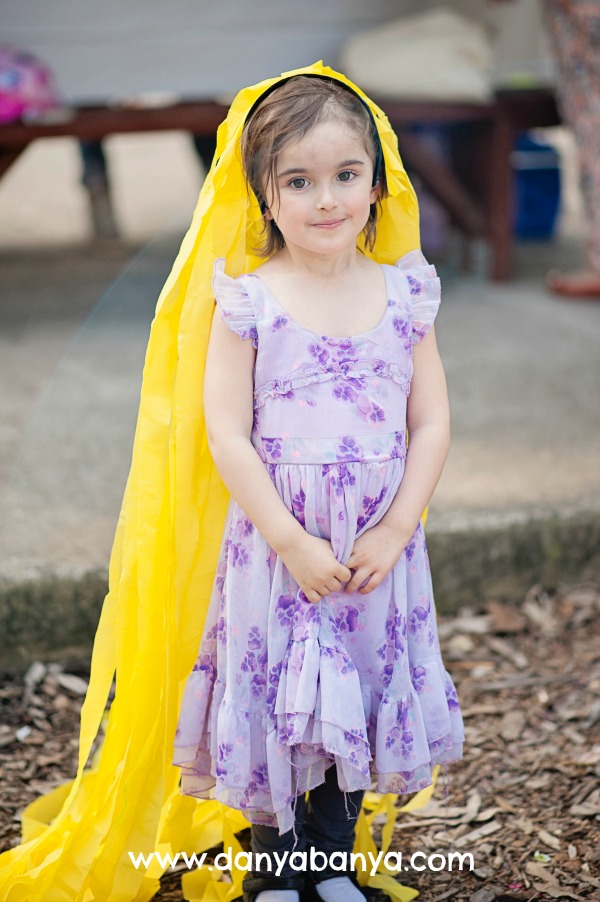 JJ ran, played, climbed and even rode her bike (with helmet) all while wearing her long golden hair. I love that it is light weight enough that she could feel the length flowing behind her without it restricting her movements. I love that it is such an easy to make and low cost dress up that there was no need to try to keep it looking 'pristine'.
Of course so much play results in significant wear and tear. It didn't take long before the headband detached (after another bikee riding with helmet attempt). It's since been reglued and is now sporting some bulldog clips on each side to give the glue a chance to stay stuck. Meanwhile, almost all of the streamer strands have been trodden on at some point and are either significantly shorter, squished in parts or missing altogether, causing an usual case of premature pattern baldness.
Notwithstanding, JJ still thinks is is beautiful, and continues to play with it over a week later. I'm not sure how much longer it will last, but either way, we've gotten our $3.50 worth. 🙂
xx Danya