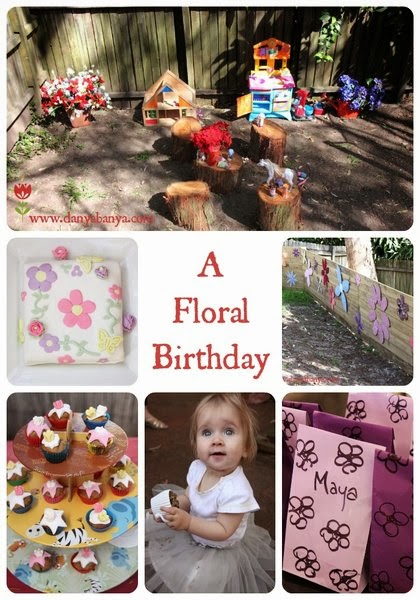 A Floral First Birthday Party!  
Rose, flower & butterfly cake, cupcakes with icing flowers, a floral invitation to play, and flower wall decorations…
My little miss Bee is one!
So we thought we would have a little shindig to celebrate. As Bee's birthday is in September (which is the start of Spring in Australia), we decided on a floral theme.
Starting with THE cake…

For the base, I used half of A Cooker and a Looker's Butter Cake recipe (and saved the other half for another cake that I'll post shortly). I iced it using ready-made icing (the type that is like play-doh), some of which I'd coloured using all natural food colours (so it was free of these nasty food colour additives).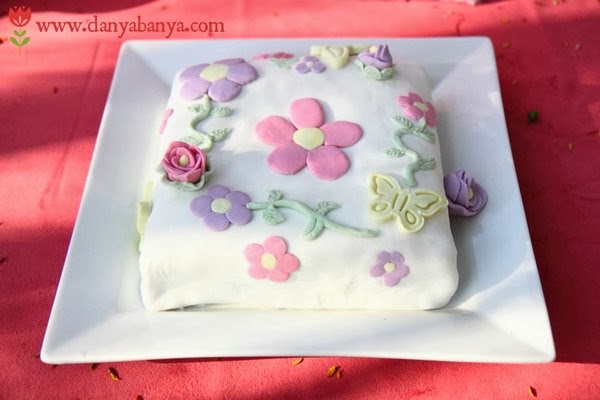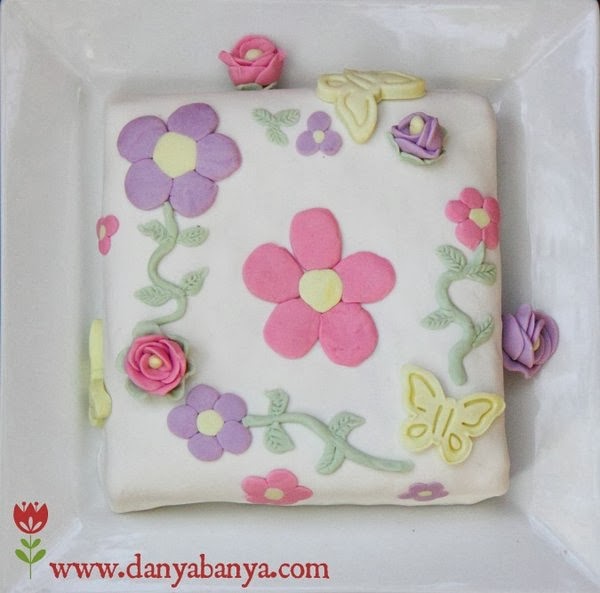 I learnt how to make the roses recently on a cupcake decorating course, and I used a 3D cookie stamp for the butterflies. The other flowers, stems and leaves were improvised.

My big tip, is to use baking paper on both the table and the rolling pin when rolling out the ready-made icing. It was quite humid, and I found that otherwise the icing would stick to both. The baking paper also made it easy to flip the icing over onto the cake to make the white background.
And you can't have a kids birthday party without cupcakes…

What's the difference between a muffin and a cupcake? Icing on top!
Ironically I used this no-added-sugar wholemeal banana and blueberry muffin recipe, and then went and added a ton of sugar-laden icing on top. 🙂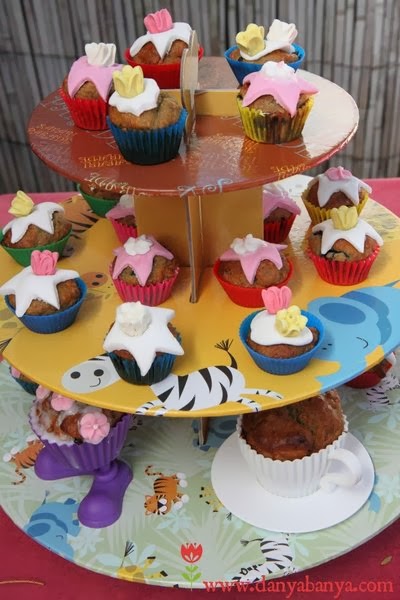 I cookie cutter to cut out star shapes from the ready-made icing, and then stuck store-bought iced flowers on top with water. That's cheating I know, but I had the iced flowers in my cupboard already and was looking for an excuse to use them up…
I was pleased to see that the kids were eating the whole thing (or in JJ's case, eating the muffin and leaving the icing – bless!), so the healthy-ish cupcake / muffin base was a big hit with the toddler crowd.
And I kept one of the larger cupcakes icing-free for Bee. She hasn't really had added sugar in her diet yet, and I'm hoping to keep it that way for a while longer.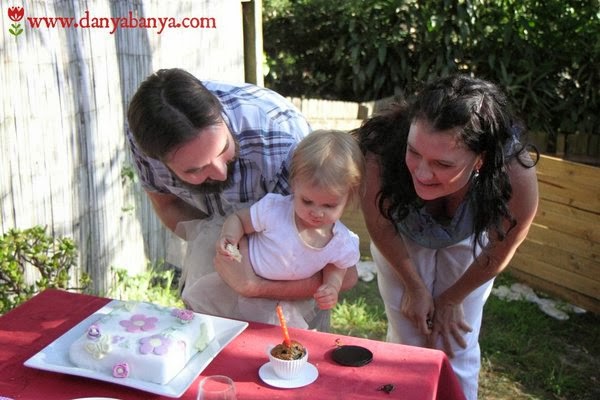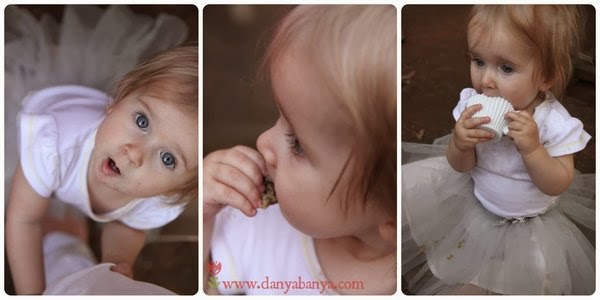 A floral invitation to play…

As there were some older kids invited, I set up a floral "invitation to play" in a corner of our backyard.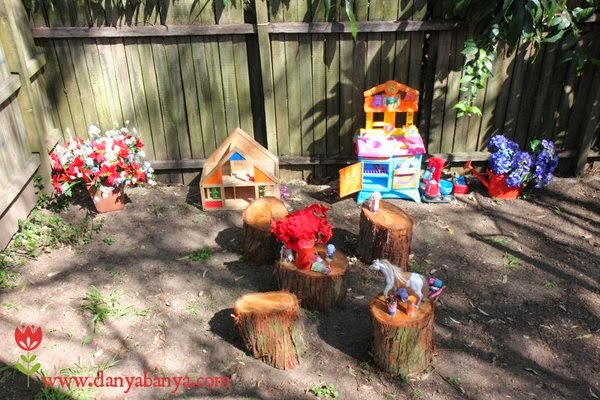 Stems of fake flowers were displayed spilling out of watering cans and plant pots, around the log stools. I also included our dolls house and play kitchen (both council clean-up finds), our various toilet paper roll dolls, our stick family (I'll have to blog about them another time), and a few other odds and sods that I thought would encourage some interactive play.
Flower wall decorations
On the upper level of the garden, I used these flower decorations  to tie the theme together. (I love an excuse to introduce textiles).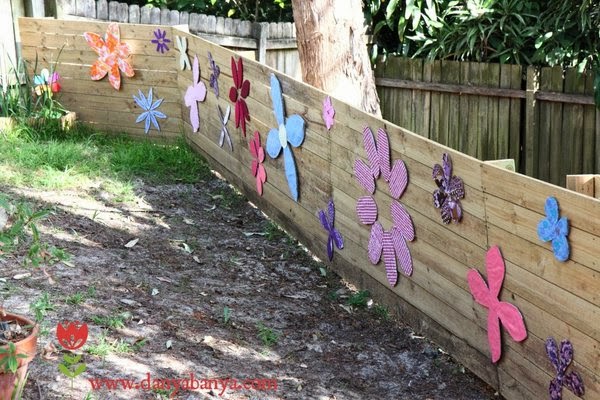 Looking left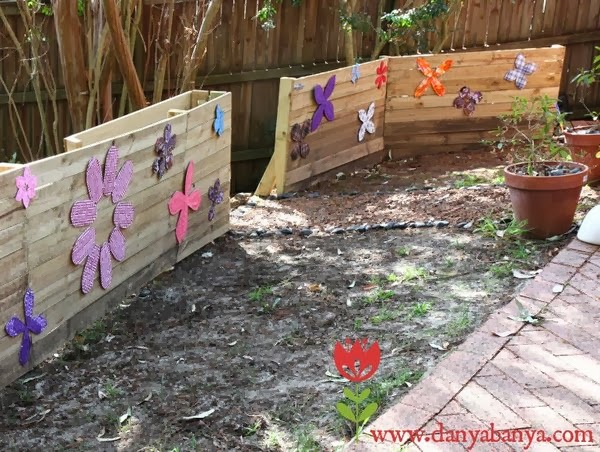 Looking right
These flowers were actually made a few months ago, and have up on our playroom walls over Winter. But in honour of Bee's birthday, we brought them outside into the sunshine.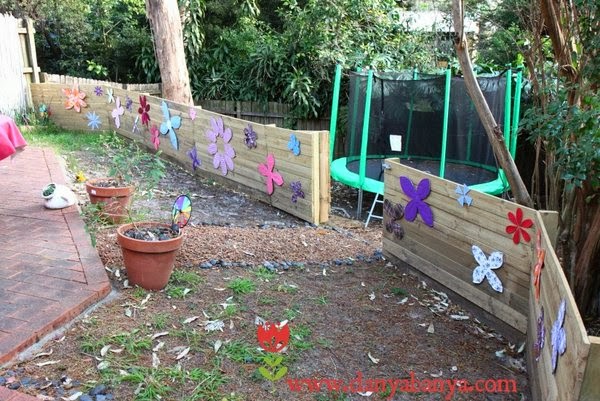 The flowers themselves were simple to make – they are just fabric glued to recycled cardboard, stuck to the fence with packing tape and/or blu-tack.
I think they added quite a bit of pop to the backyard!
We had a lovely afternoon. Bee enjoyed being the centre of attention, even if she didn't quite understand what all the fuss was about.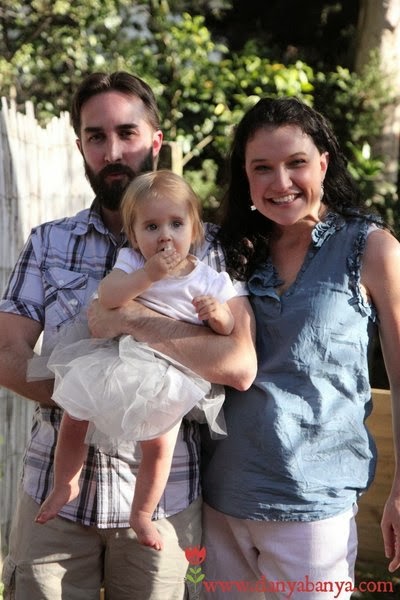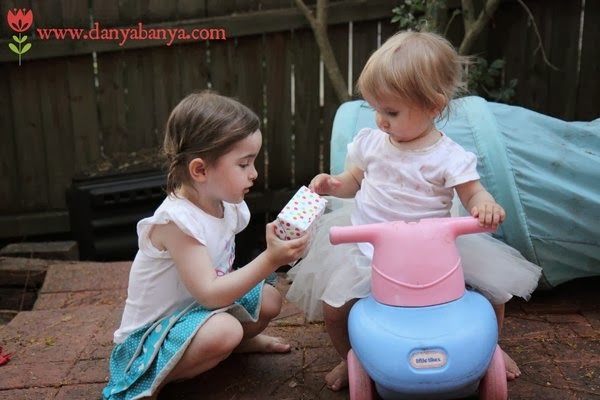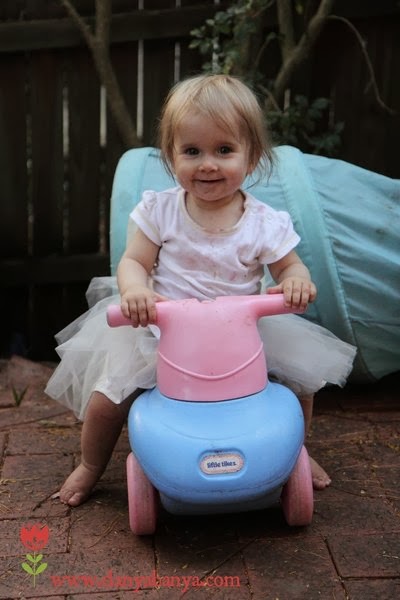 What a happy and grubby birthday girl!
xx
Danya
PS: Special mention to Mrs T for the outfits and the set up, and to Megan for helping with the happy snaps. Love you both!