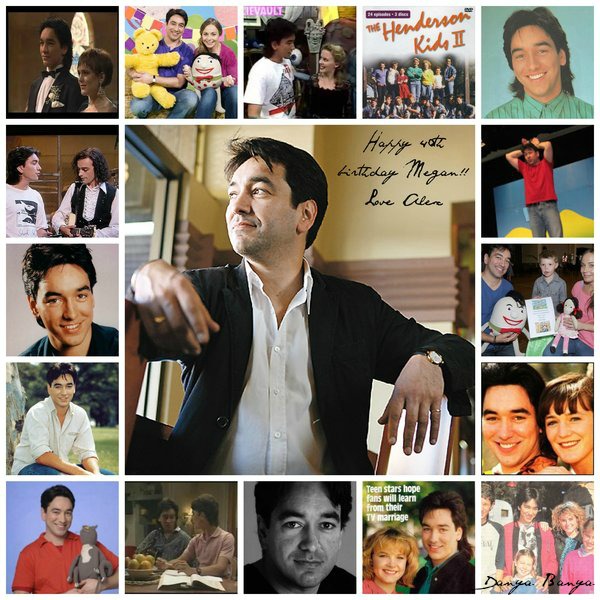 My friend Megan Webb is celebrating her 40th birthday today, so I made got her this totally fake genuine signed birthday card from her teenage crush Alex Papps.
You remember Alex as Vince from The Henderson Kids, and then as Frank Morgan from Home and Away, don't you? Well, actually I don't, but then I'm a few years younger than Megan. Although the top right photo of Alex in the green shirt does ring a bell…
But now that I have kids, I do totally know Alex in his current role as a Playschool presenter. (Particularly the scene where he dresses up as a watermelon in a fruit fashion parade. I'd show you a photo, but my Google Image search for "alex papps camp watermelon outfit playschool" came up blank…
Anyway, Megan is such a closet fan that she actually married an Alex Papps look-alike. Talk about dedication! Their youngest (Master 4) is convinced that the centre photo in this collage actually is his Daddy, and can't work out where Daddy got a watch since he doesn't usually wear one? He's also a tad jealous that Daddy's apparently met Big Ted.
But, I digress. Just wanting to wish you a very happy 40th birthday Megan. Hope you have a lovely day, week, month, year and decade!
xx
Danya
PS: None of these photos were actually taken by me – all credits go to the original photographers. This birthday card was made just for laughs. I found all of the images via Google Image search, but I forgot to save some the sources at the time (*smacks hand*), and some of those I did save have been since deleted.
If you know the source of any of the other photos, please tell me so I can attribute. Thanks.