What do you wear to an "S" themed fancy dress party? Space outfits of course!
Today, I'm sharing with you how to make a Saturn and a Sun face mask.
First up, the sun, for my gorgeous little girl JJ.
Luckily I keep a stash of I'm-sure-it-will-be-useful-one-day recycling in our hoarding room study. So I found a piece of sturdy corrugated cardboard (that had once been an infant car-seat box in a previous life) that would be perfect to upcycle.
I drew the inner circle by tracing around a saucer, then I free drew the sun's rays and cut it all out with a Stanley knife (or utility knife or box cutter – whatever those knife-thingies are called). Then I raided JJ's paint supplies and painted on yellows and oranges, and glued on some yellow glitter. Cos, you know, everything needs a bit of sparkle.
Next I glued on some strips of yellow felt around the inner ring, pegging until it was dry, as I didn't want the mask to chaff my daughters chin.
Lastly, I stapled on some elastic to the back with my staple gun (which, by the way, was the best birthday present ever – thanks bro!)
Ta da! Doesn't she just shine!
Technically she is supposed to be wearing all black, as her clothes should have been the "space", but it was an unseasonably cold afternoon and we ended up raiding the emergency jumper stash in the back of the car and found this pink and grey number which she wouldn't take off for the photos. Kids don't understand the need for blog-pretty photos sometimes! Anyway, I digress…
Next up, was Saturn.
I used this Martha Stewart costume as my inspiration. Then I elicited the help of my Dad to draw on the design and cut it out. The cricket was on the tele at the time, so he didn't mind…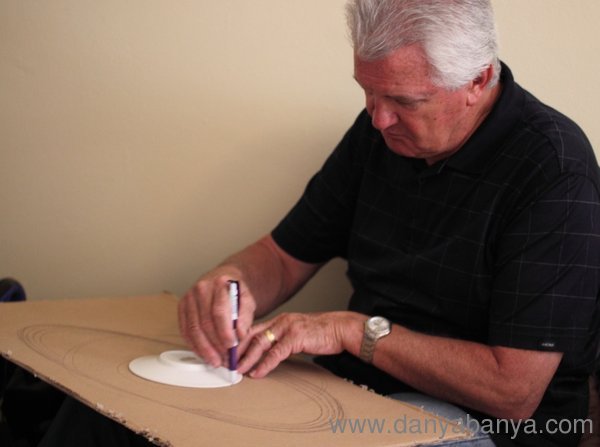 Thanks Dad!
Then I painted the planet yellow and orange, and the rings silver with a touch of blue, and glued on some yellow and silver glitter. Given that it was for my husband to wear, I probably should have skipped on the glitter, but you know, sometimes I get a bit carried away. 🙂
I decided to roughly blacken out the areas in between the rings and the planet using black packing tape. I decided against cutting holes instead, as I wanted the mask to retain it's sturdiness. I feared if I had cut the sections around the rings, the whole thing would be weak enough that my toddler would destroy it in seconds.
And there you have it. A Sun and a Saturn, two parts of our little Space Family.
And here we are all together, one big happy Solar System.
Click here to see more photos. And I'll fill you in on how I made the Stars and the Satellite tomorrow.
xxx
Danya
PS: If you're super keen and into masks and things like that, you might like to have a yander over to this old post to see some zoo animal face masks I made last year…