Make your own toys! Transform a much loved baby photo into a DIY magnetic photo puzzle, that also encourages playful maths practise for kids.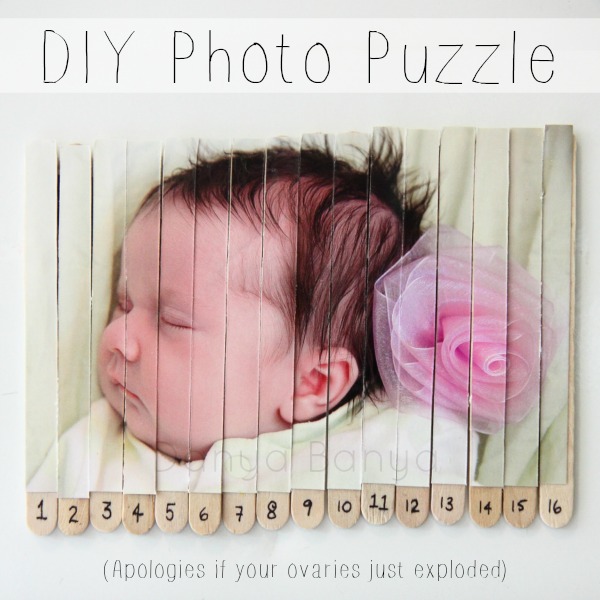 This is a photo of Bee when she was just a few weeks old. It makes my heart melt. She had such long dark hair when she was born, and such squidgy little features. I love this photo so much, that I decided to give it a place in our everyday lives (beyond our photo albums), up on our fridge door. It also provides my preschooler with a little early maths activity, and my toddler with some fine motor skill practise, all disguised as play.
For Preschoolers
This puzzle works on several early preschooler maths concepts including:
Counting: learning the number sequence by rote.
Numeral Identification: being able to recognise or "read" numbers, which is an important first step to being able to apply maths concepts. This can be tricky as many numerals (such as 1 & 7 or 6 & 9) look very similar.
One to One Correspondence: the understanding that each object being counted represents one unit (and so being able to count 'how many'.)
Double Digit Numbers and Place Value: understanding numbers beyond 9 are formed of two numerals, and that the first numeral represents a 10. For example, understanding that 14 comprises of a 1 (representing a 10) and a 4.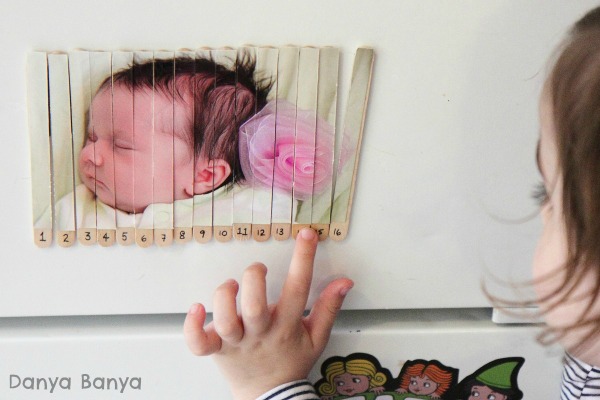 In this photo, JJ is pointing to each number as she counts (demonstrating a good understanding of counting on and one to one correspondence).
If you were to mix the puzzle pieces up however, JJ can pick out all the numbers 1-6 confidently enough, but then starts to hesitate for the numbers 7 and higher. I've noticed that when she puts it together again, she relies on number recognition alone for the first 6 pieces; she uses a combination of number recognition and visual cues from the photo for the next 4 pieces; and for the last 6 pieces she relies on the visual cues entirely. As her numeral recognition improves and she starts to develop a better understanding of number sequencing into the two digit numbers, I wouldn't be surprised if this trend shifts.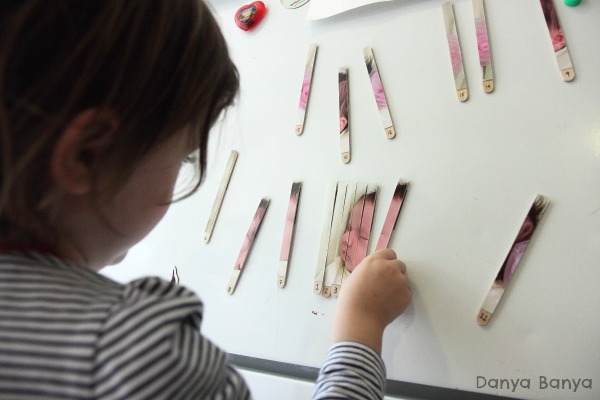 What I like most about this puzzle is that JJ has the freedom to guess, correct her own mistakes, and celebrate her own wins. (I'm not a Montessori parent per say, but this style of self-correcting is part of the Montessori philosophy.)
For Toddlers
My 18 month old toddler Bee interacts with this puzzle in a very different way. She doesn't realise that the baby in the photo is herself, but she does realise it's a little baby. She holds her finger to the side of her nose and says 'sssss' (which is her way of holding her finger up to her mouth and saying 'shhh') to indicate that she thinks the baby is sleeping. She also loves to pull all the pieces off the fridge and onto the floor. Sometimes she picks them back up and attempts to put them back on the fridge, which is great for her pincer grip and fine motor skills development. She is learning that if you put them on magnet side out, they don't stick. The next step is for her to figure out that she needs to rotate the sticks so that the magnet side is towards the fridge, which will work on her finger manipulation and spatial awareness skills.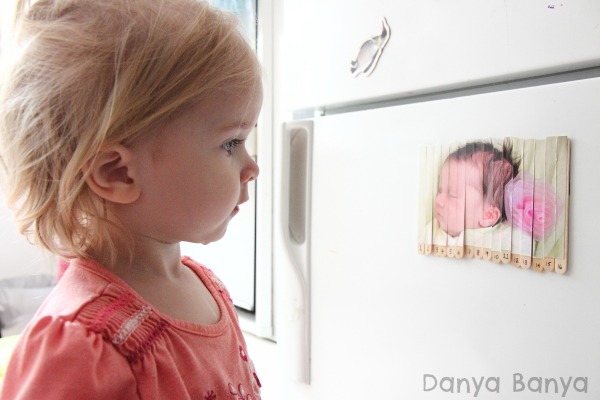 If you wanted to make this puzzle easier for toddlers, you could use larger (wider) craft sticks, and hence have less pieces of the puzzle to put back together.
For School Aged kids
To make this puzzle more difficult, you could try one of the following extension ideas:
Start the puzzle at a number greater than 1. You could start the numbers from any number your child is working on.
Start the puzzle at a negative number, introducing the concept of the number line.
Write only odd or even numbers, introducing counting by twos (or skip counting).
Write the numbers according to a pattern or number sequence.
Write π (pi) up to 15 decimal places. (The inner geek in me loves this one).
(Do you have any other geeky ideas? Tell me in the comments!!)
For Aunties and Grandparents
I think these would make a lovely gift for favourite Aunties and Grandparents. I mean, what Grandmother wouldn't want one of these on her fridge?
(Did I hear someone say adorable DIY Mother's Day gift idea???)
And bonus that it gives your kids something to play with when they are visiting. 🙂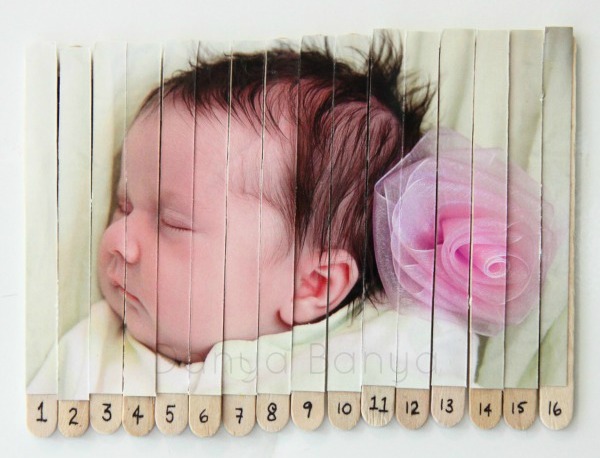 Would you like to make one?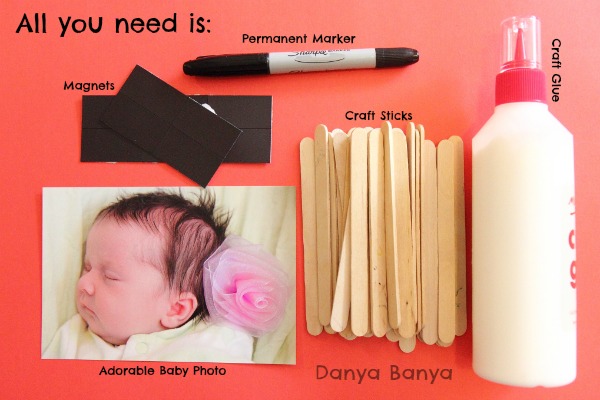 To make a photo puzzle, all you need is:
a baby photo
magnets
fine tipped permanent marker
craft sticks
craft glue
a sharp knife


1. Add a dollop of glue to the back of the photo, and spread around with one of the craft sticks. Then line up the craft sticks next to each other and wait for the glue to dry.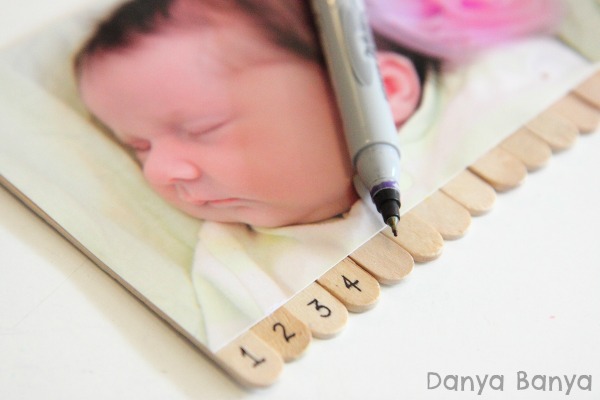 2. Number the bottom of the craft sticks with a fine tipped permanent marker.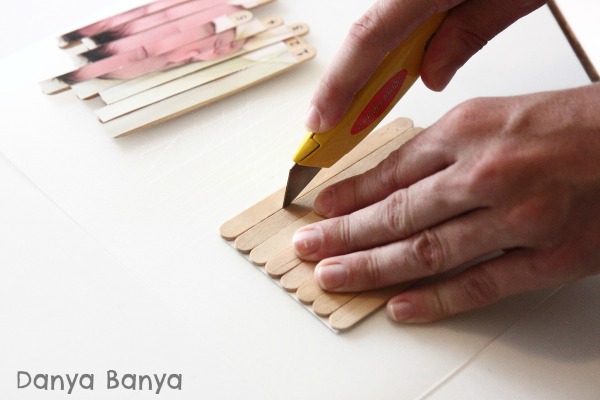 3. Use a very sharp knife to cut the photo into strips between the craft sticks.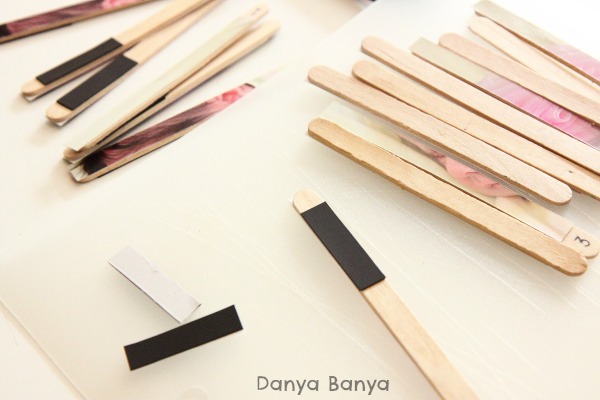 4. Cut magnets to size and glue to the back of the craft sticks, and set them aside to dry. (I ordered these stickable magnets online, but I found that they weren't sticky enough and needed to be glued on anyway).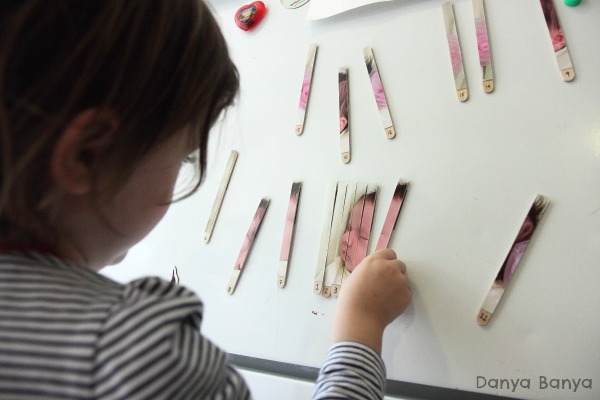 5. And then let your child put the puzzle together over and over again!
xx Danya
Or for more DIY toy ideas, you might also like (click on the photo to go to the full post)
And for more early maths ideas:
Follow Danya Banya's board Maths & Science Fun for Girls on Pinterest.