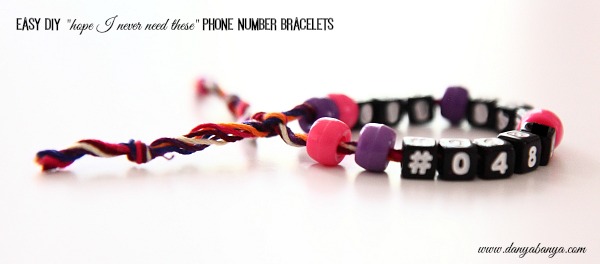 JJ and I made some new accessories! Simple phone number bracelets made with pony beads, number beads and some upcycled thread from our sewing stash. These particular number beads have a nice big hole, roughly the same size as a pony bead hole, making them easy to thread together.
We bought our number beads on Etsy. They're also available on Amazon
.
We made a bunch of these bracelets – one each for JJ and Bee with my phone number, and four more for some of their friends with their parent's phone numbers.
Cute little personalised gifts that kids can help make!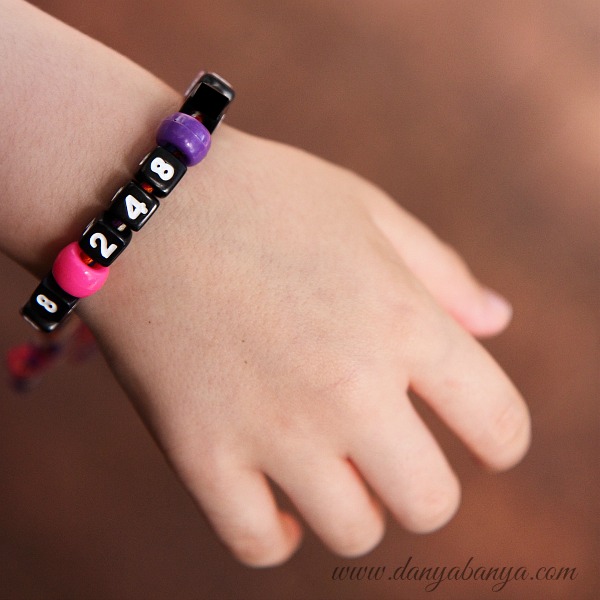 JJ helped with some of the threading, but mostly she picked out the number and handed them to me to thread. For each bracelet, I showed JJ the telephone number that we were going to make. I asked her to say the first digit, then I asked her to find a bead with that digit, and so on. This is all great meaningful numeral recognition practise for JJ. She is 4 years and 4 months old, and has been stumbling over 6, 7 and 9, so I love opportunities for her to practise number recognition in a non-confronting, playful and yet meaningful way.
She also picked the colours for each bracelet: hot pink and purple for her; blue and white for Bee; light pink and white for one of her friends; and so on.
I'm hoping that, if all the girls see each other wearing their bracelets, that it will become a symbol of their friendship. I think handmade gifts (and especially kid-made handmade gifts) are just so special!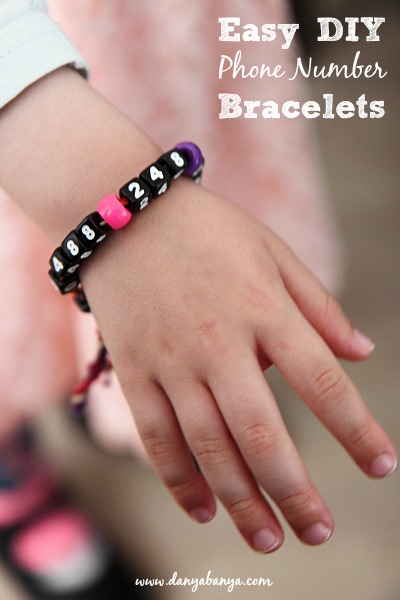 And from a practical point of view, if (or dare I say when) any of them become lost, having their parent's phone number might really come in handy.
Of course a phone number bracelet doesn't replace the need for supervision. I know from past experience how hard it can be when you have a child that runs off. The extent that each family chooses to helicopter versus free range parent their kids is a discussion for another post. But either way, I think it is good to teach kids what to do in case they ever do become lost, and knowing how to find a parent's phone number is one step in that process. I've handwritten my phone number on JJ and Bee's arm in pen before. Going forward, wearing phone number bracelets is a slightly trendier option. 🙂
xx Danya
Parents and carers should use their judgement as to whether they think this is suitable for their child. Pony beads and number beads could be a choking hazard for babies or young toddlers who are still in their mouthing phase.