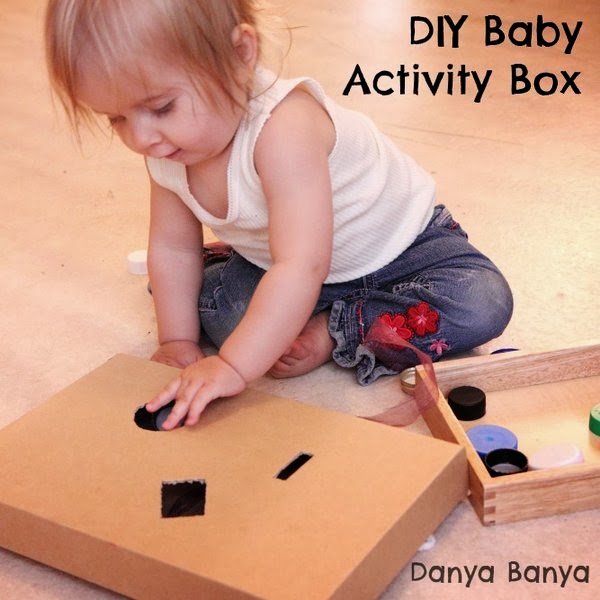 If you've been reading Danya Banya for a while now, you'll be aware of my obsession love of crafting with recycled materials. So when my friend Emma (of P is for Preschooler fame) suggested a monthly challenge for 2014 called Project: Recycle and Create, I was all like, "Yeah!"
The idea is that each month a bunch of awesome bloggers (and little ol' me) will create something using a different designated recycled material. And then we'll link them up together to give you inspiration to create something too!
Want to know what January's material is?
….. (drum roll)
Cardboard boxes!
Which totally made me remember this cute little DIY Activity Box that I made for Bee in October (when she was 13 months, but hadn't had a chance to share with you until now. I used a box out of our recycling (I can't remember what was in it – a picture frame perhaps?), some scrap wool and ribbons, and some bottle tops from our collection. (Cause everyone has a bottle top collection, right? Right? Right?)
For the first side, I roughly poked pairs of holes in five spots and threaded through the scrap ribbons and wool. I knotted off the ends so that they couldn't be pulled back through the holes again. (I had to do a few knots in the thinner material ribbons). I then tied the ends into bows.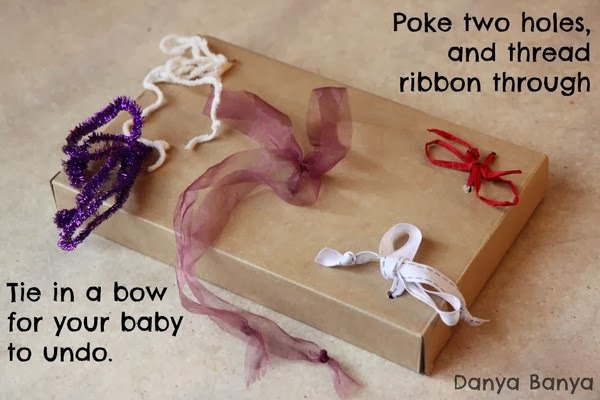 The idea was that Bee could have fun undoing the bows (and I could go insane doing them back up again). Alas, I'll be honest, she wasn't that interested in the bows. But that doesn't mean your lovely child won't be… (Ahems..)
BUT she was totally interested in the other side, which was apparently way cooler.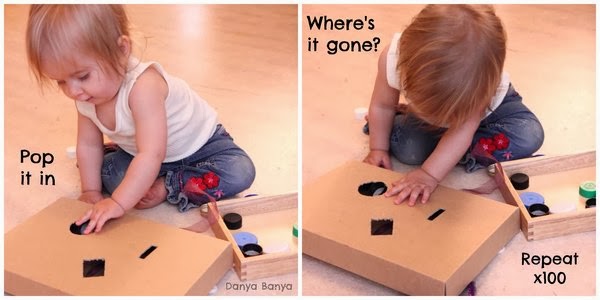 Cut a couple of holes in the box. Add some bottle tops. And done. Easy peasy! DIY posting toy. Cause all babies love posting, and posting, and posting, and posting again.
(Because Bee is still known to put things in her mouth, I chose bottle tops that were on the bigger side. But personally I would suggest you watch your child while they are playing with them anyway, just in case.)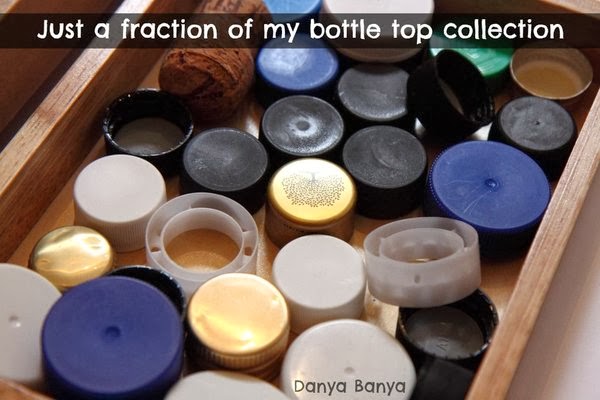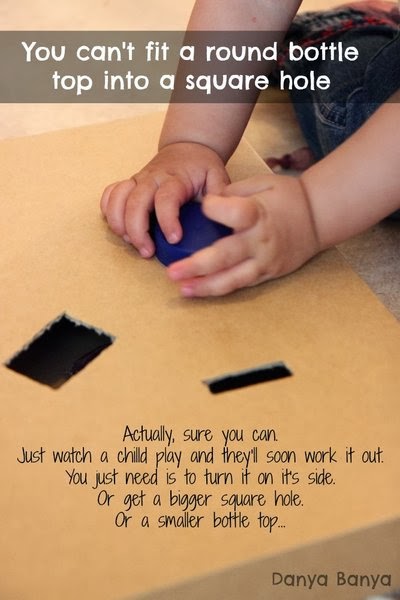 While this might not look the bees knees, this game actually develops cognitive and fine motor skills. Bee needs to pick up a bottle top with her squidgy little fingers, rotate it in her hand, guess which hole it will fit, and then try it out. If it goes in, she can remember that she put it in there even though she can't see it. This is called object permanence and is so much fun for babies; that's why they love peekaboo. When she hears my voice saying "You've chosen a blue bottle top. Where are you going to put it? Does it fit? Oh it went in. Where's it gone?" she is developing her vocabulary. And when she points to show me where it went, she is developing her non-verbal communication skills.
Lots of fun!

If you've got a child around this age, you'll know that no matter how many fancy schmancy toys they have, they get bored with them quickly. They always want to play with something else. So spend five minutes making a free toy like this one and earn yourself half an hour (or more) of whinge free time.
Have you made anything out of cardboard boxes lately? If so, please post a photo on the Danya Banya Facebook page or on Instagram using #createrecycle. I'd love to see what you get up to!
And if you are looking for inspiration, click on over to each of the Project: Recycle & Create cohosts who have each done something different with the humble cardboard box: Powerful Mothering, Afterschool for Smarty Pants, Still Playing School, Lemon Lime Adventures, Creative World of Varya, Mama Miss, There's Just One Mommy, Little Bins for Little Hands, Peakle Pie, Sugar Aunts, Teach Me Mommy.
We'll be pinning our posts plus some favourites to the Project: Recycle & Create Pinterest board, so be sure to follow that as well. (While you're over there, you might also like to follow the Danya Banya one too…)
Follow Danya Banya | Go Science Girls's board Danya Banya on Pinterest.
And there are loads of more cardboard boxy ideas linked up below!
Have a look around and get inspired to create. I'm looking forward to seeing all your attempts wonderful creations!
xx Danya
(If you are a blogger, we'd love you to link up your cardboard box creations that have been made by, for or with children. By linking up, you agree to have your images featured / shared with credit.)