I'm a huge fan of learning through play. A while back we played a fun number recognition game that involved jumping and chalk, and JJ thought it was awesome. She got to spend quality time with her family, got to jump her jiggles out, and got to practice learning her numbers in a non-confrontational playful way.
So I 'jumped' at the opportunity to be a part of the 31 Days of ABCs series with another fun way to combine number recognition with gross motor play.
You might be thinking – what do the ABCs have to do with the 123s?? Yes technically we're changing subjects from literacy to math, but number recognition actually uses many of the same developmental skills as learning to recognise letters. Both involve recognising numerals and letters as symbols that each have a particular name and shape.
My daughter JJ is 4 years and 5 months old. She can count to the cows come home. She can count backwards. She understands 1:1 correspondence, and is starting to initiate play that involves early addition and subtraction. "Mum!! Did you know that 2+2=4?"
But, she can't "read" all the basic numbers yet. She struggles to recognise 6, 7 & 9, and anything beyond 11. Personally I don't mind. She's only 4 and she'll learn at her own pace. But my daughter wants to learn to read numbers, and is getting frustrated that she can't.
And so we came up with a new number recognition game, this time involving trampolines, balloons and a sharpie…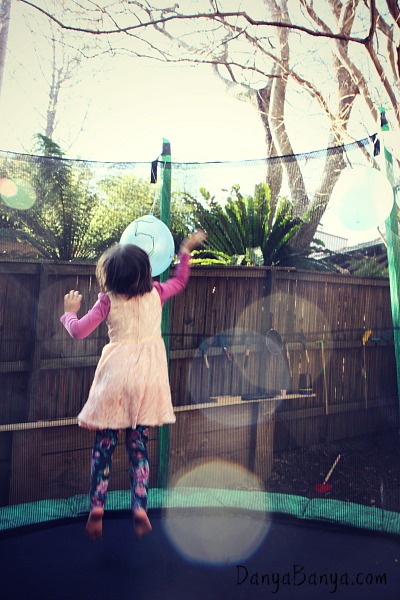 It's a very simple game. I blew up eight balloons, and wrote a different number on each of them. (Actually I wrote the number on each side of the balloon, so you could still read it if the balloon flipped around.)
Then I tied the balloons to each of the trampoline posts using kitchen twine. (Gosh I love that stuff!).
I purposely hung the balloons up out of order, because I wanted JJ to use her numeral recognition skills rather than her counting skills to "read" the numbers.
The rest we made up as we went along.
Sometimes I would call out a number, and JJ would jump up and hit that number. And then I'd call out a different one, and have her bounding around all over the trampoline.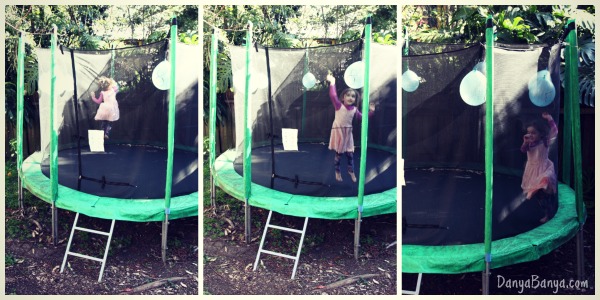 Sometimes I'd call out a number and ask JJ to hit the balloon to the left or right of that number, and see if she could tell me what it is.
Sometimes I'd describe the shape of a number. "Can you hit the number with the flat top and the diagonal line coming down?" (Spoiler alert: that's a 7.)
JJ came up with a game she dubbed "number rocket" where she pulled back on a balloon and tried to fling it over the other side of the netting. She's quite good at it!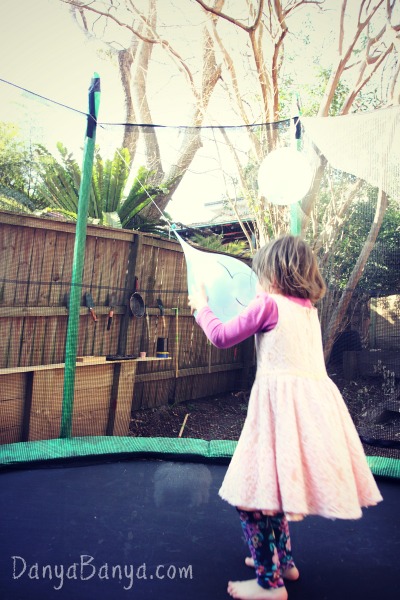 Bee and I got in on a bit number jumping action too. Love the expression on Bee's face in this pic!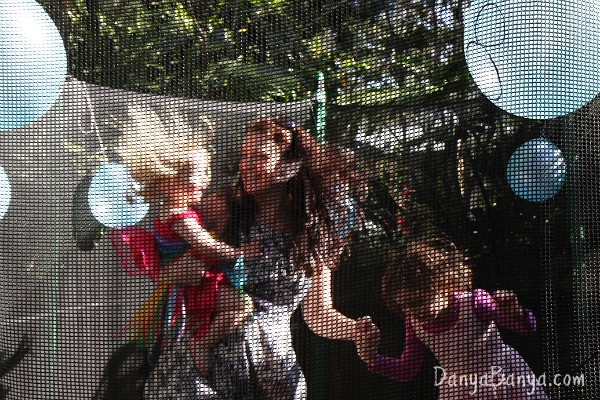 So after all this, has JJ's number recognition improved? Maybe or maybe not. But we had such a lovely afternoon. It took just five minutes set up (which the kids helping) and we ended up playing for hours. The trampoline got the biggest workout yet. The kids went to bed with exhausted legs and smiles on their faces. And JJ thinks maths is loads of fun.
There's loads more letter (and number) recognition play below. Read, play, learn, post, link up and have fun!!
xx Danya
[inlinkz_linkup id=450060 mode=1]