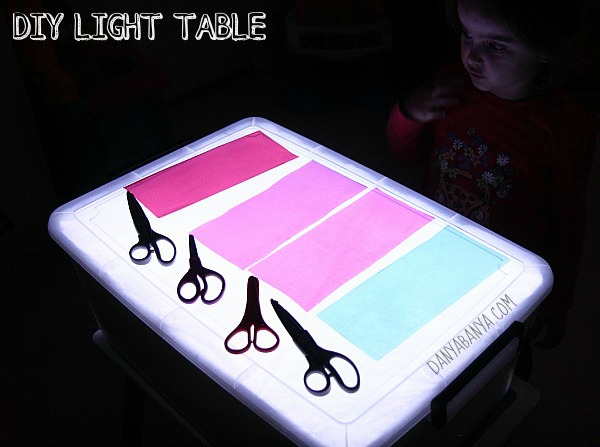 You see, this all came about because Dyan from And Next Comes L kept sharing these amazing light table posts on my Facebook wall. I keep joking that she was going to inspire me to make a DIY Light Table for myself one day.
And so I finally did…
There are lots of DIY light tables and light boxes that involve paints, primers, drills, perspex and fancy electronics. My version is no where near as fancy. But it is quick, easy and relatively low cost. There's a good chance you might have some of the items at home already, and the rest you should be able to get from your local discount store or online.
To make a DIY Light Table like ours, you'll need:
some sort of low under-bed storage box with a plain transparent lid
basic kitchen aluminium foil (and yes, I seem to be on an aluminium foil roll at the moment…lol)
clear packing tape
white tissue paper
clear Christmas lights with a thin electrical cord. (Some types of coloured Christmas lights actually use clear bulbs with a plastic coloured filter on top – these should also work if you remove the coloured filters.)
First, line the inside of the box with aluminium foil, shiny side up, using the tape to attach.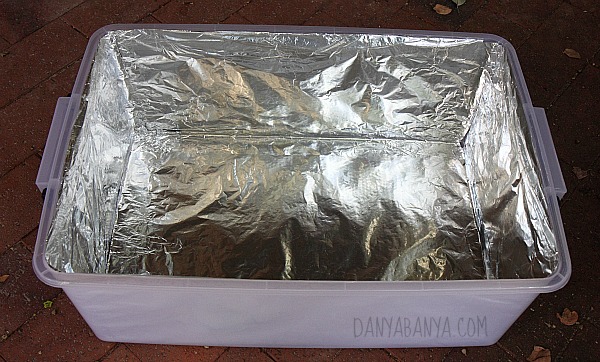 Then stick a sheet of tissue paper to the inside of the lid. Ours was recycled from old wrapping paper, so had a few creases and it still worked just fine. Put the Christmas lights into the box. (If you wanted to put your fancy pants on, you could cut a small section out of the top of the box to run the cord through. I didn't worry about that though, as in our case the cord was thin enough that the box could still close easily with the cord hanging over the edge.)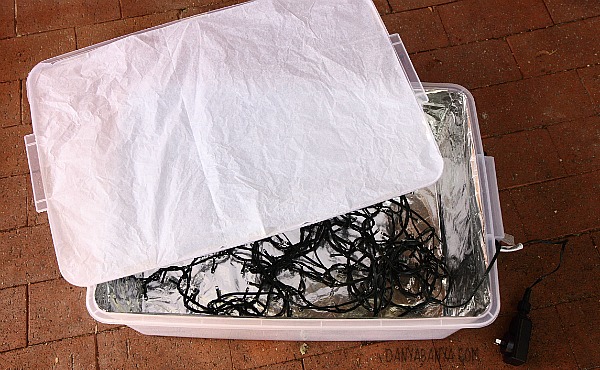 Then place your light box on either the floor or a low table, and plug it in to check if any of the bulbs are broken. (Yay, it worked!).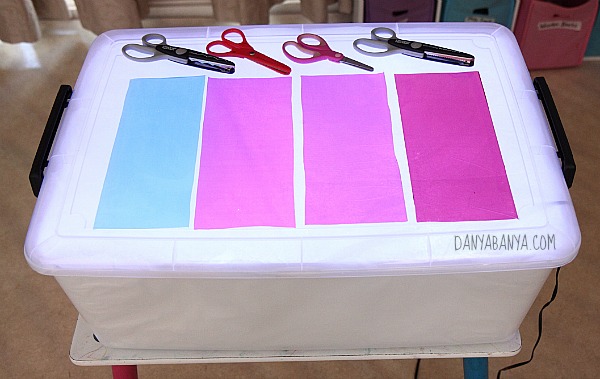 And then it is time to turn out the lights…
I chose a few coloured sheets of cellophane
and some scissors for their first light table exploration. After a few safety tips regarding electricity, I let them play…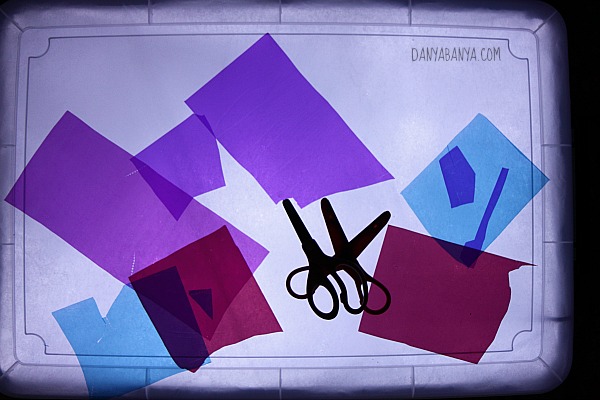 At first JJ tried cutting the cellophane with each of the scissors, and this was actually more difficult than I had realised. You can see the teeth marks in the cellophane above where JJ has tried to make cuts with the blunter ends of the scissors and didn't have much luck. (She hasn't had enough scissor experience yet to know that she could have just opened up the scissors to their sharpest point and let them glide through the cellophane instead).
Always the lateral thinker, JJ found some old Australian flag tattoos to cut up instead, discovering that their tacky surface sticks to the underside of the cellophane quite nicely.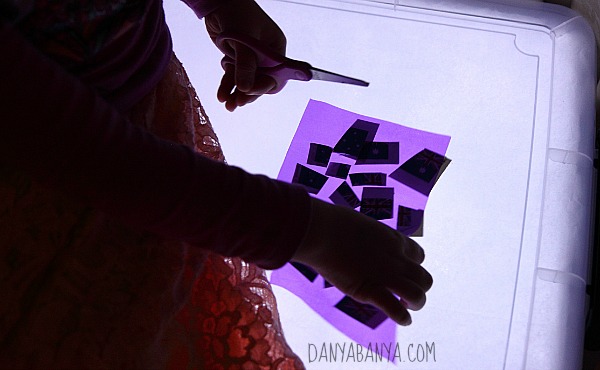 I cut the rest of the cellophane up into little squares, and this added a new dimension. The kids explored colour combinations with these little squares, something they hadn't tried yet with the larger pieces.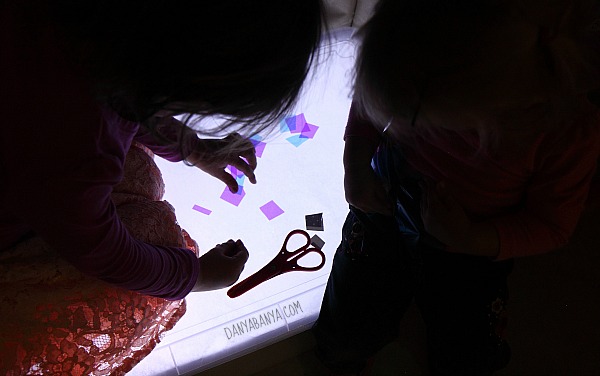 JJ is kneeling on the light table here – something which I don't recommend as it could potentially crack the lid of the storage box. She knows she's not supposed to get up on tables, but it's hard to remember these things when you are excited and concentrating on new materials…
All in all I'm really pleased with how it turned out for such little effort. I'm so glad that I finally got off my backside and joined the 'light table gang'. I can't wait to use it again. So many ideas!!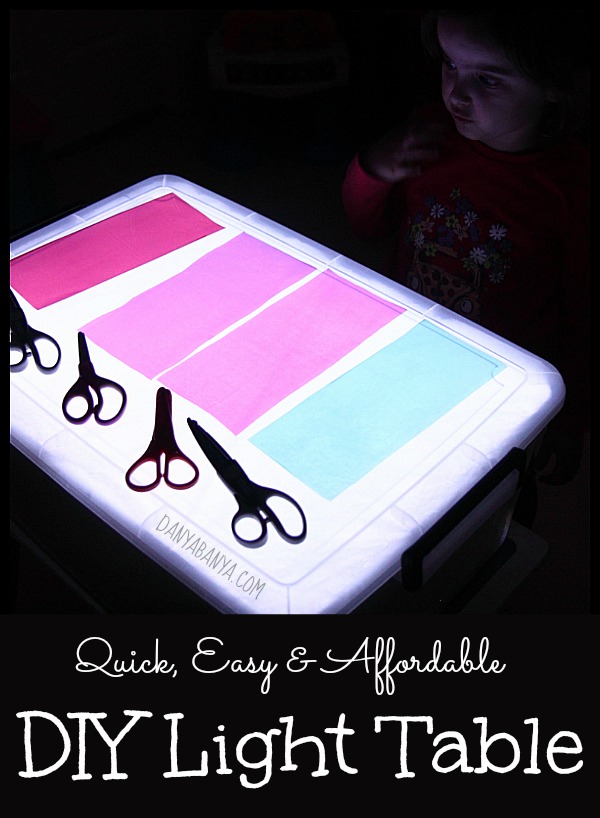 xx Danya
* This post contains affiliate links. An affiliate link means I may earn a (tiny) commission or referral fee if you make a purchase through my link, without any extra cost to you. It helps to keep this little blog afloat. Thanks for your support.
{Edit: since writing this post, we have indeed been loving the light table! Here's a post where we explored water bead transparency and absorbency.}