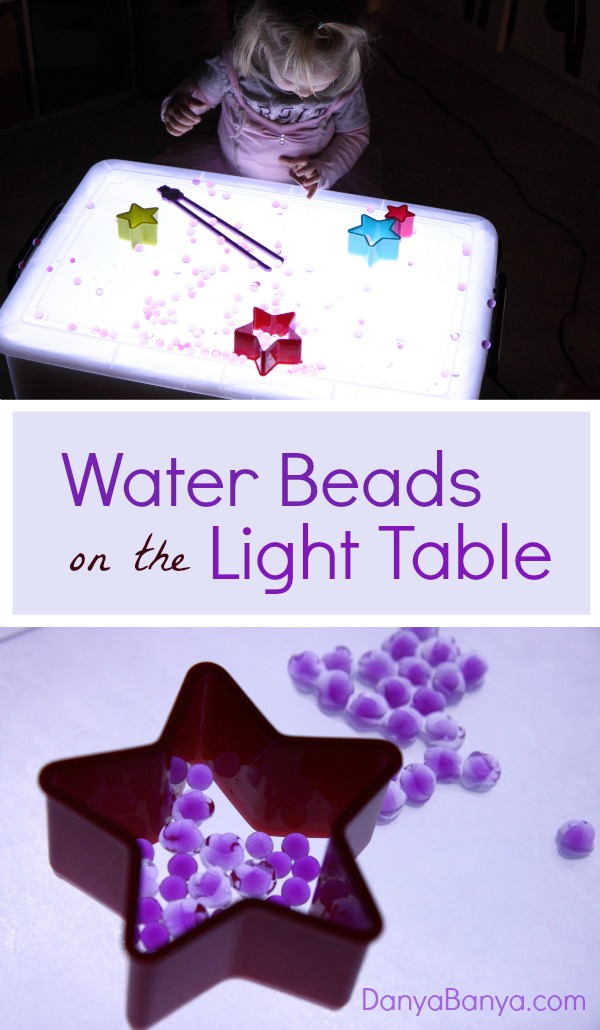 Our obsession with water beads this past week reminded me that I hadn't yet shared these gorgeous photos of my girls playing with water beads on the light table from a few months ago.
On this occasion, we decided to experiment by studying water beads at different stages of the water absorption process. A bit of playful water bead science!
Normally water beads take on different shapes as they grow and absorb water. They start out as small, hard beads, but become very bumpy as they initially absorb water, and then gradually morph into a awkward lumpy shape, before finally developing into the perfect sphere that water beads are generally associated with.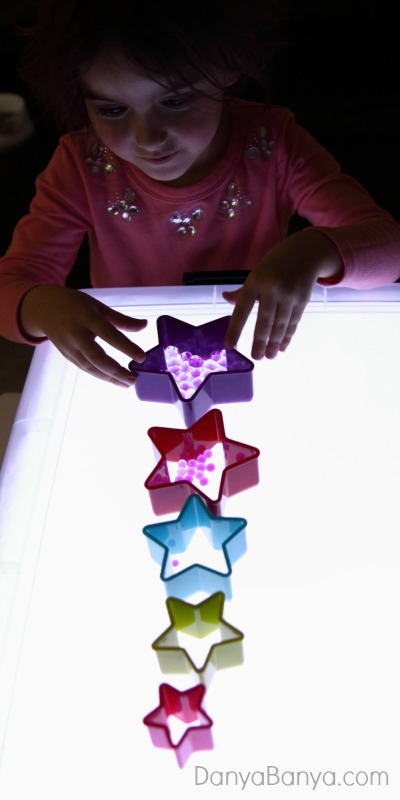 We soak our water beads in a large glass vase. This time we removed a few of the water beads after only a minute (or so) of water absorption, and put these (small and very bumpy) beads on the light table in the smallest of our star shaped cookie cutters. After another minute (or so), we removed some more of the (slightly larger, but still very bumpy) water beads from the vase, and put them on the light table, in the second smallest cookie cutter. And so on until we had a selection of water beads, all at different stages of water absorption.
The fascinating thing was that the smallest, very bumpy beads lost their 'bumpiness' after a period of time, and became perfectly smooth small spheres. This happened before the larger ones had lost their lumps! We also noticed that the colour of these small spheres was much more intense than the larger spheres that had absorbed more water. Very interesting!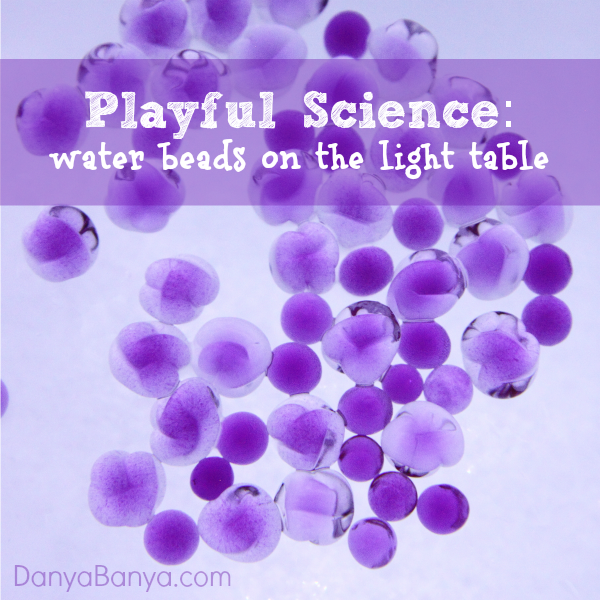 The light table also provided a fantastic medium to examine transparency, especially with the effect of the different sized beads. (There are lots of fancy light tables that you can buy, but we just use our DIY light table that I made earlier).
Once our fascination with the science of water bead absorption and colour density had run it's course, the kids had lots of fun just playing with the beads.
Somehow a spoon and some child chopsticks (which act a bit like tongs) were added to the play, with morphed into a fine motor game of picking up and transferring the water beads from one cookie cutter to the next. Very tricky for something that's as slippery and delicate as a water bead!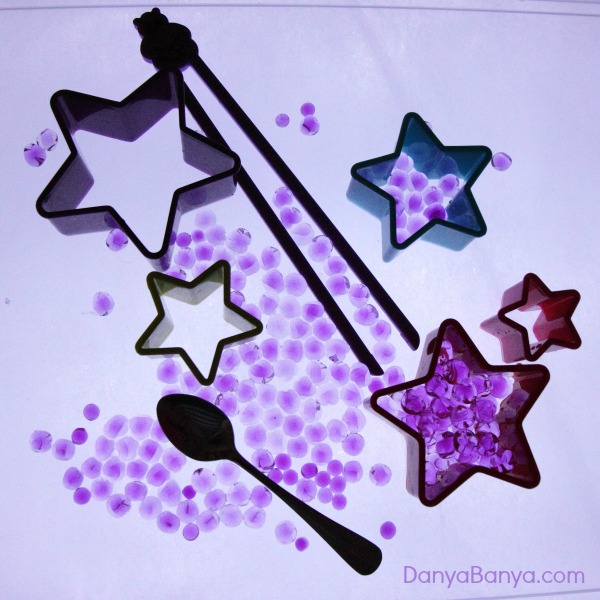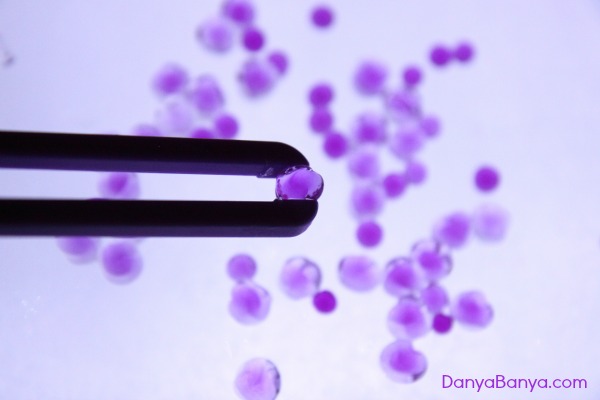 What I love about open-ended sensory play materials like these, is that my two girls can play together, either side by side, or collaboratively. There is no 'right' or 'wrong' way to play, just lots of fun!
Here's how they looked when some light was coming in from the back window…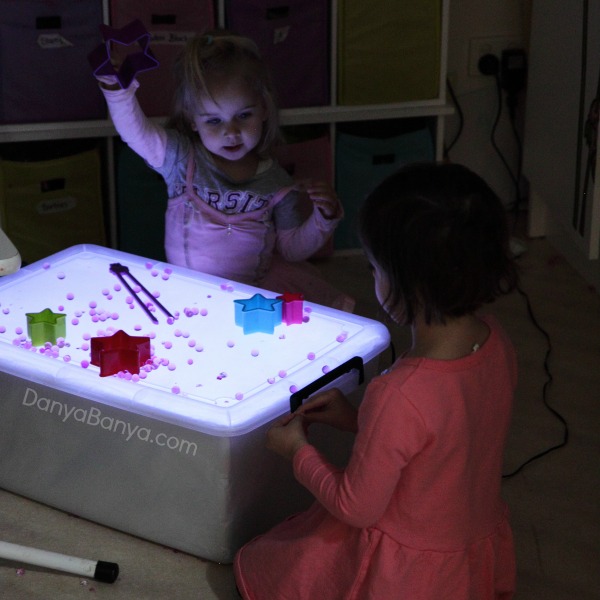 And here's Bee playing, when all the curtains are closed. I love how she looks lit up only by the light table's glow…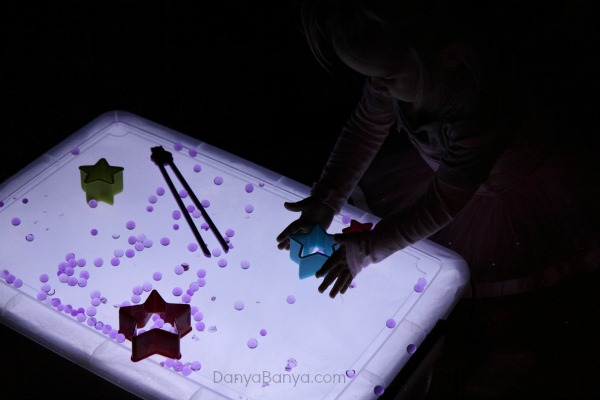 Such a great indoor activity for when it's cold and rainy outside….
And in case you are wondering, yes lots of little water beads did end up rolling across the floor, behind the couch and under the fridge. But you don't need to be afraid of this mess! If you do this activity on hard floors (we did ours on lino), then they are really easy to sweep up. Any that have gotten into the hardest to reach places, will shrink back down to teeny tiny size in a few days time and can be sucked up by the vacuum cleaner.
For more water bead, light table or science play, you might also like (click on the image to go to the full post):
{Please note that the water beads I buy are non-toxic, which means they are safe for kids to touch, but are not edible in either the unexpanded or expanded form. My twenty-two year old is no longer in the mouthing phase, and both my kids are well-supervised when playing with water beads. Please use your best judgement when introducing young children to small objects. Unexpanded water beads could expand in the stomach. Expanded water beads are a choking hazard. All activities on Danya Banya require attentive adult supervision at all times. If you are uncertain whether this activity is appropriate for the children in your care, please see your paediatrician for further advice.}
xx Danya