DIY melted bead ornaments – great to hang on your Christmas tree, or give away as little homemade gifts!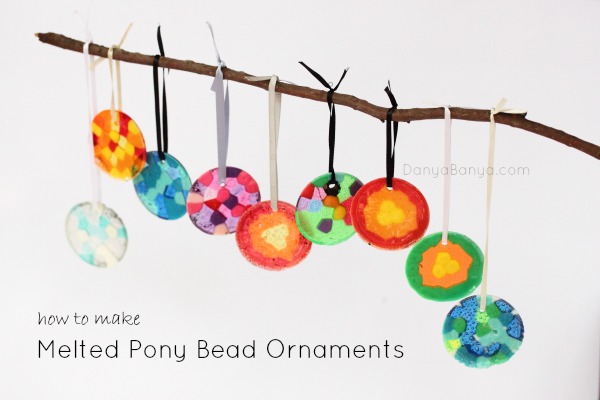 The kids and I make DIY Christmas decorations together every year. It's become a tradition.
Last year we decorated Christmas baubles and made a new star topper for our Christmas tree. The year before we made really cute footprint mistletoes.
This year JJ (4.5 years old) and I decided to try making melted pony bead ornaments.
I've been wanting to play around with melting pony beads ever since I saw this melted bead suncatcher way back in June 2012. Yes, I've been following The Artful Parent for that long!
So we were keenly waiting for the day when the activity on this year's advent calendar said "Make Christmas ornaments". Yes! So exciting!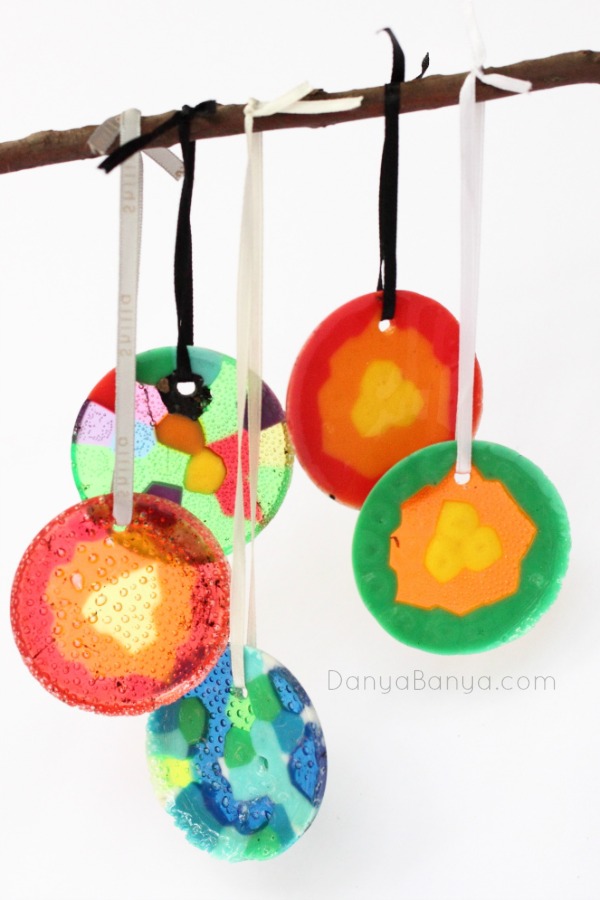 Would you like to see how we made them?
How to make melted pony bead ornaments
This was our first attempt at melting pony beads, and I'm really pleased with how they turned out.
We used:
JJ and I worked alongside each other, laying out our designs in an old muffin tin (which we'd earlier rescued from the mudpie area of the backyard). Starting from top left:
A mix of transparent and solid colour pony beads in red, yellow and orange. (JJ's design)
A mix of transparent and solid colour pony beads in blue and green, with a few mini plastic beads as well. (My design)
Concentric circles of solid green, transparent orange and solid yellow. (JJ's design)
A Frozen-inspired mix of clear, transparent pale blue and solid white pony beads. (My design)
Experimenting with a wooden butterfly bead, and matching transparent pony beads. (My design)
A Christmas tree inspired mix of transparent green pony beads with coloured 'baubles'. (JJ's design)
An ocean inspired mix of solid blue in various shades, with transparent pale blue. (JJ's design)
Concentric circles of transparent red, orange and yellow. (My design)
Concentric circles of solid red, orange and yellow pony beads. (My design)
Mix of various shades of transparent and solid pinks and purples. (JJ's design)
Transparent green and yellow Christmas tree surrounded by clear beads. (My design)
Solid red and white candy cane, surrounded by clear plastic beads. (My design)
I then put the muffin tin on our BBQ outside with the rangehood closed, and cranked the heat up (probably too) high.
The results? I noticed that the transparent beads seemed to melt quicker (or at a slightly lower temperature) than the solid colour pony beads. (Or at least it appears that way…)
Also, I think we have some hot spots in our BBQ, as one side melted before the other. The sides that melted first developed little air bubbles. (I don't mind the effect actually, but it's interesting nonetheless).
Here they are, seconds after being taken off the heat. You can see the middle two in particular must have been over the hot spot.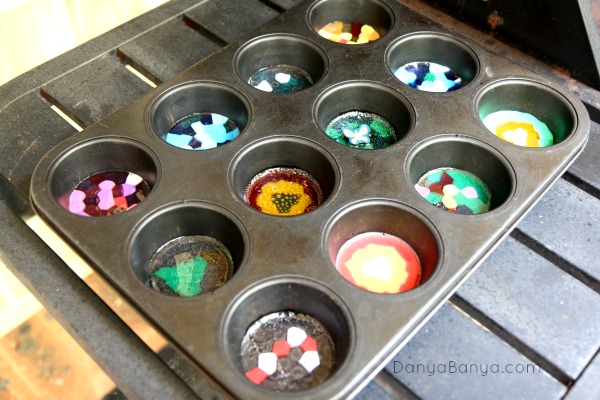 The wooden bead one was the only casualty. It didn't survive the high heat – the wood essentially turned into carbon.
They cooled quickly, making popping noises as they did so, and shrinking away from the sides of the container. Jean (from The Artful Parent) said that hers popped cleanly out of her baking trays. Only one of ours did. The rest needed to be helped out with a knife and hammer – so glad that I used our dodgy play muffin tray! It might be because the temperature was too high, it might be because my muffin tin was well worn.
After they were popped out, some of the ornaments had a few black marks or scratches on the bottom – probably transferred from the dodgy muffin tray. (It's usually used for mudpies, and is very scratched and a bit rusty). Next time I think I'll try using silicon moulds to see if that's easier.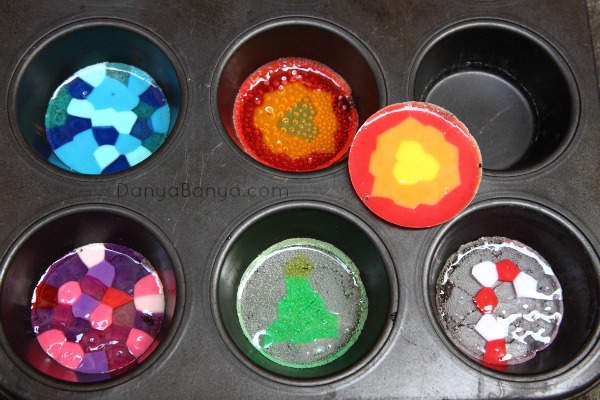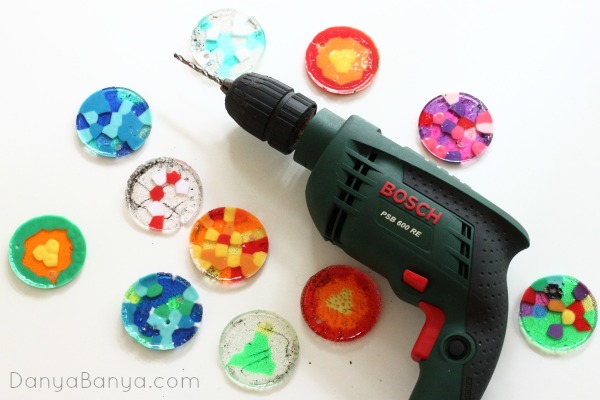 Then I drilled holes into each one, and threaded through some scrap ribbon. (You know the little ribbons that are on the shoulders of dresses and tops? I think they are called hanger loops? I always cut them off and hoard them, so this was a good way to use up part of my stash…)
And, ta da!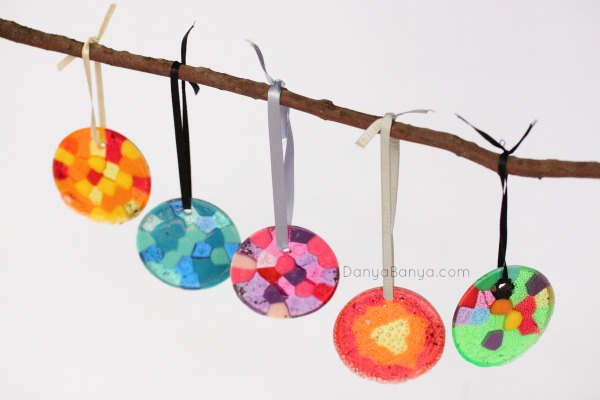 I like JJ's mixed translucent and solid beads of a similar shade designs the best, like this pink & purple one. They look really funky, and the lack of precision means that any bubbles or marks don't matter.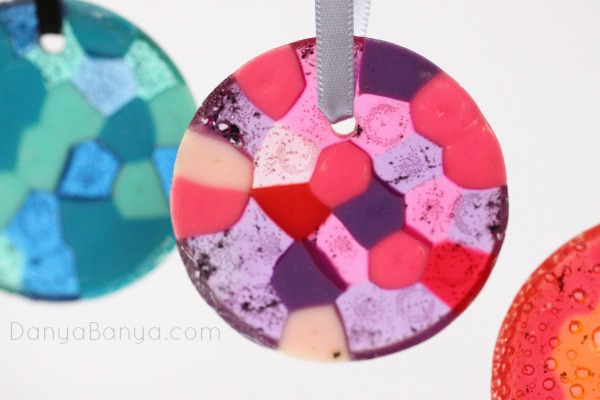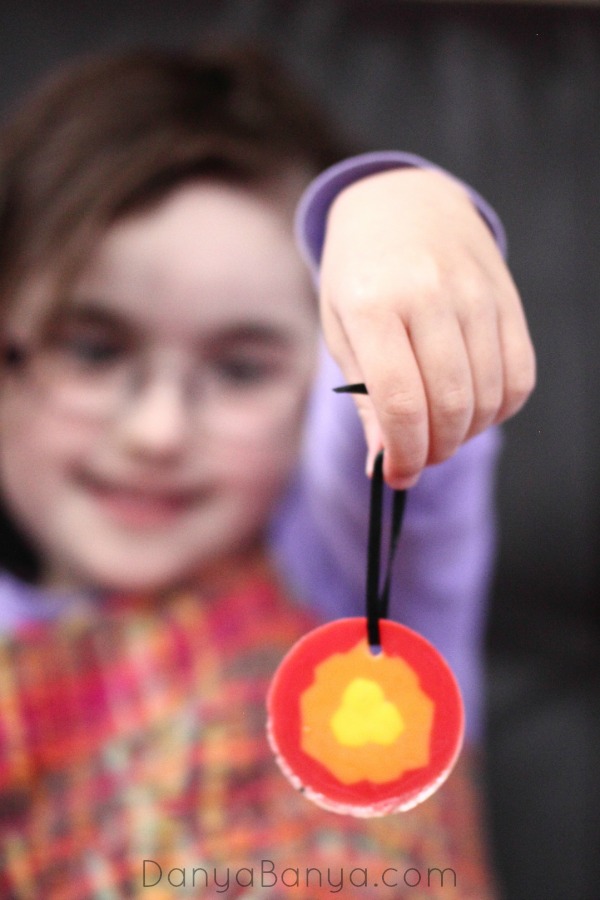 JJ's chosen this concentric circles of solid red, orange and yellow one for us to keep, and the rest will be gifts. She's decided to give four to her Mandarin teachers, but the rest of the recipients are still be decided. (We'll have to check our naughty and nice list!)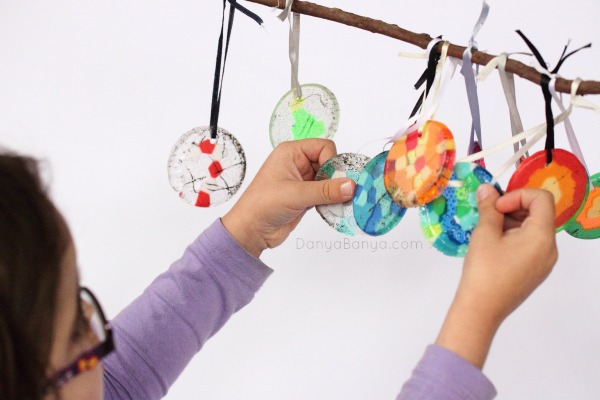 Another very cool thing we discovered is that they make an awesome clinking noise if they hit each other – making them the perfect candidate for a wind chime or baby mobile. (Maybe next time!)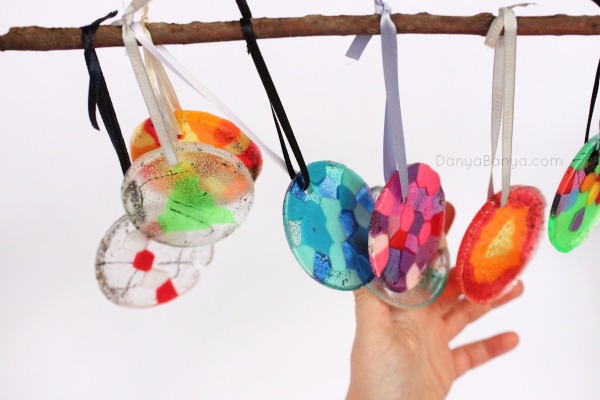 We have lots more Christmas activities here, including:
For even more ideas like these, please subscribe to our newsletter to be kept up to date with all our latest creative activities.
xx Danya
* This post contains affiliate link(s). An affiliate link means I may earn advertising / referral fees if you make a purchase through my link, without any extra cost to you. It helps to keep this little blog afloat. Thanks for your support.