Merry Christmas everyone! Was Santa kind to you (even if your name was pencilled into his naughty list)? Did you get a chance to unwind and spend some time together with family?
Before we start thinking about next year, let me indulge myself slightly by looking back on 2014 with a small series of "Best of 2014" posts. Here's the first one: Best Arts & Crafts for Kids.
It's been a bit of a crafty year at our place. Both kids have gotten to an age where they just adore anything creative, and you know that I love to create alongside them! So I hope you enjoy this walk down memory lane, as I share with you our top 12 most popular kids arts & crafts posts from 2014.
Top Art & Crafts for Kids posts for 2014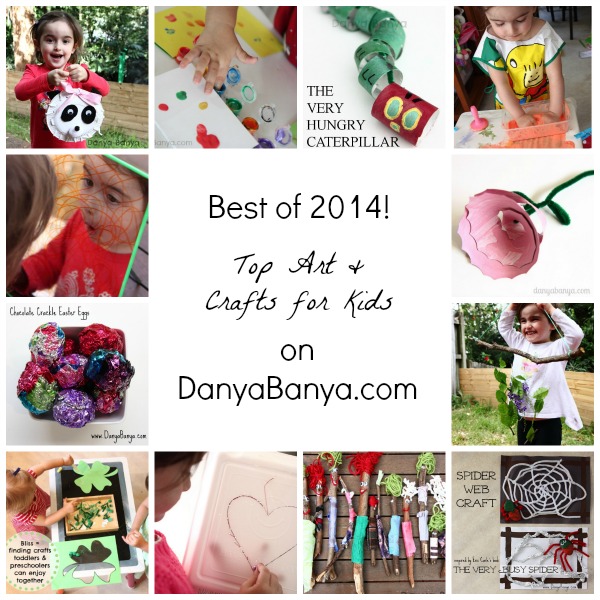 1. The Very Hungry Caterpillar craft, made from toilet paper rolls
2. Invite your child to draw on a mirror, and catch a glimpse of how they see themselves
3. Stick people – make a whole community!
4. Make a nature mobile – from local flora
5. Four leaf clover craft for St Patrick's Day
7. Threading a paper plate panda for preschoolers
6. Kid-painted foil to wrap homemade Easter eggs
7. Web crafts to go with the book The Very Busy Spider
8.How to make a paper plate rose
9. Three Cardboard roll paintings made by a toddler, a preschooler and a mum
10. Valentine's Day Stamp Art for Toddlers (plus sensory play)
11. Practising sewing with these heart and star hand sewn decorations for kids
12. Kids' fingerprint Christmas lights Christmas cards for toddlers and preschoolers
Did you have a favourite kids art & craft blogger this year? What's your favourite post? What have you been making? Let me in the comments…
xx Danya