This is a sponsored post for Hickory Hill.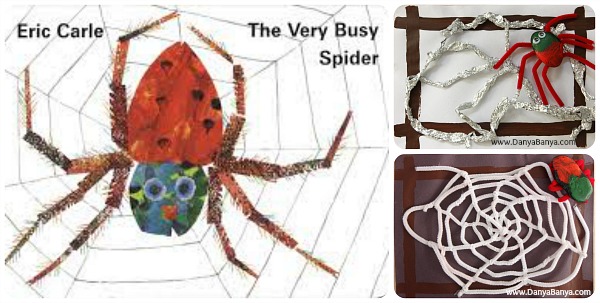 Day and night spider web craft idea to go along Eric Carle's book The Very Busy Spider, plus a chance to win two pairs of Hickory Hill pyjamas!
Bee and I read The Very Busy Spider by Eric Carle at bedtime the other night, and I brought it downstairs to add it to our "downstairs books" rotation (sophisticated system we have here…) This morning I caught JJ and Bee reading it together.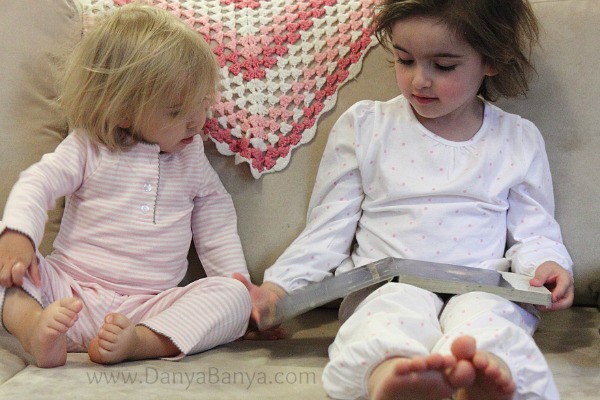 I adore their love of books! Bee is getting to the age where she is understanding the plot of stories more and more. The simple repetitive storyline of this book makes it easy for JJ to 'read' the story from the pictures as well.
Since it happened to be a wet miserable Sunday morning, I thought we might be able to do some craft inside while Mr Banya had a sleep in.
"Would you like to make a spider web girls? Maybe we could use some aluminium foil to make one? Let's give it a try and see if it works…"
I cut strips of aluminium foil and scrunched along the strips until we had scrunched up silvery strands. A couple of twists made it possible to attach two strands together. After I'd done a couple of strands, JJ decided it was her turn. Bee just tinkered with the aluminium foil, exploring this new material in her own way.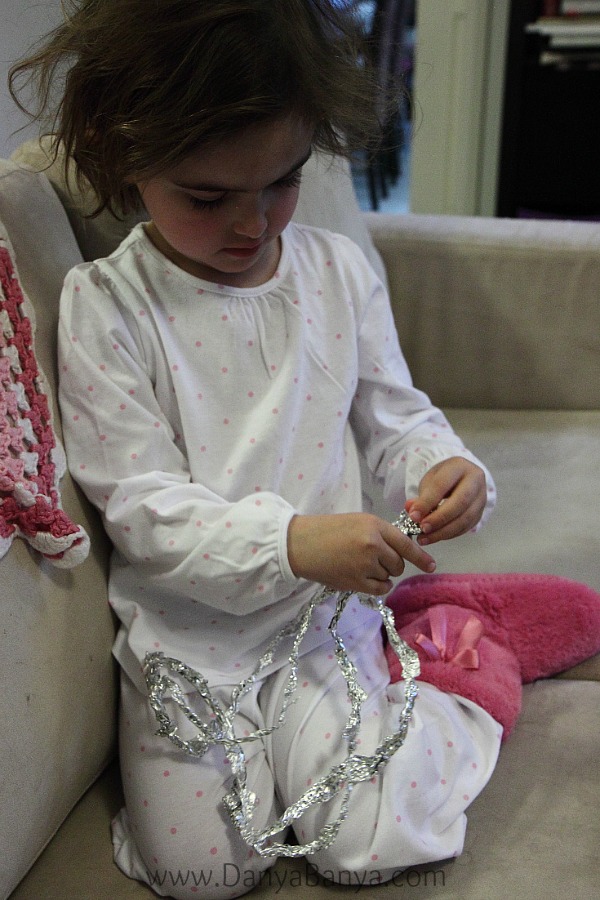 When our silver web was declared 'finished', we sat down to read the book again. We sorted through out animal collection, pulling out the cow, the horse, the cockerel and various other animals that matched those in the book. Bee is getting very good at making the animal sounds. She can neigh, moo and cock-a-doodle-doo like a pro.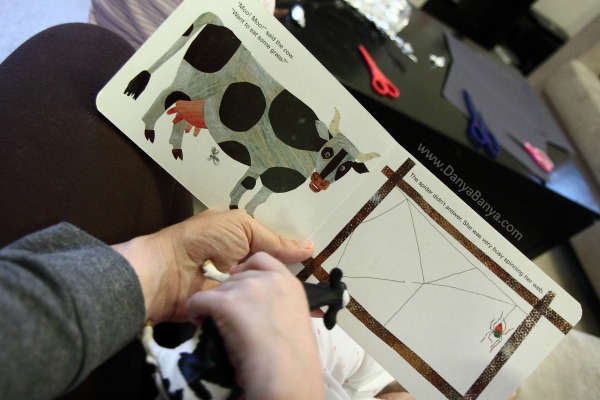 We 'noticed' this time that the spider went about making her web in a very specific fashion. First she made a basic frame and spokes (which I've since found out are called radials), and then she adds the spiral bringing the whole structure together. I asked JJ if she wanted to try making a web in this way too.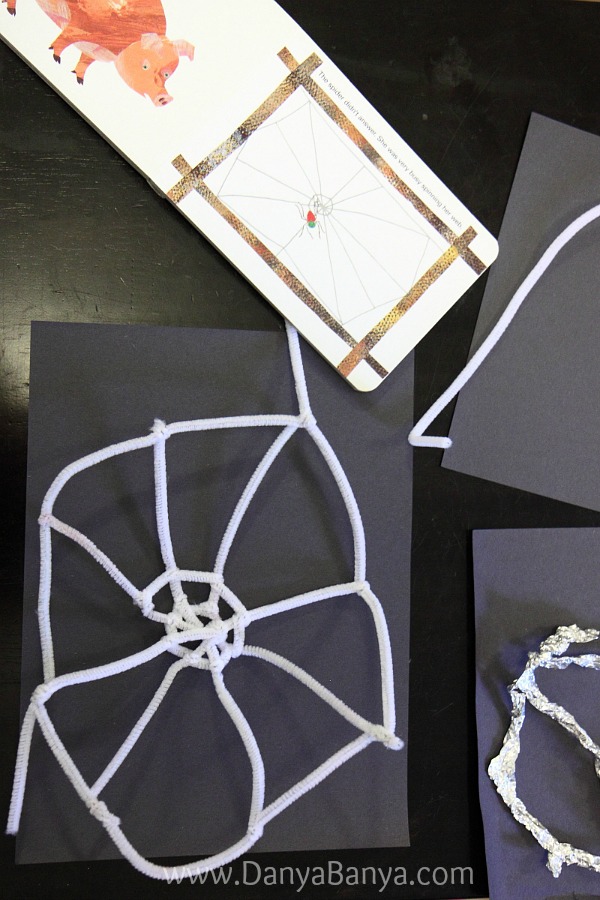 JJ found it quite challenging twisting the pipecleaners, but with persistence she started to get the hang of it. She helped me work on the frame and radials, and started on the spiral before getting distracted by what Bee was making with the spare pipecleaners and aluminium foil. I continued on with making the rest of the spiral (this part was a bit fiddly for four year old fingers anyway), while JJ and Bee made their own headset and microphone props, roleplaying some sort of radio tranmission. Very cute.
"Reggit, Reggit. Can you hear me? Reggit, Reggit. Over and Out."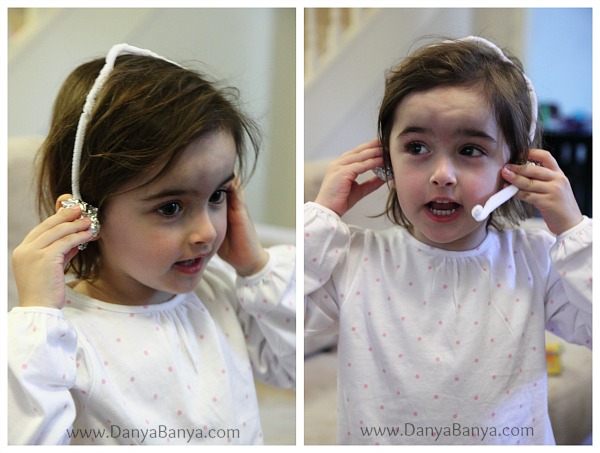 After a while, JJ's attention returned to the spider web structure that was gradually evolving in my hands.
"Can I touch it? Can I help?"
As the spiral grew, the web become an amazingly strong structure – spiders know what they are doing! We decided to also make some fence posts and spiders to go along with the webs. Brown paint on white paper created the day time scene, and the same paint on dark grey construction paper for the night time scene. I hot glued the edges of each webs to their respective fence, leaving the middle of the web unglued so it can 'hang' in the air like a real web would. (You could cut the paper inside the fence posts to extend this effect as well if you wished.)
To make the spiders, we gathered some black rocks from our backyard and painted them red and green. (I'm not sure why JJ is wearing Bee's raincoat and hat here, but that sort of randomness is fairly common at our place, so I'm not at all surprised either…)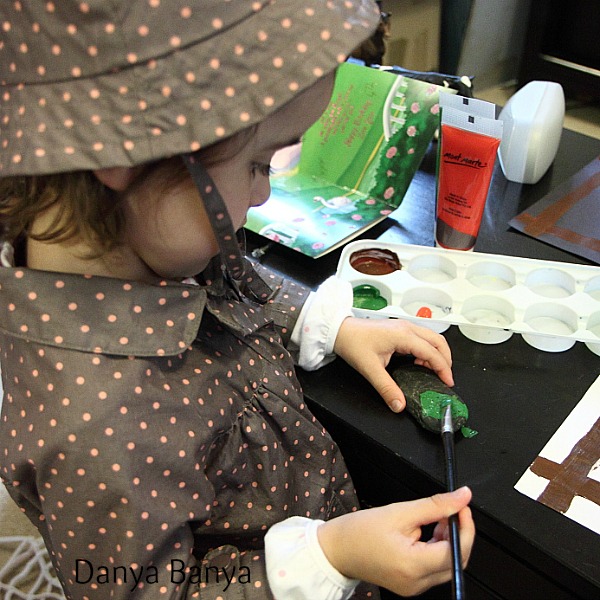 I cut some pipe cleaners in half, and glued four halves to the bottom of the rock so that each end stuck out to make eight legs. I folded the nighttime spider's legs underneath, to be similar to how she appears in the book. And at JJ's insistence request, I hot glued on googly eyes for the daytime spider so that she could see.

And that was how we spent our rainy Sunday morning!
And to thank you for reading all the way to the bottom, I have a little give-away for you! Did you notice the pyjamas that the girls are wearing above? They're from Hickory Hill, who have kindly offered to give-away two pairs of pyjamas to one lucky (Aussie) reader. (So sorry international readers, this give-away is for Australian residents only).
For your chance to win, all you have to do is:
a) tell me (in the comments below) which Eric Carle book is your favourite, and why?
b) include in your comment which two pairs of kids PJs you'd choose if you won. (You can choose multiples of the same style, or two different styles – whichever you prefer).
Good luck!
xx Danya
Competition Terms & Conditions
1. One entry per person.
2. Giveaway open to Australian residents only.
3. Please include a link to your profile or supply a valid email address. Entries can also be emailed to danyabanya@gmail.com. No valid email = no entry. I need to have a way of contacting you to tell you if you've won! Don't worry, I won't spam you. 


4. Closing date for entries is Monday 30th June 2014.
5. The prize is two pairs of Hickory Hill kids pyjamas of the winners choice. Total prize valued at up to AU$79.90.
6. The competition is a game of skill and the response Mr Banya deems most interesting or unusual wins. His decision is final.
7. The winners will be published on www.danyabanya.com and notified by email and will have one week to reply. If no response is received, the prize will automatically be forfeit and a new winner chosen.
8. Prizes will be distributed by Hickory Hill. Danya Banya takes no responsibility for loss or damage of the items.
9. Good luck!
(Commercial disclosure: We were provided with the promoted two pairs of pyjamas to keep as well as a small administration fee. All views are, as always, my own.)
Edit: This competition has now closed. The lucky winner was announced here. Thank you to everyone who entered.