How to make Christmas suncatchers / window clings – fun Christmas craft for kids.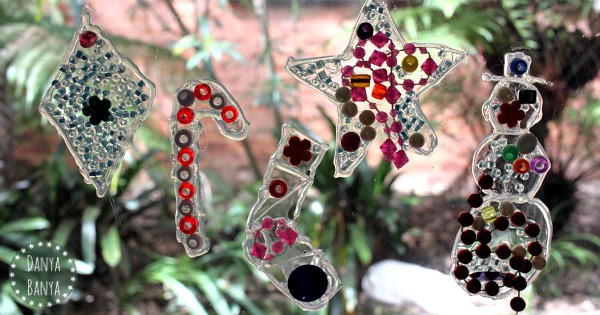 Do you remember the suncatcher window clings that the kids made last Winter? They were such a fun craft idea that I promised the kids we'd make them again – and we did! This time we made Christmas themed window clings – with a star, snowman, diamond (JJ's idea), candy cane, bell, stocking and angel. (I'm not quite sure why bells are supposed to signify Christmas, but apparently they do.)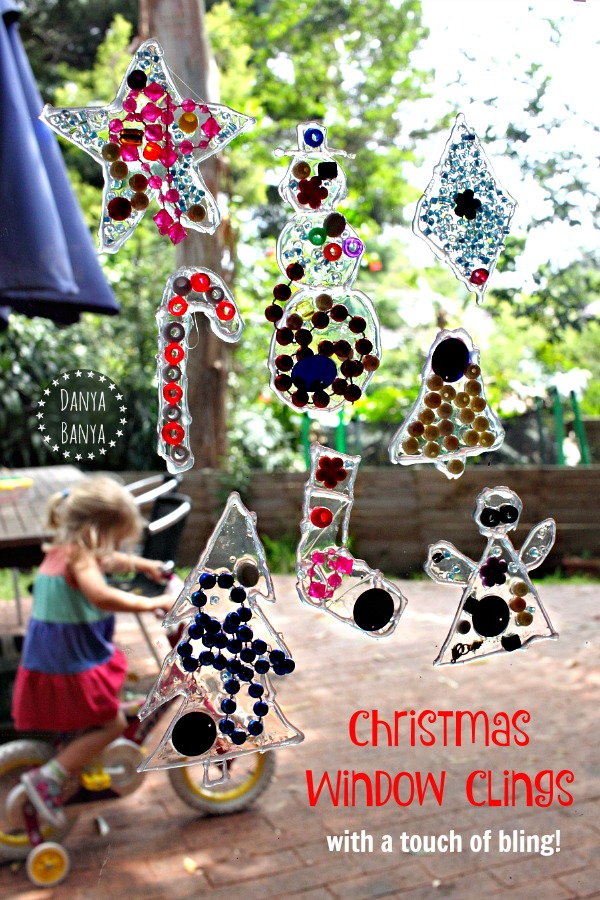 The directions are the same as our earlier window clings, so pop over there for the full instructions. (Except, of course, we made these ones in Christmas shapes instead of rectangles and hearts).
Here are all my Christmas shapes, ready to be back-filled with PVA glue. (I have to admit that my glue gun skills aren't the best, lol!)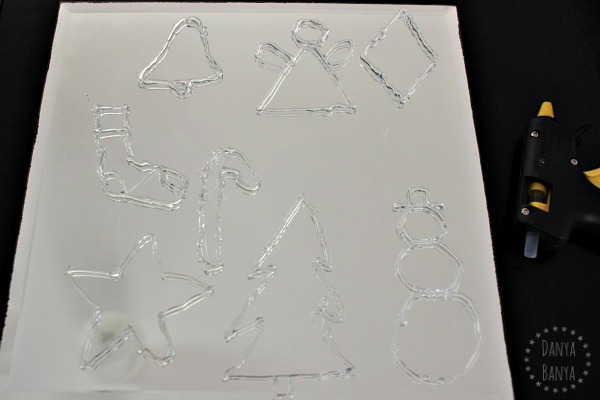 The girls and I had (very dear) friends visiting, and they all had a lovely time decorating their window clings. We raided our odds and sods broken jewellery stash again, adding a little bit of bling to the creations. There is no right or wrong – just creative fun. Broken strings of beads were popular. JJ chose individual faux pearls for her bell. Pony beads made cool eyes and candy cane stripes. The tiny, pale blue, 'frozen' beads made a reappearance as well.
(I should also mention that all the picking up and delicately placing of little beads is fantastic for kids' fine motor skills – both for the little ones, and for JJ using her non-dominant hand.)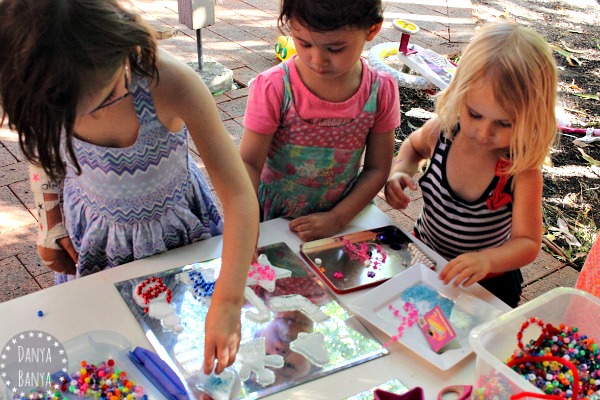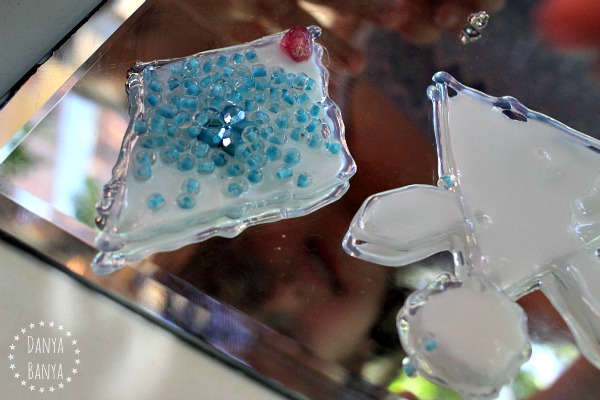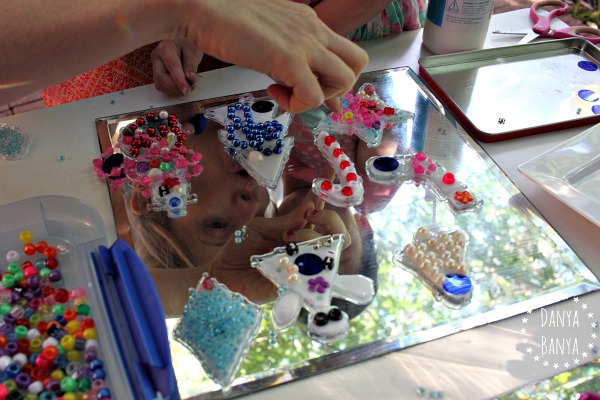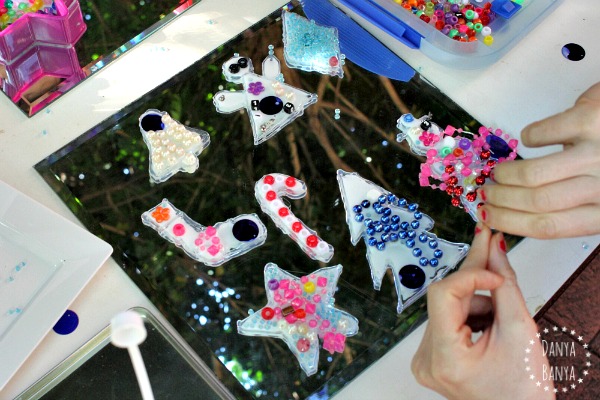 Fast forward a couple of days for the PVA glue to dry, and here's how they turned out!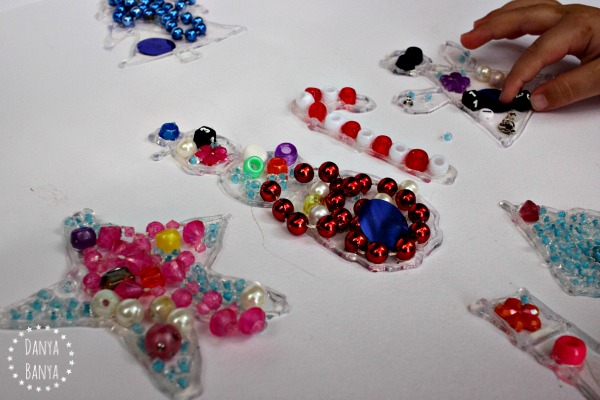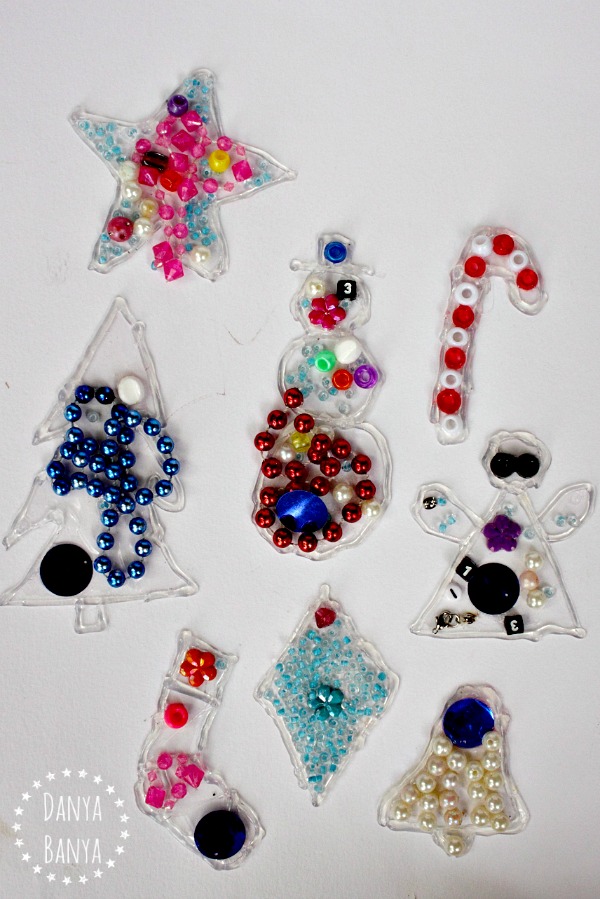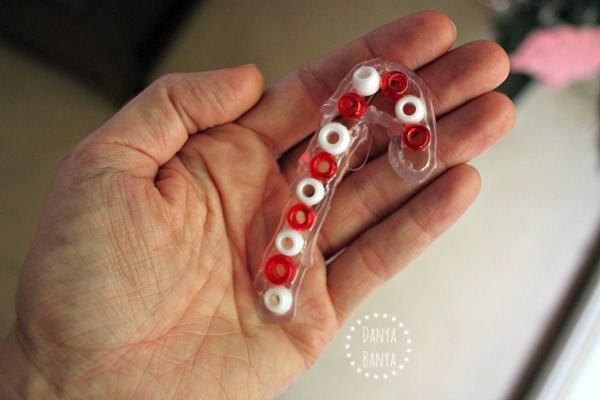 They should stick straight on to your window. If not, add a touch of water to the back of the window clings and wait a few seconds, then give it another try. (Try to dissuade your kids from licking the backs of the window clings and/or licking the windows themselves – and I hope you have better luck than I did!)
It's a touch hard to photograph these up on the actual window, as the bright light outside creates a silhouette effect, but you can probably see that the transparent beads look best. But since this activity is more about the creative process than the end product, it doesn't really matter. The kids had fun making them, and are proud of how they look, and I think they did a great job!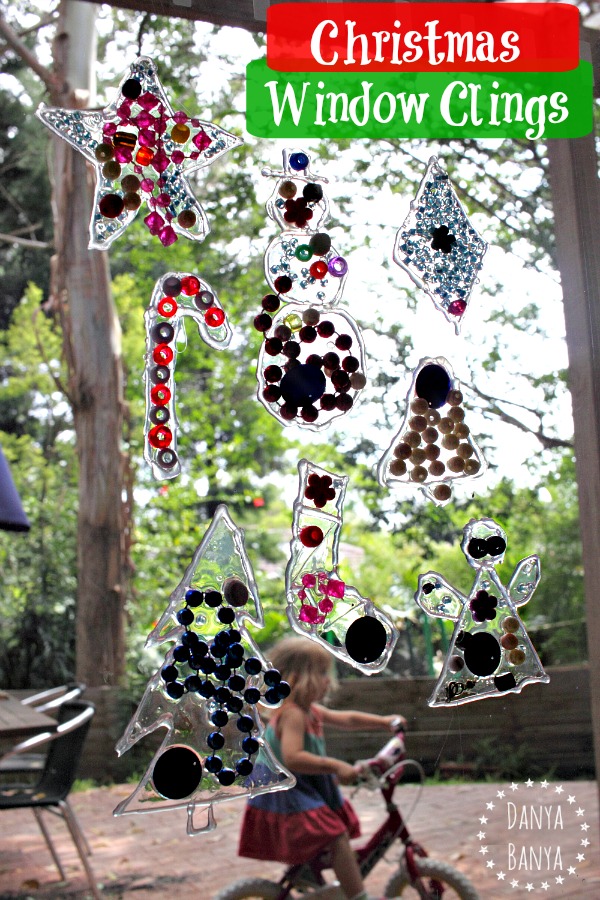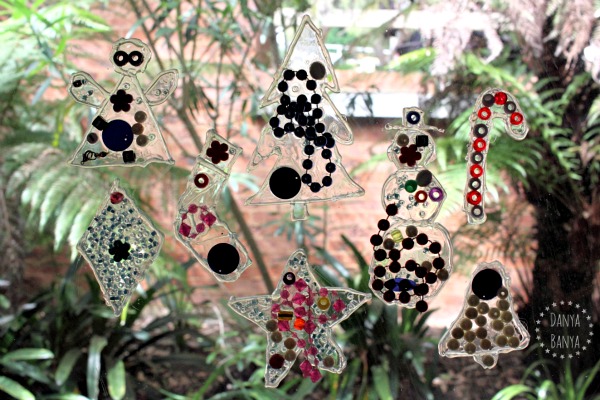 We've got loads more Christmas ideas in our Christmas archives. Here are a few that you might like:
You might also like to follow our Danya Banya, Cool Kids Craft Ideas and Merry Christmas boards on Pinterest.
And, you can always subscribe to our newsletter, to receive all our latest activities via email. We'd love to have you join us!
Happy Christmas crafting!!
xx Danya