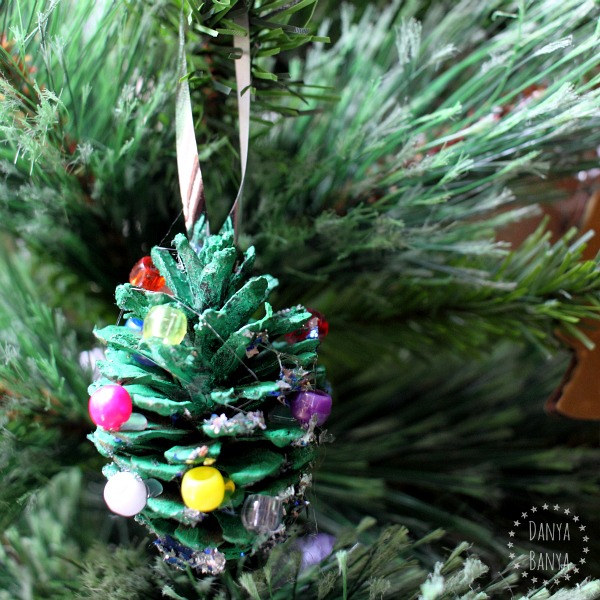 It's December, which means the Christmas season has officially begun! Time to get crafting!
Bee and I made these Pine Cone Christmas trees – we'll keep one as a keepsake (adding to our home-made ornaments collection), and we'll give the rest away to kind neighbours and members of our local community.
How to make Pine Cone Christmas Trees
It all began when Bee asked if she could paint the pine cones on our nature table. What a great idea!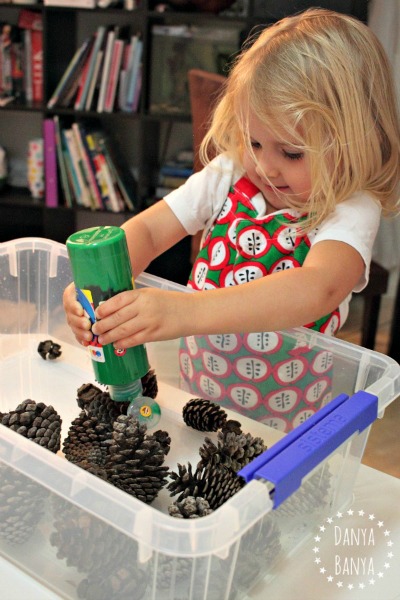 We used a few different types of paint (using up what we had in the craft cupboard), including regular green, metallic green and green powdered tempura (mixed with water).
I thought it *might* get messy, so I set her up in shallow tub. I love these tubs for sensory play. (This particular one is a 14L shallow tub. The underbed ones are a great size too).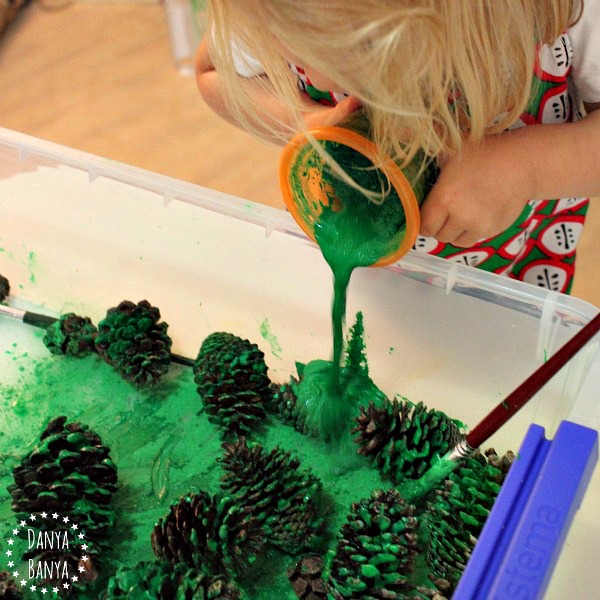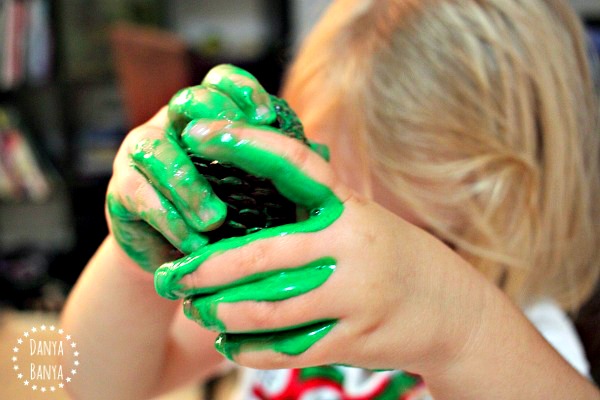 And, I was right! But how much fun… all that ooey gooey greenness…
Once she'd had enough sensory stimulation, we washed her hands and she switched to a paint brush. (Bee doesn't like her hands to be dirty for very long). Then we set them out on some foil to dry.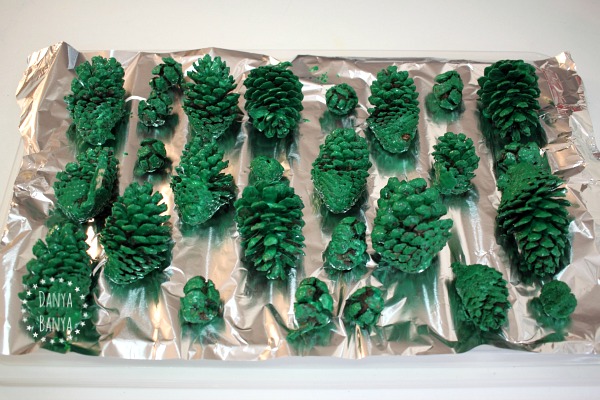 The next day, we set about decorating them, using clear drying glue, chunky silver and blue glitter bits, silver glitter glue and pony beads.
I should be honest here: when I say 'we', I really mean that I modelled how we 'could' decorate the pine cones, whilst Bee set about making a glittery gluey pony bead mixture. I have to admit, her mixture looked like lots of fun! I do my best to model rather than coerce the kids when it comes to crafting at our place. I often find they'll watch while doing their own thing, and then will privately try out the new technique sometime later on.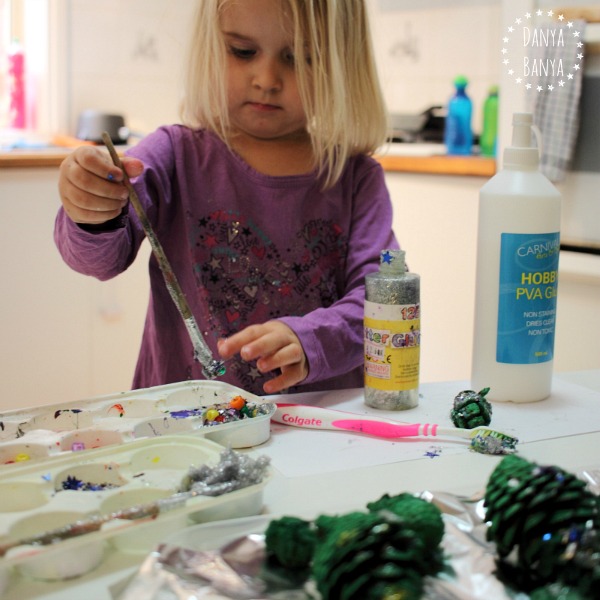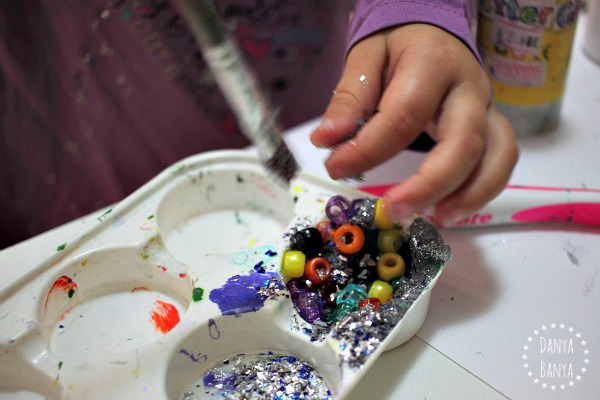 But since I have the decorating talents of a three year old anyway, I think I can convincingly say that, even though I finished most of them off, these pine cone trees 'look' like they are completely 'kid-made' anyway. 🙂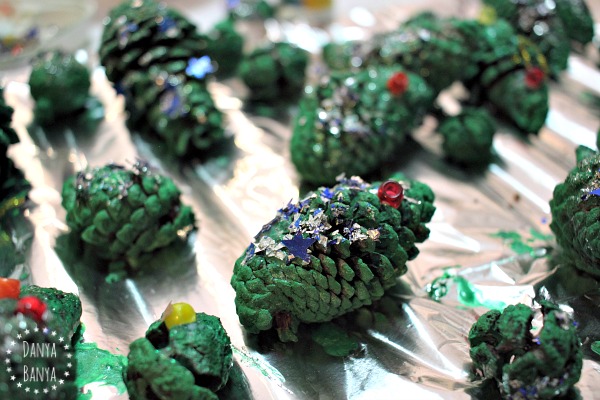 Once they'd dried, I attached a loop of silver decorating ribbon, using our low temp glue gun (and added a few more pony beads for good measure).
Here's how they turned out!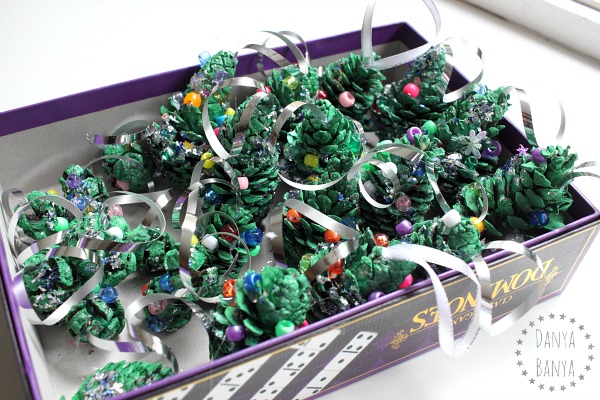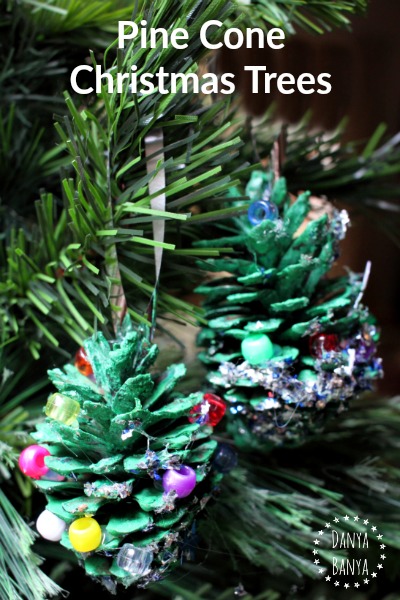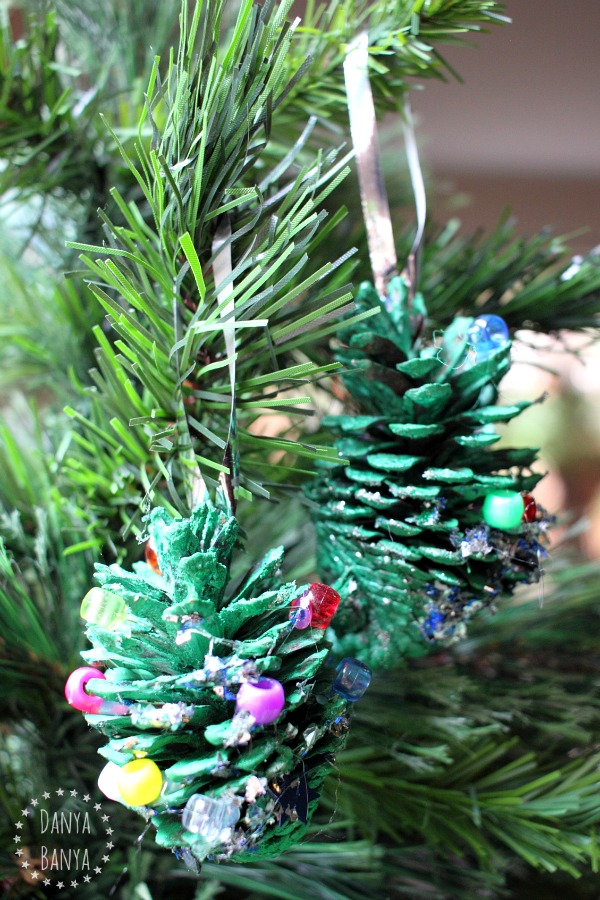 We'll keep one pine cone Christmas tree as a keepsake, and give the rest away to kind members of our local community, such as our local librarians, postman, etc.
More Christmas Ideas
You can find all our Christmas activities here, including:
You might also like our Danya Banya and Merry Christmas boards on Pinterest.
And, of course, you can always subscribe to our newsletter, to receive our latest activities in your Inbox. We'd love to have you join us!
xx Danya