Kids craft idea: Yarn-wrapped Jack-o-Lantern for Halloween.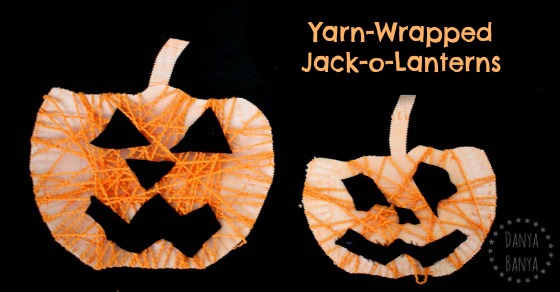 Can you feel it? The whiff of Halloween is in the air… It's one of our favourite times of the year, and we always seem to get swept up in some sort of Halloween-themed craft: last year we made CD ghosts and a pumpkin geoboard; the year before JJ did a little process-oriented pumpkin decorating and we made spooky orange faces and spooky eyeballs.
Normally our Halloween crafting doesn't start for another couple of weeks yet, but when I was invited to check out the amazing range of yarn at our local Spotlight store on the weekend, I accidentally fell in love with this beautiful, orange, Moda Vera Roulotte 100% cotton yarn, and I had an itch to make a yarn-wrapped paper plate Jack-o-Lantern craft with it straight away. Ha!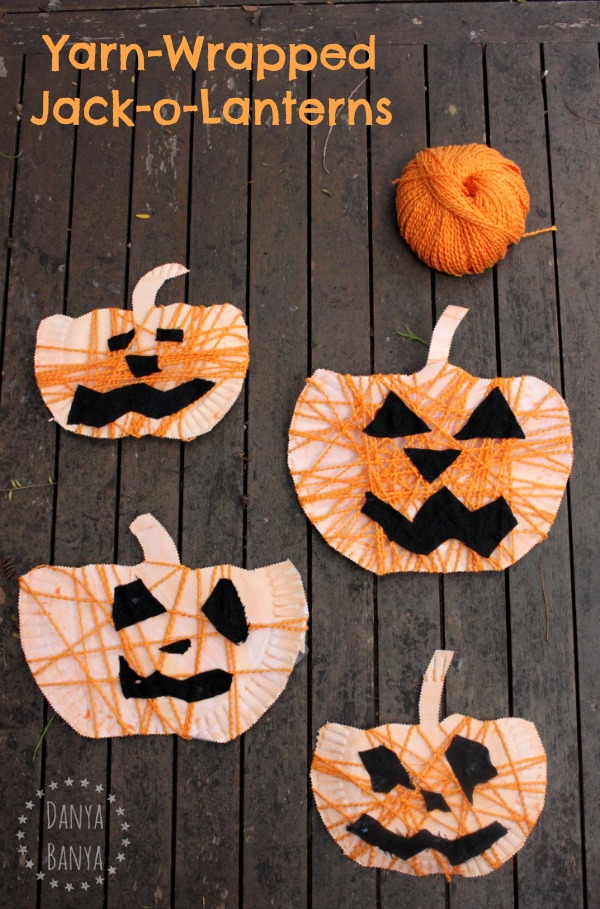 To make a yarn-wrapped paper plate Jack-o-Lantern, you'll need:
paper plates
orange paint & brushes
orange yarn
black fabric
sticky tape
craft glue
scissors
pinking scissors (optional)
What to do
1. Paint the paper plates orange on one side.
I guess you could buy orange plates – but then you'd miss out on the fun of painting them! We used a combination of dinner and side-plate sized paper plates. The kids always request different sized plates, because they like to make a 'family'.
2. When the paint is (mostly) dry, use the pinking scissors to cut the plates into pumpkin shapes.

I did this bit, as it's a bit tricky for little hands to work the decorative pinking (zigzag) scissors accurately. If you don't have pinking scissors, you could use normal scissors, but I'd recommend cutting little notches along the sides so that the yarn has something to grip on to when it's being wrapped later on.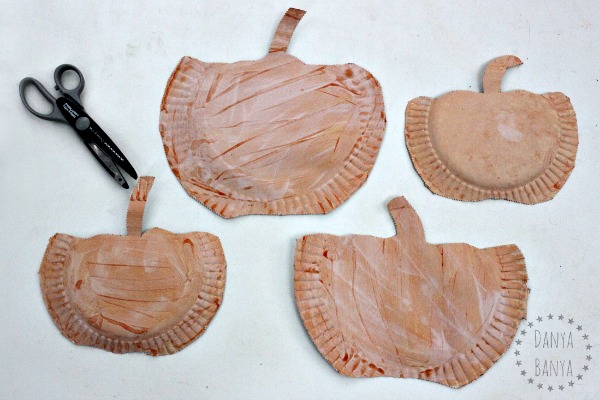 3. Stick one end of the yarn onto the underside of the pumpkin with sticky tape.
Tip: I prefer to start with the end of the yarn from the middle of the ball, as that way the ball of yarn doesn't roll around when you pull on it.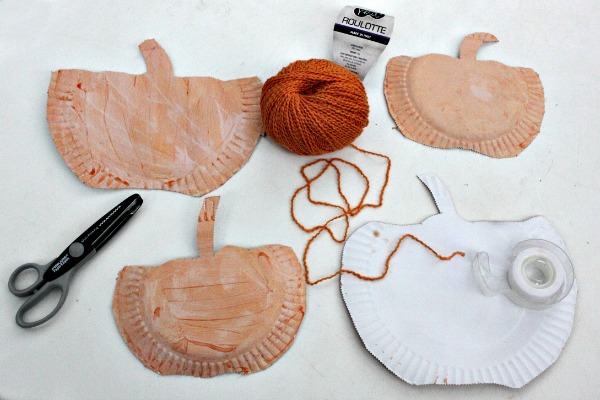 4. Kids can wrap the yarn around the pumpkin.
There's no rules here – they can wrap as much as they like, in whatever fashion they like. The zigzag edge from the pinking scissors should stop the yarn from slipping (most of the time). Tie or tape off when finished.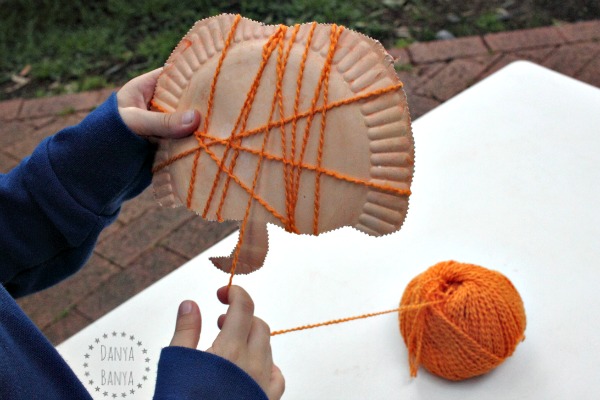 5. Cut Jack-o-Lantern facial features from black fabric, and stick on with craft glue.
Black felt or cardboard would work as well. The kids found cutting fabric a bit tricky, and needed a little help. It doesn't matter if it's not perfect, as Jack-o-lantern faces tend to be odd shaped anyway.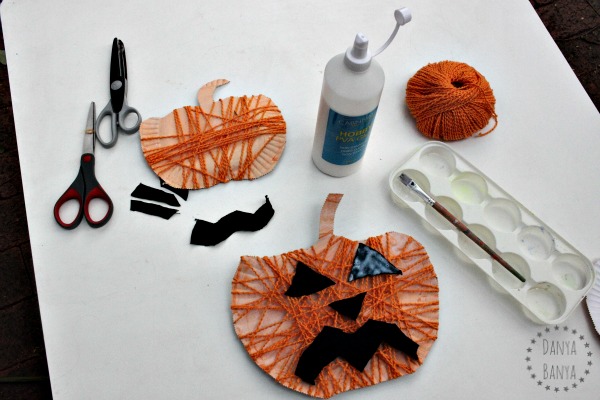 And here are all our Jack-o-Lanterns, lined up side by side. (And please don't notice the socks! Ha!)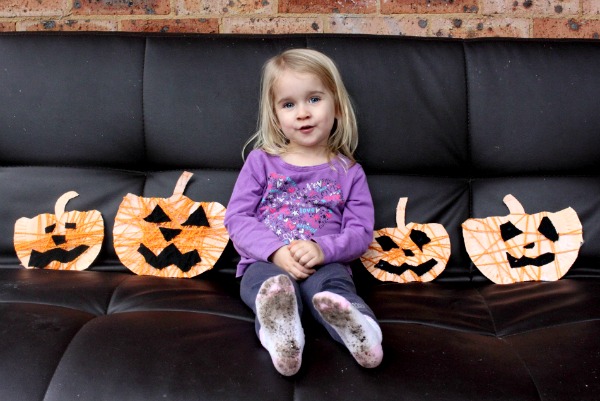 Bee likes holding our new Jack-o-Lanterns up as though they were face masks. (She must be remembering this idea from when we made lion and sheep masks).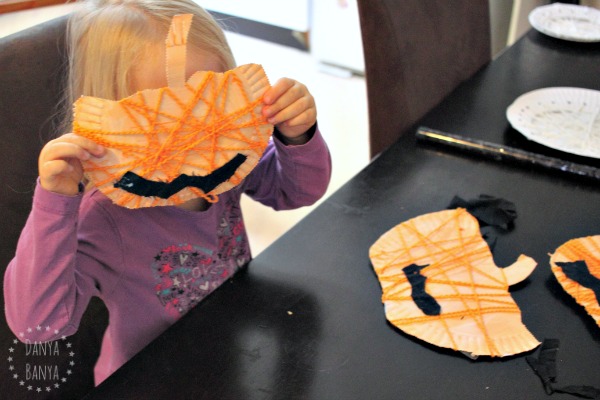 JJ suggested sticking a chopstick underneath so she can use them as puppets. As we get closer to Halloween, I might also hang them up as decorations. What do you think?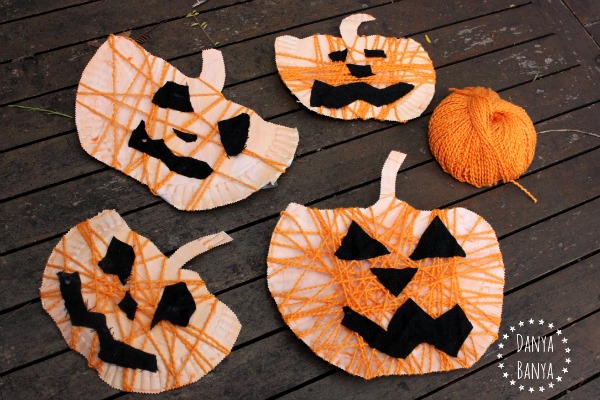 And I love that I still have plenty of this gorgeous yarn left over for other craft projects. As an Australian, I must admit it feels a little funny saying 'yarn' instead of 'wool', but since this particular yarn happens to be 100% cotton, it's most definitely the accurate term. Have you been into Spotlight lately? They have all sorts of yarns available now – cotton, Alpaca, bamboo, Merino wool, raw wool, regular wool, polyester, nylon and acrylic blends in every possible width, texture and colour. I even saw one that was 45% sequins. Sparkly! It's enough to make a crafter's little heart go faint. 🙂
If you're after some inspiration, here are some of the Danya Banya projects that we've done previously using wool or yarn. (Click on any of the images below to go through to the full post).
Or if you'd like some more Halloween ideas, check out our Halloween activities page.
We also collect ideas we love from around the web and pin them here.

Or, of course, you can always subscribe and receive our (roughly) fortnightly email newsletter with all our latest activities, and join the Danya Banya community. We'd love to have you!
xx Danya
Disclosing that this is a sponsored post for Spotlight Australia. This cotton yarn was just one of the beautiful yarns that were gifted to us to use in our crafts. All opinions are my (or my kids') own.