Have you got old CDs gathering dust? They're great for upcycled kids' crafts! Here's some CD ghosts we made for Halloween.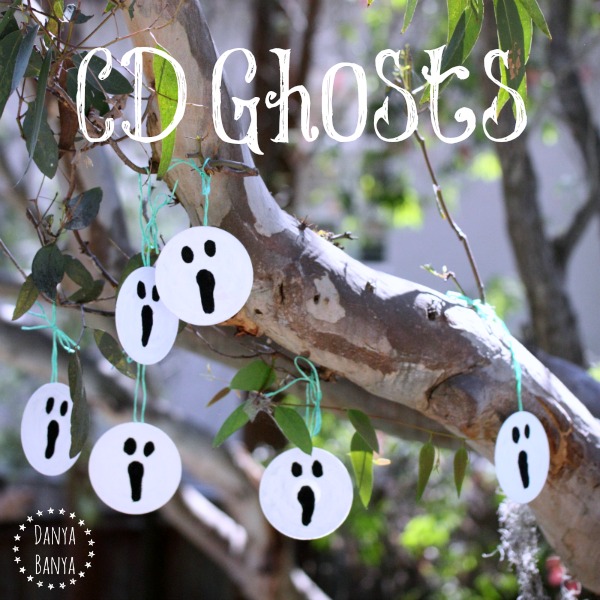 The girls and I made these CD Ghosts as DIY Halloween decorations last year. Aren't they cute? I think so!
Want to see how we made them???
 How to make upcycled CD Ghosts for Halloween
Halloween falls in the spring in Australia, so it's always a lovely time to head outdoors for some painting. My toddler Bee (2 years, 1 month) and I painted old CDs alongside each other – these were mostly ancient Windows 95 CDs that we won't be needing anytime soon!
Bee painted hers with white water-based paints, whereas I used white acrylics. (Acrylic paint 'sticks' much better to the CD, but I didn't want to have to wash it out of Bee's clothes).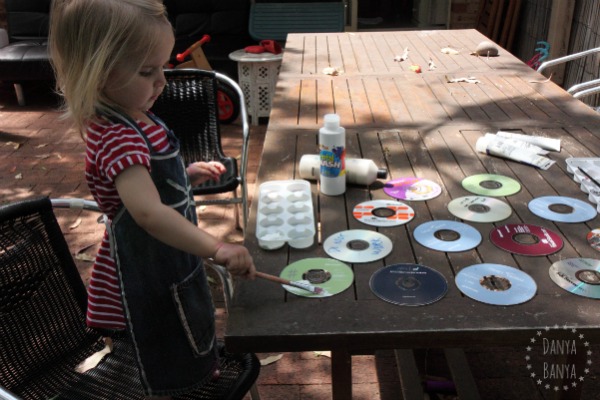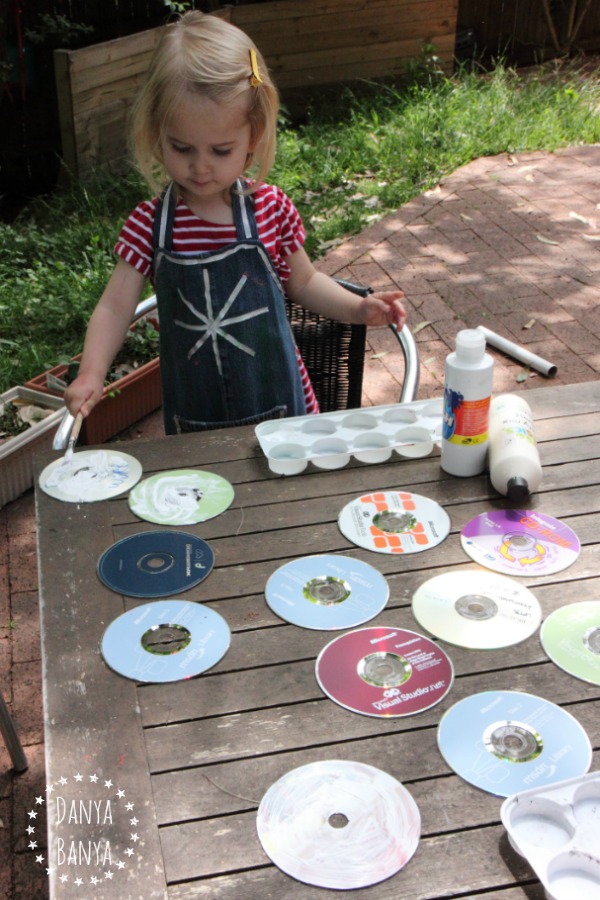 Most of the CDs needed two coats to achieve a solid white colour. I painted a couple of the CDs on both sides, before giving this up as not worth it. The silver looks good on the reverse side, and is half the effort!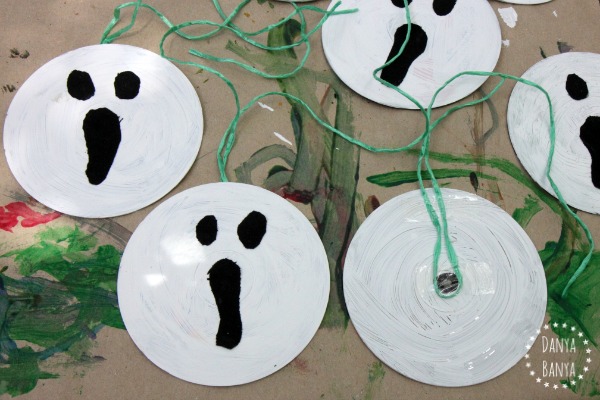 When the CDs were dry, I cut out eye and spooky mouth shapes from black cotton fabric (upcycled from old trousers), and JJ (my 4 year, 4 month old preschooler) helped to glue them on with craft glue, making sure that the top of the mouth covered the CD hole. We folded pieces of plastic twine in half, and stuck to the reverse of the CD ghosts using clear packing tape.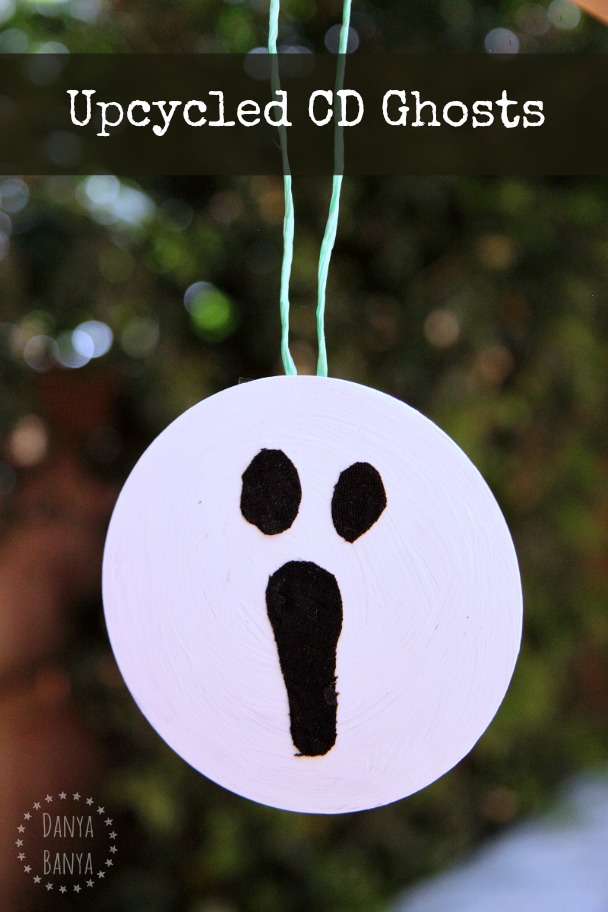 I tied them around the branches of the gumtree in our front yard, for some cute (and not too scary) home-made decorations for Halloween!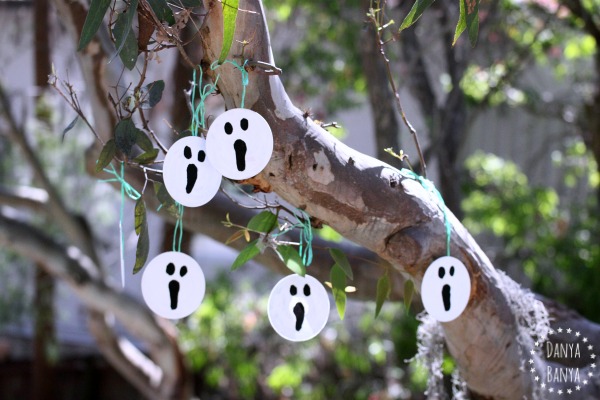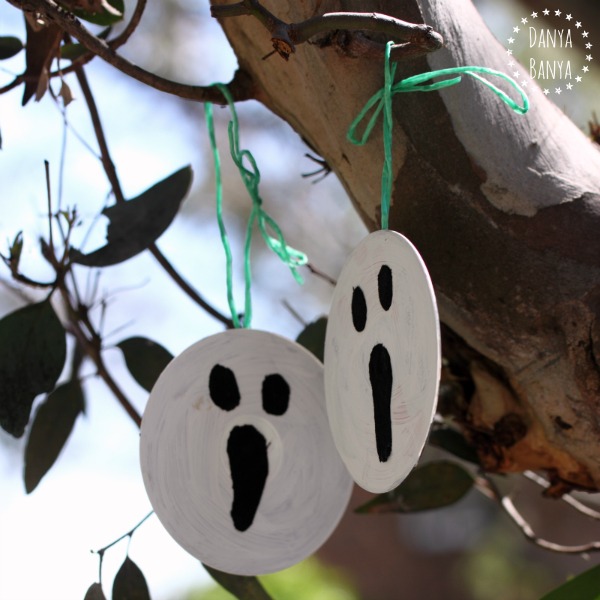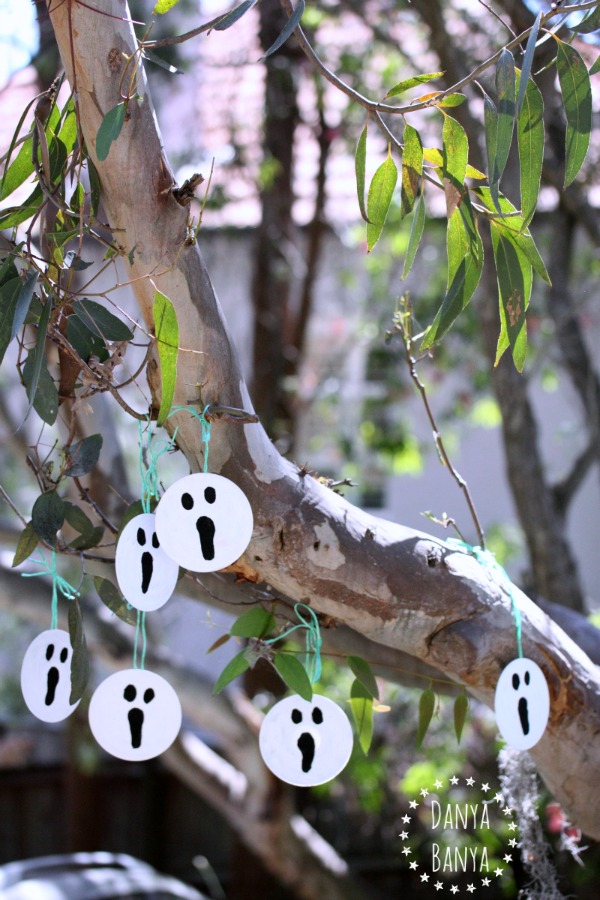 I also tied a couple to our front door.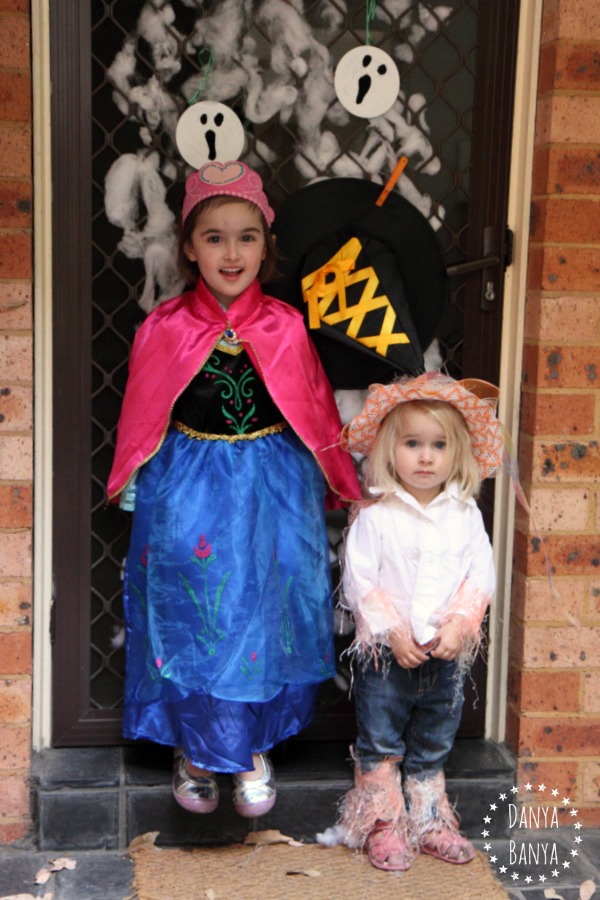 I had made a home-made bat costume for JJ from the same black fabric that I used to make the CD ghosts, but at the last minute she opted to wear her new Princess Anna dress instead. #frozenobsessed. #hopefullythebatcostumewillfitnextyear. Bee decided at the last minute that she wanted to be a dingle dangle scarecrow, so I made some 'straw' by cutting up an old Hawaiian skirt and taping it to her jeans, shirt and hat. Both girls were delighted with how their outfits looked, although Bee wasn't too sure about how the 'straw' felt against her wrists and ankles.
This is just one of the ways you can upcycle old CDs (or DVDs) that are being featured on the 60 Day #junkplay challenge.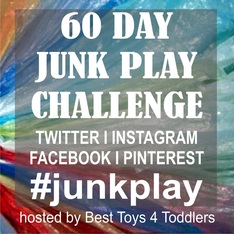 Below are a few of the upcycling activities we've done on Danya Banya. (Click on the photo to go through to the post).
Or if you'd like some more Halloween inspiration, check out our Halloween Ideas for Kids page. I've also included a few of our favourites below:
I also have a pinterest board where I collect all my favourite spooky Halloween ideas:
And, of course, you can always subscribe to our email newsletter to receive all our latest activity suggestions via email. (We'd love to have you join our email community!)
xx Danya