How to make easy bloodshot eyeballs – fun craft for a spooky party or Halloween. They're perfect for "eyeball and spoon races" too!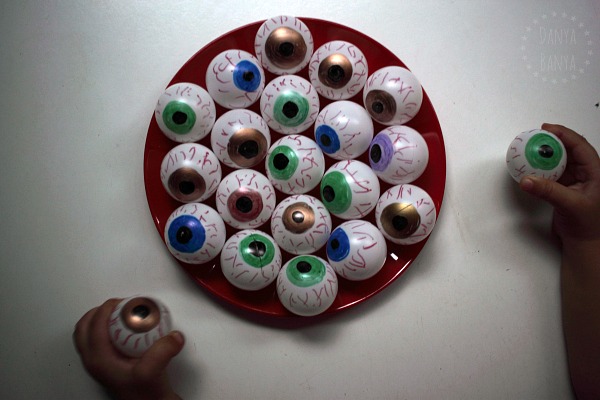 We've made these spooky eyeballs twice now. The first time was just before Halloween in 2013, when I stumbled across a packet of perfectly white table-tennis balls, and immediately thought they would make perfect eyeballs. (I'm not the only one who thinks up strange alternate uses for everyday objects, right?)
It's a very simple craft – I just drew on white table-tennis (ping pong) balls using my stash of black and coloured permanent markers.
I added these spooky eyeballs to my 'treat bowl' for Halloween that year, and was amazed to see how many kids chose an eyeball over lollies. They were quite popular!!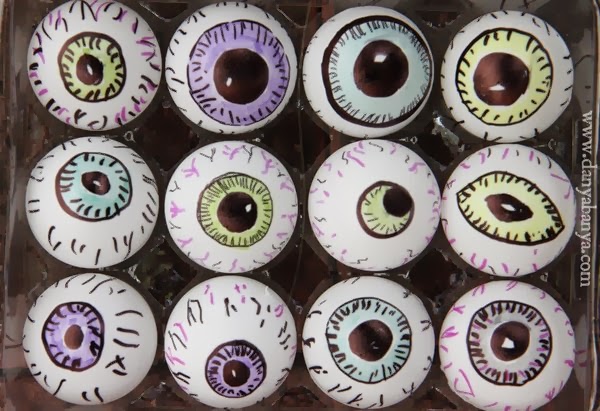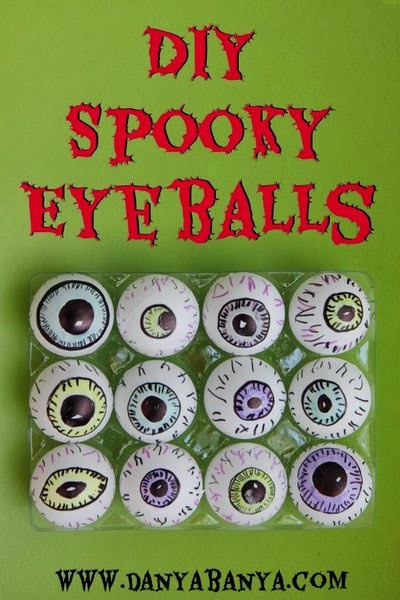 Fast forward a couple of years to 2016, when my daughter JJ decided to have a "Spooky Sixth Birthday Party", and I knew these would be perfect! This time, as JJ is a little older, she was more involved in helping draw on the designs (although she gave up after half a dozen or so, and I finished the rest).
As you can see, we opted for a little less detail this time. We omitted the black outline around the iris, and the flecks within the iris itself. I actually think it turned out better, and it was much easier to draw. (Win/win!)
We used a bunch of different permanent markers (whatever we had in our craft cupboard), but I particularly liked the affect of this metallic bronze marker. It gives a lovely golden brown sheen.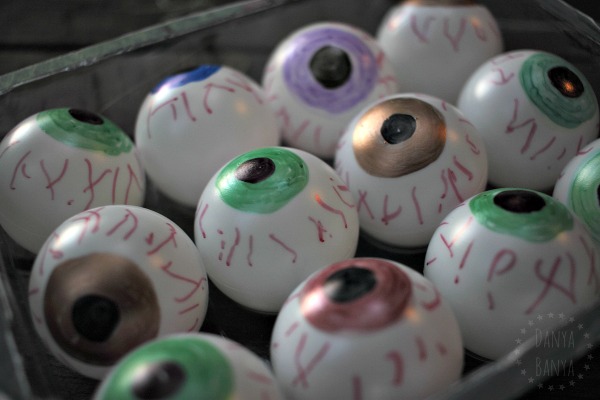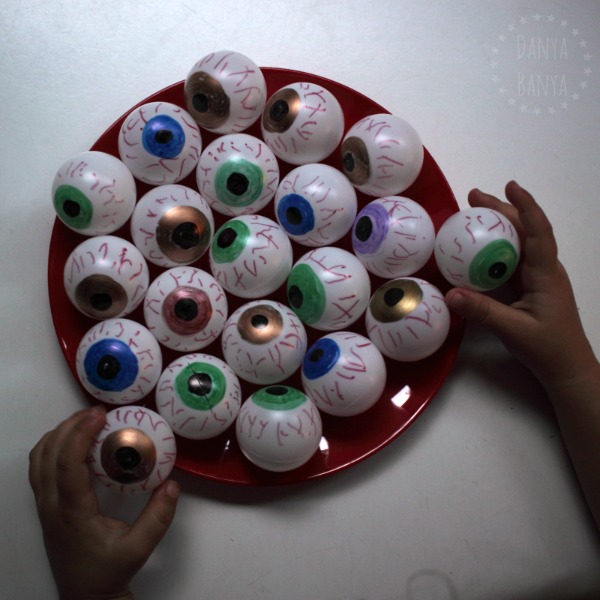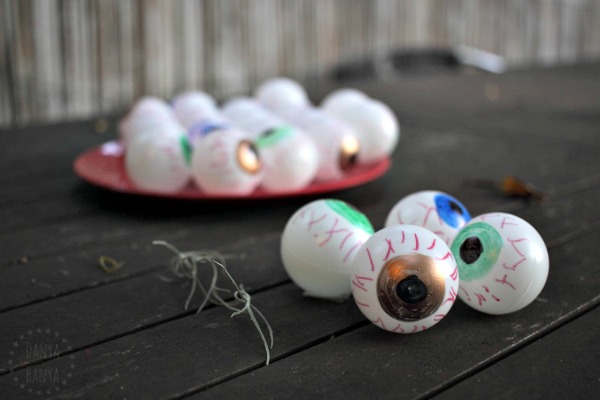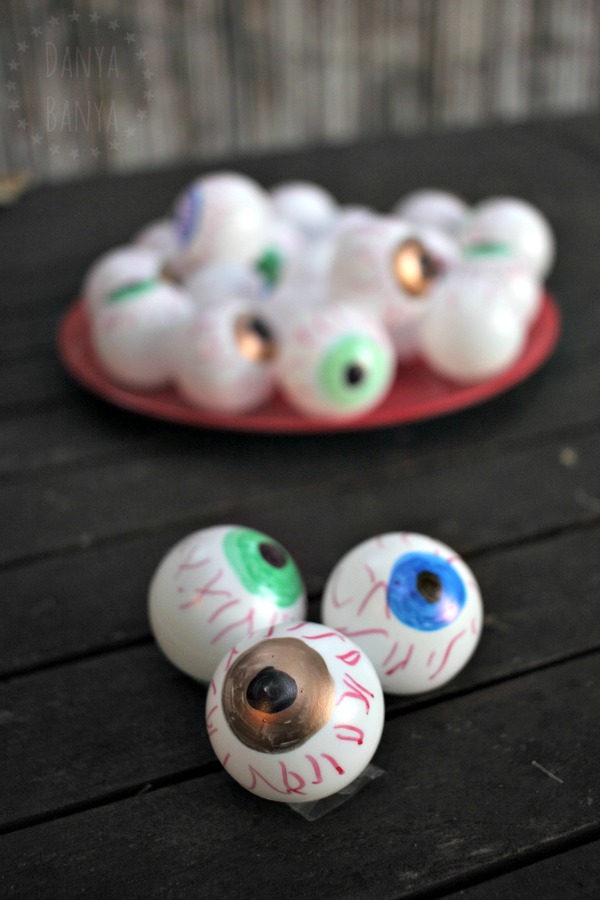 Handy tip – keep the empty container that they originally came in, as it makes it much easier to store and transport. (The eyeballs have a tendency to roll under couches otherwise!)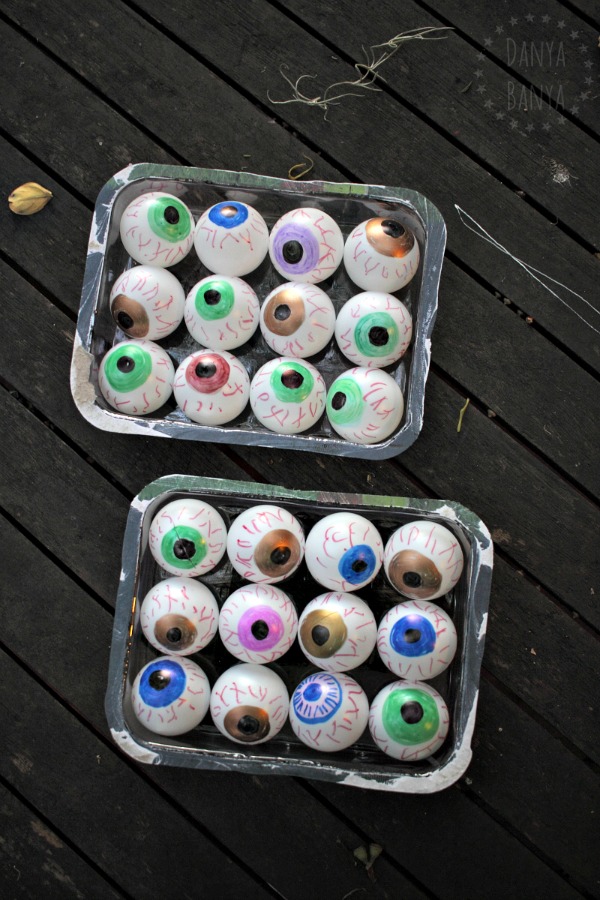 We made two dozen, so there would be plenty for the kids to play with at JJ's party. We even played eyeball and spoon races with them! Sorry that I didn't take any photo of the races – I was too busy running around after 1000 kids (or at least, it felt like that many!)
I did manage to snap a quick shot of my younger daughter Bee playing around with them beforehand though. "Look Mum, my eyeball fell out!!"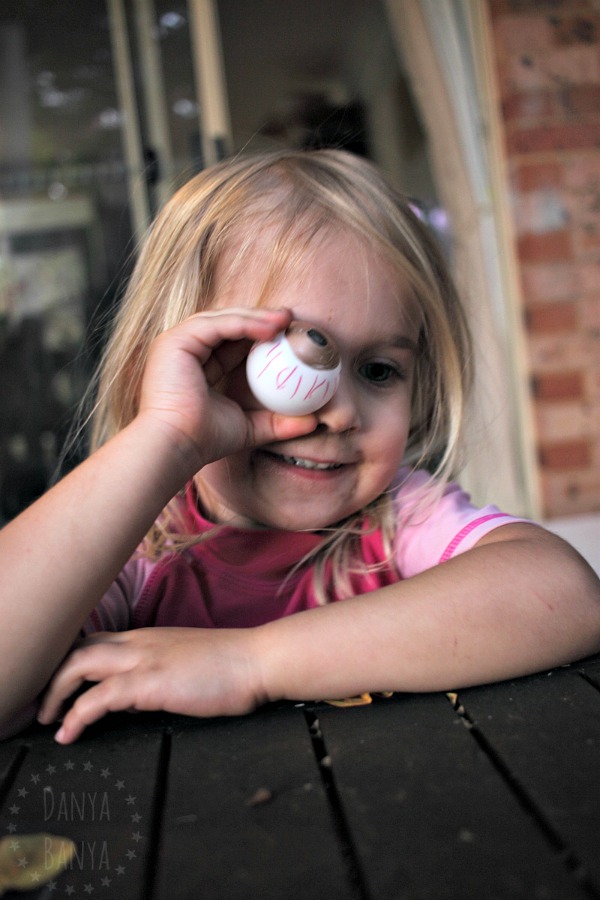 I've got lots more spooky ideas over on our Halloween for Kids page, including:
I also pin lots of other spooky ideas here:
And you can always subscribe to our newsletter, to receive fun ideas like this sent straight to your Inbox.
xx
Danya
* This post contains affiliate link(s). An affiliate link means I may earn advertising / referral fees if you make a purchase through my link, without any extra cost to you. It helps to keep this little blog afloat. Thanks for your support.