These yarn and toilet paper roll monsters are a fun and easy craft for kids. Perfect for a monster theme or Halloween.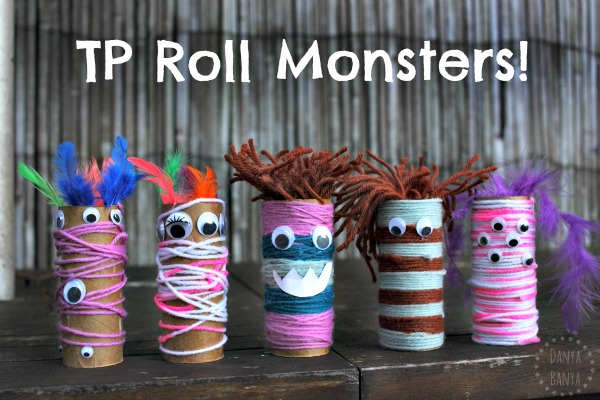 Aren't these little monster critters cute!!
They're the latest in our toilet paper roll crafting obsession. (If you don't want to use toilet paper rolls, you could use kitchen paper towel rolls or other cardboard tubes.)
These are the result of two separate backyard crafting sessions – both working on my theory that if you want to get kids playing (or crafting), the easiest way is to just start playing (or crafting) yourself, and sooner or later, they'll come over and want to join in.
Now, this theory does run the risk that you might end up crafting with toilet paper rolls all by yourself on a sunny winter's afternoon, while the kids play happily inside. And you know what? I'm totally OK with that. Crafting is therapeutic, and I think more adults should give it a go!
The first crafting session yielded these three little tp roll monsters. I made the outside two, and my 3.5 year old daughter Bee was curious enough to come over to see what I was doing. She then made the middle one. The single cyclops eye was her idea too. 🙂
A week or so later, a dear teacher friend and her awesome daughter came over for a play. Working on the same "if you start, they will join in" theory, my friend made a tp roll monster of her own, testing them out to see if they could work in a classroom setting. (She's thinking about doing this as a craft activity with her Grade 2 kids, pairing it the book "Where The Wild Things Are.")
Low and behold, her daughter wandered over to see what we were doing, and asked if she could join in. (See, it works!)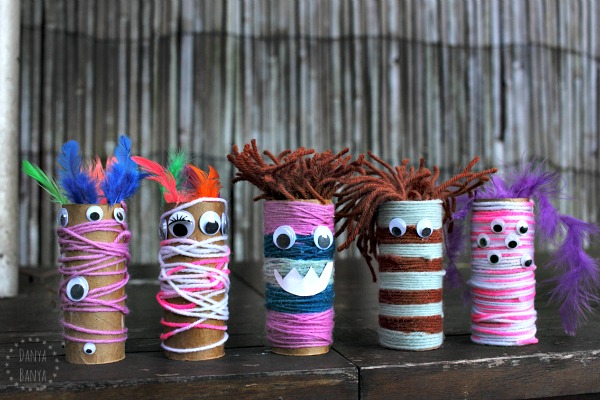 My friend made the middle one, and her 4.5 year old daughter made the two on the left. (She made these almost completely by herself, the only thing we did was roughly explain how she could make them, cut the yarn and hold the tp roll steady. She chose all the design aspects of her creations.)
How to make a Toilet Paper Roll Monster
You need:
toilet paper rolls (or other cardboard tubes)
wool (or yarn)
feathers (optional)
other embellishments (optional)
Roughly paint the outside of the toilet paper roll with glue.
Wrap wool or yarn around the outside of the toilet paper roll. (It doesn't have to be neat.) Add an extra dab of glue to the end of the yarn to make sure it sticks down.
Glue on googly eyes – as many as you'd like!
Roughly paint the inside top section of the tp roll with the glue. Stick on feathers or cut wool as hair.
Add any other embellishments you like!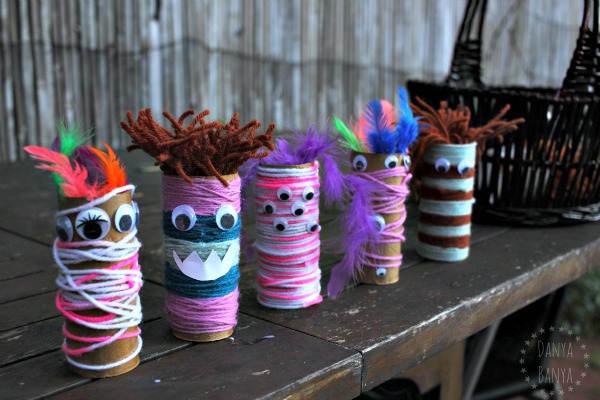 The best part about this craft is that it's so open-ended. There is no "right" way for a monster to look, so kids are free to use whatever colours, patterns, or crazy embellishments that they like. It's also easy enough to do with 3 and 4 year olds (although older kids could do them too – even we as adults had lots of fun)!
More monster ideas
I have some more monster ideas on our Halloween page. (I know monsters aren't strictly only for Halloween – but that's where they've ended up!)
Here's a few you might like:
And you can find all our other toilet paper roll crafts here. We have lots, including:
Easy fireworks painting for toddlers and preschoolers
these Nature Cuffs are a fun way to encourage kids to notice nature on a neighbourhood walks
or make some Emo Dolls, which lets kids change the facial expression while they play.
Or you can, of course, always subscribe to our newsletter to receive all our latest posts via email.
xx Danya
* This post contains affiliate link(s). An affiliate link means I may earn advertising / referral fees if you make a purchase through my link, without any extra cost to you. It helps to keep this little blog afloat. Thanks for your support.