Fun DIY Dice Games that help kids learn early maths skills like counting, counting on, number recognition and more.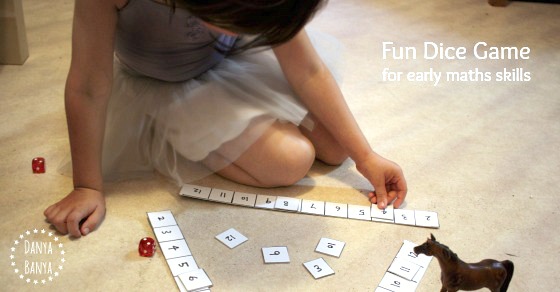 We've been on the lookout for playful ways to help JJ with her early maths skills. (Regular Danya Banya readers might remember when we played outside with numbers and chalk, jumped for numbers on the trampoline, and when we made our photo and number puzzle – all working on numeral recognition).
Mr Banya came up with today's number game, so I can't take the credit, but I thought I would share it with you just the same. I've also included a huge list of awesome DIY dice games for young kids at the end of this post – lots of ideas to try!
How to make a DIY dice game for kids
Make two or more 'number boards' with the numbers 2-12, and at least one set of corresponding 2-12 number pieces. You'll also need two regular dice.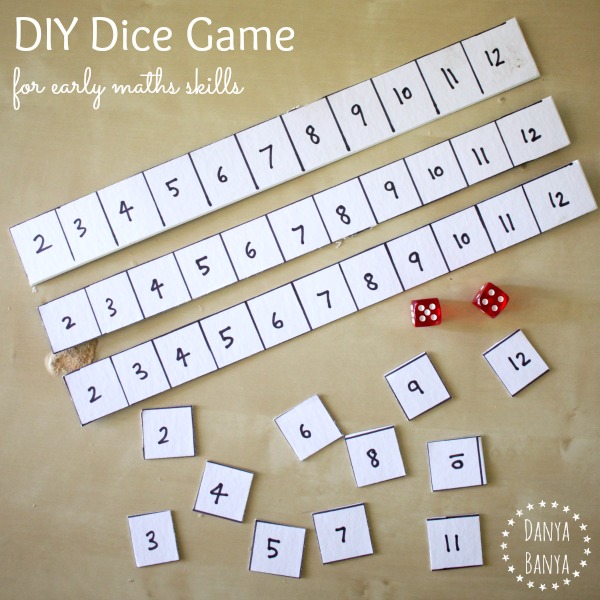 To make our number boards and number pieces, Mr Banya used a piece of thick white cardboard, a permanent marker and a ruler. He ruled out a grid, and drew the numbers 2-12 in four rows, cutting the first three horizontally to make three boards, and the last row into individual number pieces.
How to play
Number of players: 2 or more
Age: 4-6 year olds
You will need: a 2-12 number board per player; a set of 2-12 number pieces; 2 dice.
Playing time: 10 minutes
Object of the game: to collect the most number pieces by the end of the game.
The youngest player goes first. She rolls the dice and selects the number from the pieces in the centre. She places the number piece over the corresponding number on her board.
The next player then rolls the dice and selects a number as above. If the number rolled is no longer in the centre however, then she can take this number from another players board and place it on her own.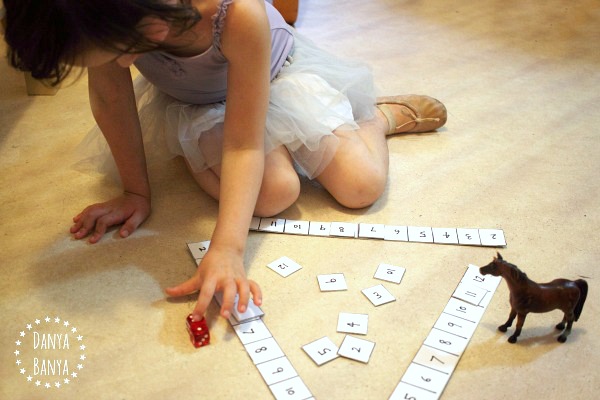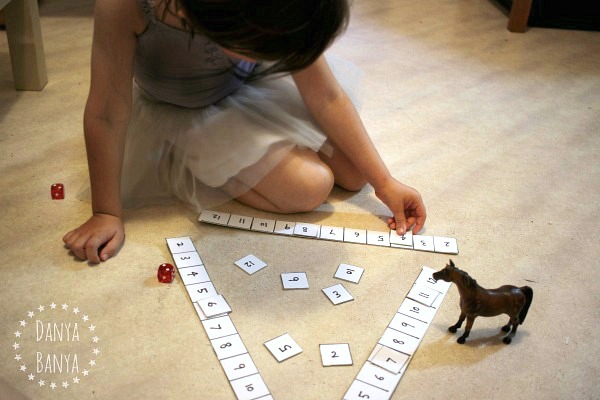 The play continues in a clockwise direction, with each player rolling and taking a number piece – either from the centre, or from another players board – until there are no more pieces left in the centre. The player who has the most number pieces on their board wins!
(Sometimes it can take a long time to roll the very last number, so you may wish to declare the game finished when there is only one piece left in the middle, especially if you have kids with short attention spans or who get frustrated easily. After all, it's supposed to be fun.)
And then you play again!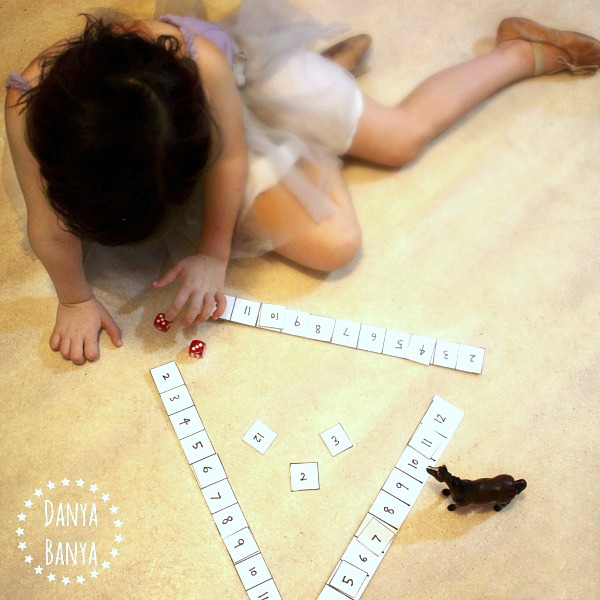 Variation: If you want to add to the number of players, make additional boards, and also an additional set of number pieces. While playing, if there are no more corresponding number pieces in the middle, players get to 'choose' which player to take the corresponding number piece from.
This game might seem quite simple, and it is, but it still works on quite a few early maths skills.
Math principles in play
Counting – being able to recite 1-12 in the correct order
Numeral recognition – understanding that a numeral represents a number, and being able to recognise that numeral.
One-to-One Correspondence – count a group of dots or along a number line, and understanding that each dot or number is counted once.
Counting on – starting with a number and counting on from that
Subitising – recognising that a certain pattern of dots on a die represents a particular number, without having to count each dot
Addition – adding the two numbers on the dice
My daughter JJ, at 4 years and 9 months, found this fun, even though some of these math principles are tricky for her. You see, JJ is still learning to recognise the numerals 6, 7 and 9. (For some reason, these particular numerals get muddled up in her head.)
This game allowed her to practise her numeral recognition in a non-confronting way, work on a few different skills at the same time, and all whilst having fun.
To give you an example, if JJ rolls a 6 and a 3, she counts the dots on the dice to 9, but can't yet recognise the corresponding numeral 9 from the number pieces in the centre. So she will 'count on' (starting from 2) using her board as a reference, until she reaches 9. She can then use the number on her board as a visual reference to figure out which number piece to take. Tricky!
Subitising (estimating a quantity) is a great math skill for kindergarteners, and dice are perfect for learning to subitise to 6. When kids roll one die, they can learn to recognise how many dots there are by the pattern, without having to count individual dots. Or if they roll two dice, they can subitise to work out the first number, and then use that number as the starting point to 'count on' from. Both help with speed, accuracy and confidence with board games and maths in general. JJ is still working all of this out – currently she can subitise to 4, but still counts dots if she rolls a 5 or a 6.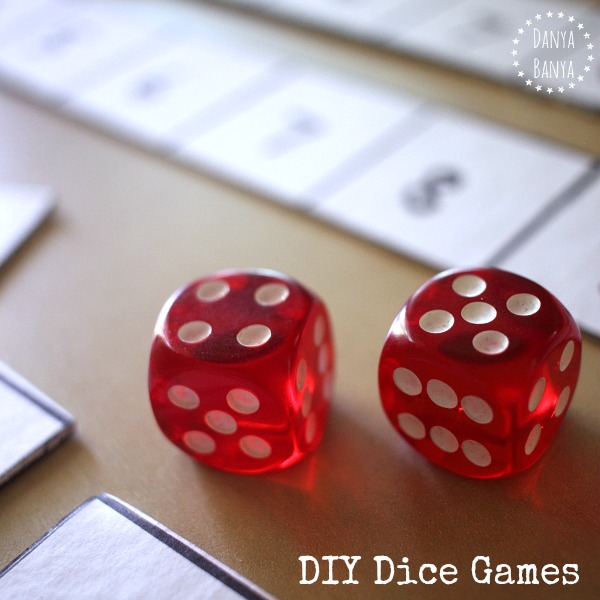 A great way to practise all of these skills, is through lots and lots of dice play! And, it's not only educational, it's also fun! I'm super keen to implement a regular games night in our house. It might sound daggy, but it's also a great way for families to connect, screen-free. Plus I may be super-competitive. (Just saying…)  🙂
I've been looking up some fun kindergarten dice games to play with JJ, and also some introductory toddler or preschool dice games so that we can include her 2.5 year old younger sister, Bee. I've found so many awesome ones, that I just had to share them with you. Happy rolling!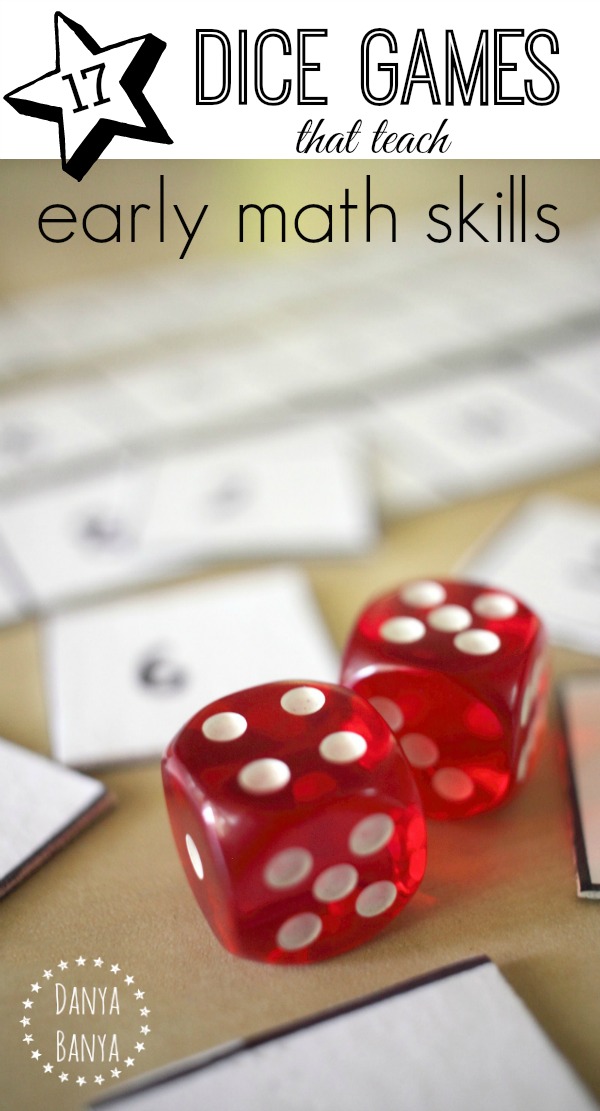 Fun dice games for young kids
The big question is, which one to play first. 🙂
Speaking of learning through play, you might also be interested in a new ebook called ABCs and 123s. It's a collaborative ebook with literacy, numeracy and geometry activities from over 40 like-minded kid bloggers, who all believe that kids learn best through play. It's a great resource for parents (grandparents, carers or teachers) who want to introduce letters, numbers and shapes to their kids in a fun, hands-on and playful way. There's over 40 tried and tested ideas, with materials lists, step-by-step instructions, and full colour photographs. You can read more about it, and see page examples here.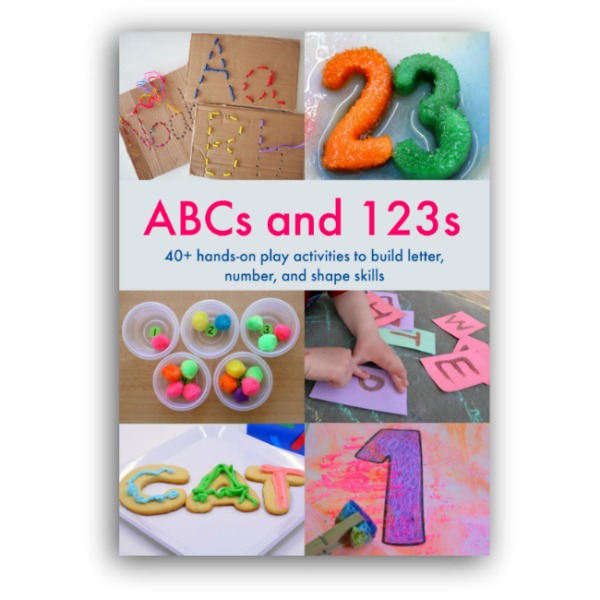 I also pin playful maths ideas that I love here:
Follow Danya Banya | Go Science Girls's board Playful Maths for Kids on Pinterest.
Follow Danya Banya | Go Science Girls's board Danya Banya on Pinterest.
xx Danya