Easy Sydney Harbour Bridge craft for kids – great way for kids to learn about one of Australia's most iconic structures, using everyday items you'll probably already have at your backyard BBQ!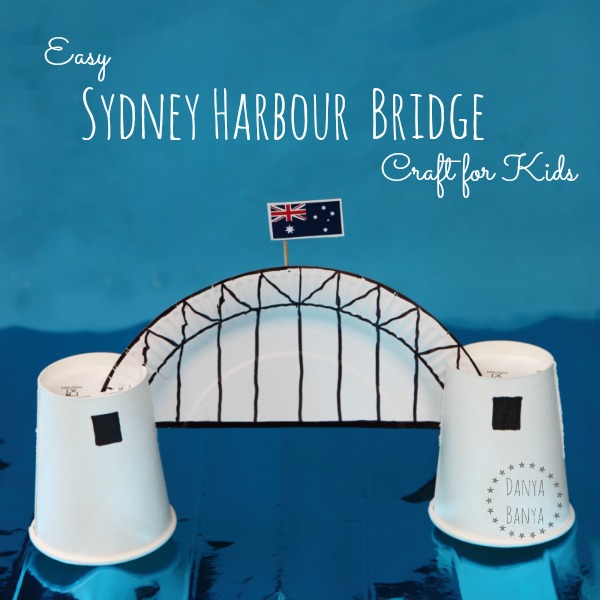 And to go with our Sydney Opera House craft from yesterday, we made another of Australia's most famous icons; the Sydney Harbour Bridge.
The Sydney Harbour Bridge is one of the world's widest long-span bridges and is an unmissable Sydney landmark. We've driven over it by car, travelled across it by train and bus, passed under it on the ferries, and walked across the pedestrian walkway. I'm yet to climb over it, but that's certainly on the bucket list!
The inspiration for this craft ironically came from JJ's Chinese language class, where we also learned that the Sydney Harbour Bridge is called iron bridge (tiě qiáo) in mandarin.
How to make a paper plate Sydney Harbour Bridge
To make each of ours, we used:
scissors
black marker
tape
knife (optional)
Because of the wide bridge span, you'll need to cut a section of plate that is wider than it is high. So technically, you'll need to cut along a chord to make a segment. So if imagine your paper plate looks a little like this…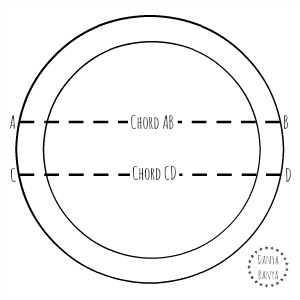 …then you can cut along chord AB to make one bridge, or cut along chord CD as well to make two. (My inner geek loves sprinkling extra details like this into our activities. We're gradually increasing our understanding of maths concepts and vocabulary in a playful normalised way.)
Next you need to draw in the bridge details. Using a black marker, outline your segment, and draw an inner arch following the shape of the inner paper plate rim. Then draw evenly spaced vertical lines from the chord to the top of the arch. I made mine about an inch apart, but there's no need to be exact.
Then draw diagonal lines from the outer rim to the inner rim of the next vertical line, to make a pattern along the top of the bridge arch.
Cut an inch long slit in the bottom of two cups. (It's easier if you do this with a knife, but scissors would probably work as well.) Slide the edges of your paper plate bridge into the slits, so that the cups look like pylons. Add window details with marker.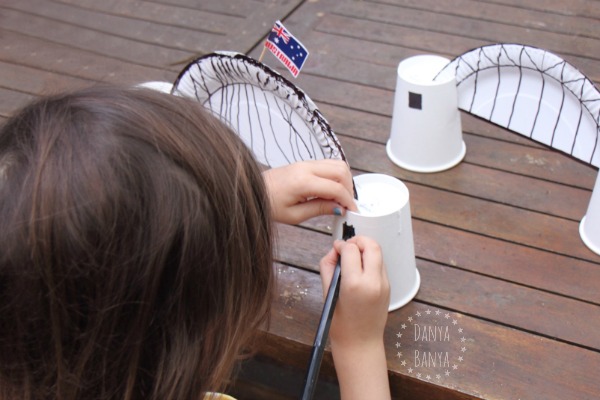 Fun fact: Did you know that the pylons on either side of the Sydney Harbour Bridge are mainly decorative?
For the finishing touch, stick an Australian flag sticker onto a toothpick and piece of card (I used the discarded middle piece of the paper plate). If you don't have a sticker, you could try drawing an Australian flag instead. Then tape the toothpick to the back of your Harbour Bridge.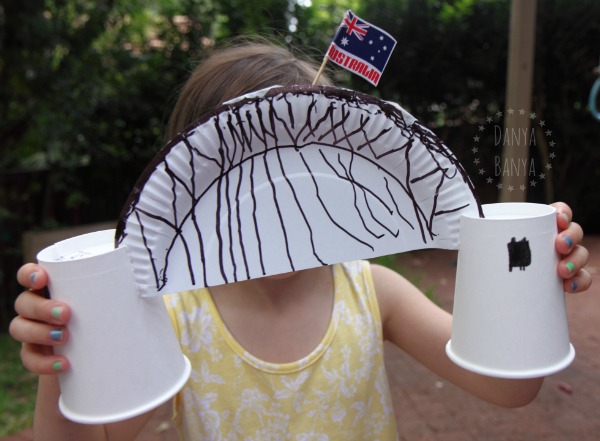 As you can see, preschoolers can have a good go at this craft. JJ (four and a half years old) did hers almost all by herself. (I cut the slits into the cups, and helped her when she was frustrated with drawing the smaller diagonal lines at the top of the arch, but she did the rest). It's all great fine motor, pre-writing practise.
We also looked up a few photos of the Harbour Bridge during this project, and it has encouraged JJ to think about the bridge, how it was built and how we could replicate it's design in craft form. She's been asking some fantastic engineering questions lately. "But Mum, how did they build it? How did the builders know how to do it? How did they know where it should go?"
Side note: When I was very little, I always thought there were two 'Harbour Bridges'. You see, I grew up in the shire, and we rarely went to Sydney's northern suburbs. More frequently, we would cross Tom Uglys bridge to reach the city, and from Tom Uglys bridge, you can clearly see a second bridge – Captain Cook Bridge – to the East. My husband teases me incessantly about having thought there were two harbour bridges, and so this below photo is for him.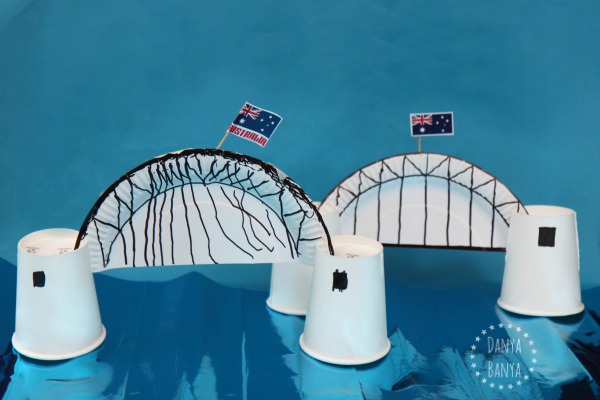 Here they are, paired with our paper plate Sydney Opera House.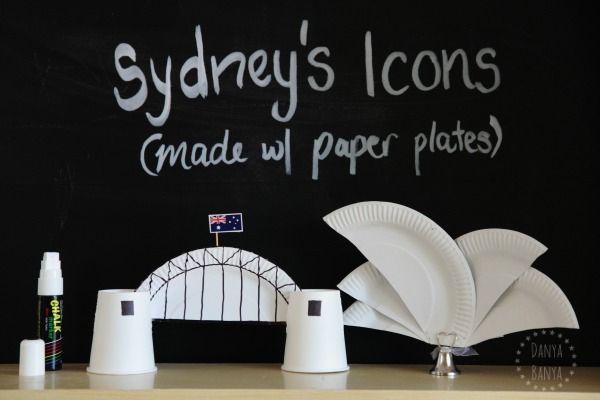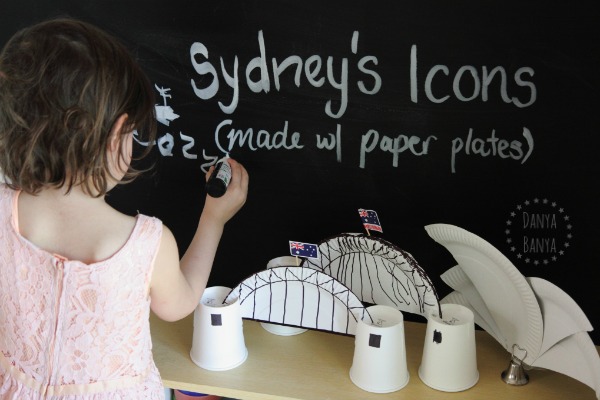 And because we just watched the New Years Eve fireworks over Sydney Harbour a few weeks ago, we decided to create a little mini scene. (JJ & Bee had made the fireworks paintings a few days earlier. The water paintings were from that morning.)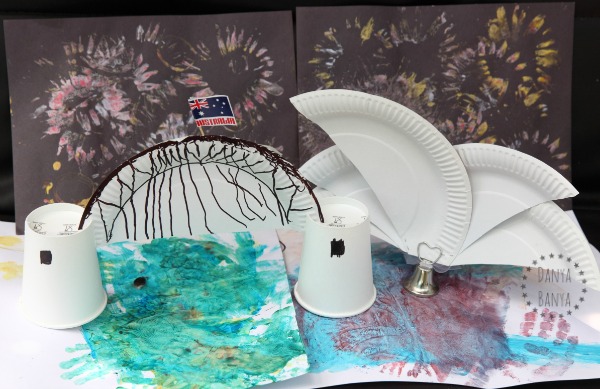 ​For more Aussie inspiration, check out our Australia activities archives page, where we have dozens of Aussie activities for kids to choose from, including:
I also have an Australia for Kids Pinterest board where I pin all my favourite Aussie ideas from around the web, including:
For my fellow Aussies out there – happy Australia Day / Hottest 100 Day / Invasion Day for Monday!!
xx Danya
* This post contains affiliate link(s) to similar products used. An affiliate link means I may earn advertising / referral fees if you make a purchase through my link, without any extra cost to you. It helps to keep this little blog afloat. Thanks for your support.