Easy Australian flag craft idea: hands-on way for preschoolers to learn about Aussie culture and Australia Day.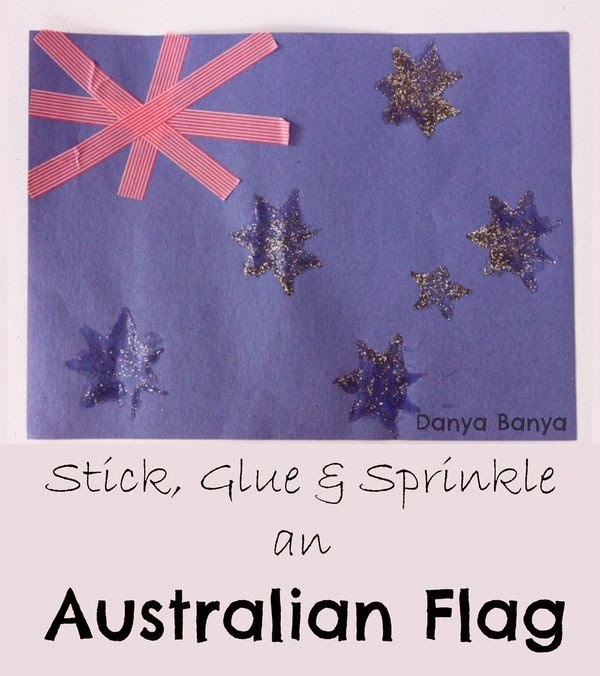 JJ is quite fond of our beloved flag, and has had one masking-taped to her bedroom door for a few months now. So I thought it might be fun to create a preschool-friendly version of an Australian flag as a fun craft activity in the lead up to Australia Day next week.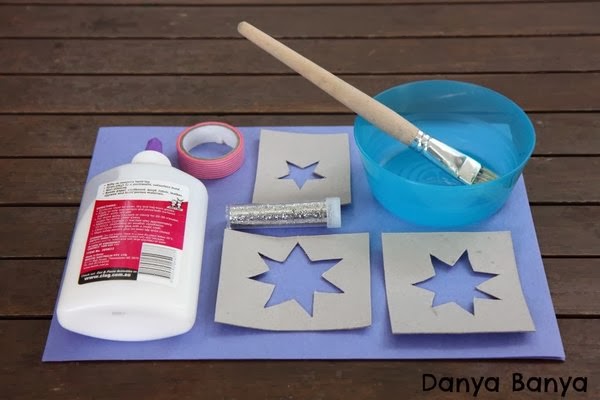 We used:
I cut the star stencils out of thin cardboard. Make sure that the two largest stars have seven points, and the smallest star has five points.
Because this was a product-oriented craft, I made one before hand for JJ to copy from. I've learned from experience that this saves us from having a mid-craft meltdown. (She doesn't like to be told or shown how to do something. Having something to copy from still allows her to do her version "all by herself" without verbal instructions from me).
Here was my example.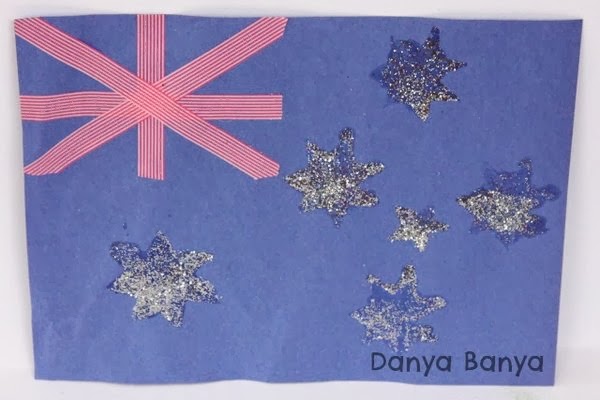 And here is JJ making her own. She did ask for some help: I cut the pieces of tape, and I positioned and held the stencils down while she glued, but otherwise she did it on her own.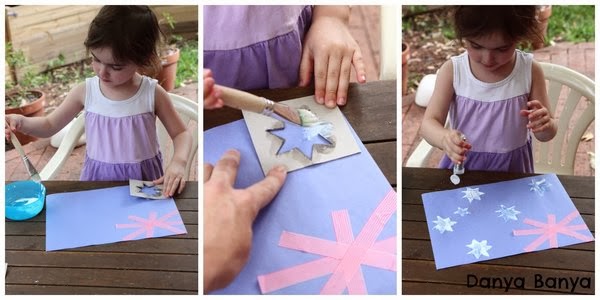 She used lots and lots of glue! Sprinkling the glitter was the hardest bit for her. She finds it hard to judge how hard and high to shake, without hitting the paper. She previously struggled with this when we decorated Christmas baubles as well. I'll have to plan more glitter crafts so she can practise some more.
While she crafted, we talked about how the bit in the top left is called the Union Jack which is England's flag, and that Jack starts with the same special letter as JJ. We talked about how all the lines of the Union Jack cross in the middle, and JJ said it looked like a star. We counted the stars, and also counted the points on each star. I told her that the seven pointed star is called the Federation Star.
Here is JJ (3.5 years old) with her finished Australian Flag, just waiting for the glue to dry. Doesn't she look proud as punch!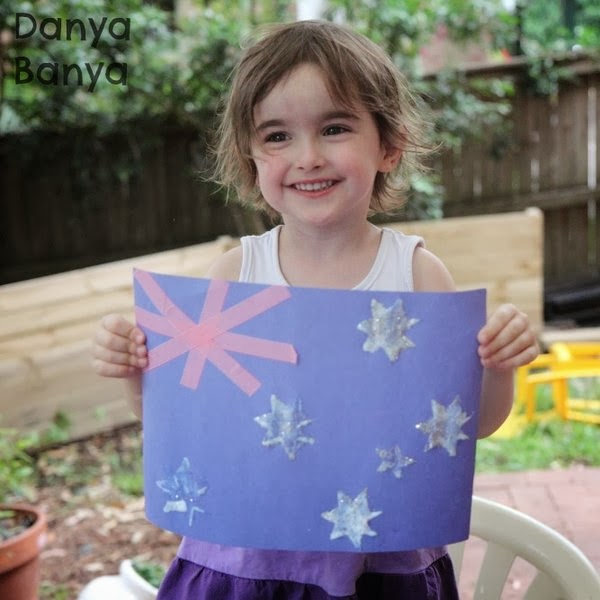 For more Aussie craft ideas, you might like to check out our Australian activities archives page – we're adding new ideas here all the time.
Here are some other fun Australian ideas from some of my Aussie blogging friends, that you might like to check out too:

I also regularly pin Aussie activities on my Australia for Kids Pinterest page.
And a big happy Australia Day for the 26th Jan!
xx Danya
* This post contains affiliate link(s) to similar products used. An affiliate link means I may earn advertising / referral fees if you make a purchase through my link, without any extra cost to you. It helps to keep this little blog afloat. Thanks for your support.