Set up a backyard day spa, for some pampering fun at home.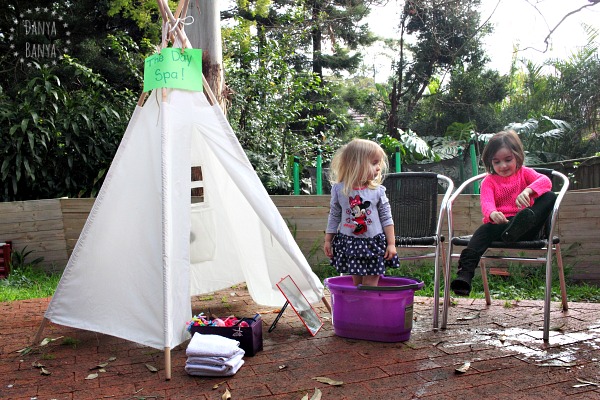 I can't believe it's been nearly a year since we did this activity, and I'm only just finding the time to write it up. The saying "the days are long but the years are short" is certainly true when you have little munchkins underfoot!
Essentially the idea behind this activity is very simple – take some of our normal self-care activities outside, add a bit of extra pampering, and end up with a very girlie and special afternoon!
It's a great activity for multiple age groups – when we did this, JJ was 5 years old and Bee was almost 3.
DIY Backyard Day Spa
We used:
a teepee
a mirror
2 chairs
bucket of warm water with scented bath salts
small towels
moisturising cream
nail clippers & nail polish
hair brush, hair ties & clips
We used the teepee to help 'set the scene' and give our day spa a base where we could store our supplies. You could also use a cubby house, create a makeshift fort, or skip this step if you like. (Disclosing that we were originally gifted our teepee from Finlee & Me as part of a sponsored post on Good Old-Fashioned Backyard Play, just fyi.
We set up the chairs next to the teepee, and the girls gave their feet a good soak in warm water and bath salts, after which I gave them foot and calf massages with moisurising cream. (Bee really loves deep massages!)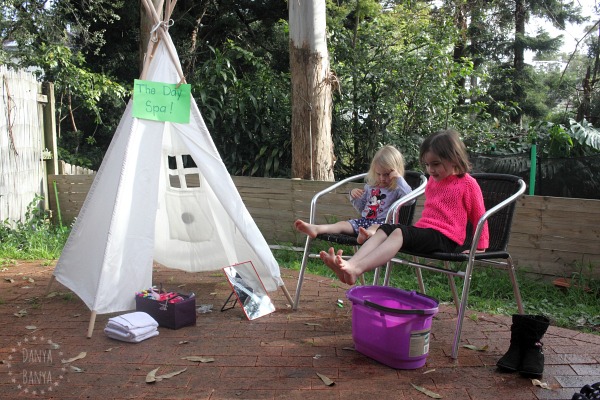 Next we clipped their finger and toe nails, and applied some nail polish. Bee chose purple. JJ chose blue and yellow. 🙂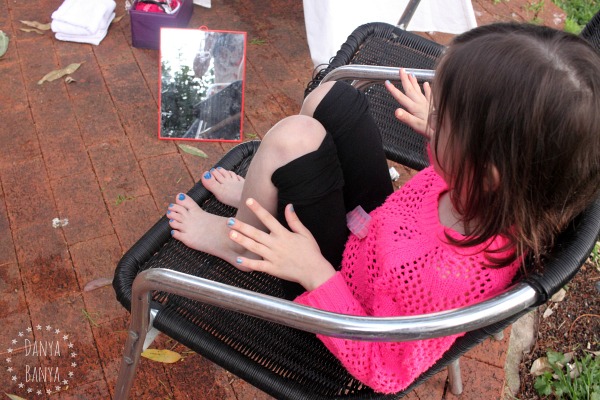 Then, while their nails were drying, I brushed their hair and gave them a head massage.
Ahh, it's lovely to feel pampered!
For more backyard play ideas:
xx Danya
Disclosure: just FYI that I originally received this teepee as part of a sponsored post (but that agreement didn't include writing this additional post, which I've done of my own discretion). All opinions are my (or my kids') own.